Cooking outdoors is all fun and games until it is time to clean up. Then you have to get serious about the business of maintaining your grill. With the best grill brush, you can keep your grates in tip-top shape and be ready to BBQ at a moments notice!
Ok, I agree that cleaning isn't the most exciting part of becoming a pitmaster. But maintaining your grill and smoker will save you time and trouble. A dirty grill is a safety hazard and a potential source of food poisoning.
Grill cleaning brushes make it easy for you to remove food and grease from your grill, and help you maintain your grill grates. Grill brushes are not all created equally, however. The best grill brush for you depends on several factors, but any brush worth having should be safe, durable and easy to store.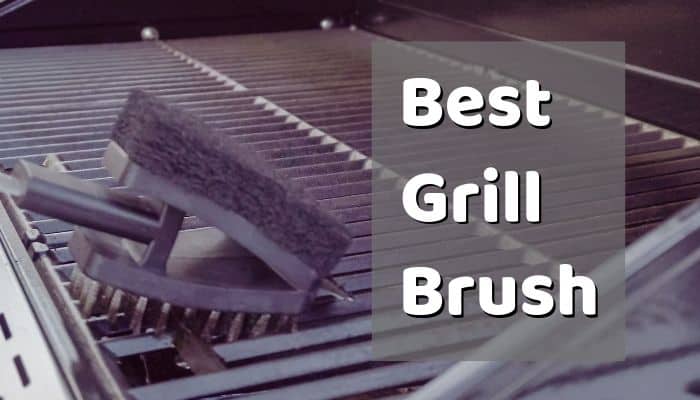 A Quick Comparision of the Best Grill Brushes
Here's a quick summary of your options with more info on each grill in the best grill brush section.
Best Grill Brush
Next to your grill and tongs, a grill brush is one of the most useful BBQ tools on the market. You'll be using your grill brush every time you fire up your grill. And yet, folks tend to pay very little attention to buying the best grill brush.
Grill cleaners and scrapers remove burnt carbon, grease, and other debris from your grill and cooking grates. If allowed to build up, these materials can taint the flavor of your food. They are also fire hazards and can cause sudden flare-ups.
Grill brushes vary considerably in terms of their materials, size, and shape. Some brushes have a wide head or a built-in scraper, while others might feature replaceable bristles or an extra-long handle.
When shopping for a grill brush, consider the shape of your grill and the type of grates you will be cleaning. Avoid brushes with short handles, fragile bristles or a lot of plastic on the business end.
Best Overall Grill Brush
Kona 360 Clean Grill Brush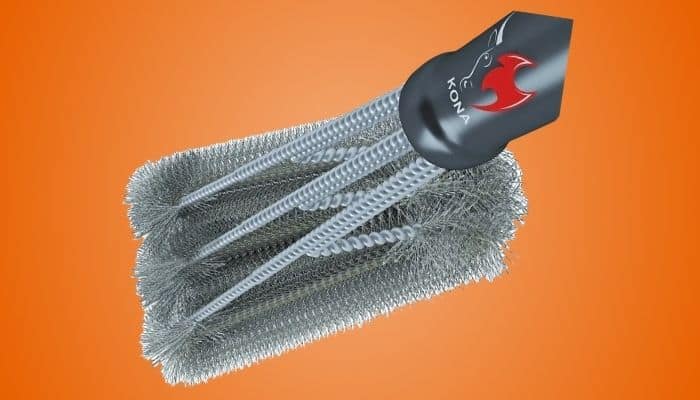 If you want a grill brush that can clean any type of grill grate, then the
360° Clean Grill Brush from Kona
could be the one for you. This is our pick for the best grill brush overall. The wire bristles clean between your grates and even cleans the undersides!
The Kona has unique design features so that every stroke removes as much debris as three strokes from an inferior grill brush. The head of the brush splits into three separate sections that surround each grate as you clean.
The twisted steel-rod brush head secures the heavy-duty wire bristles to the brush. This BBQ scrubber is not going to shed any bristles into your food. The angled head makes this brush easy to use with round grates or kettle-style grills.
The 18-inch handle is long enough to reach the rear of any grill with ease, and its head is 4-inches wide. This brush covers a lot of territory with each stroke. It also weighs a mere 12 ounces and has a hanging loop for extra convenience.
The weather resistant handle has a comfortable grip, and it doesn't take much pressure to use this cleaning tool. The hard stainless steel wire will not damage ceramic, porcelain enameled or infrared grates. The Kona is the ideal tool for cleaning any type of grill grate.
This grill brush comes with a 5-year warranty and satisfaction guarantee. If you are unhappy with your brush, the manufacturer will fix the situation without any hassle.
Pros – Things we liked
Three separate brush heads
Twisted steel-rod brush head
18-inch handle
Weighs just 12 ounces
5-year warranty
Cons – Things we didn't like
No scraper
Best Grill Brush with Built-In Scraper
GRILLART BBQ Brush for Grills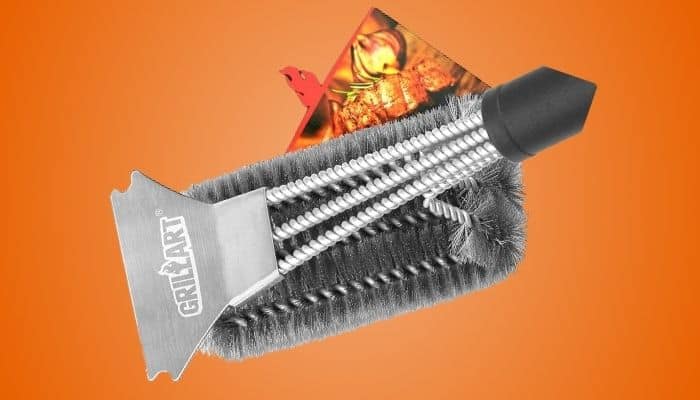 Similar to the Kona design, this
wire grill brush from Grillart
also features a built-in scraper. When a brush isn't quite enough to remove the gunk from your grates, the Grillart gives you another option.
The Grillart has a three-part angled head made from twisted steel. The stainless steel bristles are securely twisted into the head and won't fall out.
There is a built-in scraper on the top of the head. Since it has an angled head design, it is easy to flip the brush over to use the scraper on your grates. The edges of the scraper can get into small areas to remove carbon or other debris easily.
The plastic handle is lightweight and surprisingly sturdy. This brush, like the Kona, doesn't take a lot of pressure to use. It is safe to use with any type of grill, and won't scratch ceramic or porcelain coated grates.
The Grillart has an 18-inch long handle and its head is 2.8 inches wide. It is ideal for small and medium-sized grills and the angled head makes it a great option for kettle grills too.
This brush and scraper combo provides great cleaning ability in an attractive package. The handle also has a steel loop so it can easily hang from your grill or prep station. This brush comes with a satisfaction guarantee so there is no risk in trying it out!
Best Bristle Free Grill Brush
SUMPRI Safe BBQ Cleaning Brush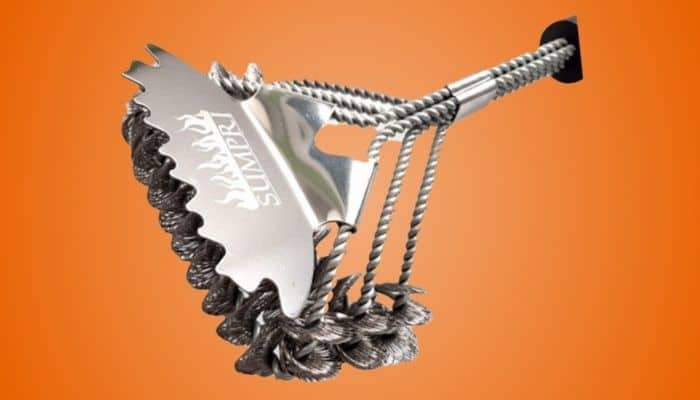 If you worry about eating a stray wire bristle, then
this bristle free brush from Sumpri
has got you covered. This brush has a built-in scraper and uses wire coils instead of bristles to clean your grill grates.
The twisted steel head has three separate sections of wire coils. The wire coils and the head's rods twist together securely, so it will never shed any wire. If you want a safe grill brush then this is the one for you.
The angled head is 7 inches wide and has a 6-inch built-in scraper on the flip-side. The scraper has serrations, allowing it to clean between your grates and scrape them free of debris. The 18-inch handle makes this an ideal brush for large grills and it has a soft silicone grip.
The Sumpri is a durable and long-lasting grill brush. Since it uses wire coils instead of bristles it won't wear out as quickly as a traditional grill brush. Unlike the Kona and Grillart brushes, however, the Sumpri can't clean the underside of your grates.
This brush is safe to use with most types of grill grates. I would be hesitant to use this to clean ceramic grates, however. The wire coils could leave behind scratches if you use too much pressure while cleaning and scraping.
This brush is too wide to be ideal for cleaning round or kettle-style grills but would be a great pick for a larger grill or offset smoker. It comes with a satisfaction guarantee and is a risk-free option.
Best Brass Grill Brush
Grillaholics Softer Bristle Grill Brush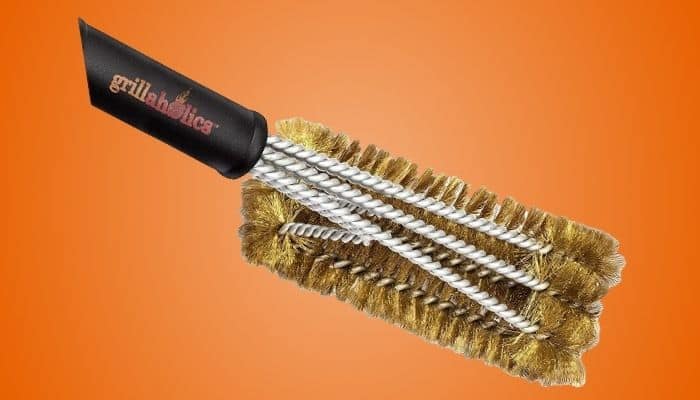 While brass grill brushes tend to be softer and less durable than stainless steel brushes, you won't have that problem with
this brass brush from Grillaholics
!
This sturdy brush is ideal for cleaning delicate ceramic and porcelain coated grates. The stainless brass bristles clean your grates, but won't leave any scratches behind. It doesn't take much pressure to use this brush either.
The design is similar to the Kona, with a 3-part twisted steel head. The heavy-duty brass bristles weave through the head for extra security. This brush can get in between your grates and even cleans their undersides!
This Grillaholics brush is triple machine tested for extra durability. The plastic handle is durable and quite sturdy, and even has a convenient loop for hanging the tool. The handle is 18 inches long, and it has a 5.5-inch wide angled head.
The angled head makes this a good option for cleaning round ceramic smokers or kettle-style grills. It is large enough to work for a full-size grill or smoker as well. You can easily use this brush to clean cast iron and stainless steel cooking grates too.
The Grillaholics is a great option if you need a brass grill brush. While it is a little more expensive than some, this brush also comes with a lifetime guarantee.
Best Cheap Grill Brush
Char-Broil Replaceable Head Grill Brush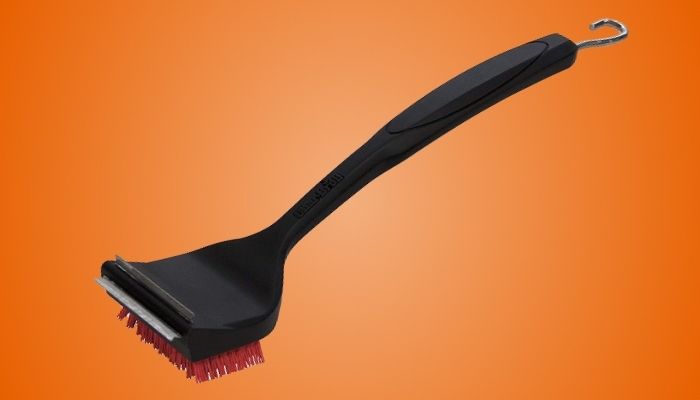 If you need a safe grill brush and don't have a lot of cash then
this option from Char-Broil
could be the perfect grill brush for you. The Cool Clean's nylon bristles are softer than metallic bristles and won't scratch your grill grates.
There is nothing fancy about this brush's design. The flat angled head holds the nylon bristle pad securely to the handle. There is a built-in double-scraper along the top of the head.
Just flip the brush over to use the built-in scraper, or reverse to use the nylon bristles. Char-Broil offers replacement heads, so you can change out your bristles when they wear out without replacing the whole brush.
This sturdy plastic brush is lightweight and easy to use. The handle has a hook embedded into it, so you can use it as a pot or grate-lifting tool. It is also easy to hang this brush from your grill or prep station.
The Char-Broil is cheap and pretty durable and is ideal for cleaning most grill types. Round grills or smokers could be a problem, however. The scraper sticks out and prevents the bristles from cleaning all the way to the edge of a round grate.
This cheap brush is a good option for many grill masters, so long as it is used on a cool grill. The nylon could melt to your grates if you use it while your grill is still warm. Luckily, replacement heads mean that's an easy problem to fix.
Best Grill Brush for Weber
Weber 6464 Bamboo Handle Grill Brush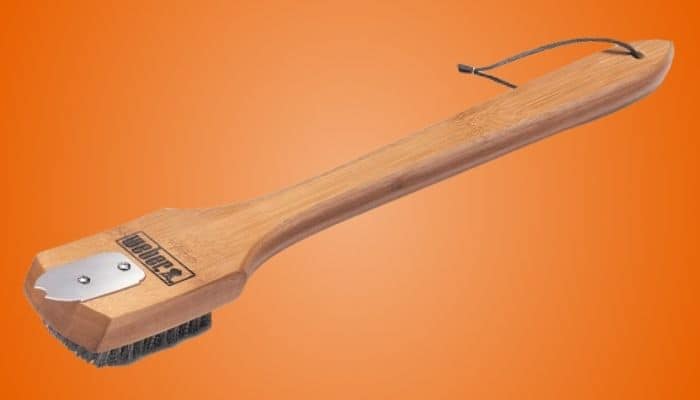 You know I am a huge fan of
Weber grills
and
accessories
, and
their basic bamboo grill brush
is no exception. The straightforward design and built-in scraper make this an excellent option for any grill.
The Weber brush has a simple flat bamboo head and handle. The stainless brass bristles are solidly attached and will never rust. There is a small, built-in scraper along the back that is perfectly sized to fit Weber grates.
This 18-inch long wooden brush is naturally heat resistant. You can use it on a hot grill with no problems. Since the bristles are made from brass, you can safely use this brush to clean ceramic and porcelain coated grates without scratching them.
This is a good option for cleaning any style of grill, although the brush lacks an angled head. Your hands could come into close proximity with the grates since the handle doesn't angle away. You may want to use a pair of grill gloves when using this brush on a warm grill.
The Weber bamboo grill brush is an excellent and inexpensive option and would make a good seasonal replacement. I just wish it had an angled head, so it would be a bit easier to use in round or kettle-style grills.
Why Trust Us
All of our reviews are compiled with a combination of expert input, years of hands-on testing of grilling products, curating the reviews of real-life buyers in a "wisdom of the crowd" system, and of course our own expertise. All the products listed are the ones we would buy if we were looking to purchase a new grill brush.
Methodology Used to Pick the Best Grill Brush
When picking the best grill brush we looked at and then rated each grill on the following criteria. Price, head, bristles, construction, and special features.
How We Chose the Best Grill Brush
The best grill brush really depends on the situation. You may prefer a different brush for cleaning your charcoal kettle grill than you use for your offset smoker.
Your grill's grates should also influence your choice of a brush. The ideal grill brush for cleaning stainless steel grates could be damaging if used on the wrong surface. A BBQ scrubber for ceramic grates, on the other hand, is soft enough to use on other styles without worry.
While brushes are not terribly exciting to shop for, they are a necessity. Unlike other cleaning tools, such as a vacuum ash collector, there aren't many ways to clean your grill grates other than using a grill brush or scraper.
You will go through many cleaning tools over your lifetime. Obviously, you want a brush suitable for your grill and style of grates. To find the perfect grill brush for you, consider the following factors:
Head and Bristles
Grill brushes come in several styles. Some brushes have a flat head with an arrangement of metal bristles and/or scraper pads attached to it. Others use a combination of a steel frame with wire bristles or loops attached to the head.
Another style is the "bristle free" grill brush. Instead of bristles, they use a continuous strand of wire to form the cleaning surface, similar to an SOS pad. For a safe grill brush, look for one woven from wire instead of made from individual bristles.
Grill brush bristles are most commonly made from stainless steel or brass wire. Both materials have their advantages and disadvantages, depending on your grill grates.
Stainless steel bristles are the most common type on the market. They make for a durable yet tough BBQ scrubber that is ideal for cleaning cast iron and stainless steel grill grates. These types of grill brushes offer resistance to corrosion and can be found at a wide range of prices.
Brass bristles are less common and typically more expensive. They are softer and less durable than stainless steel bristles as well. The advantage of brass bristles is that they won't scratch porcelain enameled or ceramic grill grates. The disadvantage is that they wear out faster and easily start to rust if left in a humid environment.
Some so called "wire-free" brushes use nylon bristles instead. The theory is that nylon bristles are softer, less likely to damage a grill grate and safe if accidentally ingested.
Having used one, I can also tell you that they don't really work very well and tend to melt if used on warm grill grates. They are a viable option for cleaning the more delicate ceramic and porcelain coated grates, however. Just don't use them while your grates are still warm.
Construction
A grill brush should be sturdy, durable and above all, safe. Its construction materials should be fire resistant and light in weight.
A BBQ cleaner should feel solid in your hand. Nothing on your brush should be loose or wobbly. The head and the handle should be firmly attached to each other, and there shouldn't be any loose bristles or other signs of weakness.
Your brush's handle should fit comfortably and conform to the shape of your palm. A grill brush should have a strong, heat-resistant handle that is long enough for you to reach the entire cooking grate.
The most common handle materials include wood, high-heat plastics, and steel with an insulating composite grip.
Easy to Store
Your grill brush should be easy to store, and by store, we really mean hang.
A good grill brush should have a loop or hole in the handle so you can hang it by your grill. You shouldn't have to take up room on your BBQ prep station or side table to lay down a grill brush.
Hanging grill brushes are quite common, luckily, so you shouldn't have any trouble finding the perfect one for your grill.
Special Features
The shape of your grill or smoker grates is a key factor in selecting the right grill brush. Every grill has its own peculiarities, and your brush should fit your grill and be able to get into its nooks and crannies without a struggle.
Here are the additional features often found on high-quality grill brushes. If you want a brush that is very easy to use, look for the following:
Built-in scraper– Many brushes have a scraper incorporated into the brush head. While bristles do a good job at removing debris from your grates, a scraper can get into the tough corners. It's really nice to have a scraper option built into your grill brush.
Angled Head– A brush with an angled head is easier to use on a round grill. The angle allows you to apply pressure to your grates while keeping your hands above the flames. The angled head also allows a brush to clean the grates all the way to the edge. Some flat brushes just can't adequately clean a round grill grate easily.
Grate/Pot Lifter– Some grill brushes have a solid steel hook embedded into the handle instead of a hanging loop. You can use the hook to lift up your grates or remove a lid from a pot on your grill. The hook may also function as a scraper to remove debris from your grates. Of course, you can also use the hook to hang your brush for storage.
Replacement Heads– If you prefer to use the same cleaning tools for many years, look for one that has replacement heads. Then you can just swap out your worn bristles for a fresh set without having to buy an entirely new brush!
Should you Replace My Grill Brush?
I'm not sure how often we replaced our grill brushes when I was a kid, but if memory serves, it was not nearly often enough. I remember using these brushes long past the point of no return.
While using a wire grill brush isn't nearly as dangerous as the news media suggests, a worn-out BBQ scrubber isn't doing you much good either. They don't remove debris very well and take a lot more effort to use.
You should examine your cleaning tools each time you use it, and replaced as needed. If you grill seasonally, you may only need to replace your brush at the start of the summer. Year-round grillmasters, however, may find that they go through several brushes each year.
Body Damage
Check your barbecue scrubber handle, head, and scraper (if it has a built-in scraper) for any damage before you use it.
Look for any cracks, splits or bends in the materials, and be sure the head of the brush is firmly attached to the handle. You should replace a wobbly brush or a one with a cracked handle.
If your brush is showing signs of fire damage, such as a burnt handle or any melted plastic bits, ditch it and get a new one.
Bristle Damage
The bristles are usually the most delicate part of a grill brush and the first part to wear out.
Look for signs of wear, including broken or bent bristles. A couple of bent bristles isn't a big deal but if it is more than that, you should just replace the brush. Worn bristles simply don't work to remove debris.
Also, examine your bristles for signs of rust or grease build-up. If your brush is so coated in the fruits of past BBQs that you can't see the bristles through the gunk, toss and replace.
To test the bristles on your brush, you can use a pair of pliers. Grip a bristle or two with the pliers and give a moderate tug. If the bristles are easily removed with the pliers then it is time to replace your grill brush.
How do you Clean your Grill Brush?
Maintaining a BBQ scrubber isn't hard, and it doesn't take a lot of time. A brush will last longer if you prevent a big build-up of grease or rust from forming. At the same time, cleaning your brush too frequently can also cause problems.
You don't have to clean your brush after each use. It depends on how much debris has built up on your bristles. If they are shiny and gunk-free then your brush doesn't need any cleaning.
If your bristles have a layer of gunk on them, then you will definitely want to give it a good cleaning before you store it away. The gunk damages the bristles and can attract insects and other pests. It will also add the flavor of rancid oil to your next BBQ if not removed.
To clean a grill brush, follow these steps:
Fill a pan or shallow dish with warm water. The vessel should be big enough that you can submerge the bristles in the water without soaking the entire grill brush or head (if possible).
Add a drop or two of mild dish soap to the water. Some people also add a drop of olive oil, to help condition the bristles. I usually skip this step myself and just use Dawn.
Place the bristles in the water-soap solution and let sit for a few minutes. The grease and gunk should start sliding off the bristles. You can use a nail brush or vegetable scrubber to remove any stuck-on debris.
Dry thoroughly! Remove as much water as you can by shaking or spinning the brush outside, and then hang it up until completely dry. Never store grill brush until it is totally dry because that can cause the materials to decay or rust.
One way you can reduce the amount of gunk your brush picks up is to only use it on warm grill grates. If you allow food and grease to burn off before cleaning your grates, then your bristles are less likely to come away coated in gunk. Carbon dust, on the other hand, will easily brush off the bristles without any special cleaning.
What is the safest type of grill brush?
This question is best answered by looking at which is the type of grill brush that is most dangerous. Wire grill brushes are the ones that send people to the hospital. When the brush is either cheaply made or is very old, small pieces of wire break off and sit on your grill grate. These are then picked up by the food you are cooking and are then swallowed. So if you want the safest grill brush don't buy a wire brush and go for a nylon or coil BBQ cleaner instead.
Top Grill Brushes Video
Conclusion
Grill brushes might not be the first thing you think of when planning a BBQ. But a good cleaning tool is an absolute necessity for every pitmaster. With the best grill brush in hand, your grates will be sparkling clean every time you fire up the grill.
Most of us don't replace our brushes frequently enough and use them far past the point of no return. A worn brush just doesn't do the job and can be a safety hazard as well. Your guests will be "grateful" if you pick up a new brush this season, and you'll be able to taste the improvement!