BBQ gloves are one of the most basic yet fundamentally useful accessories you can pick up. They may not seem like much, but they make almost every task around the grill, smoker, or fryer easier and safer. Today we're reviewing the best bbq gloves on the market to help you pick out the pair that fulfills your smoking, grilling, or baking needs.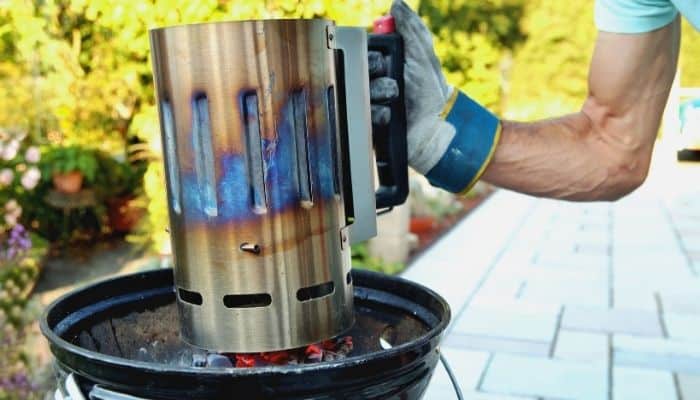 Best BBQ Gloves
We'll level with you: There isn't just one pair of best bbq gloves. Different types of grilling, smoking, and cooking have different requirements, with different material and performance needs.
If you're a true pitmaster, who loves to go low and slow, you don't need to worry about the kind of temps someone experimenting with a wood-fired pizza oven does. Likewise, someone who loves to fry up a turkey or make a mess of crawdads has very different needs than someone looking to quick-sear some juicy steaks.
Our list includes excellent examples of all the best types and styles of bbq gloves to help you find the perfect pair for your unique cooking style.
Grill Heat Aid BBQ Gloves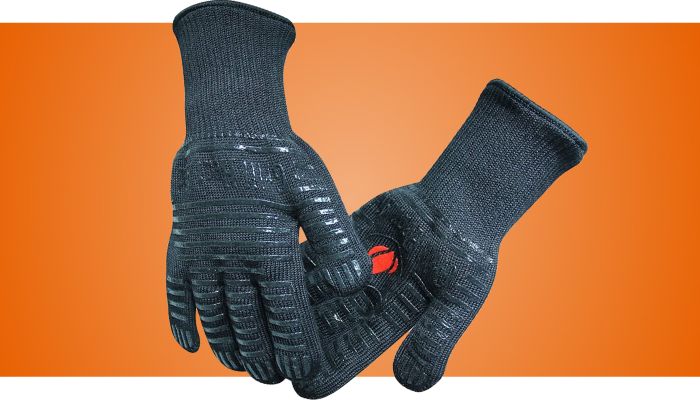 The Grill Heat Aid heat-resistant bbq gloves are silicone lined woven aramid gloves. They're made from a three-fold composite that combines silicone outer touchpoints, woven aramid as insulation, and a comfortable cotton inner liner.
They're rated to stand up to 932℉ and are fully capable of grasping hot meat, hot metal, coals, and even burning pieces of wood without issue. Even better, their design makes them comfortable and durable without sacrificing dexterity.
The sleeve reaches up several inches past your wrist to help protect your forearms. They're also backed by a lifetime warranty against defects.
We had no problem grabbing baked potatoes off a hot grill or turning over metal kebab skewers. Our hands got a little sweaty inside, but that was more down to the lack of ventilation than any heat leaking through.
If you're looking for highly effective heat-resistant gloves that don't reduce your dexterity the Grill Heat Aid heat-resistant bbq gloves get our mark of approval.
Grillaholics Barbecue Gloves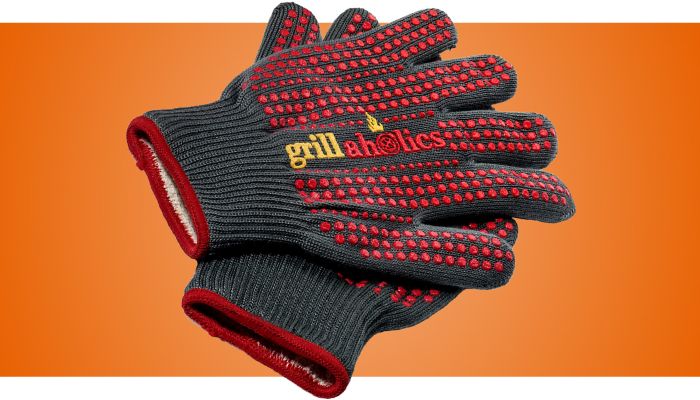 The Grillholics Barbecue Gloves are woven aramid 1313 gloves backed with silicone touchpoints. They're able to stand up to 660℉ without breaking a sweat.
They come in 'one size fits most' though we found them to be a little on the snug side. The silicone portions of the glove are present in a pattern of small dots. They do a good job reducing direct contact between the aramid and hot objects.
One thing we noticed immediately was that the wrist guard portion was shorter than on other gloves we reviewed. It wasn't a problem in our testing, but if you plan to reach deeper into your grill or want to do things like move firewood or pick up coals it could become an issue.
Pricewise these are more on the value side. That's not a bad thing, especially if you're looking for good grill gloves to use indoors and out.
While we didn't think the Grillholics Barbecue Gloves were the best option reviewed, but they provide good value for your money and certainly protect against contact and radiant heat.
Artisan Griller Redefining Outdoor Cooking BBQ Heat Resistant Gloves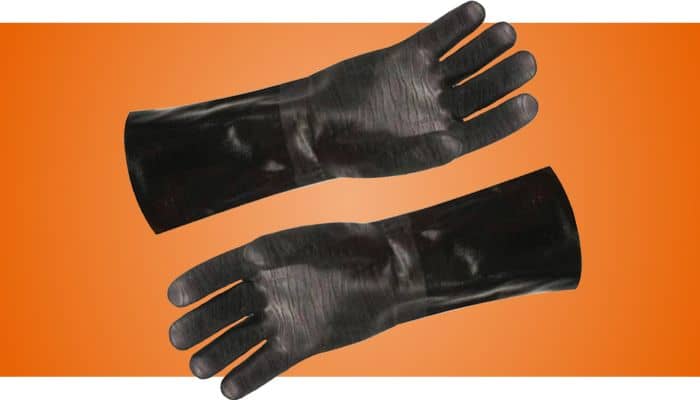 The Artisan Griller BBQ Heat-Resistant Gloves are large and highly-protective gloves. They're made from flexible neoprene lined with cotton and offer a full 14" of protection up your wrist and forearm.
They're also EN 407 certified, so you know that they can stand up to serious heat under any reasonable circumstances. You can use them with hot water, hot oil, hot grills, and even red hot coals.
They're ideal if you're the kind of pitmaster who's got racks of ribs and pork butts going on the grill while also managing a big ole' pot of boiling crawdads or a turkey fryer. They've even got a grip-friendly texture to make it easier to hold onto oil-slick pans or fresh smoked meat dripping with juices.
If you're looking for bbq gloves that work just as well at a low country boil as they do at a cookout, look no further. The Artisan Griller BBQ Heat-Resistant Gloves are the ones for you.
Jolly Green Products Ekogrips Premium BBQ Oven Gloves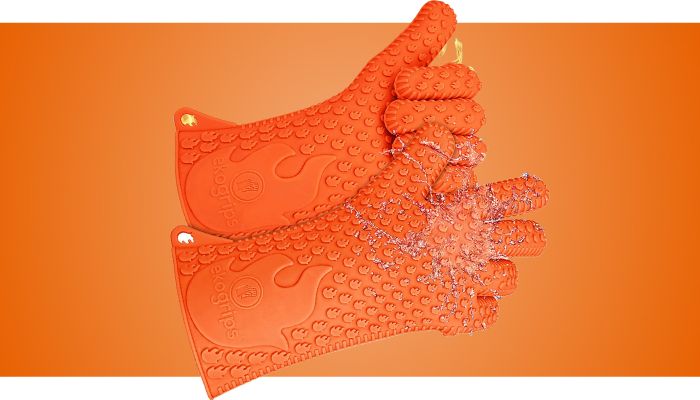 The Jolly Green Products Ekogrips are premium BBQ and oven gloves made from heat-resistant silicone. They're available in three different sizes and rated to handle temperatures up to 425℉.
That's not quite as high as some of the woven aramid gloves on our list, but it does have one key advantage. The Ekogrips are 100% waterproof, to the point where you can safely reach your hand into boiling water to pull things out.
They were explicitly engineered to find the perfect balance between protectiveness, durability, and comfort. They're slightly thinner than many cheaper gloves to offer improved dexterity, yet still provide all the protection you need for most grilling and smoking tasks.
We were impressed with how comfortable they were to wear, especially when grabbing heavier pots and pans. Word to the wise, though, when you're holding something that pushes the gloves against your skin you'll feel the heat a lot faster. It wasn't a problem, really, but it is something to keep in mind.
If you're looking for a comfortable fit and premium quality, look no further than the Jolly Green Products Ekogrips.
Grill Armor Extreme Heat Resistant Waterproof Gloves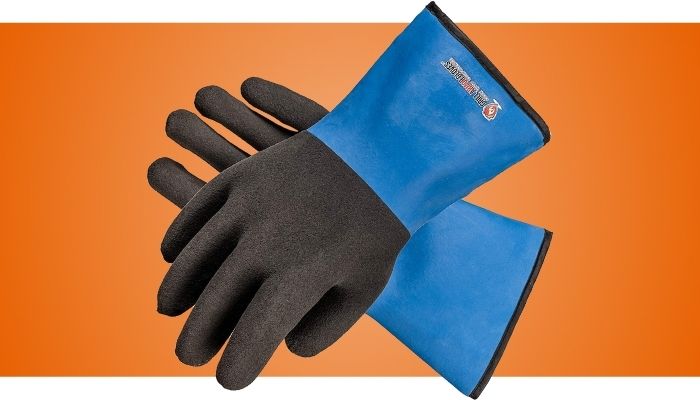 The Grill Armor Extreme Heat Resistant Waterproof Gloves are EN 407 certified wet and dry gloves capable of standing up to serious heat. 932℉ to be exact, a stunning level of protection for gloves this comfortable and durable.
They combine a high-end woven aramid core with a comfort-soft cotton lining and protective latex coating. You end up with supple, dextrous gloves that offer excellent heat protection while still sealing out water.
It's the best of both worlds, the heat-resistance of aramid with the water-resistance of latex. You can both pick up hot trays and grab 'baked' potatoes from a pot of boiling water.
Grill Armor honestly thought of everything with these gloves, including a hook to hang them from so they dry more rapidly and evenly. They're an excellent option for those who want it all in their BBQ gloves.
Steven Raichlen Best of Barbecue Gloves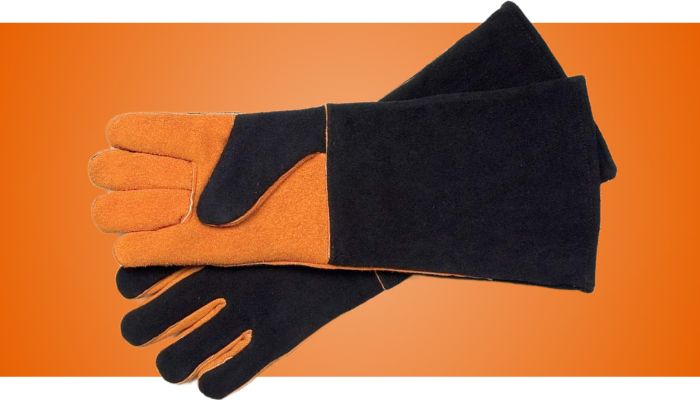 The Steven Raichlen Best of Barbecue Gloves are old-school suede leather gloves with an extended sleeve for added protection. They're comfortable enough for long periods of wear and still provide a surprising amount of protection.
We won't mess around here: These aren't the best bbq gloves money can buy. They're super basic and based on old tech that's since been surpassed by newer materials.
That being said, they still work just as well as they did back in the day. You can pick up hot pans, reach into a hot grill, and generally work with the confidence that comes from knowing your hands are safe. They're not waterproof and definitely can't be used to grab anything flaming, but they do a good job keeping the heat off your hands and reach up your forearms a lot further than most other bbq gloves.
Are they the newest gee-whiz bbq gloves?
Not even close.
What they are is a pair of reasonably priced, well-made, and long-lasting suede leather gloves that get the job done and look good while doing it.
Weber Premium Black Grilling Gloves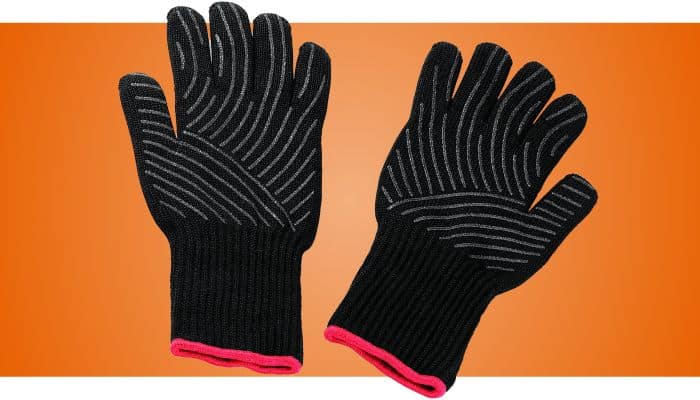 The Weber Premium Black Grilling Gloves are heat-resistant woven aramid gloves from one of the biggest names in the grilling and bbq world. They're rated to protect you against temps up to 482℉ without hindering your dexterity.
They're made of woven aramid with a silicone-coated palm for a non-slip grip and offer substantial heat protection. They're best suited for tasks where you need to reach into a hot grill or oven, but can also be used to lift and move pots, pans, and even cast iron as needed.
They're available in two sizes, large and X-large, and are some of the most comfortable bbq gloves we tried on. They offer no water protection and shouldn't be used for tasks with a high probability of splashes.
Overall they're durable and practical bbq gloves that work well but aren't the most cost-effective way to protect your hands while grilling out.
Drake Off Road US Forge 400 Welding Gloves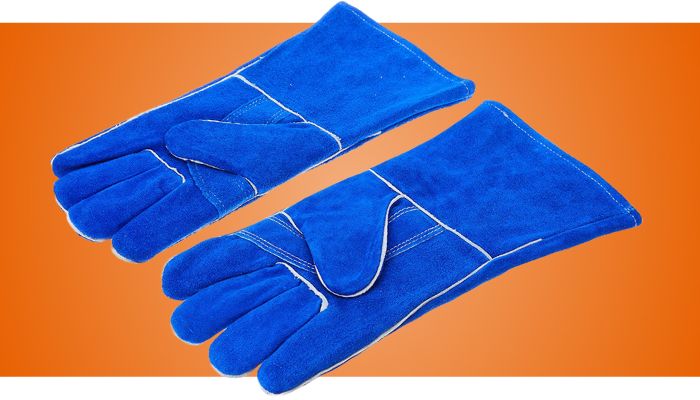 The Drake Off Road US Forge 400 Welding Gloves aren't strictly speaking bbq gloves. They're heavy-duty leather welding gloves designed for high-temperature activities like welding, angle grinding, and other industrial tasks.
That being said, they provide a lot of protection against contact, radiant, and convective heat for a very affordable price. They aren't suitable for use with wet heat, steam, or boiling water, but they'll do just fine for lifting hot pots and pans, adding wood to a roaring fire, or grabbing some tender ribs out of the smoker.
If you're looking for a less expensive option than the woven aramid or silicone bbq gloves, the Drake Off Road US Forge 400 Welding Gloves fit the bill.
Buyer's Guide to Buying the Best BBQ Gloves
BBQ gloves all look pretty much the same, but there are many more differences under the hood than you'd think. Picking out the best BBQ gloves comes down to materials, heat resistance, and the purpose they were designed for.
Price
Thankfully, bbq gloves aren't particularly pricey. You can pick up a basic pair of leather gloves for just over $10 or splurge for top-of-the-line aramid and polymer gloves at around the $30 to $50 mark.
Heat Resistance
Different types of bbq gloves offer different levels of heat resistance. All protect against direct contact with hot metal, meat, bone, or a grill surface, but some can protect you against hot water or direct flames as well.
Some bbq gloves have what's known as an EN 407 certificate. It shows that they can handle various threats such as contact heat, convective heat, and radiant heat. In extreme cases, such as with dual-purpose gloves intended for welding, it even shows how long it will protect against small particles of molten metal.
Let's take a look at the Grill Heat Aid gloves for an example of how the EN 407 certificate works. these gloves have been given an EN 407 Certificate, which means they have been tested and rated for the following.
Resistance to flammability
Resistance to contact heat
Resistance to convective heat
Resistance to radiant heat
Resistance to small splashes of molten metal
Resistance to large splashes of molten metal
But what does all this testing mean to the BBQ gloves user? The claim is that these BBQ gloves are good to handle temperatures of up to 932 degrees Fahrenheit. Which is amazingly high. Most BBQ gloves on the market don't get anywhere near this temperature. Just don't fool yourself into thinking this headline-grabbing figure means you're free to carry pots or grates at 932F to your heart's content.
There is a sliding scale with BBQ gloves where the hotter the object you're lifting, the shorter the time frame you can hold it for. You're not able to carry something at a temp of 932F all day long, but one degree more and you spontaneously combust. That's not how it works. How GrillHeat Aid gloves can claim their product is capable of withstanding such heat is that they have been independently tested for contact heat.
After the tests, a temperature with a time before an object becomes too uncomfortable to hold is awarded. And below is a table of how long you can expect to hold something with these gloves at certain temperature points:
932F (500C) 12 to 14 Seconds
662F (350C) 16 to 18 Seconds
482F (250C) 21 to 23 Seconds
212F (100C) 55 to 61 Seconds
It might seem I have waffled on about one particular point from one brand of BBQ glove a bit much, but it is an important point for any heat resistant glove that you buy. The headline figure is there just to grab your attention. Yes, it does mean the glove has been tested to that temperature, but it doesn't mean you'll be comfortable going that high.
I always find the tester for gloves must have a higher pain threshold than me, as I can't hold pots, pans or grates for the sort of times they claim. My advice is always to err on the side of caution with a new pair of gloves – you're not a fire juggler, you're a pitmaster, there is no need to be risking your safety at these crazy temps.
Material
There are several different materials used to make quality bbq gloves. Aramid fibers and silicone are by far the most common, but you'll still see some made from woven cotton or cotton-backed leather.
Aramid fibers are the same material used to create bulletproof vests, fire suits, and other heavy-duty personal protective equipment. They're lightweight, relatively flexible, and able to handle radiant, contact, and convective heat exceptionally well.
The only downside to woven aramid bbq gloves is that they can't stand up to liquid heat. Splash them with boiling water and you'll soon find out how hot it can be.
Silicone bbq gloves are thicker, heavier, and more unwieldy than woven aramid gloves, but offer full protection against contact, radiant, convective, and liquid sources of heat. With proper length silicone gloves, you can reach into boiling water and pull things out of them, no problem.
You can also find hybrid gloves, made from woven aramid fibers with silicone lining or hot spots. These offer substantial benefits for heat resistance but don't allow you to reach into boiling water.
Neoprene is also used, generally on more commercial-grade heat gloves. It's more flexible than silicone and water-resistant, unlike woven aramid gloves, but isn't quite as durable long-term.
Leather used to be the number one material for making heat-resistant gloves but has since been supplanted. It's a hardy and durable material but just can't compare to those made from aramid or silicone.
Cuff Length
The length of the cuff needed depends on what and how you're grilling out. For a backyard BBQ over a standard gas or charcoal grill, regular gloves covering the hand and a few inches of the wrist will do just fine.
If you're a serious pitmaster running a large smoker, you're going to need something more protection. Think oven mitt length, with some elbow-length gloves available for those cooking over an open wood fire or who need to reach into something like a deep pizza oven.
Fit & Dexterity
There are two main fits of bbq gloves: Mitt style and full-finger. Mitten style gloves look a lot like standard oven mitts, just with more intense heat and flame resistance.
They have the benefit of greater coverage for your fingers and more durability but give you some dexterity in the bargain. Just about any size pair of mitt style bbq gloves will work on just about anyone. As long as you can fit your hands inside, they'll be protected.
Finger bbq gloves have individual fingers that give you much greater dexterity and control. They aren't quite as protective as mitt-style gloves and work better when you need fine motor control.
The fit of finger gloves has to be a lot more precise. You don't want gloves that are too big as you'll have excess fabric flapping at the ends of your fingers.
Ease of Cleaning
Cleaning your bbq gloves can be a real hassle if you aren't careful. Some fabric gloves can be thrown in your washing machine, some full silicone or synthetic can be put into the dishwasher, but most require handwashing.
Many gloves with laminated silicone or other polymer coatings over fabric can be significantly degraded when placed in the washing machine. Many leather bbq gloves require special cleansers to wash and need to be carefully treated.
Double-check the manufacturer's recommendations before making a purchasing decision.
Waterproofing
Waterproofing is a significant consideration for bbq gloves. Some gloves, especially those with a cotton backing, offer no water resistance at all. They can actually lose all heat protection once wet.
That can be incredibly dangerous if you're cooking something with a lot of juices to it or are trying to manage a big pot of chili or soup over a fire. Other gloves that are made of entirely synthetic materials offer much greater water resistance.
They have the added benefit of maintaining their heat resistance even when wet but don't allow your hands to breathe while wearing them. That can lead to sweaty, clammy hands inside your gloves if you wear them for too long.
Best BBQ Gloves Video
Don't give up if the grill gets too hot; instead, put on some protective gear. Heat-resistant gloves are a must-have for any serious griller since they prevent burns from appliances including grills, stoves, and cast-iron skillets. After all, no one wants to spend hours around the grill making pulled pork, ribs, or brisket only to be unable to taste them because of a blistering thumb.
How I Tested the BBQ Gloves
I set out to find the "best BBQ glove," but I was also curious as to whether or not it was better to have a dedicated glove for different tasks, a silicone glove for pulling meat, and a leather glove for managing the grill grates for example. Silicone gloves, fabric gloves with silicone, synthetic gloves with a combination of aerospace materials including aramid and neoprene, and traditional leather gloves were all included in my compilation.
To begin, I grilled whole chicken's and removed them from the grill using silicone and neoprene-based gloves, at which point I began pulling the meat. Dexterity was found to be nearly the same for neoprene and silicone gloves.
It was time to break out the instant-read thermometers for my carefully orchestrated heat test. The ThermoWorks One, my finest thermometer, was inserted in the glove's palm, and a cast iron pan was placed on top of the glove and heated to 450 degrees Fahrenheit for 45 seconds. After 45 seconds, I recorded the highest temperature reached by the radiant heat left behind from the pan.
Here, silicone and neoprene gloves fared similarly to leather gloves rated for 932°F in terms of durability. In the first 45 seconds, I measured temperatures as high as 152 degrees Fahrenheit on our warmest glove and 98 degrees Fahrenheit on our coldest. Compared to leather gloves, the silicone/neoprene ones retained less heat. There was never a moment during this test that any of the gloves lost their structural integrity.
I put each pair of gloves through their paces by seeing how well I could press the small buttons on my dual probe thermometers. I discovered that some gloves were too rigid or had too much bulk at the fingertips to be practical.
By the time I were done, I had lit some logs on fire and was playing with them. Right here is where I determined the cream of the crop. Quick heating and even burning occurred with several of the generic brands and they didn't make my list. Some others gave us up to 15 seconds of log handling time. However, the results were mixed, with some lesser-known brands outperforming more well-known ones.
I cleaned the leather gloves with a soapy cloth after playing with fire, but I washed the silicone/neoprene gloves the same way you'd wash your hands—with soap and water. The silicone/neoprene gloves, as predicted, required the least amount of maintenance and seemed unworn.
Types of Grill Gloves Explained
To further clarify the rationale behind my selections, I'll discuss the various materials that can be used to make heat-resistant gloves, each of which has its own advantages and disadvantages. Each one will be elaborated upon below.
Silicone
Silicone, a rubber-like substance with numerous industrial applications, is ubiquitous, showing up everywhere from restrooms to computers. Silicone can be fire-resistant, depending on its density and thickness.
Extremely pliable, it can be shaped into any desired form and is usually waterproof (to the extent that it may be cleaned by wiping or being put in the dishwasher). Silicone is the ideal material to use when removing food from the grill by hand.
However, because silicone gloves tend to be too big around the wrist, radiant heat can easily enter, negating the gloves' intended function.
They are usually cumbersome, which makes it tough to do things like take precise measurements with a thermometer while wearing them. Last but not least, if silicone gets oily, it becomes incredibly slippery and difficult to hold. Lifting ribs, brisket, or any other cut of meat may become a balancing act, putting at risk several hours of effort.
Woven Fabric
Because of their resistance to high temperatures, aramid fibers find widespread application in fields as diverse as firefighting, aircraft, and the military.
Their properties make them ideal for use in bulletproof vests, Kevlar, and other composite materials, and they are also a viable alternative to asbestos. Both Para and Meta properties of aramid fiber have their advantages and disadvantages.
They're the greatest bbq gloves you can buy if you're looking for protection from high temperatures. At the best possible production quality, they have a resistance to abrasion, maintain their structural integrity when heated, and have no melting point.
Firefighters don't approach blazing buildings clothed head to toe in silicone; they wear Aramid fibers instead.
In terms of withstanding high temperatures, it is clearly the best option. It has no natural resistance to water and has a high production cost. However, it serves our purposes and those of many others admirably.
Treated Leather
Leather gloves, in contrast to the other gloves I've discussed, don't make a big deal about the coldest temperature to which they can be exposed.
Cast iron cookware works well for most BBQ or grilling chores, but you should be careful while handling them with leather gloves for extended periods of time.
There have been reports of the gloves shrinking, as well. Since leather is typically described as a "living" material that necessitates extra care and attention, I wouldn't recommend a leather-style glove if you plan on using the glove once and then tossing it in the dishwasher.
FAQ
The barbecue gloves available nowadays vary greatly in quality. It might be confusing to figure out which to purchase because there are so many different brands, types of materials, and sizes available. This leads to people having lots of questions about what is the best BBQ gloves. Below I try to answer many of the most common questions, but if you have more please ask in the comments section.
Are grilling gloves necessary?
Wearing grill gloves to protect your hands from heat and flames when using a barbecue is entirely optional. But I do think having a pair makes many tasks a lot easier. They're fantastic for keeping your hands safe from the grill's grates or your BBQ's hot lid or handle. However, heat protection gloves are highly recommended when standing over an open fire pit, shifting logs, or handling hot charcoals.
Why Not Just Use Tongs?
This is a reasonable question and one that needs answering. If you only have grilling tongs (the longer handle tongs), you can use them to move coal or seal off an air vent. However, you shouldn't use tongs to remove an 8-pound pork shoulder from the grill as it'd likely fall apart or you may get burned.
And nothing is more annoying than dropping a hefty set of hot grill grates on your foot after taking them up with a cheap pair of tongs.
If you want to avoid burning your hands when grilling, it's a good idea to pick up a pair of gloves and tongs specifically designed for the purpose. Make sure the gloves and tongs you buy have a high enough safety rating to keep your hands safe.
Are the Best Grill Gloves Worth the Money?
How you plan to use the best grill gloves will determine whether or not they are worth the investment. Not everyone thinks gloves are necessary equipment for cooking over a portable gas barbecue.
The best grilling gloves are well worth the investment if you plan to move hot coals or logs while cooking over a charcoal grill or open fire pit.
Should BBQ Gloves Be Waterproof?
Grilling gloves that can withstand water are useful even if you have no intention of putting your hands in a kettle of boiling water. However, the transfer of heat from a wet surface to a dry one is enhanced, so your gloves' heat resistance will decrease if they soak up any moisture.
Some fabrics lose their protective qualities when wet, such as when it rains or when your gloves soak up oil or grease. When handling hot meals, if your hands become wet or greasy, you run the risk of getting burned since heat travels more quickly through liquids than through dry surfaces.
Not even the best knitted or woven gloves can withstand steam. There are gaps in the weave that allow steam to penetrate and cause burns. Gloves knitted from fabric-like materials might not be the best choice if you frequently work in humid heat; gloves molded from a flexible substance might be more appropriate.
Working with hot oil requires the same degree of care. Woven fabrics are just as porous to oil as they are to steam. It can cause burns if it penetrates the fabric and reaches your skin while you're wearing the glove. However, high temperatures in oil can also melt plastics and other materials used in manufacturing gloves. Before you start working with heated fats and oils, make sure you read the manufacturer's instructions.
Can You Use Welding Gloves Instead of BBQ Gloves?
You may certainly substitute welding gloves for grilling gloves. These gloves are great for protecting your hands from the heat because they can endure temperatures over 500 degrees Fahrenheit (often up to 1,000 degrees if used briefly).
However, it may be difficult to use equipment or prepare food while wearing welding gloves because of their bulky, thick construction.
How Should Grill Gloves Fit?
Each person has their own standards for how snugly their grilling gloves should fit. Typically, they are made for people with larger hands. People with tiny hands may have difficulty finding a comfortable fit.
However, grilling gloves are often built to be loose enough to be thrown off in an emergency. For the sake of protection, you'll have to forego some maneuverability.
However, wearing a big glove can make you feel clumsy and out of sync with your surroundings. Thick-lined gloves are more comfortable for people with smaller hands.
Smaller hands may be better accommodated by the snug fit of knit gloves due to their greater elasticity. Leather, a natural material, conforms more easily to the curve of your hand than synthetics, which must be sculpted to fit.
Also, those with particularly large hands may have difficulty locating a suitable fit. Hands of a greater size can use this stretch. Although, if the glove is too snug, it can be a pain to get off quickly.
When looking for a grilling glove, you should think about how long the cuff is. Gloves that reach your elbow may be preferable if you plan on holding your arms over a really hot grill or fire. If you're using a Kamado grill, smoker, or wood stove, gloves with extended cuffs will be extremely useful while reaching inside.
In addition to shielding your arm, a wide cuff will also allow for air circulation. If your hands and wrists are on the smaller side, a glove with a narrow or tight cuff will help prevent the glove from falling off. If you're cooking over a hot grill, a snug cuff can make your wrist and hand sweat.
Final Thoughts
BBQ gloves are a useful extra accessory that makes your grilling, smoking, or searing experience a lot easier and more comfortable.
Finding the best bbq gloves for your cooking style comes down to the types of food you make, the temps you cook them at, and what level of protection you're looking for.
So long as you have a pretty good idea of what you're looking for, it's easy to find bbq gloves that can handle the heat.