Grilling out is a summer activity that can take an ordinary day and make it extraordinary. That special sound when a thick, juicy steak first hits the grate is enough to get anyone's mouth watering, and given how many different types of grills there are out there it's easy to find one that fits any lifestyle.
What isn't so delightful about a grill is figuring out how to store it so that rainy days weeks before don't rust out your delicious barbecues. Today we're reviewing some of the best grill covers on the market to help you find the perfect option for keeping your backyard bbq's going strong.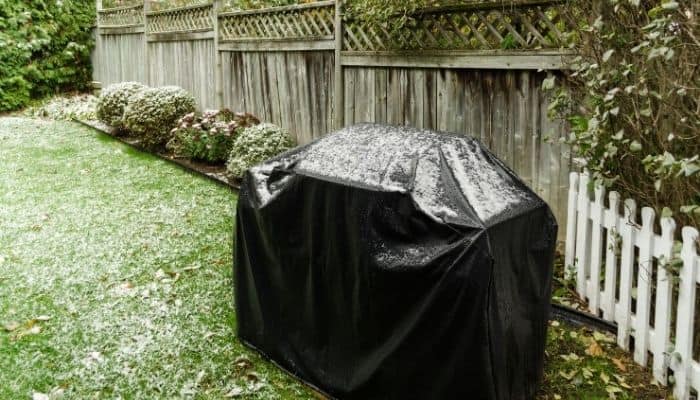 Best Grill Covers
Grill covers are a special purchase that you're limited in option by the type of grill you have. We don't know about you, but we haven't met many people who make purchasing decisions based on the types of covers and liners they'll have available for it.
With that limitation in mind, we picked out some of the best grill covers available for various grill types, shapes, and configurations.
Grillman Premium Grill Cover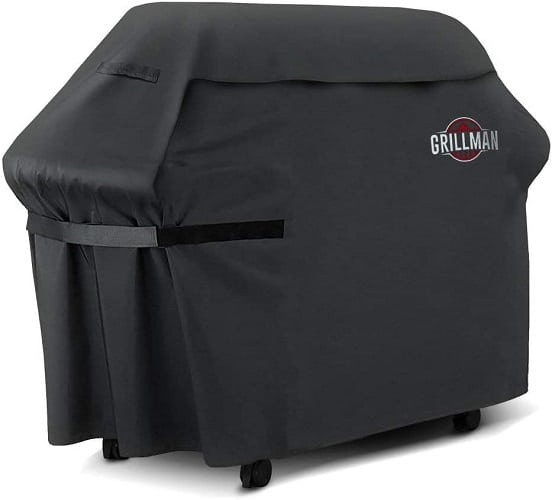 The Grillman Premium Grill Cover is a heavy-duty grill cover made from durable Oxford with a PVC liner. It gives the cover a very sharp, textured look and makes it much more water and UV resistant.
It's available in a wide range of sizes to fit almost any grill available on the market. Grillman can do this through a combination of multiple sizes/footprints and an easy to use hook-and-loop adjustment system.
It has the added benefit of giving the cover a very secure fit on your grill. We found it really useful in windy conditions where some other covers would blow up or even all the way off your grill.
The material is UV and water resistant but isn't the strongest we've seen. It's definitely sturdy and can handle some knocks, but if you're willing to pay more there are more premium offerings out there.
All in all, we found the Grillman Premium Grill Cover to be a versatile and reasonably priced option for protecting your grill.
Homitt Gas Grill Cover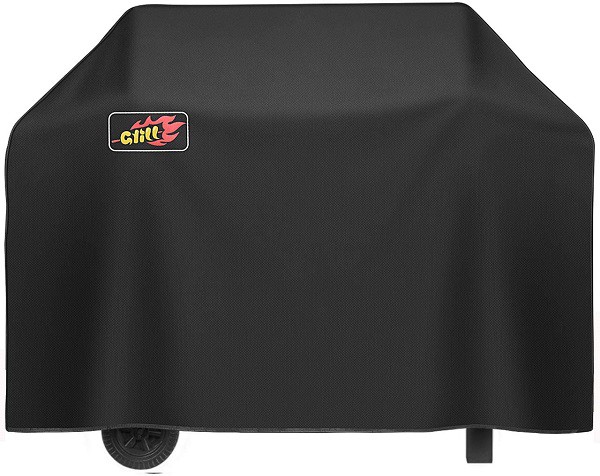 The Homitt Gas Grill Cover is a heavy-duty cover made from 600D waterproof Oxford with a PVC layer. It's available in four sizes and fits most grills available.
It's fitted with handles to make it easy to move and includes sturdy straps for a secure fit. We jostled it around a bunch on our grill while testing it and have zero concerns with it blowing up or off in a wind or rainstorm.
The edges are double-stitched for added durability and the PVC coated Oxford offers excellent UV, water, and tear resistance. One really nice touch was the inclusion of a storage bag. We couldn't think of a lot of times where you'd want to store your grill's storage cover, but it's still a nice extra.
It's hard to go wrong with one of the Homitt Gas Grill Covers for gas grills. They're reasonably priced, reliable, and look sharp for years to come.
Best Kettle Grill Cover – Weber 22 Inch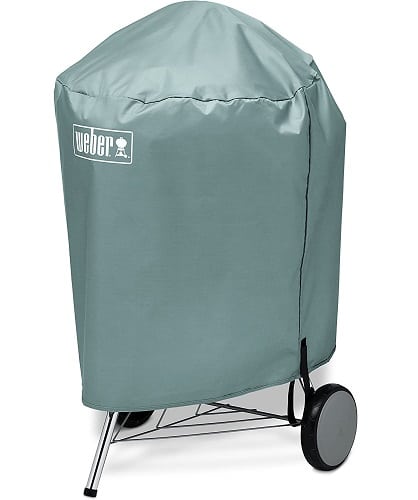 Kettle style gas and charcoal grills offer their own unique challenge when finding a cover. Our pick for best kettle grill cover is from one of the most recognizable and celebrated names in the grilling world: Weber.
It's designed to fit perfectly around their 22 inch charcoal grill and comes embossed with the iconic Weber logo. The cover is made from a weather resistant polyester fabric and comes in a fade resistant light gray.
We really loved how snuggly this cover fit around the grill and how easy it was to secure. Instead of tightening clips or straps, it has a pair of looping straps that go around the bottom of the grill. They make it almost impossible for the cover to blow up or blow off.
If you've got a classic kettle style grill, like the Master Touch, the Weber 22 Inch grill cover is one of the best options out there.
Weber Genesis E and S Series Grill Cover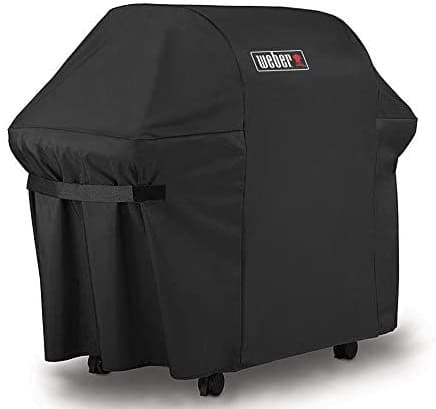 For Weber grill enthusiasts and owners, there's no better option out there than OEM parts and accessories. If you've got a Genesis E or Series S Weber grill the company's grill cover for that line will give you the best possible fit you can find.
They're made of durable polyester fabric with the classic Weber logo on one side and a pair of broad cinching straps around the edges. These allow you to tighten the cover securely around the midsection of your grill to keep water or wind from blowing up into it.
The fabric is treated to give you excellent water, fade, and UV resistant finish that helps keep your grill in tip-top shape for years to come.
Best Kamado Grill Cover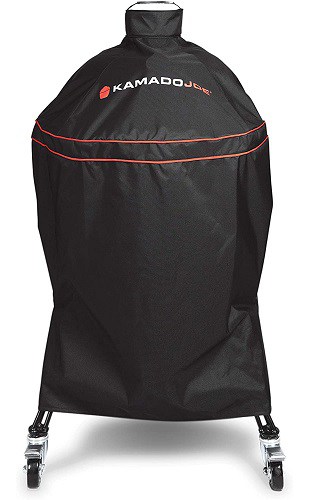 Kamado Joe has taken the grilling world by storm with their take on the traditional Japanese charcoal-fired cooking system. Their gorgeous enameled grills are tough as nails but still need to be protected from the elements.
The company's grill cover is designed to fit securely on the Kamado Joe Classic I, II, and III grills. They're made from a sturdy and water resistant polyester fabric and have a stylish pair of red thread strips crossing the main body.
Given the unusual shape and size of the Kamado grills, it's important to find the proper fit. These covers take the venting system and egg-like shape of the Classic grills into account, allowing you to reliably protect your grill without putting you through the hassle of fitting a generic cover.
Classic Accessories Water-Resistant BBQ Grill Cover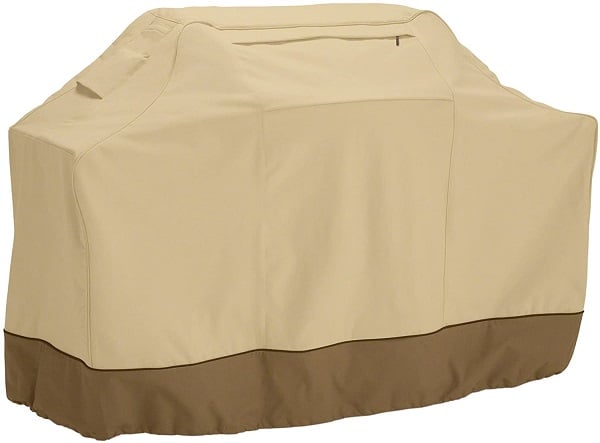 The Classic Accessories Water-Resistant BBQ Grill Cover is a stylish and durable line of covers that fit most major grills available today. They're made from a water resistant fabric with high-density stitched seams that are interior bound for greater protection.
What really helps set these covers apart from the competition is how well they're made and how securely they attach. Instead of basic hook-and-loop fastener straps, they combine multiple points of fit and attachment.
They start with attachment straps that go around your grill's legs plus an elastic hem cord to tighten up the base. You wind up with a cover that provides a custom fit and prevents any water or rain from blowing in. When you add in the sealable air vents you can rest easy knowing your grill will be safe and sound no matter what outside conditions look like.
If you're looking for a stylish grill cover that provides an excellent fit and long-term durability, the Classic Accessories Water-Resistant BBQ Grill Cover won't let you down.
Char-Broil Electric Smoker Cover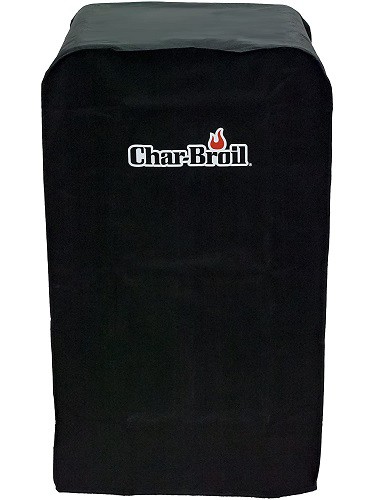 The Char-Broil Electric Smoker Cover is a custom fit cover designed specifically for the popular Char-Broil 30 inch electric smoker. It fits snugly around the smoker's body and keeps it safe from wind, rain, and other threats.
It's made from polyester fabric with a dense water resistant finish. Given that it's designed to protect an outdoor electric appliance the fit is a lot more intense than with other grill covers.
It gives you top to bottom coverage of your smoker, with almost no room between the cover and the smoker's body for water to enter.
The only real downside we saw with this cover is that Char-Broil doesn't sell one that also extends down to cover the optional stand. It's a little thing, but we think it would be useful for a lot of enthusiasts.
If you've got a Char-Broil electric smoker this is the perfect cover to purchase as an accessory.
iCOVER Offset Smoker Cover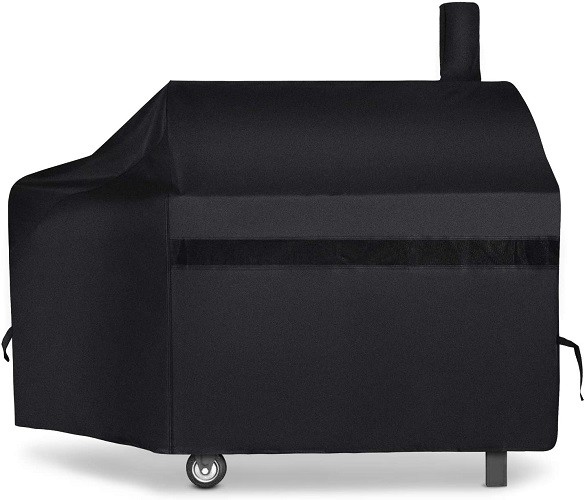 The iCOVER Offset Smoker Cover is a specialized grill cover designed to provide a snug fit on an offset smokers' unique shape. It has a lengthened section on one end to extend over the firebox without throwing off the rest of the cover's shape.
There are plenty of extra-large grill covers that will fit on offset smokers but most of them do so with a lot of extra slack. They have way too much room over the firebox and don't reliably cinch or strap down around them.
You wind up with a covered grill, but one that looks messy and isn't as able to stand up to windy, rainy conditions. Going with the iCOVER gives you the perfect fit to protect your beloved smoker and make it look a lot sleeker on your porch.
As for workmanship and materials, it's hard to find any flaws. The iCOVER is made from PVC lined Oxford polyester and is wind, water, and UV resistant. It has a front vent and uses a system of straps to provide a snug and secure fit.
For those of you who like to smoke up some delicious ribs or brisket, the iCOVER Offset Smoker Cover is the way to go.
VicTsing Waterproof BBQ Cover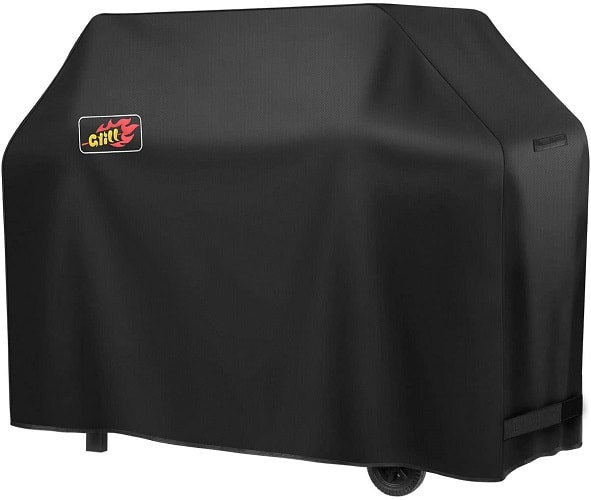 The VicTsing Waterproof BBQ Cover is an inexpensive yet durable option for those looking to pick up a basic grill cover. It's made from water resistant Oxford polyester with a PVC lining plus all the most essential elements we look for in a grill cover.
It uses a pair of hook-and-loop fastener straps on either end to hold it down on your grill. The company claims that it's '100% waterproof', so we decided to put it to the test.
We hit this bad boy with a hose for several minutes to see how well it held up to water, and were pleasantly surprised to find our grill bone dry underneath. Not bad for a cover this affordable.
Realistically a black cover this cheap probably won't last forever under the glaring sun, but it should give you a few seasons of service at a minimum.
If you want a value priced grill cover that provides good service for the money, it's hard to do better than the VicTsing Waterproof BBQ Cover.
Buyer's Guide to Buying the Best Grill Cover
Picking out the best grill cover comes down to the quality of the materials used and the workmanship. There are only a few real features to consider, with the fit, water/UV resistance, and adjustability topping that list.
Price
Thankfully grill covers are a lot cheaper than grills. You can pick up basic models for less than $20, and unless you've got a really funky/custom grill even the best ones won't run much more than $40.
Material
There are three main categories of material used to make modern grill covers. These are polyester, vinyl, and canvas.
Polyester – Polyester grill covers are widely available and inexpensive. They provide good basic protection against wind, water, and sun, but aren't the sturdiest or most durable.
Polyester covers are much more susceptible to UV damage and overall a little weaker. There are certainly good polyester grill covers out there, but they aren't the best you're going to be able to find.
Vinyl – Vinyl is rapidly establishing itself as the material to use for outdoor protective covers. It's stronger, more water-resistant, tear-resistant, and UV-resistant.
Even better, the price of vinyl covers is dropping rapidly over time, to the point where they're very competitively priced to less effective polyester covers.
The downside is that they aren't as widely available as polyester models and generally still cost more.
Canvas – Canvas covers are the oldest and, some would argue, classiest looking grill covers. They're usually made from some version of duck canvas and come in a huge variety of colors, sizes, and patterns.
The upside to canvas is that it's a sturdy, attractive material that's been used for centuries. The downside is that it offers no water-resistance itself, relying on coatings and treatments. It also doesn't have the UV resistance than vinyl and better-quality polyester ones do.
It's still a strong option, especially if you want that aesthetic, but it's not the best choice strictly from longevity and durability.
Size
Size for grill covers depends entirely on the type and size of the grill you want to cover. Some grill covers list specific grill models that they will fit, but most require you to check the dimensions of your grill against their listed dimensions.
The good news is that the vast majority of consumer grills are relatively similar in size. There are definitely some variances depending on the cooking space/complexity/type of your grill, but in general, it's pretty easy to find one that fits.
We recommend you check the fit as soon as you receive it. The cover should be able to close securely around your grill while covering it on all sides.
Waterproofing
One of the key elements of a grill cover is water protection. Letting a grill sit out in the rain is one of the fastest ways to watch it corrode away, so a quality grill cover that can keep the water off is essential.
Almost every grill cover offers some water protection, but some are a lot better than others. Consider how much rain you get in your location and where your grill is stored.
If you mostly keep your grill in a covered location and live in a dry climate you can get away with a less protective cover. If it's raining every other day and your grill is sitting on an open porch, you need a lot more cover.
UV Protection
UV protection for a grill cover is a really big deal. Your cover will sit in the sun all day, every day, and needs to be able to handle that.
Look for grill covers with specific UV protections listed and check the customer reviews to see what real people's experience has been while using them. One thing to keep in mind is that even the best grill cover won't last more than a few years under heavy, all day sun.
Lining
Linings and laminates help reinforce the fabric of your grill cover. They add greater strength, protect the interior finish of your grill, and can improve water and UV resistance.
If you've got a high-end grill, we recommend you get a grill cover with a soft-touch liner. It protects your grill from scratches while the cover is on and can even give it a bit more impact protection.
Straps / Tie-Downs / Fastenings
The best grill covers will all come with some way to secure them to your grill. There are many different systems out there, starting as simple as hook-and-loop fasteners and getting as complicated as multiple velcro straps and tie-down points for a fully windproof cover.
Balance how securely you want your grill cover to be attached to your grill with how much effort you're willing to put forth covering it every time you're done grilling.
Air Vents
Air vents are a useful extra to look for on grill covers. Even the best grill cover will allow some water to slip in from time to time.
Air vents allow the interior to air out once the rain has stopped and prevents small amounts of water on the inside from becoming bigger problems.
Pockets
Pockets are a great extra feature, though by no means an essential element of a grill cover. They allow you to keep grill accessories and extras like aprons, heat-resistant gloves, and even utensils right with your grill without worrying about them getting lost or damaged.
Final Thoughts
With grill covers, it really comes down to what kind of grill you have and where you store it.
There are plenty of great options for virtually every type of grill, with awesome examples laid out above to help you find the perfect model for your grill.
Keep in mind how sunny and rainy it gets where you are and pick out a cover that can handle those kinds of weather conditions.