There's nothing quite like the sound of perfectly seasoned steaks hitting a sizzling hot grill. Unfortunately, there's also not much more annoying than having to clean grease, grime, and burnt-on bits off your now cold grill. Today we're covering the best grill cleaners to make it easier for you to find the right product for your cleaning needs.
Best Grill Cleaner
Grill cleaners aren't the same as the basic cleaners you have for your kitchen. They're designed specifically to deal with the kind of grease and crusted on food debris that comes from rapidly cooking things at high temperatures.
We picked out some of the most highly rated grill cleaners on the market and put them through their paces. The ones that made the cut are below.
Easy Off BBQ Cleaner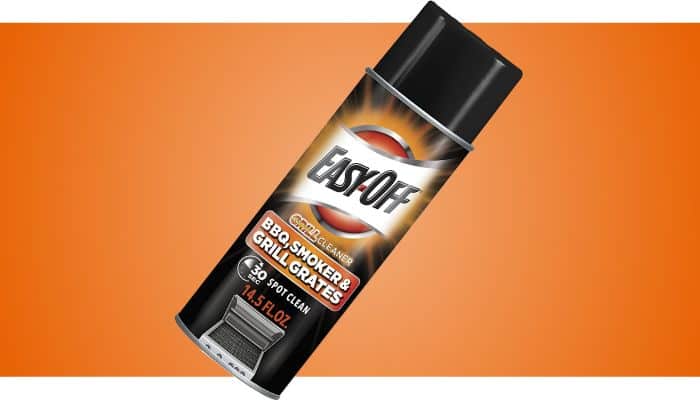 Easy Off BBQ Cleaner is a spray-on foaming grill cleaner designed to cut through grease and grime. It comes in an easy to use aerosol canister that allows you to really coat the surface you need to clean.
It's specialized for cleaning stainless steel and can actually remove the need to use a potentially damaging hard-bristle grill brush. Just spray it on your dirty grill grate, allow it to sit for about 40 minutes to an hour, then wipe it off with a wet cloth or sponge.
There are a few caveats though. This grill cleaner is serious stuff. It has heavy-duty degreasers and solvents that do a great job but require some basic precautions. You should definitely wear gloves while working with it, and be sure to rinse your grill after cleaning it thoroughly.
It also shouldn't be used on multiple surfaces or material types. It's for cleaning stainless steel, and that's pretty much it.
All in all, though, the Easy Off BBQ Cleaner is one of the easiest grill cleaners to use for removing stuck-on food, grease, and other hard to clean messes on your stainless steel grill grates.
Weber Grill Cleaning Kit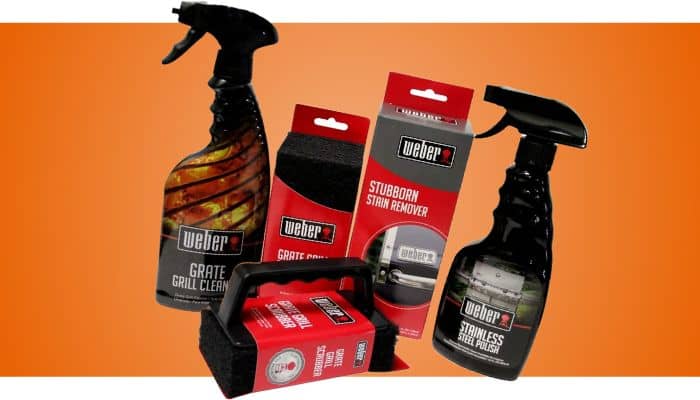 The Weber Grill Cleaning Kit is a full-service grill cleaning and maintenance kit. It includes both stainless steel and enameled grill grate cleaning sprays plus all the brushes you need to really scrub down your grill.
It has a total of five different cleaning agents and brushes, including one designed to break down stubborn and burnt-on spots. You can take your grill from greasy and grimy to near spotless with just the contents of this kit.
It's a useful starter kit if you just picked up a new grill or if you're looking to replace your cleaning brushes. Instead of having to piece together a kit you can purchase this one item and get everything you need.
The Weber Grill Cleaning Kit is a convenient and effective solution for cleaning and maintaining your grill for the long term.
Therapy Premium Stainless Steel Cleaner & Polish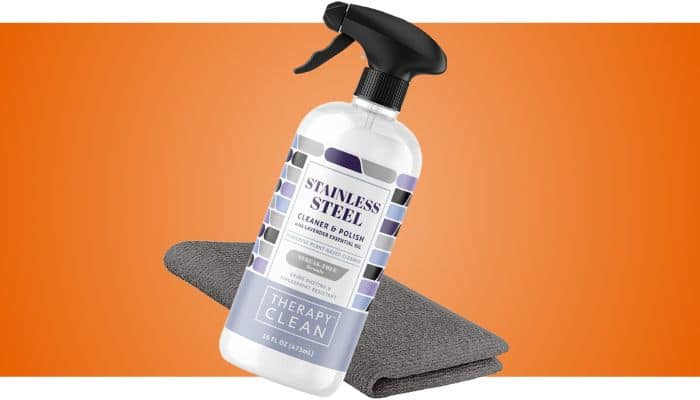 The Therapy Premium Stainless Steel Cleaner and Polish is a plant-based natural cleaner designed for your grills outside surfaces. It uses a blend of natural ingredients to break down dirt and grime off the surface of your grill.
It comes in a manual pump spray bottle and includes a polishing cloth. It does a good job cleaning and shining up your grill's outer shell and works equally well on stainless steel appliances.
However, one thing to keep in mind is that it isn't designed for cleaning grill grates. It's strictly for the shell of your grill.
It's a great option if you're looking for a more natural product than some of the harsh solvents and chemical cleaners. We recommend it for keeping your stainless steel grill surface shining.
Citrusafe Grill Cleaning Spray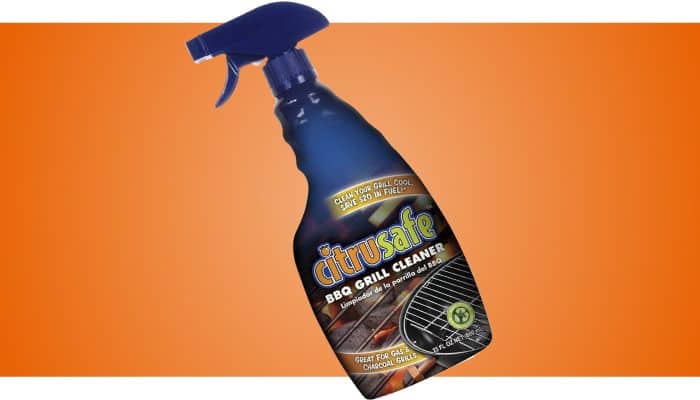 The Citrus Safe Grill Cleaning Spray is a biodegradable grill cleaner in a pump spray bottle. It uses a citrus-based degreaser to break through stubborn buildup and help you really scrub down your grill.
It's designed to work well on most grill surfaces, including stainless steel and enameled grill grates. That allows you to remove all the grease and grime from your grill with a single spray.
It works best for periodic cleaning and upkeep rather than deep cleaning. As a natural and non-corrosive product, it doesn't have the solvent properties of some other grill cleaners.
If you're looking to deep clean a grill after a long period of use this isn't the grill cleaner we'd recommend. That being said, it's still a reliable cleaner that does exactly what it says it does.
Goo Gone Grill and Grate Cleaner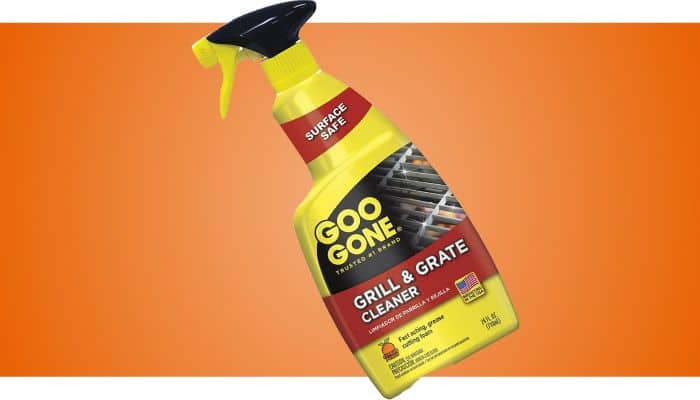 Goo Gone Grill and Grate Cleaner is a high-strength cleaning gel designed for removing grease, grime, and burnt on material. It comes in a pump spray bottle for easy application and is intended for use on stainless steel.
Even better, it works best on a cold grill surface so you don't have to warm up your grill before application. This makes it a lot easier to go and clean up after you're done cooking.
It shouldn't be applied to materials other than stainless steel, though. That includes enameled steel grill grates.
The Goo Gone Grill and Grate Cleaner is an effective grill cleaner that can remove all kinds of grease and grime from the stainless steel parts of your grill.
CLR BBQ Grill Cleaner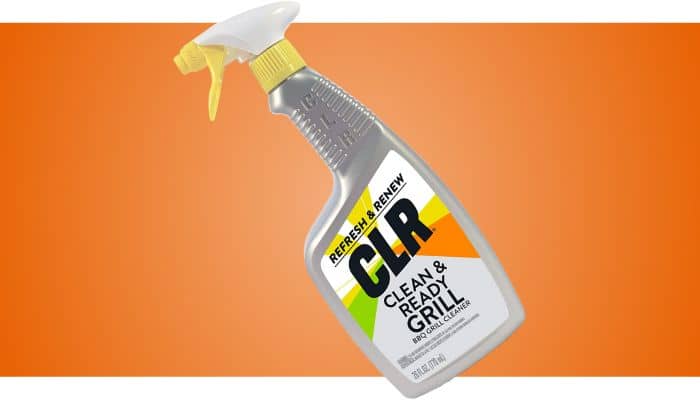 CLR is one of the most well-known cleaning brands out there, so it's no surprise their BBQ Grill Cleaner got a place on our list. It's water-based foaming formula cuts through grease, grime, and burnt-on food waste without damaging the finish of your grill.
It works fast too, requiring just a few minutes of soak time, and does a great job breaking down even tough stains and debris. It can be used on both the inside and outside of your grill, including the grill grates, and around your burners.
All in all, it's a good cleaning product for BBQs and grills, helping you remove everyday messes or recondition a neglected grill.
Weiman Stainless Steel Cleaner and Polish Trigger Spray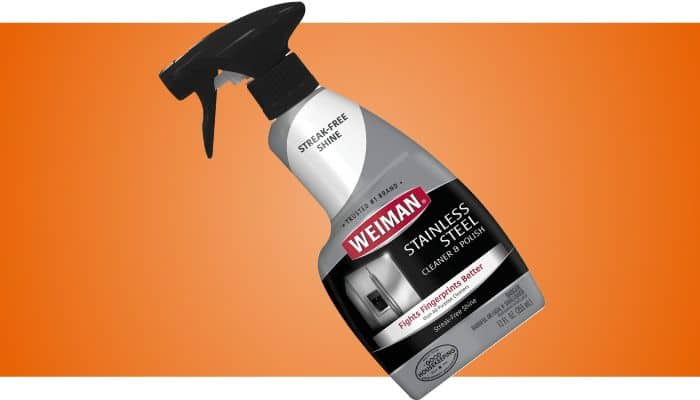 The Weiman Stainless Steel Cleaner and Polish is a multi-purpose grill and appliance cleaner. It comes in a pump spray bottle and is safe for use on all stainless steel surfaces.
It works best to maintain and polish well-cared-for grills, especially the high-gloss outer surfaces, but can also be used to clean your grill grates in a pinch. It uses a gentler cleaning formula that's great at removing most messes but won't do as good a job at breaking down the worst burnt-on food or grease.
If you've got a generally clean grill though, The Weiman Stainless Steel Cleaner is a great way to keep that high-gloss shine on the outside.
Carbona Oven Rack And Barbeque Cleaner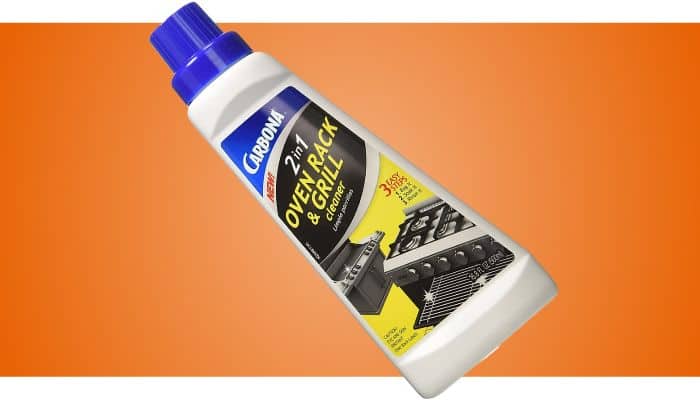 The Carbona Oven Rack and Barbecue Cleaner is a heavy-duty grill grate and oven cleaner. It's designed a little differently than many other cleaning options as you don't actually spray or pour it on your grill.
Instead, you take your grill grates off your grill and place them into the included heavy-duty plastic bags. Add in the cleaning solution and watch as they dissolve away all kinds of grease and grime.
The upside to this is that it makes it much easier to clean and recondition really dirty grates. The downside is that it isn't suitable for every cook cleaning of the general grill.
If you want to periodically deep clean your grill grates or oven racks, though, the Carbona Oven Rack and Barbecue Cleaner is the tool to do it with.
Buyer's Guide to Buying the Best Grill Cleaner
Many cleaning agents can be used to clean your grill and pick between them can be difficult for the novice. You have to choose between highly specialized products or ones that work well for multiple tasks while still taking into account the harshness of the cleaning chemicals and how they actually work.
Price
Grill cleaners are priced on par with other home cleaning products. You'll rarely pay more than about $10-$15 a bottle, with even highly-specialized products priced under $20.
All-Purpose vs. Single-Purpose
All-purpose cleaners are designed to be pretty good at cleaning a lot of different surfaces. They're gentle enough not to damage delicate materials but still have enough cleaning power behind them to mostly get the job done.
They're a great option if you want a basic cleaner to scrub down every part of your grill after each use. If you're looking for a deep cleaning product, though, we recommend you pick up single-purpose cleaners specific to the individual materials.
They're generally able to provide a harsher cleaning agent as they're specialized for a particular material.
Intended Use
Ensure that the grill cleaner you choose is designed for the material and type of grill you have. A cleaner made to properly scrub and maintain stainless steel won't work very well on porcelain or enameled grill grates, and vice versa.
Double-check as well that the type of scrubbing brush you're using is safe for your grill.
Cleaning Kit
One option for getting started with a grill cleaner is a cleaning kit. These include both the actual grill cleaner plus useful tools such as a scrubbing brush, cleaning cloths, wipes, etc.
If you've already got the tools it's usually better to just buy your preferred cleaner, but if you want an 'all-in-one' solution, they can be a good option.
Foam, Gel, Liquid, Spray
The type and consistency of your grill cleanser play a major role in how and where it should be used. Foaming cleansers are generally aerosolized and spray out of a can. They're great for use on flat surfaces where you want to really break down stuck or burnt-on messes but tend to be a bit harsher on surfaces and aren't great for spot cleaning small areas.
Gel cleaners are often some of the toughest and most powerful out there. They're great for removing the toughest stains and most deeply burnt-on bits. The downside to this is that you'll often need a second cleaner to remove the gel's residue.
Liquid and spray cleaners are what we recommend for general cleaning. Most of them are multi-purpose and multi-surface cleaners, allowing you to clean your entire grill with them and work great for your grill or smoker's everyday maintenance.
Ingredients
Depending on your personal views, your grill cleaner's ingredients can be very important or not really much of a consideration. Some people prefer to avoid 'chemical' cleaning agents in favor of more natural products.
There are good natural grill cleaners out there, but keep in mind that they require more elbow grease to do the same cleaning task. If you're rehabbing a heavily soiled or corroded grill you may need to pick up a grill cleaner with harsher chemicals that can really break down built-up grime and debris.
Whatever cleaner you go with, make sure you always read the instructions to find out if you should wear gloves or take other precautions.
Effectivness
This one is obvious, but consider the effectiveness of your chosen cleaner. Some grill cleaners are incredibly effective but can also be harsh on the material you're cleaning.
Generally speaking, we recommend you use as mild a cleaner as will effectively clean and maintain your grill.
How I Tested the Best Grill Cleaners
At the backyard grilling pit of GoShindig, I examined 28 grill cleansers. Grill grates made of stainless steel and enamel were coated with multiple layers of a sticky BBQ sauce mixture until they were well coated and resembled the grates on an outside barbecue after several hours of grilling. After the grates had cooled, I used each product in accordance with the instructions on the label, noting how thoroughly and quickly it removed the sticky muck and how many scrubs were necessary to clean the grates. As with any cleaning products, I read the labels to determine whether the instructions were comprehensive and to look for any necessary safety measures depending on the product's contents.
I utilized the following parameters throughout the journey, awarding the following objective and subjective questions scores between 1 and 5.
Was it all-purpose or specialized?
Was it chemical-based or eco-friendly?
Did I need to put on safety gear?
Did the grill cleaners do their work in a timely manner?
Did I need to use grill brushes?
Was the smell light or strong?
Did they clean more than just the grates?
Were numerous applications required?
Did the grill grates have to be rinsed or washed afterward?
Could I only use the grill cleaners on chilly grills or could we use them on hot grills as well?
Are there any accessories included?
Finally, how did the volume inside the container stack up against the quality and price?
Grill Grate Cleaning Hacks
The number of cleaning hacks I've seen and heard could easily be the subject of a whole book. It'd take years and cost a fortune to try them all. So I'll just run through the best ones I've tried and hopefully you can comment on ones you've had any success or failures with.
Stay clean – The most obvious hack for having a sparkling clean grill grate is not to get it dirty in the first place. You may think this isn't really an option, as grilling amazing food will inevitably make a mess of the grate. But this isn't so. Plenty of people cover their grills in aluminum foil before cooks, which is ok for low and slow cooking but not any good for hot and fast. The best option for the majority of cooks is to buy yourself a BBQ grill mat.
Crumpled-up aluminum foil – The is a very popular method for cleaning the grill because it works and because aluminum foil is something all cooks have in their kitchen. For this, you simply scrunch some foil into a tight fist-sized ball and then use the foil ball as you would a grill brush.
Half an onion – Some people say this doesn't work and have even made videos showing it not working. Which surprises me, because I've had good results using this technique. Firstly, cut a large onion in half (I've also seen people substitute the onion for a potato). Then get the grill nice and hot and scrub using the onion. You may want to wear heat resistant gloves for this method.
The hot burn – Simple but effective. Just burn the grill clean. Any food or germs on the grill don't stand a chance with fire. Of course this will still leave the grill blackened by smoke so will need to be polished after if you want it nice and shiny. But this is effort free, and not even necessary.
Final Thoughts
Grill cleaners are straightforward products with only a few key considerations to take into account.
As long as you know the surface, you're cleaning and what level of cleaning power you're looking for, it's easy to pick out the best grill cleaner for your needs.