I like to brag that I have the best job in the world. It is great fun to write about outdoor cooking and entertaining, and to answer questions from novice pitmasters. One question I'm frequently asked is "what are the best grill brands?"
This is a harder question to answer than you might think. It isn't difficult to come up with a list of well-known or popular brands, of course. Some manufacturers, like Weber, are practically synonymous with outdoor cooking.
But narrowing down the list to select the best brand of grill for a specific situation is harder. The best BBQ brands will vary depending upon your choice of fuel, your level of experience, your budget and the kind of food you plan to grill.
There is a lot more to discuss about the best brand of BBQ than just tossing out a list of names and calling it a day!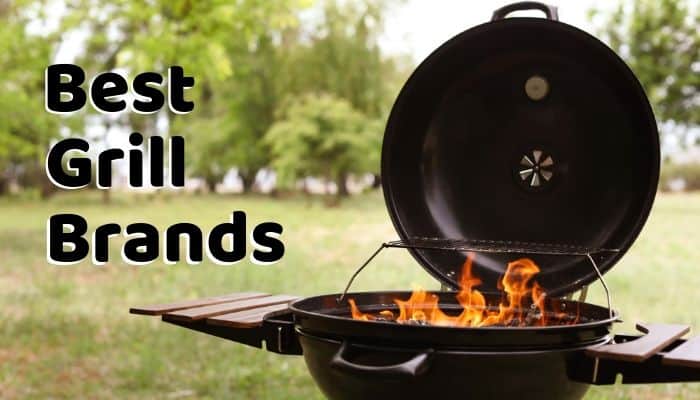 Best Grill Brands
When it comes to the best brand of grill, pitmasters are all over the map with their advice. It is probably no surprise that we tend to recommend the brands we prefer to use ourselves.
At the same time, experienced grill masters have the skills to make amazing food on just about any kind of set-up. It isn't particularly helpful to judge a brand based entirely on the quality of food made by a competitive BBQ master.
I've heard some folks claim that the brand doesn't matter at all, which I don't agree with. You can actually learn a lot about a product's performance and quality based on the brand. Others think that you pay more for a brand-name grill based on the name, rather than the quality of the actual BBQ.
I can't deny there is some truth in the rumor that name-brands typically cost more than generic grills. There are good reasons why some brands are well known for their quality, affordability or ease of use. When you buy a particular brand of grill you are also buying into that company's history and reputation.
In this article, I'll give you some background on a few of the biggest BBQ brands on the market. Knowing their history and the evolution of their products can help you identify the best grill brand for your family.
Weber
I am a huge fan of Weber grills, and there are many reasons why folks consider Weber the best brand of BBQ  on the market. This company has a very interesting background, too. But for a little quirk of history, we might be grilling on a "Stephen" or even a "Sputnik" instead of a Weber.
Originally incorporated as the Weber Brothers Metal Works in 1893, it wasn't until 1952 that the company branched out and started to make BBQs. George Stephen, Senior, the designer of the kettle grill, was a partner in the metal works at the time.
George wanted to improve on the design of his backyard brazier. The dome-shaped kettle grill that he created was originally nicknamed "Sputnik" by a neighbor, but went on sale as "George's Barbecue Kettle."
The grill become a retail sensation, and a BBQ section of the company formed around building and marketing backyard grills. In the late 1950s, George Stephen bought out the Weber Brothers factory and created the Weber-Stephen Products Co. You know the rest of the story, no doubt.
Weber Products
Originally focused on selling charcoal grills, their product line now includes propane and natural gas grills, electric grills and charcoal smokers. They also have an extensive line of grill accessories. Weber grills are innovative, well-designed and offer a lot of value for the price.
While Weber was once primarily focused on the budget and midrange grill market, they have recently expanded into the premium range as well. The Weber Summit is a great example of the high quality you can expect from a Weber product.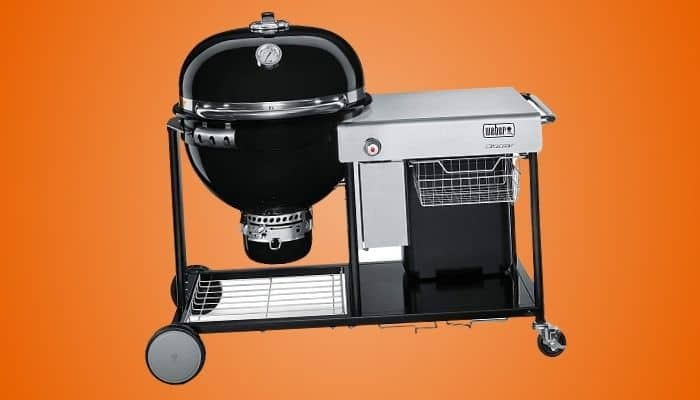 Best Brand of Grill for
Everyone! Honestly, with the current lineup of Weber products, nearly any grillmaster can find a Weber model suited to their needs and budget. They have a solid foothold in the budget, mid and premium range of grills and offer a wide selection of feature-packed grills.
Broil King
Broil King has a more convoluted history on its road from a home appliance company to a grill manufacturer.
The company founder, Theodore Adam Witzel, started selling fountain pens in 1904 in Ontario, Canada. In 1906, his company, Onward Manufacturing Company Limited (OMC), became the first Canadian manufacturer of hand vacuums and electric vacuum cleaners.
By 1949, the company had a large home appliance division, selling everything from washing machines to sub-zero refrigerators. As the backyard grilling business grew throughout the 1950s and 1960s, OMC became the first licensed reseller of Weber grills in Canada.
Broil King really got its start in 1979, when the hardware division of OMC began to manufacture and sell a charcoal water smoker (aka a bullet smoker) called the Aqua-Char. Renamed as the Onward Multi-Corp (OMC) in the 1980s, they added Arkla gas grills to their line in 1984 and haven't slowed down since.
Broil King Products
They have a wide range of gas grills and charcoal bullet smokers, and also sell the Grill Pro line of grill accessories. They offer a few charcoal grills as well but definitely focus more on gas models.
Their products are well-represented in the budget and mid-price-ranges, and they have a nice selection of premium grills and bullet smokers, like the Broil King Regal gas grill.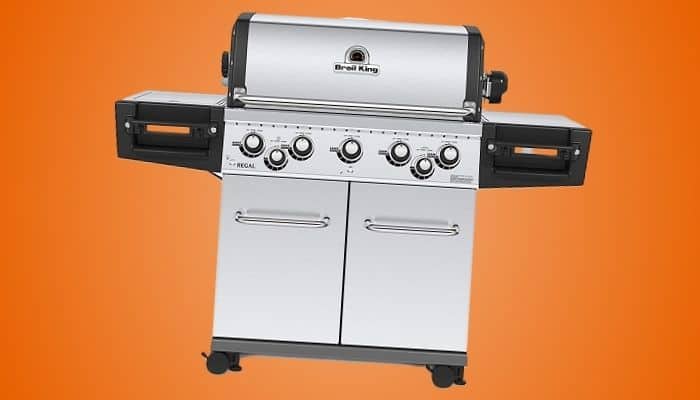 Best Brand of Grill for
Folks who want a budget, mid or premium range gas grill or charcoal bullet smoker. They also have a line of combo-fueled grills if you want to cook with both charcoal and propane.
Napoleon
Like Weber, Napoleon got its start as a metal manufacturing company. In 1976, the founder, Wolfgang Schroeter, started Wolf Steel, a steel fabrication business in Barrie, Canada. They made railings and other steel products for local farmers.
He initially made a wood-burning stove as a favor for a relative, but the product was so popular he dedicated a 5-man team to making them full-time. Wolfgang prioritized quality and customer satisfaction above everything, a commitment that Napoleon strives to uphold to this day.
In 1981, the Napoleon line of wood-burning stoves, fireplace inserts and grills debuted. This was the first line to feature a see-through door using high-temperature ceramic glass with a cast-iron frame.
Since then, Napoleon has become a by-word for the highest quality, premium gas and charcoal grills. The company is still family-owned and sells its products around the world. Napoleon is also one of the highest-rated businesses in Canada.
Napoleon Products
They currently manufacture premium built-in and stand-alone gas and charcoal grills, along with and other heating products like fireplaces, gas furnaces and outdoor heaters.
The stand-alone Napoleon Lex is a great example of their line of gas grills, with a stainless steel finish, side burners and rear infrared rotisserie burner.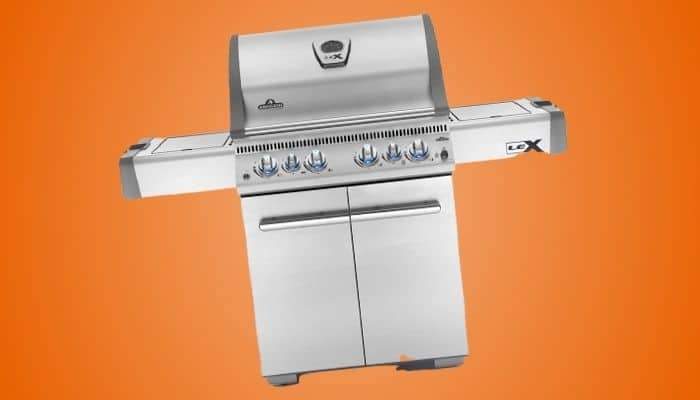 Best Brand of Grill for
People who want a premium gas or charcoal grill. Napoleon grills are a delight to use, and the company works hard to keep its customers satisfied.
Char-Broil
Another company with a history as a metal manufacturer, the Char-Broil story starts in 1925 when the W.C. Bradley Company acquired the Columbus Iron Works. As the manufacturing focus shifted in the 1940s from steamboats to agricultural products, the ironworks began making wood and coal-burning heaters and farm implements.
In 1948, with electricity making wood and coal heaters obsolete, the company began manufacturing the first cast iron charcoal grill. The original Char-Broil was what we would call an Ugly Drum-style grill today. The iron drum had a door for managing the charcoal, with an upper cooking grate and attached side table.
As backyard grilling increased in popularity, there was a high demand for new products. In 1960, Char-Broil began mass-producing gas grills. Many of their early innovations have become standard features in modern grills, like removable grease traps and carts with built-in propane tank storage.
Throughout the 1980s and 1990s, Char-Broil continued to innovate, creating the first electric ignition system and marketing their easy-to-clean features like painted cabinets and coated fireboxes.
In 1997, they purchased the New Braunfels Smoker Company and later added the high-end Oklahoma Joe line to their BBQ division as well. This expanded its product line to include heavy-duty and high-end charcoal smokers and premium gas grills.
In 2003, Char-Broil created their Commercial series of grills, which were the first to use 100% infrared technology. They have continued to expand their infrared grill line, adding the RED series of gas infrared grills in 2008 and their premium Sabre-line in 2013.
Char-Broil Products
Char-Broil has an extensive line of charcoal, gas, infrared and electric grills, and smokers, and also sells many generic BBQ parts and accessories. They manufacture grills under several different brand names, including Char-Broil, Sabre, and Kettleman.
The Char-Broil branded line is mostly made up of charcoal and gas grills priced in the budget to mid-range, with their infrared series available only from certain retailers.
The Char-Broil Performance gas grill is a great example of their widely-available budget-priced gas grills.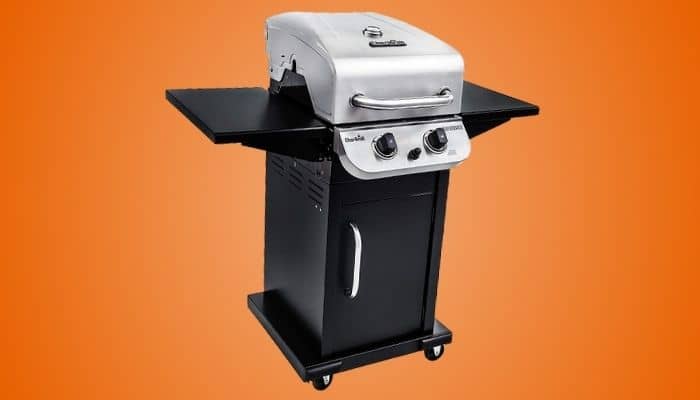 Best Brand of Grill for
Folks who want a budget or moderately-priced gas or charcoal grill, or a portable electric grill. They also have several exclusive lines of gas grills with infrared technology.
Kenmore
I don't know if this is showing my age, but when I see Kenmore I automatically think of Sears. Maybe this isn't surprising since Sears owns the Kenmore brand. Until 2017, you could only find Kenmore products at Sears stores or through their catalogs.
Kenmore hasn't actually manufactured their own products since the early days. Instead, Sears works with other manufacturers to design products that they then sell under a unique brand name. So, a Kenmore washer might actually be made by Whirlpool.
Kenmore started making sewing machines in 1913 and added vacuum cleaners in 1932. After the war, Sears added a long line of products to the Kenmore brand.
These products included washing machines and dryers, refrigerators and freezers, air conditioners, gas and electric ranges and ovens, trash compactors, and microwave ovens.
In the 1980s, Sears started selling gas and charcoal grills under the Kenmore name, alongside their exclusive line-up of Weber grills and accessories. This relationship fell apart in 2013, when Weber debuted their premium line of grills and reduced their relationship with Sears.
Soon after, Sears brought a similar line of Kenmore premium grills to market, and Weber filed a lawsuit for trademark infringement. Needless to say, you can no longer buy Weber grills at Sears stores…if you can even find a Sears store to patronize.
Kenmore grills are now on sale at many locations, and you can buy them online through multiple retailers. Permasteel is one of the main manufacturers of the current line of premium Kenmore gas grills.
Kenmore Products
Their current line is primarily focused on budget and moderately-priced gas grills, but they also have a decent line-up in the premium range.
The 3-burner Kenmore pedestal-style gas grill is a great example of a modern Kenmore product.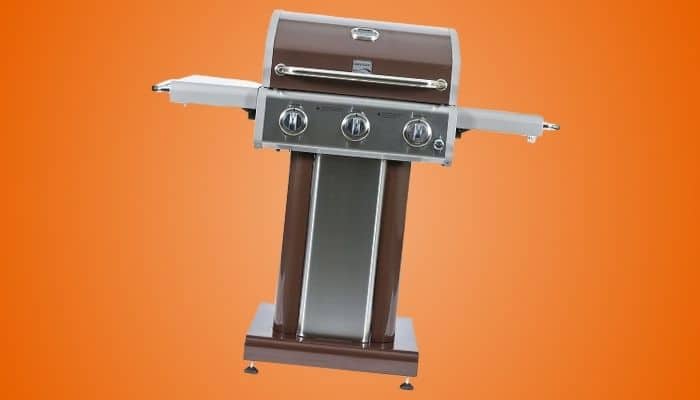 Best Brand of Grill for
If you want a budget or mid-priced gas grill that looks like a premium product, then a Kenmore may be the grill for you. Their premium gas grills are also quite nice and look very similar to the Weber Genesis and Spirit lines.
Big Green Egg
Kamado-style grills are a newer trend in the US, but their design goes back for centuries in Japan.
These ceramic ovens were inexpensive to make and were very fuel-efficient, so it's no surprise that they became popular on an island nation with limited charcoal deposits. They can grill and smoke foods, and the ceramic exterior locks in the heat and moisture as you cook. After the war, soldiers returning from Japan brought a few of these ceramic ovens home with them.
In 1974, Ed Fisher founded a company he aptly named Big Green Egg in Atlanta, Georgia. Initially, the company imported ceramic Kamado-style grills from Asia, but they soon shifted to making their own high-quality grill
As the odd-looking combination grill and smokers gained in popularity, they attracted a cult following. Suddenly, everyone wanted an Egg in their backyard. Other companies joined the Egg-party, and soon there were several brands of Kamado-style grills to choose between.
These days, Big Green Egg is the largest manufacturer and distributor of ceramic cooking systems in the world.
Big Green Egg products
They have 7 different models of ceramic grill in a variety of sizes. These are premium combination charcoal grill/smokers.
Best Brand of Grill for
Someone who wants a Big Green Egg specifically. While these grills are quite nice, I actually prefer the next ceramic grill over the Egg, personally. Eggs have a bit of a learning curve but are easier to use than many other types of charcoal grills and smokers.
Kamado Joe
As the Big Green Eggs gained in popularity, many other manufacturers started to make Kamado-style grills. A lot of these products were low quality and frustrating to use, however.
The founder and president of Kamado Joe said he started the company because "Having used other Kamado grills, I decided to build a grill that met my expectations…I just find it hard to take shortcuts."
Since 2009, Kamado Joe has been producing high quality, premium ceramic grills for backyard pitmasters. They continue to innovate and improve their grills as they slowly expand their product line.
I am a big fan of the Kamado Joe, and you can read my full review of their grill here.
Some of their exclusive features include the Slo-Roller smoke circulator and the 3-tiered Divide and Conquer cooking system. These additional features add a lot of versatility to their line and make their grills much easier to use.
Kamado Joe Products
They offer a limited line of charcoal-fueled ceramic grills in a variety of sizes. Their products are in the premium price range and worth every penny. Just look at the beautiful Kamado Joe Classic!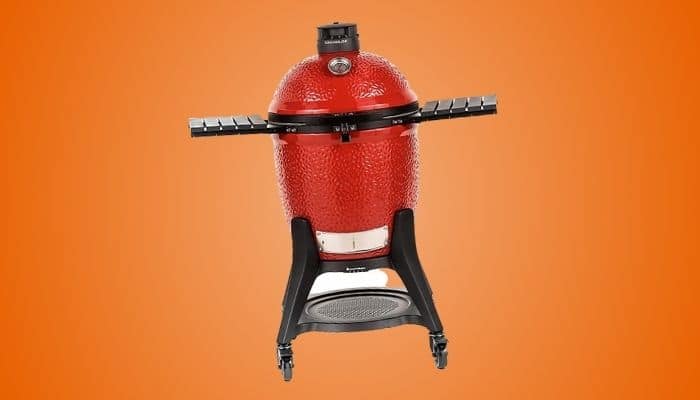 Best Brand of Grill for
Anyone who wants a combo ceramic smoker/grill. The Kamado Joe system has features that make it easier to use than other similar-style grills and produces consistent results.
Landmann
One of the rare European makers of backyard grills, Bernd Hockemeyer and Hermann Landmann founded Landmann in 1966 to bring charcoal BBQing to Germany.
In the 1970s, the company focused on making motorized spits for their grills, allowing people to spit-roast meats like chicken and lamb. They also added cast iron charcoal grills to their line and expanded into the US market.
In the early 1980s, Landmann began making gas grills, and also debuted their enameled cast iron charcoal kettle grill to compete with Weber. Since the 1980s, Landmann has spread across the world and continued to add new products to their line-up.
Landmann joined the premium market when they started making their Avalon gas grill in 2007. Today, they have a wide selection of grills and smokers available across the world and for a variety of prices.
Landmann Products
Their focus is on mid to premium-priced gas and charcoal grills, and mid to premium-priced gas and electric smokers. They also have a few lines of budget grills for sale, in both charcoal and gas models.
The Landmann Grill & Rotisserie is a nice example of their charcoal grills, and while it doesn't have a ton of features it does a nice job and is easy to use.
Best Brand of Grill for
Anyone who is seeking a midrange or premium quality gas or charcoal grill, or who is interested in a gas or electric smoker. Their budget models are nice, but I admit I would probably go for a Weber at that price point.
Traeger
Last, but certainly not least, is the Traeger. Similar to Weber on the budget-end, Traeger is nearly a by-word for a premium grilling experience. Traeger grills were the first grills to use wood pellets for fuel and have a set-and-forget capability.
Joe Traeger patented the design for a pellet-fueled grill in 1985 and began to manufacture them in 1988. These grills have improved over the years, but haven't changed very much in essentials.
Traeger grills have a side-mounted hopper with an auger that automatically feeds pellets into the fire chamber. A fan blows to distribute the smoke and heat throughout the cooking chamber. Traeger's use electricity for the auger and control panel, so they are a hybrid-type of grill.
What really set Traeger's apart initially was their precision temperature control. The user would select the temperature range they wanted to cook with, and the grill would automatically stay in that range. There was no fire management or charcoal rearranging necessary to operate a Traeger grill.
In 2006, the patent for the pellet-fed grill expired, and other pellet grills joined Traeger on the market. While there are plenty of cheap pellet grills for sale, most grill masters still prefer the premium Traeger to the newer options.
Traeger Products
They have a wide selection of pellet grills in a variety of sizes and styles. Their products are mainly in the mid to premium price range, like the compact Traeger Texas Elite.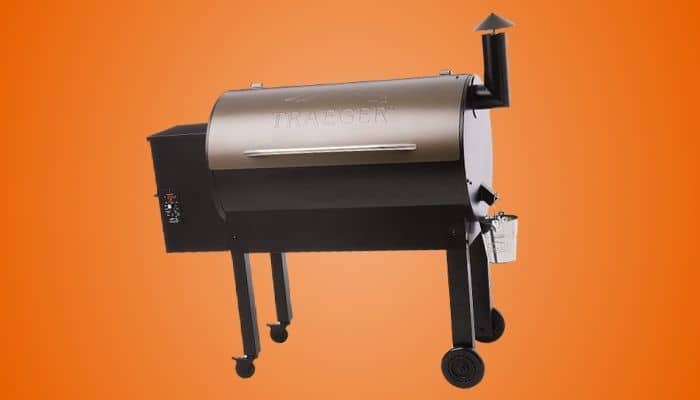 Best Brand of Grill for
Anyone who wants a pellet grill with true set-and-forget capability. There are plenty of budget pellet grills on the market, but if you are looking in the mid to premium price range, you should go for a Traeger. Traeger grills are more of a smoker than a grill but offer more flexibility than a typical smoker.
Why Trust Us
All of our reviews are compiled with a combination of expert input, years of hands-on testing of grilling products, curating the reviews of real-life buyers in a "wisdom of the crowd" system, and of course our own expertise. All the brands listed are the ones we would recommend to friends and family if they asked us for the best grill brands.
Methodology Used to Pick the Best Grill Brands
When picking the best grill brand we looked at and then rated each brand's range of grills on the following criteria. Price, fuel types, build quality, features, grill size, capacity, portability, and ease of cleaning.
Buyer's Guide for the Best Grill Brands
Now that you have some background on the most popular brands of grills, it's time to talk about how this information can help you when shopping for a BBQ.
When buying a grill, most of us select the brand first and then choose the specific model that fits our needs. You may already see yourself standing in front of a Weber Classic Kettle Grill, or smoking meat in your Big Green Egg. But where do you start if you just don't know what brand you prefer?
Consider the following questions as you read through the next few sections:
Do you have a preference for charcoal, gas, pellets or electric fuel?
What is your experience with outdoor cooking?
Do you want a grill that requires a lot of hands-on effort, or do you prefer something that is easier to use?
Are you looking for a budget, midrange or premium grill?
The answers to these questions may not point you to a specific brand, but they will help you narrow down your options to a shortlist, at least.
I think the easiest way to choose between the best BBQ brands is to focus on the fuel type, price and ease of use first. Factors like construction quality and features relate directly to the cost and usability of your grill, after all, rather than being completely separate considerations.
Fuel Type
When shopping for a new BBQ grill or smoker, the fuel type is probably the first thing you'll settle on. Many backyard chefs have already made up their minds on the gas vs charcoal debate and know which type they prefer.
Each type of fuel has its advantages and disadvantages, and some brands are particularly associated with certain fuel types. It makes sense that a company that's been making the best charcoal grills for 50 years might have a better reputation than one who has only been doing it for a few years.
Your grill's fuel type will determine how quickly you can get it started, how much effort it takes to maintain or manage your fire and how much mess you have to clean-up afterwards. The fuel type you select will also influence the cost of your grill and how expensive is to operate.
Charcoal
Charcoal grills burn briquettes or lump charcoal for fuel. Learning to use a charcoal grill or smoker can take some time, and it is generally considered the hardest type of fuel to master. The key to making tasty food on a charcoal grill is in learning how to manage your heat.
By arranging your charcoal in different ways and adjusting the dampers, you can create hot zones for searing steaks and burgers. Or you can set-up cooler zones for indirectly cooking delicate items like chicken or fish. Charcoal grills are hands-on and require constant attention.
Charcoal-fueled grills and smokers come in a wide array of designs, styles, and sizes. They are ideal for anyone who wants to take an active role in the BBQ process and who isn't in a hurry to get food on the table. If playing with fire is your idea of fun, then a charcoal grill is perfect for your family.
Charcoal grills are available at every price point, but certainly, the bulk of the models fall into the budget and mid-range spectrum.
Best Brand for Charcoal Grills
Who makes the best charcoal grill? It depends, but you can never go wrong with a Weber. Broil King and Landmann also have some nice options in charcoal grills and have a range of reasonably priced models.
At the premium end, the Big Green Egg and Kamado Jr are both great choices for a ceramic smoker, or you can opt for the high-end charcoal grills from Napoleon, Landmann or Weber.
Gas
Propane and natural gas grills are clean burning, efficient and very easy to use. All you have to do to start a gas grill is turn on the gas and hit the ignition. The burners under the grates light right up and quickly preheat your grill.
Propane grills connect right up to a refillable tank and are one of the most popular types for backyard chefs. In 2018, the Hearth, Patio & Barbecue Association (HPBA) reported that 64% of BBQ owners opted for a gas grill, and the majority of these were likely propane-fueled.
Natural gas grills are more expensive than propane, and while there are now some stand-alone models on the market, many of these grills are built into your outdoor kitchen. They connect directly into your home's main gas line, so you never run out of fuel.
Gas grills are popular for several reasons, and convenience is at the top of that list. They are quick to start, easy to adjust and don't require a lot of effort to use. The short learning curve is a bonus as well. The main disadvantage to cooking with gas is that some folks miss the flavor the combusting charcoal imparts to their food.
Natural gas grills cost more than propane grills, require a connection to your gas line and are not portable. Once you install an external gas line, you won't be able to easily relocate your grill. Propane offers more flexibility because you can relocate the propane tank along with the grill.
Gas grills are ideal for families who don't want to deal with starting charcoal or managing a fire. Since you can easily adjust the flame on your burners, gas grills are easier to use and have a lower learning curve. You may need to keep a spare tank of propane handy, but using a gas grill is a quick and easy way to get a meal ready in a hurry.
Best Brand for Gas Grills
Who makes the best gas grills and smokers? As with charcoal, it just depends on what you are looking for.
Weber has a wide number of budget gas grills and even has some relatively inexpensive natural gas options. They also have a solid number of options in the midrange price point. Char-Broil, Kenmore, Broil King, and Landmann all have a variety of budget and midrange models to choose from.
If you prefer to look at premium gas grills, Napoleon is a great place to start. Their high-quality propane and natural gas grills are a delight to use. Weber and Landmann also have a really nice line of premium gas grills, and Kenmore and Broil King have a few in the premium range worth considering.
Electric
Electric grills and smokers plug into an outlet and use your home's electricity to generate heat. They have a heating element instead of using open flames to cook your food. Most electric grills are portable or compact in size, although electric smokers may be larger.
Electric grills only makeup about 9% of the grills sold in the US, but are really useful for folks who can't have a charcoal or gas grill. If your homeowner's association or apartment complex has rules against open flames, you may be able to use an electric grill instead. They are also ideal for use on boats or in RVs.
Electric grills are very easy to use and start right up after you turn them on. They don't produce identical results to cooking over charcoal or gas, since you don't get the extra flavor imparted by the combusting fuel.
Electric smokers combust wood chips to smoke meat and other foods. But the results are still less intense than using a charcoal or gas-powered smoker. Some people don't care for the taste of electrically-cooked food.
Some grills and smokers have electric components, but use other types of fuel as well. These are not true electric grills, but rather hybrids. Infrared grills, pellet grills, and smokers and some rotisserie accessories may require an electrical connection to function even if they use other fuel as well.
Best Brand for Electric Grills
Who makes the best electric grills? Weber is the first name that jumps to mind, as they have the largest selection of electric grills on the market. Most of their options are portable or small, tabletop-style grills. Char-Broil also has a line of electric patio grills at reasonable prices, if you don't care for the Weber models.
On the premium end, Napoleon makes a really nice high-end portable electric grill with an optional cart.
Pellets
Pellet grills and smokers run on electricity, but also burn wood pellets for fuel. They have an electrical component that causes the pellets to smolder, creating the heat and smoke that cooks your food. Many also have fans that direct the smoke around the cooking chamber.
Pellet grills are the best type to use if you want precise heat control and set-and-forget capability. These grills have a hopper for the wood pellets that automatically feeds them into the ignition chamber. You can set your pellet grill up and then walk away until your food is ready.
Pellet grills may be compact or quite large if they are an offset smoker design. Some smokers are simple cabinets that sit on the ground or a table, while others are full-size competition rigs. You can easily make professional-quality BBQ in a pellet grill.
The main disadvantage of pellet grills and smokers are the expense since they tend to fall into the mid to premium price range. But there are other drawbacks as well.
While they offer you the capability to set-and-forget, they are usually better as smokers than as grills. They can't produce the deep sear or grill marks you get from cooking with charcoal or gas. They also don't create as much smoke as a traditional smoker, so your food may not be as intensely flavored.
Pellet grills and smokers are ideal for folks who want to BBQ without having to babysit their food. They are easy to use and don't have a steep learning curve. As long as you have an exterior electrical outlet, you should have no problems setting up and using a pellet grill.
Best Brand for Pellet Grills
Who makes the best pellet grill? If you want the best, go with a Traeger. They have been making pellet grills for over 30 years and essentially invented the product.
Landmann also has a nice line of pellet smokers, including a combination kettle grill/smoker that is really unique.
Combo grills
Combo grills are another hybrid type of grill. They give you the option of using more than one type of fuel at a time or may offer you the ability to grill and smoke meat in a single unit. I'm going to focus on the multi-fuel types in this section. But be aware that pellet and ceramic smokers are both examples the second kind of combo grill.
The advantage of a combo-fuel grill is you can use more than one type of fuel to BBQ with. They vary in their set-up, but usually, you can choose to cook using charcoal or propane. Some models have separate cooking chambers for using the different types of fuel. But others can quickly convert between the types.
When you buy a combo grill you get the best of both worlds. You can spend the day playing with fire and managing your charcoal, or you can flip to propane and have a meal ready in a jiffy.
The downside to a combo grill is they vary considerably in quality and not all grills do a great job with both types of fuel. Some combo grills have very small chambers for charcoal and may require frequent attention, and at the lower end of the spectrum, the grills often lack adequate dampers to control the airflow.
Still, if you want the option of using both charcoal and propane without having to buy separate grills, this is a reasonable solution.
Best Brand for Combo Grills
Who makes the best combo grills? There are several manufacturers that make these types of grills, but of the brands on our list, I would recommend the Char-Broil or Broil King lines as the best options.
Price
Your BBQ budget will help determine the best grill brand for your household. So, how much do grills cost these days?
I usually break grills into three price ranges. It really depends on the type of grill, however. A budget model ceramic smoker or natural gas grill is gonna run a lot higher than a budget charcoal grill.
How much should you spend on a grill? Well, you get what you pay for. I will cover this in more detail below, but the quality of your grill's construction and the materials used in it are directly linked to the cost of the grill.
A cheap grill may still make some decent food. But they tend to be more challenging to use and wear out faster.
The price ranges for grills and smokers are:
Budget grills and smokers are usually priced between $50 and $200. These typically include charcoal, propane, and electric models and some combo grills and smokers. Weber, Kenmore, and Char-Broil offer budget models for backyard cooks.
Midrange grills and smokers are typically between $200 and $800. You have a wide range of options at this price point, including ceramic, natural gas and pellet grills. Weber, Kenmore, Char-Broil, Broil King, Landmann and are all well-represented in the midrange.
Premium grills and smokers start at $800 and can go up considerably from there. The majority of these grills range between $1000 and $4000, although the really high end and competition-ready rigs can easily cost over $10,000. Napoleon, Traeger, and Weber make a variety of premium grills, with a few options also available from Landmann, Kenmore and Broil King. Big Green Eggs and the Kamado ceramic smokers are also premium products.
Construction Quality
The price of your grill correlates to its construction quality. A cheap grill will usually wear out faster than a more expensive one, and may not be as heavily insulated. Often, a cheap grill will require more fuel to reach the same temperature as a premium grill.
Cheap grills are made with thinner and less-durable metal parts and are often painted instead of having a weather-resistant finish like stainless steel or enameled cast iron. They use rivets instead of welds to hold corners together and have more plastic components.
You can't always tell the cost of a grill just by looking at it. But you can usually feel the difference. Premium grills are easier to use, and the thicker metal construction holds in heat better. Their parts are more durable, and they stand up to heavy use longer than the cheaper options.
Some of the best grill brands are especially known for their high-quality construction, even in their lower-priced models. Weber, for instance, has a reputation for using quality parts across their product line. You don't have to spend a ton of money to get a well-constructed grill. But the more you spend, the higher quality you can expect to receive.
Warranty and Support
A grill or smoker is an investment, and you want to be sure your money doesn't go to waste. Your grill should come with a warranty on at least some of its parts. Premium grills should have premium warranties, while budget grills tend to have less coverage.
The warranty on your grill usually covers the fire/cook box and stand, and may also cover the burners, grates and ignition system. You should definitely read the fine print in the warranty of any grill you are considering. It is not uncommon to have warranties that cover some parts for longer than others.
In addition to reading the warranty, check out the website of your grill's manufacturer. Is it easy to obtain service for a broken grill? Do they have a local service center, or would you have to send away for parts?
Warranties are usually, but not always, linked to the price of your grill. Some brands, like Weber, offer really long-lasting warranties for their cheaper grills as well as their premium lines. Napoleon, Traeger, and Kamado are also well known for their great warranties.
Ease of Use
The best BBQ brands are easy to use, but what does that actually mean?
A well-designed grill or smoker made from quality construction materials fits together better and takes less effort to use than a cheaply-made model. The lid is easier to position, the grates are thicker and more durable and the cart is stronger and better protected from weathering.
When your grill is well-made, it takes less effort to use because you don't have to fight against your equipment. If you have ever used a really cheap grill, you know what I'm talking about. They are much harder to control and take a lot more work on your part to make decent BBQ.
Features that make a grill or smoker easier to use include things like: removable ash collectors and drip pans, separate doors for adding charcoal or wood chips and handles that keep your hands free of the fire when you adjust the lid.
When you buy a grill, you are also buying into the years of research and experimentation from that particular brand. The best brand of grill for your family is the one you enjoy using!
Features
The best grill brands invest a lot of time and money into making their products stand out from a crowded field. When you buy a grill or smoker from a top brand, you get the extra features that brand is famous for.
These features vary from brand to brand, but may include:
Flavorizer or vaporizing bars. These thin strips of metal sit over the burners of a gas grill and help prevent flare-ups. When juices drip down from your foods, the hot metal vaporizes the liquid and circulates the vapor around the cooking chamber. This helps by adding flavor to your food.
Cooking grates. Some brands have unique cooking grates or have modular systems allowing you to alter the interior of your grill. Higher-end Weber grills have a cooking grate system that can also accommodate a griddle or other Weber accessories. Folks know Napoleon for their enameled cast-iron grates with their signature wave pattern.
Multiple burners/elements. I am a fan of brands that squeeze as many burners into a grill as possible. While compact and portable grills may only have a single burner or heating element, larger grills should have at least two. More is better because it allows you to easily create cooking zones or cook multiple types of food at once. As grills increase in price, the number of burners should go up as well.
Side burners or tables. Midrange and premium grills may also have a side burner you can use to simmer a sauce or sear a steak. They usually also have at least one side table attached to the grill. If you don't have a BBQ prep station or table, then a side table might be high on your list of priorities.
Under-cart storage. Full-size grills on carts usually have at least some shelves on the underside you can use to store your BBQ accessories. As you move into the mid and premium range, you start to see fully-enclosed carts with doors, storage shelves and room for a propane tank.
Circulating fans. Some high-end pellet grills and smokers may also include a fan to circulate the air around the cooking chamber. This helps to distribute the heat and smoke inside your grill and helps your food cook evenly.
Size
The size of your grill impacts where you can use and store it. You may need to take a few measurements to be sure the grill fits into your ideal location.
Keep in mind that your grill will need clearance around it so it doesn't start a fire. If your location is tight for space, you may prefer a portable or compact grill, or a grill with folding side tables.
Most BBQ brands make grills in a range of sizes, so you can pick the model that best fits into your yard.
Capacity
The capacity of your grill controls how much food you can cook at one time. Capacity is usually reported in square inches. But some brands, like Weber, also use the number of burgers you can make at a time.
The primary cooking capacity is the amount of room on the grates right above the coals, burners or heating element. Some grills also have warming racks, or other grates that offer extra secondary cooking capacity.
Obviously, you want a grill with the capacity you need to feed your family and friends. Consider the size and shape of your cooking grates when shopping for a grill as well.
The shape of your grill grates, and the amount of room between the grates and the lid influence the amount of capacity your grill has. Ceramic smokers and compact grills may not have enough room to cook large cuts of meat without dividing them into pieces.
Portability
The best grill brands offer a certain amount of portability, even if they are not fully portable.
You can place propane and charcoal grills anywhere in your yard, and even budget models often have a couple of wheels for mobility. Premium grills often have large, locking caster wheels that make them very easy to relocate.
Some grills are completely portable and can go anywhere with you. These grills tend to be smaller and lighter in weight, but there are some heftier options out there for tailgating. These portable grills often have a built-in stand so you can use them on a table or on the ground.
There is an endless number of accessories available for grills and smokers. Many of them are made by the best BBQ brands. While generic accessories may work with any model, you will often have an easier time if you use ones made especially for your grill.
Some accessories add extra capability to your grill. Pizza stones, grill baskets and cast iron cookware are all accessories that expand what you can cook on your grill.
Other types of accessories are more for general use or safety. BBQ tools sets make it easier to move items around on your grill and may include items like tongs, basters and grill forks. Every grill or smoker owner should have a good pair of grill gloves to keep the fire from burning their hands.
Weber, Char-Broil, Broil King, Big Green Egg, and Kamado all make accessories for their grills and smokers and have a fairly extensive line of products. Napoleon and Landmann have leaner lines of accessories, but still, have a decent selection of products.
Cleaning and Maintenance
What do cleaning and maintenance have to do with your brand of grill, you ask?
Actually, the best BBQ brands are well-known for designs that make cleaning and maintaining your grill simple and trouble-free. They are set-up to make it easy to reach the parts that require frequent attention.
You should clean your cooking grates every time you grill. Most folks use a grill brush or scraper to clean them. It is much easier to clean the grates while they are still warm, rather than after they have cooled down.
Seasonally, or more often if you grill a lot, you will need to do a deeper clean on your grill. Basically, you remove everything you can and scrape the debris from the cook box and lid. An ash vacuum can really help speed the clean-up if you happen to have one handy.
When doing a deep clean on your grill, you may run into a tricky spot or two. But the best grill brands usually have easy cleaning in mind when they design their systems.
Weber, Napoleon and Traeger's grills are all especially easy to clean and maintain. And many Char-Broil, Broil King and Landmann grills also offer easy-clean features. Ceramic smokers, like the Big Green Eggs and Kamado Joe, are a bit more work to maintain but not by a lot.
Conclusion
It is difficult to name a single manufacturer as the best grill brand. It is almost like asking a grandparent to pick their favorite grandchild. You might prefer one for their sweet nature and biddable demeanor and the other for their spunky attitude! In the same way, grills and smokers are hard to compare with each other across the board.
It all depends on what kind of grill you want and how much you can afford to spend. The best BBQ brands have a long history making grills and smokers that people love to use. When you buy a grill, you are also buying a piece of the company's history. Knowing the background and where they evolved from can help you choose the best brand of grill for your home.