This website/blog was started with the sole intention of me and a friend expressing our love for outdoor entertaining. But I guess there comes a time when every website asks the question are we writing the articles for ourselves or for our readers. And this article on the best picnic mat is where we have had to debate this question.
The two of us call this item a picnic blanket and have previously written about them. But during our hours of research and socializing with friends and family we have noticed many people call them picnic mats (and will therefore be searching for this term). So the fact that you are reading this article tells you we decided to write for our readers, but of course, only on the subject we love – outdoor entertaining.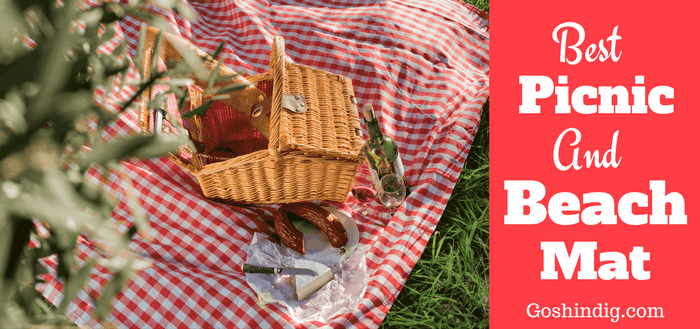 How to Choose the Best Picnic Mat for you
Whether you picnicking in the park, heading down the beach, going for a hike or lounging around at a festival, you'll want the right picnic mat for the occasion. So what do you need to consider in order to select the best picnic mat for your needs?
Price – The cost of an item should always be a consideration. Thankfully, you can get great picnic mats that fit all budgets and even the higher end mats will not break the bank. So when deciding on the best picnic mat, I'd say don't overly focus on the price (unless money is extremely tight) and focus more on the other attributes that fit your needs.
Durability – Usually the price of an item dictates the quality you'll expect to receive but with picnic mats this isn't always the case. Picnic mats are made with several different materials and the cost of the material might be what is making the picnic mat expensive and not the build quality. For example, wool is far more expensive than Nylon so a woolen picnic mat will cost considerably more regardless of how well it's made.
Size – Size matters in two respects. One, the size once the mat is rolled out on the floor. Most mats are made for two people, so if you wish to accommodate more people you'll need to pay closer attention to the dimensions. Two, the size of the mat in its rolled up state. Most picnic mats are relatively small and are designed to be rolled up into as small a space as possible. But some mats fold up into tiny hand size packages, whereas others are the size of a satchel bag. So if storage space is at an absolute minimum, you'll want to go for the former.
Easy to clean – People often ask, "is a certain picnic mat easy to clean?" It seems a very important factor in deciding which mat to purchase. I, like I'm sure everyone reading this, have a washing machine at home. So as long as the picnic mat is machine washable I'd say it's easy to clean. Having said that, you do get mats that are better than others. Some are spill proof, repeal sand or made from a material where you can just use a damp cloth to clean (saving you on wash loads and saving the environment).
Comfort – Sitting on a hard floor for hours is no fun, so investigating the comfort of a picnic mat is a must if you plan on spending hours sitting on it. Just a little bit of padding and a soft material will make all the difference.
Easy Carrying and Storage – Size obviously plays a part in easy carrying and storage but so does having handles and/or an attached carry bag. My favorite is blankets that come with elastic strips, as separate carry bags or Velcro attachments normally means you have to perfectly roll or fold the picnic mat before carrying it away. Straps give you a little more leeway.
Terrain – Do you intend to use your picnic mat on concrete, grass or sand? You might think it doesn't matter but each come with its own problems. Concrete is solid and therefore padding becomes more important. Grass is often damp and you'll need a mat that has some waterproofing on the underside. And of course sand has the ability to cling to mats regardless of how much you shake it until the very moment you put it in your car. So if you plan to picnic on one particular surface you'll need to prioritize some aspects of a mat over others. If you plan to picnic on multiple terrains then have a look at our best all round picnic mat.
Best All Round Picnic Mat
Which picnic mat best incorporates all the features outlined above? It has to be the JJ Cole outdoor mat. It comes in many different colors and patterns to suit anybody's tastes. It's available in two different sizes and easily folds up to become its own satchel bag with shoulder strap. It's made of a durable, water resistant outer layer that's good enough for all terrains, with a PVC coated inner that lets you easily swipe away and little spills.
Waterproof Picnic Mat
Not so long ago, having a waterproof picnic mat was the exception. Now though, if a company is making a picnic mat that isn't waterproof, I'm sure they will not be in business for very long. Being waterproof is no longer the exception, but the rule. And a company called Yodo is who we are giving first place in the waterproof picnic mat category. They come in many great colors, are of course waterproof and fold nicely into a little bag.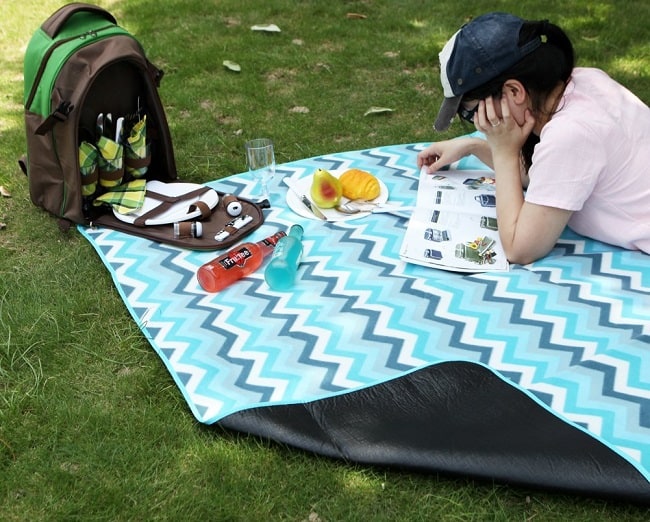 Beach Mat
Family time at the beach brings back some of my greatest memories. We just used towels as beach mats, but I sure wish we had the excellent beach mat from Palm Beach Crew. It's a large family sized beach mat, big enough for four people. It folds into itself to form a carry bag and has four weighted and removable corners, meaning you no longer have to weigh the mat down with bottles of water to stop it blowing away.
This great beach mat also comes with a wet bag for you to store your swimwear or sunscreen and comes with a built-in waterproof pocket to store your phone and wallet. It's made of different layers; a soft cotton top layer which gives a nice feel to lounge on, a padded middle layer for extra comfort and waterproof bottom layer.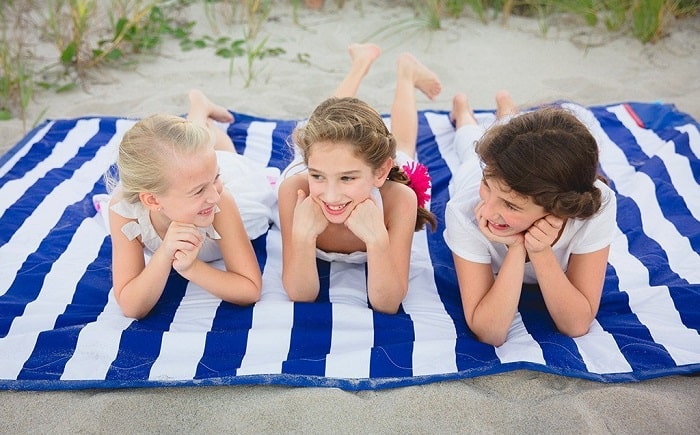 A special mention also has to go to CGear beach mat. Why? Well just watch the video below. This is a beach mat that uses material designed for the military to land helicopters in sandy regions without blowing by loads of sand. The material lets sand easily fall through from the top to the bottom without letting sand pass in the opposite direction.
The reason CGear only gets a special mention and not the top spot for best beach mat is because the material was designed for helicopters landing in dry sandy regions of the world, not beaches. If you plan to go swimming while at the beach (which most of us do) the wet sand doesn't fall through the mat at all, and in fact gets stuck between the two layers. But if your only intention is to picnic or sunbathe at the beach then this is a great option
Best Compact Picnic Mat
If you are off on a hike before your planned picnic then every piece of equipment needs to be as compact and light as possible. So a picnic mat that fits in the palm of your hand is ideal, and that's what you get from Praktikal Life.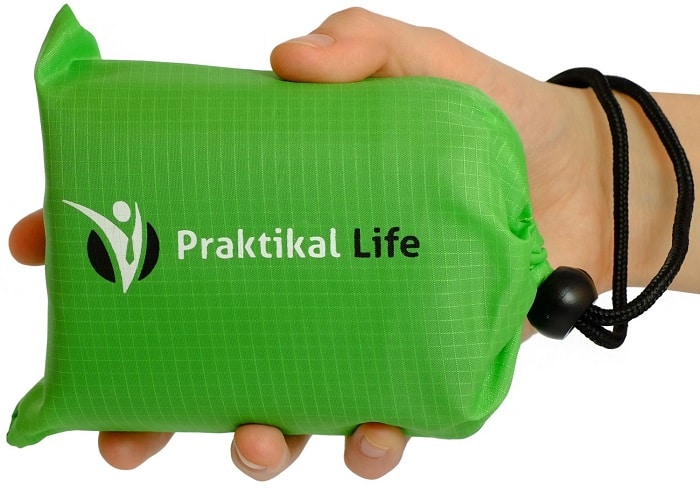 Woolen Picnic Mat
You can't have a picnic mat article without a mention of the classic plaid woolen picnic mat. It's quintessential picnic equipment and something people love to see at picnics. I'd have loved to give a wool mat the best overall picnic mat as they are so beautiful and comfortable. But unfortunately they score low on points for ease of cleaning and being waterproof. But given the perfect conditions, you can be sure a plaid picnic mat is the first one I bring out. The Tartan Blanket Company make a nice one.