In this article, we hope to share a few suggestions with you over one of the picnics most essential items – the picnic blanket. Going on a picnic without a blanket would be tantamount to going to the sun with no sunscreen.  Ok, I might be over-egging it a little there but the point is that if you want to plan a great day out then you will need some kind of outdoor blanket. So we've compiled a list of the best picnic blankets.
To qualify this statement let me give you a few examples where the picnic blanket is an absolute must. Perhaps the weather leading up to your picnic has not been the best and when you arrive at your destination the ground has become damp. There is no way around this other than suffering wet clothes or lying down a nice big waterproof picnic blanket.
Or maybe, on the spur of the moment, you make plans for a beach picnic. It is far from ideal to semi bury all your food and drink in the sand. The blanket offers ideal cover for your items along with protection for you from the hot sand.
What follows are some examples of the best picnic blankets that are on the market. From traditional plaid blankets for your grassy fields to your waterproof picnic blankets for when the weather has been misbehaving. We hope you find the selections varied and informative.
Woolen Picnic Blankets
I don't know about you but whenever I think about what's the best picnic blankets my mind instantly turns to plaid, 100% wool options. It is the most striking item you can perhaps buy for your picnic. Sure, you could splash out on a great silver cutlery set or purchase those beautiful crystal wine glasses you've had your eye on for so long but none of these will come close to the impression a traditional plaid woolen blanket will give off.
Plaid blankets, of course, refer to the checkered or tartan pattern you probably most associate with kilts but woolen blankets are the most iconic, traditional and sought after blankets for picnics, plaid or no plaid. The feel of them on a hot summers day is second to none and if needs be, you can wrap them around yourself or the ones you love for warmth when the chill picks up a bit.
The classic wool blanket from The Tartan CO. is everything a picnic blanket should be. Decked out in the classic Stewart colors, this blanket comes in at a size of 68" x 59". It also comes with what I call frayed edges but are more commonly known as purled fringes. Options are available for different plaids should you require.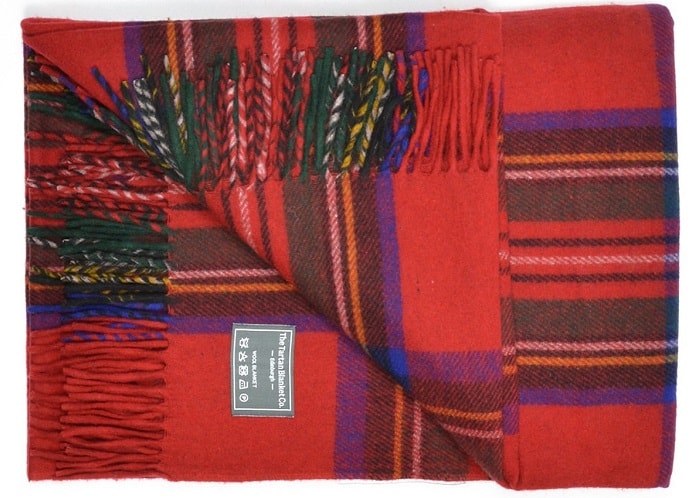 Pros of woolen blankets
Classic
Durable
Made from a material that is less likely to burn than almost any other material
Cons of woolen blankets
Can be more expensive
You must take great care when it is time to wash the blankets
Don't repel water, sand or mud
Can take up storage space
Waterproof Picnic Blankets
I think we can all relate; you put down your blanket and sit atop only to feel the wetness soaking through after a short while. Sometimes there's not much to tell that the ground is damp but in this bright new age, this should no longer be a problem. Waterproof picnic blankets are readily available at affordable prices and often come so compact they will make zero impression on your storage space.
The picnic blankets generally get their waterproofing from a layer of vinyl or plastic that is on the underside. All sorts of materials go into the production of the top side, which ranges from fleece to polyesters to cotton to name a few. The actual blanket as a whole uses a layer of padding which gives a more comfortable picnic experience.
The water-resistant picnic blanket by Yodo is a great item to have in your picnic repertoire. Opening out to 59" x 53"  the blanket compacts down to 12.5" x 8" x 4" making it positively tiny in the grand scheme of things. It has a thick fleece topping which offers great comfort by way of a 2mm sponge and at the price, it is an absolute bargain.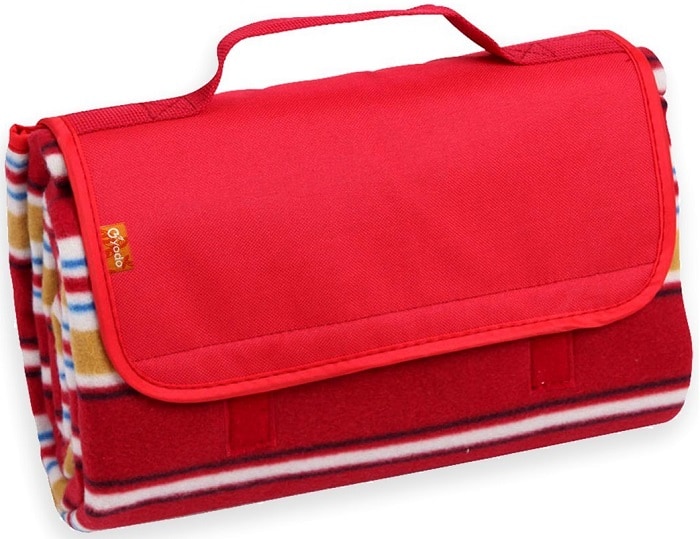 The XXX-Large picnic blanket by Monstar certainly lives up to its name. When laid flat it will measure 69" x 79". The waterproofing comes from a layer of PE +aluminum which can also double up as a sunblock for your car. It comes in various designs which means you can have the classic plaid look if that's your thing.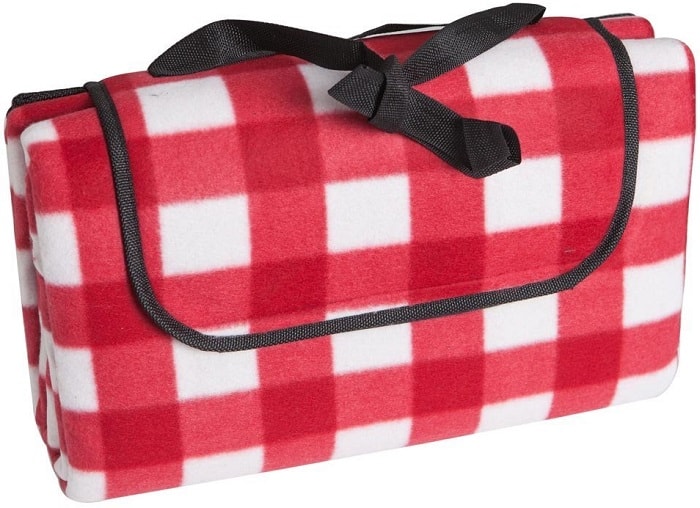 Pros of waterproof picnic blankets
No more wet butts
Generally cheaper option
Compactible
Padded for extra comfort
Is effective on grass or sand
Cons of waterproof picnic blankets
Quality of the product is not always the best
Not easy to wash
Folding back up can prove tricky
Best Picnic Blankets for the Beach
There can be a crossover between waterproof blankets and beach blankets which we alluded to in the pros list above. So I'd like to concentrate on the blankets that are part of a great subset that you could only describe as super practical. These blankets can mistakenly look like tarps on first inspection yet, perhaps surprisingly, use ripstop materials.  This means that they are puncture proof and in most cases (not all), waterproof.
The absolute best thing about these blankets though is the size you can compact these down to. They literally come down so small that they fit in the palm of your hand! Perfect if you don't own a picnic basket and you have brought along rucksacks or if you're lucky enough to be driving to your picnic in a nice impractical sports car with a front trunk that holds literally nothing.
This great offering from Praktical Life is one such example. Measuring 66" x 55" laid flat it can scrunch down into its pouch which is 4.7" x 3.6" and consequently, will fit easily in your rucksack/back pocket for safe keeping. It also has corner ties which can lets you peg down the blanket if you happen to be out on a suitably windy day.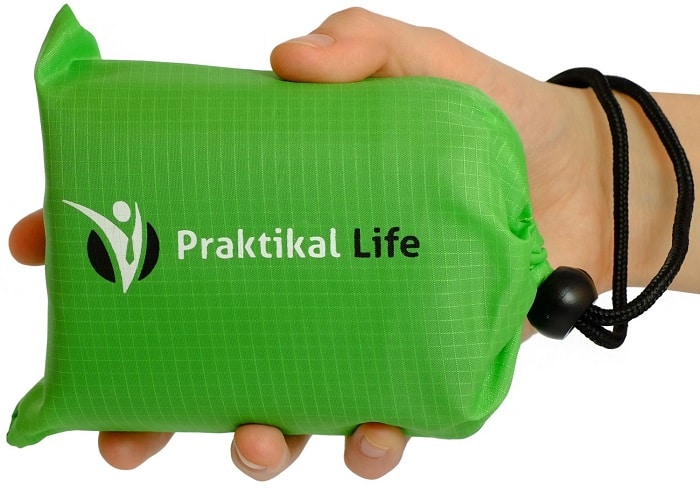 The next generation beach blanket by kahuna is one you will definitely want in order to try and make your friends jealous. Measuring a whopping 96" x 96" you will surely be boasting the largest picnic blanket this side of Mordor. Made from a material known as parachute nylon this blanket prides itself on being anti-sand meaning the sand will not stick to the material. You can also peg this blanket down if needs be.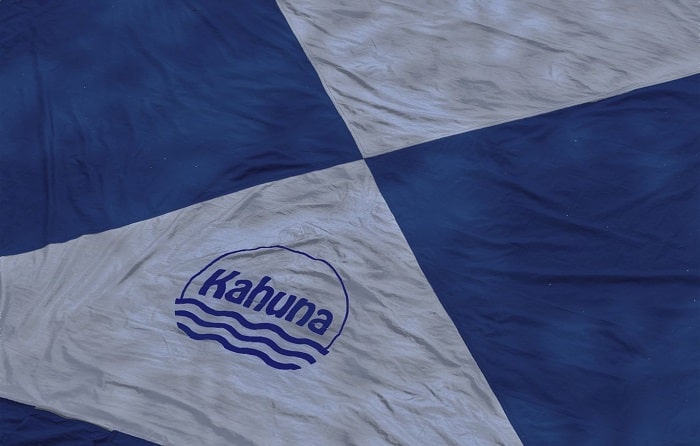 Pros of beach picnic blankets
Lightweight
Compact
Surprisingly durable
Won't fly away
Cons of beach picnic blankets
Not always fully waterproof
Sometimes difficult to repack