Picturing your typical picnic would not conjure up images of using a stove to use for cooking or heating but sometimes, needs must. We at Go Shindig are firm believers that the best portable picnic stove is an essential part of your collection.
Reading through some of our themed picnic ideas you might think to yourself some of our suggestions are nigh on impossible due to the food needing to be a certain temperature. Whilst we try to make all our suggestions as picnic friendly as possible by making sure that, on the majority, food can be eaten hot or cold, sometimes you look at a suggestion and think that HAS to be hot.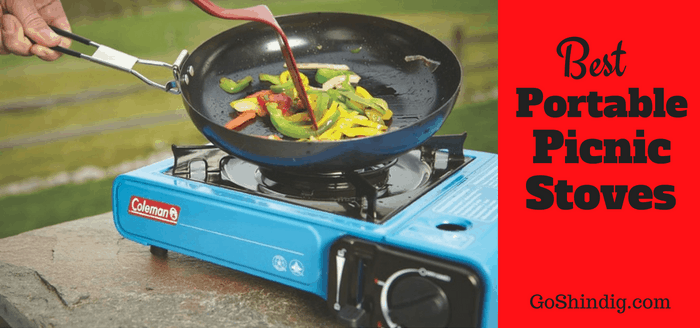 For example, in our Thai Picnic article, we suggested Thai fish cakes as an appetizer and whilst it's true that they can be enjoyed either hot or cold there is a certain satisfaction in biting into a fresh out the pan fish cake. There are certain levels of texture, especially crispiness, that can be lost in transit. These textures can easily be regarded as being equally as important to foods as much as their ingredients are.
This is why owning a portable picnic stove burner is becoming increasingly popular as our picnic acumen is growing more and more. They are on the most part relatively lightweight, inexpensive and pretty much foolproof.
We're not going to be knocking out buffets galore with them. But for the easy tasks that we require from them, that isn't going to be a problem.
A portable picnic stove fuels by a variety of gasses including butane, propane, and gasoline with the vast majority of the picnic-friendly ones coming from the first two.
There are a couple of things to consider when deciding which one to use. The main one being how they connect to your stove in the mainly cheaper versions suited to picnics. Butane will come with a clip connector that you can push in easily. It is usually on the inside of the stove.
Whilst it is possible to get propane clip connectors they generally come with screw on connectors. This is because the butane will be in something resembling an aerosol can and the propane will be in a tank.
Secondly, and not so importantly, because of the chemical composition of butane, it would be extremely difficult to get it to burn or ignite in freezing conditions. This is to do with the boiling point of the gas being relatively high. This means in freezing weather It is likely that butane would become a liquid rather than a gas. Like I said, not too important, though it is not unheard of to have a picnic in the snow.
Best Portable Picnic Stoves 2018
The Coleman Butane Instastart Stove is a seriously good piece of apparatus. For absolutely no money in the grand scheme of things, you can have portable cooking at your fingertips.
It uses butane as its fuel source which can be locked into position via the safety lock on the front of the stove. You can also control the size of your flame and therefore the heat with the adjustable knob that is also functions as the ignition.
This means you can use the stove to simmer things or outright flash fry something. It comes with its own carry case and at under 5 pounds it is quite light.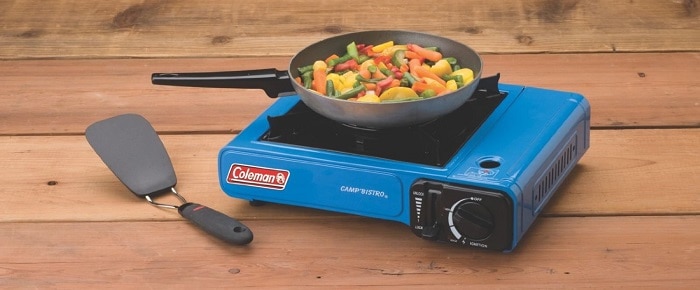 The Ultralight Portable Picnic Stove from Etekcity is a quirky little thing, and I do mean little. At 2.3 x 3.5 inches, you would be forgiven for thinking that this little gadget would not be up to the task of providing a functioning, reliable heat for cooking. But you would be completely wrong.
It resembles a keg tap almost. When you screw it into a fuel tank and let loose there is nothing comparable at the price. You can boil a liter of water in three and a half minutes. Dispelling the fear that it won't be able to hold any pots or pans. It also boasts features such as flame control and ignition.
I would use this more for heating up a chili or a soup rather than making a pancake or something. But it is equally at home performing either task.
Coleman makes another appearance on this page with their impressive Perfect Flow Grill Stove. This is a step up in function from previous stoves as it features both a grill and a stove.
This means you can be heating up a hot cheese dip for some nacho dunking. And at the same time grilling some chicken skewers that you intend to share around for appetizers.
Propane powers this portable grill which you can buy at most of the usual stores. It boasts a non-stick grill, removable grease tray and 3 sided windshield amongst its many features.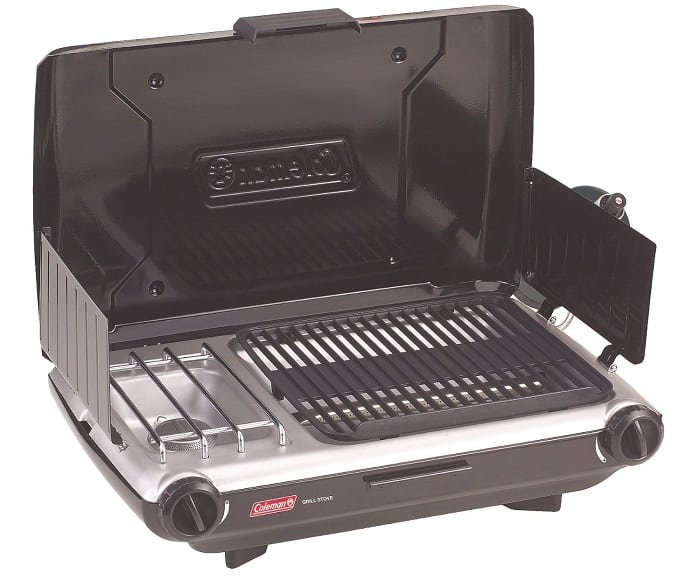 Etekcity level up the battle of the portable picnic stove 2-2 with their Camping Stove. This again probably suits housing pots rather than pans or skillets. This means it would be a great winter or fall picnic stove for serving up soups and broths and stews.
The unique design provides a 360-degree windshield whilst it provides a good solid platform with its sprawling, low feet. It comes with a safety valve assembly and also a built-in ignition system.