Thai food evokes thoughts of spice and zest that will leave even the most strong-stomached amongst us salivating. This is obviously with good reason as looking through the most historically traditional Thai food will see you consistently come across such staples as lime juice, coconut milk, lemongrass, ginger and of course chillis.
Thai picnics, whilst sticking to the most classical aspects of Thai cuisine, must also diversify a little to accommodate the perfect picnic experience. This does not mean completely changing your favorite Thai snacks recipes, merely adapting them to fit your needs and constraints.
The beauty of Thai food is that there is so much diversity in the cuisine that it is really easy to find a picnic basket to suit everyone's tastes. From the beautifully balanced soups, the wonderfully fragrant salads to the saliva-inducing curries. Each in their own right worthy of being the star of the show. Please read on for some ideas that might tie in (pun intended) with your fun day out.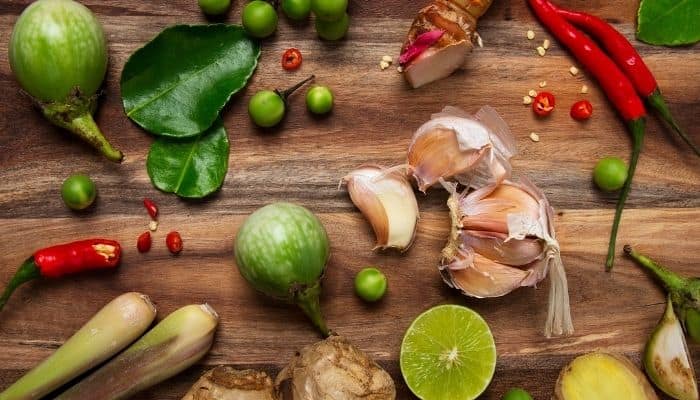 Thai picnic Soups
The perfect start to your picnic would be a Thai soup. The great thing about Thai soups especially is that they are hugely diverse. This means you can eat them hot or cold, spicy or mild, packed full of meat or just by using the simplest of fruits.
Whichever way you choose to go, the one thing you will need is a very good quality vacuum (thermos) flask. The thermos is the ideal picnic accompaniment for soup as it has the capacity to store it in the conditions you decide are most suitable. So if it's a cold, clear soup the thermos can deliver great temperature control even on the hottest of days. And if it's a hot chunky chicken soup you desire the flask will equally maintain the heat for you whilst having the capacity to store the extra ingredients.
Coconut milk is one of the most predominant ingredients you will come across when making Thai soups. Using this as a base flavor and combining it with other ingredients will give you some of the most amazing cold soups you will taste. Please check out some recipes for cold coconut and lemongrass soup, cold coconut and mango soup or a simple cold curried coconut soup.
If you're wanting to get your picnic off to a bang then surely Thailand's famous Tom Yum soup is the route you need to go. It is the quintessential hot and sour soup which will have your taste buds taken on an oriental journey they just might not recover from. Boasting ingredients including, but not limited to, kaffir lime leaves, galangal, lemongrass, fish sauce and chilies, Tom Yum soup is about as Thai as you can get. You would normally eat this with shrimp. But the recipe can be adjusted to include chicken, shredded pork or vegetables should you so choose.
Thai Picnic Finger Food
Finger food and picnics go together like Macaroni and cheese, Cheech and Chong, PB and J. You get the idea. Thai finger food offers all the taste complexity and variety you associate with Thai food. But with surprising simplicity also added to the equation.
Thai fish cakes are a great addition to your picnic. Ideally served hot but just as nice cold, fish cakes are a simple, diverse and filling Thai appetizer. You can make them with any white fish you desire, which keeps costs down. You can individually tailor to peoples spice tolerance by making several with a different chili content. Maximise the flavor by adding a dip, whether it be a nice cooling cucumber dip or a tangy sweet chili dip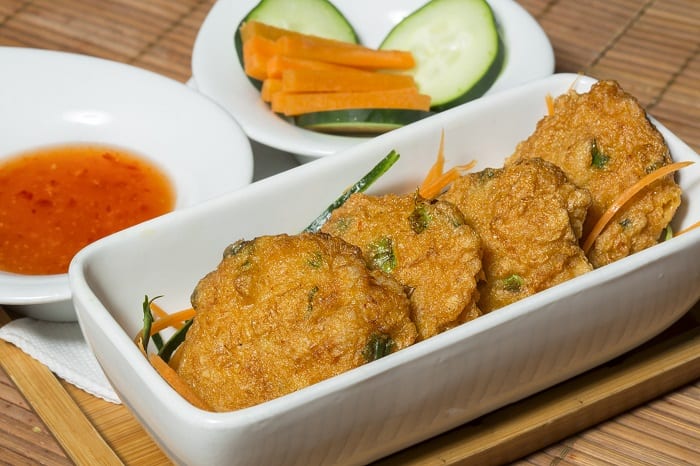 Chicken. Chicken is chicken, right? But have you tried Thai chicken? More importantly, have you tried Thai sticky chicken fingers? If not I'm here to tell you they are the bomb and deserve to be on any menu let alone our picnic menu! As with everything nowadays there are a multitude of different recipes. But seek to make a marinade of sweet chili, soy, ginger, lime juice with a topping of sesame seeds and spring onion and you will not go wrong.
Thai curry puffs are perfect for an appetizer. Make them as large or small as you want and eat to your heart's content. The puff is a deep-fried pastry that is very similar to an Indian samosa. There are meat and vegetable variations to suit all needs. And, as with everything else on this page, can be individually tailored to suit your palate. The heat in this instance comes from curry powder/paste instead of chillis.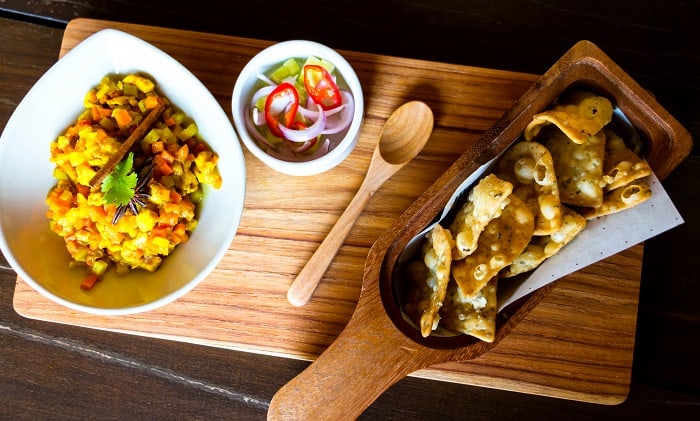 Thai Picnic Salads
My favorite form of Thai food, the Thai salad is unlike any other you will taste. Concentrating on flavor and texture, I would certainly go home a happy man if all I was offered at a meal was a Thai salad.
Thai beef salad would certainly be crowned the daddy of all foods if I had my own way. Made with thin strips of beef, cooked rare and doused in lime juice, it offers a taste sensation that is culinary nirvana. Complimented with textures of carrot, shallot and beansprout, this punchy salad also serves up tastes of chili, ginger and mint.
The Thai mango and chicken salad also deserves a mention here. It cannot be said that Thai food is afraid to experiment. And whilst pairing fruit with a savory dish may seem risky to some, the Thai mango and chicken salad ticks all the boxes for me. It is sweet yet spicy, light yet nutritious and has an amazingly elegant look to it with its vibrant array of colors.
The simplicity of the salad and the fact that it is a doddle to pre-prepare makes it the perfect dish to use in your Thai picnic. The raw ingredients are readily available in stores. And you have full artistic license to make the dressings as authentic or as diluted as you deem necessary.
Thai Picnic desserts
Unsurprisingly, Thai desserts include a lot of tropical fruits. They use them enough in their appetizers and mains so why not cover all bases and use them for every stage of the meal? It's a delicious way to conclude your Thai picnic which, following the form of all that has preceded thus far, is hugely diverse.
Thai sticky rice and mango is a popular dessert which brings a no-fuss element to proceedings. It is exactly as described – Thai sticky rice and mango. Couldn't be simpler, all that you really need extra is a bit of coconut milk. But if you haven't got any of that lying around whilst planning this, you've been doing it wrong.
Woon Krob (crispy jelly) is an alternative if you want to veer away from all that fruit. Beautifully colored and easily dispensed, woon krob is a dessert that picnic goers of all ages will love. It is made by mixing gelatin with Jasmine water and adding colorant before shaping into cubes.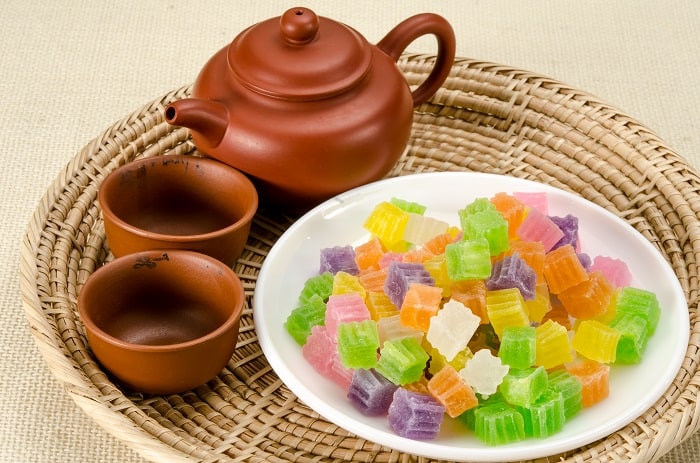 Thai Picnic beverages
Complimenting your up-to-now perfect Thai picnic, you are going to need some refreshments. Some might argue there's enough coconut milk here to negate the need for drinks but I disagree. There are various options open to you whether it be tea, juice or alcohol.
Thai iced teas are extremely easy to make. And can also serve as a safety mechanism should you get some of your spicings wrong with your food. It is made simply by combining a Thai iced tea mix with some half and half and stirring. The half and half is what will supply your pain relief.
If you prefer a soda then there are plenty of Thai drinks that you can choose from. Lime juice, soda and sugar syrup is a very popular drink in Thailand. As is mixing different flavored syrups into ice and soda water.
Thailand is famous worldwide for its full moon parties where travelers dance the night away drinking local Thai beer and liquor. Recreate your own little piece of the full moon atmosphere by purchasing some authentic Thai produce. Chang beer is one of the countries leading beers. It certainly hits the spot. Whilst Mekhong is a Thai whiskey/rum made from molasses and sugar cane which will certainly give you that true Thai taste.