The end of summer ushers in one of my favorite seasonal BBQ activities. As the kids head back to school, it's time to gear up for the football season. So polish the pick-up truck, clean out the coolers and break out your best tailgate grill!
Tailgating, or cooking food on the back of your vehicle in a parking lot, is an American tradition. It's a great way to make attending a game into a real event with delicious food and a cooler filled with your favorite brew.
The best grill for tailgate cooking should be sturdy, durable and have the capacity you need to feed your family and friends at a game. Why stop there? Team up with another group or two and throw a tailgate party with a wide variety of grilled snacks!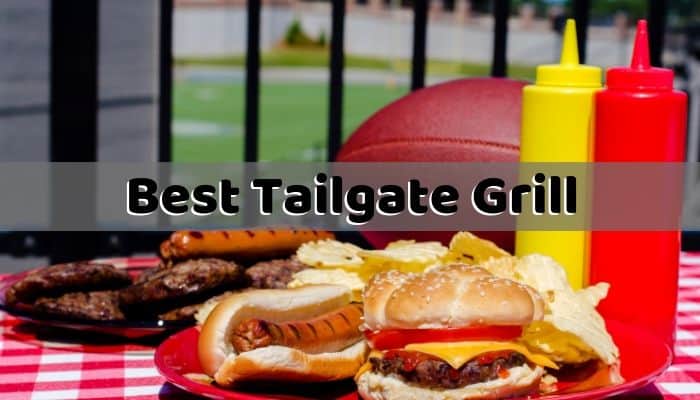 At a Glance: Our Top 8 Best Tailgate Grills
Tailgating Grill vs Portable Grill
Isn't a tailgating grill just another name for a portable grill? Sort of, but not exactly.
A tailgate grill is portable, of course. Most of us don't load our big gas or charcoal grills into our pick-ups to bring them to a game. So how is a tailgate grill any different from a portable grill? The answer really depends on your portable grill.
Some portable grills are very small and light, which is ideal for cooking while camping or at a picnic. If you have to carry in your supplies, it makes sense to use the smallest grill you own to save trouble.
For tailgate cooking, you'll be working off the back of your truck or SUV. You won't have to worry about lugging the grill into your site. The best tailgating grills are larger and more robust than a typical portable grill and offer greater capacity as well.
Any tabletop grill with a portable fuel source works for tailgating, but we think these are the 8 best tailgating grills on the market. They are particularly well suited for cooking food in the back of your pick-up and have features that make them really user-friendly.
Best Tailgate Grill
Americans have been cooking tailgate food at events for well over a hundred years.
In fact, early in the Civil War, many families traveled to local battle sites to watch the armies fight. They brought along baskets of food and drinks and often set up small campfires to prepare hot food while they watched the action.
As far as historians can figure, the first football-related tailgate party was in 1869 at a game between Rutgers and Princeton. While tailgating parties are closely associated with football games, you can make any event into a tailgater with the right equipment.
I have hosted tailgate parties at rock concerts, county fairs and even in the parking lot of a Zoo. Tailgating can save you from buying overpriced hot dogs and burgers inside the venue and is a great way to spend time with your family and friends before an event.
Tailgating is like having a mobile picnic and BBQ at the same time. If you get several families and their grills working together, it can turn into one heck of a party too!
Weber Q2200 Best Tailgate Grill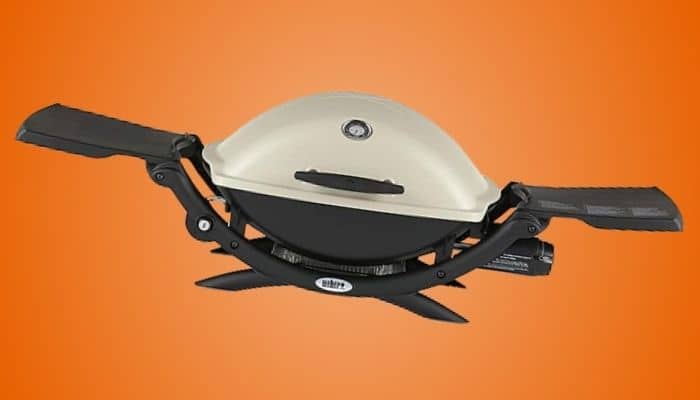 I'm always thrilled to recommend Weber small grills to anyone looking for a portable option, and the Weber Q2200 is no exception. This gas grill packs some impressive features into a small, tabletop package.
The sleek Weber tailgate grill is compact in size and has built-in legs and side carrying handles. The push-button ignition is reliable and starts your grill quickly. It has a single U-shaped stainless steel burner that is very easy to adjust with the control knob.
The Q2200 has two side tables that fold out of the way for storage. These shelves make it really easy to keep your food, condiments, and utensils close while you grill! The cast aluminum lid and cook box are lightweight and durable, and it has a built-in temperature gauge.
The Q2200 measures 18.5 x 32 x 15.5 inches when the side tables are folded for transport and weighs 42.5 pounds. With the shelves and lid open the grill measures 25.1 x 51.4 x 26 inches.
The porcelain enameled cooking grates provide 280 square inches of cooking space. You can swap out both of the cooking grates with Weber's griddle inserts. You can even griddle on one-half and grill on the other side at the same time.
The only disadvantage to the Q2200 is the limitations of cooking with a single burner. It will be more challenging to cook foods using indirect heat in this grill. But this is a fantastic option otherwise and is an ideal pick for a family that loves to tailgate.
Pros – Things we liked
Built-in legs and side carrying handles
Push-button ignition
Two side tables
280 square inches of cooking space
Cons – Things we didn't like
Only having a single burner
Coleman RoadTrip 285 Best Stand-up Tailgate Grill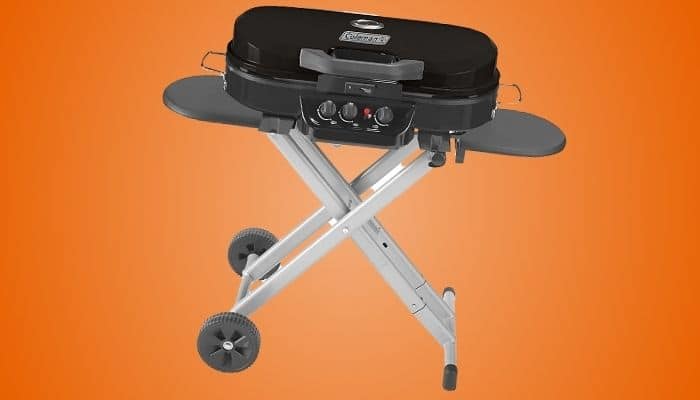 You might associate this brand with camping stoves, but Coleman tailgate grills are an affordable and user-friendly solution to tailgate cooking. The Coleman RoadTrip 285 portable gas grill is a feature-packed option with its own built-in stand and side tables!
This grill compacts down into a small package for easy transport. The two sliding side shelves tuck away under the grill, and the integrated stand and wheels make it easy to move into place.
The RoadTrip measures 32 x 22 x 13 inches when folded flat and weighs 46.7 pounds. The built-in stand telescopes up with a quick pull and is very fast to set up. When fully assembled it measures 33.8 x 13.5 x 19.1 inches.
The grill has three stainless steel burners with independent controls and an insta-start ignition that fires right up with the push of a button. It offers 285 square inches of cooking space. You can grill food on the porcelain enameled cast iron cooking space, or pick-up Coleman's griddle or oven inserts for additional versatility.
This is a good option for a busy tailgating family, but I do have a couple of concerns about this grill. The plastic lid-latch is not very robust and seems prone to failure.
Also, there is only about 5-inches of room between the grates and the lid when it is closed. You may not be able to grill a large item like a pork butt, but you should have plenty of room to make burgers, steaks and pieces of chicken.
Blackstone Grills Tailgater Best Tailgate Griddle Grill Combo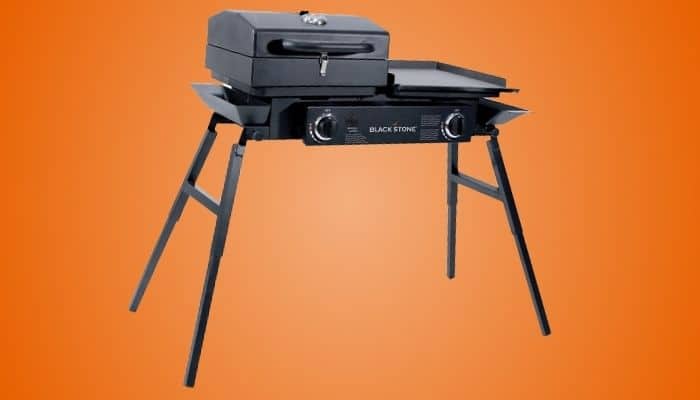 If you're looking for something that is a bit rustic and offers a lot of versatility, then this combination gas grill and griddle from Blackstone could be ideal for you.
The Blackstone Tailgater has telescoping legs that fold down from the base. You can even adjust the legs for different heights on uneven ground. The heavy-duty cast iron cookbox and griddle have separate controls and allow you to grill and fry food at the same time.
The cast-iron cooking area and griddle measure 16 x 16 inches each, providing 512 square inches of cooking space capacity between the two sides. You can also remove the cookbox and griddle and place a Dutch oven or frying pan directly on the burners.
This is an incredibly durable and sturdy tailgate grill, but it does have a couple of downsides. It can be a pain to assemble on-site since the legs are tricky to adjust.
The Blackstone is also a large grill, measuring 52 x 24 x 38.5 inches and weighing in at 75 pounds. You'll probably need a hand moving and setting it up. It also only has a 90-day limited warranty.
Those issues aside, this is a tough grill that is ideal for tailgating, camping, and parties. The versatility and durability of this grill outweighs any concerns I have about its warranty or set-up.
Weber Jumbo Joe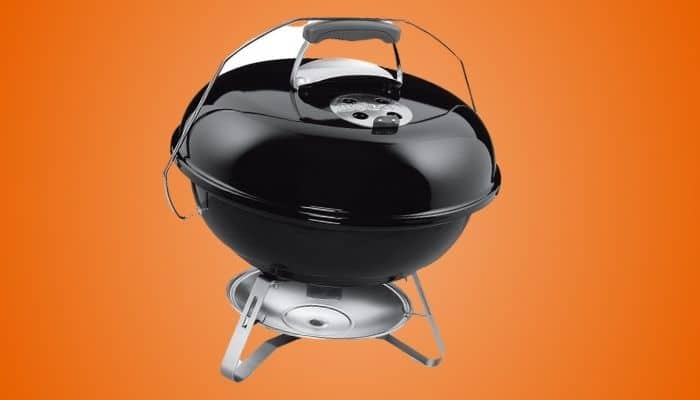 If you want to keep your tailgating simple, you can't do it better than with the Weber Jumbo Joe. This charcoal kettle grill is the portable cousin to the Weber Master Touch and is one of the least expensive options on the market.
The Jumbo Joe measures 19.8 x 20.5 x 19.8 inches and weighs 18 pounds. The enameled lid and cookbox are durable and resistant to corrosion.
It has a built-in aluminum stand and catch tray, and comes with plated steel cooking grates. The Jumbo Joe offers enough capacity to grill up to 8 burgers at a time. The round cooking grate measures 18-inches across.
This grill has dampers in the lid and base, making it easy to adjust your temperatures. The lid locks into place for easy transport and there is a lid-rest on the BBQ so you don't have to set it on the ground.
The Jumbo Joe is the perfect size for tailgating and can feed up to 4 people depending on your menu. You can even bring the warm ashes home inside the grill.
At this price-point, the Weber is a steal for any family looking for a basic charcoal kettle grill. It also comes with Weber's great warranty, which covers the entire grill for a full two-years and some parts for up to 10 years!
Broil King Keg 5000 Kamado Grill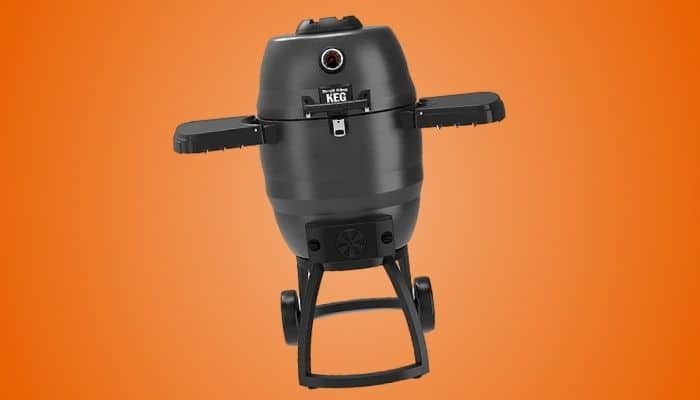 If you want to be able to grill and smoke meat at a tailgater, then you have got to check out this Kamado-style charcoal grill from Broil King.
The Keg 5000 is a sleek looking metallic bullet smoker with a built-in stand and wheels. It has 2 removable resin side shelves and a multi-tool for adjusting the grill and cleaning the grates.
The Broil King measures 41 x 27.5 x 47 inches and weighs a hefty 126 pounds. The insulated steel body is incredibly durable and seals tightly. You'll use less charcoal when grilling and smoking meat on the Keg 5000.
The Roto-draft dampers on the lid and body provide excellent heat control and even have markings to help you remember your settings. The counterbalanced lid hinges up and provides easy access to the cooking chamber. You won't have to struggle to use this grill!
This tailgating grill offers 280 square inches of primary cooking space on the cast iron grates. It also provides another 200 square inches on the swing-out chrome-plated secondary rack. The Keg 5000 can smoke meat at low temperatures and can crank-up to over 700°F for high-heat grilling and searing.
The Keg 5000 is a bit pricier than other models but it is ideal for home-use as well as tailgating. If you're only planning to buy one grill, this could be the ideal option. Broil King covers the grill for 2-years under warranty, and there are many parts and access available for this grill.
Lodge Cast Iron Sportsman's Grill
For a classic tailgate experience, the Lodge Cast Iron Sportsman's Grill is an ideal pick. Made in the USA, this durable charcoal grill could become your next family heirloom.
Lodge is famous for their high-quality cast iron pots and pans, and this grill is an excellent example of their work. Made entirely from seasoned heavy-duty cast iron, the hibachi-style Sportsman's grill is perfect for tailgating, picnics and camping trips.
The elevated base stands on legs and has a door so you can easily access your charcoal. The single-piece cast iron cooking area is removable as well.
The side handles make it easy to move when cool, and the wire carrying handle keeps your hands free from the flames while it is in use. The Lodge measures 19 x 8.2 x 10.2 inches and weighs 27 pounds.
The Sportsman's grill is perfect for making kabobs, steaks and the usual burgers and hot dogs. You can use a cast iron pan or Dutch oven directly on the top of the grill for additional versatility.
The main disadvantage to this grill is that it doesn't come with a lid since it is a hibachi-style grill. That limits what you can cook on it. Lodge backs this grill with their lifetime warranty, however, so you'll never need to replace it.
Smoke Hollow 205 PG Grill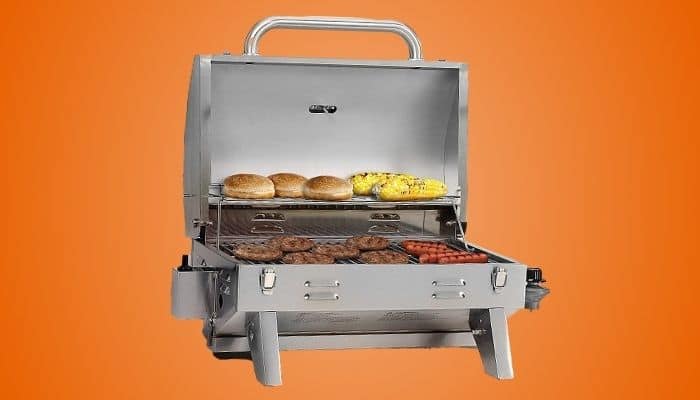 If you prefer a tailgate grill that would blend into your built-in backyard kitchen, then this beautiful gas tabletop grill from Smoke Hollow should fit the bill.
Made from high-quality stainless steel, the Smoke Hollow is a compact grill with some nice features. The lid has a built-in thermometer and two stainless steel latches to lock it closed.
The foldable stainless steel legs quickly lock into place and fold back down at the touch of a button. The single U-shaped stainless steel burner is quick to light and easy to adjust.
The primary cooking space is stainless steel, and the warming rack is made with chrome-plated stainless steel. Between the two grates, the Smoke Hollow offers 305 square inches of cooking area.
This is a great little gas grill, and the whole unit measures 15.8 x 26.9 x 11.8 inches and weighs 20.4 pounds. The primary disadvantage to this grill is the single burner.
You won't be able to create hot and cold cooking zones in this grill or cook food using indirect heat. That problem aside, this grill is very inexpensive and looks like a premium product. It's an ideal choice for a smaller tailgating family.
Cuisinart CGG-306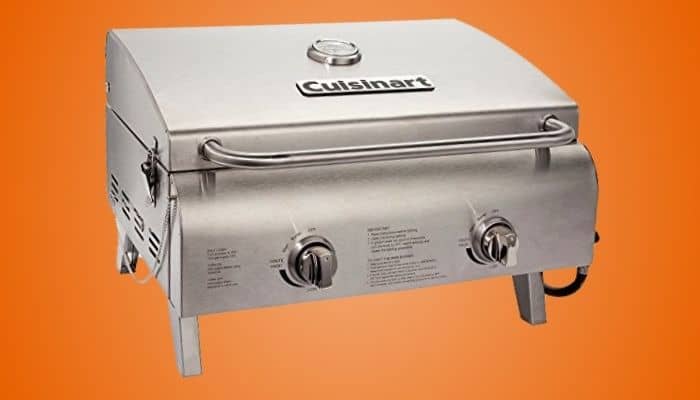 Another stainless steel option is this professional-style gas grill from Cuisinart. The CGG-306 is a moderately priced portable tailgating grill that requires little effort to set-up.
Just set this grill on your tailgate, extend the legs and start the burners. The twist-start ignition lights up immediately and you can easily adjust the temperature using the two control knobs.
The lid locks in place with two stainless steel latches, and the lid handle doubles as a carrying handle for easy transport. It has a built-in temperature gauge in the lid as well.
The Cuisinart measures 21.5 x 19 x 15 inches and weighs 22 pounds. The stainless steel cooking grates provide 277 square inches of cooking capacity. You may cook with the lid open or closed.
Since the Cuisinart comes with two stainless steel burners, you can use this grill for cooking using indirect and high-heat settings. The only disadvantage to this grill is that it won't work with disposable propane canisters. You'll have to bring a 20-pound tank of propane with you to your tailgater.
The Cuisinart is a good choice for the right family, and it has a 3-year limited warranty. It is a sturdy and durable grill that should provide years of trouble-free tailgate cooking.
Why Trust Us
All of our reviews are compiled with a combination of expert input, years of hands-on testing of grilling products, curating the reviews of real-life buyers in a "wisdom of the crowd" system, and of course our own expertise. All the products listed are the ones we would buy if we were looking to purchase a new tailgating grill.
Methodology Used to Pick the Best Tailgating Grill
When picking the best tailgating grill we looked at and then rated each grill on the following criteria. Price, practicality, build quality, fuel source, total grilling surface, number of burners, temp control, and ease to clean.
Buyer's Guide to Buying the Best Tailgate Grill
Choosing the best grill for tailgate cooking isn't terribly difficult, and it's gotten a lot easier over the years.
The best tailgating grills share many features with the best small BBQ grills. They offer more capacity than a typical camping grill, can stand on their own like a tabletop grill and have a portable fuel source.
When shopping for a tailgate grill, you'll want to consider your price range, the number of folks you plan to feed and the types of food you'll be serving. That will help you identify your ideal grill.
For tailgating parties, I recommend getting the biggest grill you can unless you need a smaller one for other purposes. Since weight and size are not major issues for tailgate cooking, you're better off having the extra capacity if you need it.
Every grill has its own unique capabilities, and the best grill for each pitmaster will vary depending on their needs and style of cooking.
Here are the features to look for when shopping for the best tailgate BBQ for your family:
Practicality
What makes a tailgate grill practical? The ideal tailgate grill should be very easy to set-up, use and bring home after a game. You should not have to spend a lot of time messing with your grill to get it to work.
There are a few features that go along with a grill's practicality.
Compact Size
Your grill should be small enough that you can easily transport it in your vehicle. Tailgating grills may be larger than portable camping grills but are still small enough to fit in the rear of a car or truck.
Portability
This may mean different things to different grill masters. All tailgate grills are portable, but they may not all be equally portable or easy to maneuver. Some tailgate grills are quite substantial in weight and require extra assistance to move them into place.
Look for grills with carrying handles, lightweight construction and folding legs for the most portable options. Your grill should be able to be moved as a single unit, even if it takes an extra set of hands to position.
Ease of Use
The faster you can set your grill up and get it started, the sooner you can enjoy some great grilled food!
Look for tailgate grills that quickly unfold and don't require a lot of work to break down. Ideally, it should only take a minute or two to position your grill on the tailgate or prepare it for the return journey home.
Tabletop Legs or Portable Stand with Side Tables
Your grill should stand on its own, high enough off the back of your tailgate that the heat can't damage your truck's paint job. The ideal grill should stand about waist-high when you are using it.
The first time I threw a tailgater I used my camping grill, which didn't have any legs. I usually propped it on some rocks at a campsite but didn't think about this until I got to the event. Since I couldn't put it on my tailgate I ended up using it right on the parking lot asphalt, kneeling beside the grill as I cooked.
Avoid this problem by getting a tailgating grill with built-in legs, or one that has a portable stand you can bring along. Always be sure your grill has enough clearance from the sides of your truck and other BBQ supplies so it doesn't melt something or start a fire.
Best Tailgate BBQ Build Quality
When it comes to BBQ, you can cook great food on almost any grill but it's much easier and less frustrating to use one made from high-quality construction materials that have been well-assembled.
The quality of your tailgate grill is closely linked to its retail price. You don't have to mortgage your house to afford a good tailgate grill, but you should aim for the highest quality option within your budget range.
A tailgate grill's overall build quality takes into account the type of materials used and the assembly method. Since weight is an issue for these grills, manufacturers have to walk a fine balance between making a durable grill and one that is lightweight enough to be mobile.
Cheaper grills often use lower-quality and thinner metal for the cookboxes and have rivets instead of welds to seal it together. A cheap grill may be harder to use because it isn't well-insulated, making it difficult to control your cooking temperatures.
Inexpensive plastic handles may not shield your hands from the flames and plastic latches may quickly wear out. Cleaning a shoddy grill can be a nightmare if you are trying to work around rivets and oddly-placed dampers.
The best tailgate grills are made using materials like lightweight cast aluminum or stainless steel. Their handles are made from wood or high-temperature thermoplastics that won't melt or warp in the heat.
The best grill brands, like Weber, form their cookboxes and lids from a single piece of metal to avoid having to rivet or weld the corners together. Unibody construction, enameled surfaces and locking cookboxes are all signs of a high-quality tailgate BBQ.
Fuel Source
While you can find small BBQ grills and smokers that run off of a liquid propane tank, natural gas, charcoal, wood pellets, and even electricity, most tailgate grills use either propane or charcoal as the fuel source.
This makes sense since you can't bring a natural gas line along to your tailgater. I guess a determined electric grill owner could bring a portable generator to the game to fuel their fire, but honestly, I'd rather use that room for other things.
When shopping for the best tailgate grill, you'll have to decide if you want a charcoal or gas-powered model. I have covered the charcoal vs gas grill debate before and I'm not going to delve into the pros and cons of each fuel type here. Pick the style you prefer and don't worry about whether it is "real" BBQ.
Depending on your choice, you'll either need to have a supply of disposable propane canisters or a bag of charcoal in your tailgating supplies.
Disposable Liquid Propane Canisters
The advantage of using a gas-fueled tailgate grill with a disposable propane tank is that you can toss the empty ones away before you pack-up. That's less stuff you have to worry about bringing home.
While the canisters themselves are recyclable, they require special handling because they are pressurized. You can't just toss them in with the paper plates and aluminum cans and walk away. You'll have to find a specialized recycling company and bring them your canisters if you want to do things the eco-friendly way.
If you don't mind tossing your empties, then going for a propane tailgate grill might be the best option for you. Alternatively, many of these grills work with full-size propane cylinders if you don't mind hauling it in your vehicle. The downside to that is having to leave the tank in your truck during the game.
Bag of Charcoal
If you opt for a charcoal-fueled tailgate BBQ, you won't have to worry about tossing or recycling canisters. It's also very easy to find charcoal if you suddenly run low and have to run to the store. But there is one downside to charcoal tailgate grills that folks don't often consider in advance.
You'll have to bring your hot ashes home with you for safe disposal.
You can move and transport most charcoal tailgate grills when filled with hot ashes, as long as the grill is kept away from flammable materials. As a recent deadly fire in a Walmart parking lot proves, a warm portable grill can ignite things around it even when you're not actively using it.
If you're just grilling a few batches of kabobs or some burgers, then you should be fine transporting the ashes home inside your grill. But if you spend hours cooking in the parking lot, you may need to dump some of the old ashes to make room for fresh coals.
If you're going to use a tailgate grill with charcoal, I highly recommend bringing along a small fireproof ash canister. Then you can grill as much as you like and be able to safely store the ashes until they are cool.
Cooking Surface
There are several things to consider when comparing the cooking surfaces of tailgate grills. You'll want to think about your ideal grill size and capacity, the type of cooking surface you can use with it and if there are any extra inserts for your model.
Size and Capacity
The size of your grill will influence what you can cook on it. Be sure the grill you choose is big enough to accommodate the things you plan on making.
You'll want to think about the dimensions of the grill and how much space you have between the cooking grates and the lid. Often, the size of a portable grill's lid only allows for a few inches of clearance inside when you close it.
You may be able to grill a bone-in chicken breast on a tailgate barbecue with a compact profile, but will likely not have enough room to grill a beer can chicken. To grill that kind of meal you'll need one with more headspace.
Another aspect of your grill's size is its capacity. Most grill manufacturers report capacity in square inches, although some also include how many hamburgers can theoretically fit on the grill at one time.
Capacity is a tough thing to judge until you are actually using your grill. I have never managed to fit as many "burgers" on a grill as the manufacturers claim. If you cram food on the grill it won't cook evenly anyway.
A tailgate grill is usually the perfect size to make a full meal for two people, or a main dish or snacks for 3 to 6 people. If you cook multiple batches of food or work as part of a larger tailgating group then the capacity will be less of an issue.
Cooking Grates
The cooking grates in your tailgate grill will reflect the overall quality of the product. Premium tailgate grills usually have higher quality cooking grates than budget models.
The best cooking grates are usually made from heavy-duty cast iron or stainless steel. Enameled cast iron or stainless steel cooking grates are ideal because the enamel prevents corrosion and increases their non-stick capability.
Heavier cooking grates made with thicker metal rods are better because they can absorb and radiate more heat. They cook things more evenly and leave pretty grill marks on your food. But they do add a lot of weight to your grill.
Some tailgate grills save weight by using chrome-plated grates instead of enameled ones. These are much less durable, will wear out faster and are prone to corrosion.
Inserts
Many grill manufacturers also sell inserts that you can use in place of the cooking grates.
These inserts may come with your grill, or you might have to pick them up separately. They increase the versatility and allow you to easily cook items that might otherwise be tough to grill.
The most common insert for tailgate grills is definitely the griddle insert. You can swap out your grill grate for the flat griddle insert and make pancakes, bacon and fried eggs on your tailgater. Or you can grill a panini-style sandwich or stir-fry some veggies.
Some grills may have other inserts available as well, like a pizza or bread stone.
Number of Burners
For the propane tank fueled tailgate grills, the number of burners is a critical issue. Many small tabletop and portable gas grills save money and weight by using a single burner. This is less than ideal for many types of tailgate cooking.
The best tailgate grills have two burners with independent controls, so you can create zones for high-heat and indirect cooking on the same grill.
If you enjoy making hot wings and grilled chicken thighs, then you definitely need a grill with the capacity for indirect cooking. Having an extra burner will allow you to set-up cooler zones for cooking more delicate foods.
Temperature Control
Controlling the temperature on a tailgate grill can be a bit tricky, depending on the weather. Conditions around your grill can influence how hot it gets and whether it easily maintains its temperature.
Because they are smaller and less insulated than a full-size BBQ, portable grills tend to change temperature rapidly. If the wind picks up or the sun suddenly comes out, your grill's temperature may shift quickly.
For charcoal-fueled tailgate grills, you'll need to adjust the dampers to control the temperature as your charcoal burns. The best tailgating grills should have two dampers to help you control your heat. I prefer to have at least one of them incorporated into the cookbox instead of having both dampers in the lid.
With the gas-fueled tailgate grills, you'll usually have independent control knobs for each burner. You can adjust the knob to increase or lower the flame, and thus change the temperature inside the grill. Multiple burners can provide better temperature control than single-burner grills.
Easy to Clean
Cleaning a tailgate grill is just like cleaning a regular BBQ. Once you've finished cooking, you should allow the food to burn off of the grates before you clean them using a grill brush or scraper.
It's fine to bring your grill home with dirty cooking surface. Just be sure you clean them the next day before you store your grill. That's also a good time to dump any cool ashes from the cookbox of a charcoal grill.
At the end of the tailgating season, you should break your grill down and make sure it's as clean as you can get it. Remove the grates and scrape any residue from the cookbox and lid. Brush any bits that remain inside, and then clean the outside to remove any dirt or grease.
Never store your tailgate grill for more than a few days before at least cleaning the grates. The food and grease can damage the grates and start the process of corrosion, and might even attract insects.
Warranty and Support
You should check out the warranty before you invest in a grill. Many of these grills have short warranties that only cover the cookbox and lids. Some manufacturers may also cover the burners, ignition system and cooking grates for a limited amount of time.
Most portable grills do not have robust warranties, and they often only cover some parts and not the entire grill. I recommend you read the fine print. That way you know exactly what's covered and for how long.
Another factor is how easy it is to request support from your grill's manufacturer. Do they have a service center in your area, or would you have to pay to ship your grill to them?
Top Tailgating Grills Video
Best Tailgate Grill Conclusion
Nothing gets me in the mood for a game like a tailgate cookout! There is something so primal about cooking over a fire for a few hours while I'm wearing my team-branded BBQ apron and drinking beer with friends.
When you have the best tailgate grill you can prepare fantastic food at any game or event. Tailgating grills have the same features of the small portable grills but offer a bit more robustness and capacity. You won't have to carry your supplies far, so you can bring along any equipment or accessories you need to feed your crowd.
Tailgating is a great way to spend quality time with your family and gives you the chance to show off your skills as a BBQ master!