Did you know that your BBQ can do a lot more than just grill meats and vegetables? A BBQ is actually a versatile cooker if you have the right equipment. The best cast iron cookware for the BBQ will help you take full advantage of your fire-power.
Using cast iron cookware on your grill opens up a realm of possibilities. I'm not just talking about cornbread and other typical BBQ side dishes. You can make everything from stir-fries to apple pie on your BBQ with the right cast iron cookware.
However, you aren't limited to using cast iron cookware on a charcoal grill. You can use it over a campfire or on a gas BBQ grill. Cast iron is also perfect for traditional range and oven cooking. You really can't go wrong when you invest in the best cast iron cookware for the BBQ!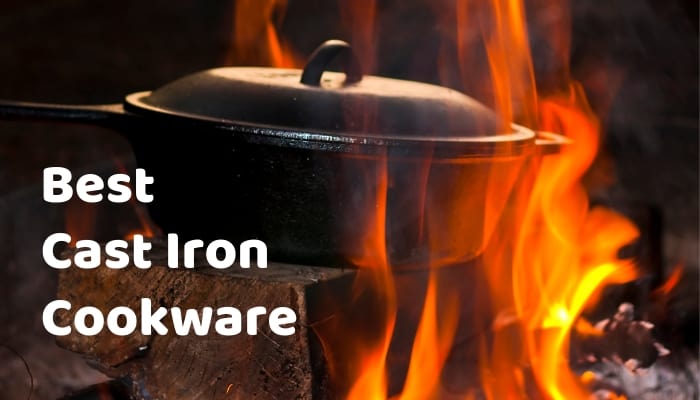 Best BBQ Cast Iron Cookware
Cast iron cookware has been around for hundreds of years and people all over the world use it. It's no surprise that cast iron is still popular after all this time. No other cookware is as versatile, durable and inexpensive as those made from cast iron.
Cast iron cookware is ideal for use on a BBQ grill. Unlike non-stick pans, cast iron cookware can handle high-heat cooking and direct contact with flames. It doesn't warp or shatter with rapid temperature changes.
There are several additional benefits to using cast iron cookware on your BBQ:
Cast iron cookware retains heat and cooks food evenly.
Seasoned cast iron is naturally non-stick and easy to maintain.
Cast iron cookware allows you to make more dishes on your grill.
The best part of using cast iron cookware is you never need to replace it! In fact, the more you use it, the better your cast iron cookware will perform.
With proper care, your cast iron cookware can last a lifetime and maybe even longer. I inherited one of my favorite cast iron camping skillets from my grandpa.
Cast Iron Dutch Oven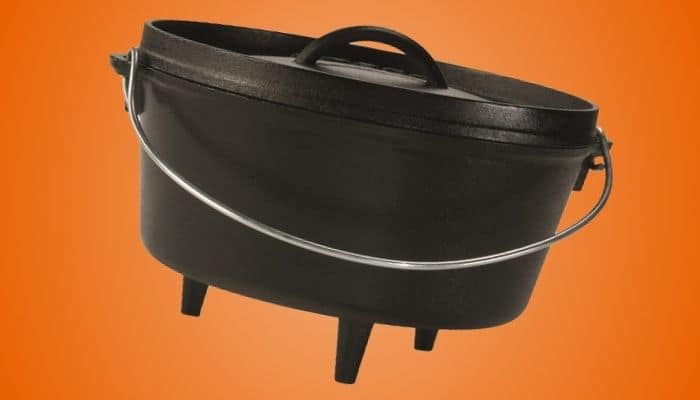 If you have read my post on Dutch ovens then you already know I am a big fan of Lodge Cast Iron. This American company has been making high-quality cast iron cookware for more than 120 years.
The Lodge L10DCO3 Dutch Oven is simply the best on the market for fireside cooking. This pre-seasoned set comes with a 5-quart pot and tight-fitting dual-use lid.
The pot measures 10-inches across and is 5-inches deep. The lid has a wide handle that is easy to grip. It also has a raised rim around the edge for holding hot coals on top of the pot.
The pot and lid are made from heavy-duty cast iron and weigh 13 pounds together. You can even flip the lid over and use the underside as a griddle.
The Lodge Dutch oven has a few other features that really make it stand out. It has three legs that suspend the pot at the perfect distance over a bed of hot coals. You won't need a grate or tripod to use this oven while camping.
If you want to hang the pot over a fire it's easy to do. The large loop handle is ideal for hanging the set. Try out the Lodge at your next tailgater or campout and you'll see why this is my favorite Dutch oven!
Cast Iron Skillet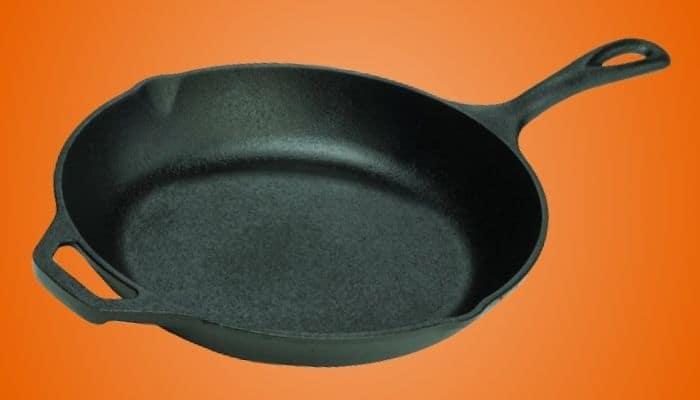 Cast iron skillets are one of the most useful pieces of cookware you can own for a BBQ. They are useful for sautéing, frying, searing and baking recipes on your grill or over a campfire.
If you haven't inherited one then consider buying the Lodge Cast Iron Skillet. This 10-inch wide pre-seasoned skillet is a workhorse that can handle everything from blackened catfish to cobbler.
This skillet has sloped sides and is 1.75-inches deep. The sloped edges give it the perfect shape for sautéing and stir-frying foods. You can easily plate food directly from this skillet and it has a handy pour-spout as well.
The teardrop-shaped handle is comfortable to grip and has a hole for hanging. This skillet also has an assist handle so it is easy to maneuver.
The skillet weighs about 4.5 pounds and is made from heavy-duty cast iron. It doesn't come with a lid but they are available separately.
Officially, Lodge cast iron skillets don't come with a written warranty. Lodge stands behind their products, however, and are very quick to respond to any problems.
Cast Iron Grill Pan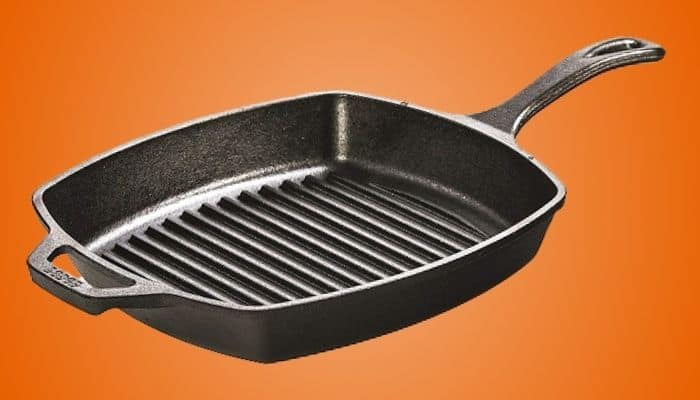 Some folks buy a grill pan as an alternative to using a BBQ. But a grill pan is a useful piece of cookware to use on your grill too!
The Lodge 10.5-inch Cast Iron Grill Pan is a pre-seasoned square pan with a series of elevated ridges running across the bottom. Those ridges create beautiful grill-marks on your foods.
The Lodge pan is made from heavy-duty cast iron and weighs 6.5 pounds. The teardrop-shaped handle is easy to grip and it has an assist handle for extra stability.
Using a grill pan can prevent flare-ups when cooking fattier cuts of meat like bacon. The ridges suspend your foods above the grease and the 2.6-inch deep pan prevents the drips from igniting a fire.
The Lodge grill pan is ideal for grilling delicate veggies that might fall through a standard BBQ grate. It is also the perfect way to make juicy hamburgers or finish off a thick steak.
The biggest challenge with using a grill pan is cleaning between the ridges. Check out our section on Cast Iron Cleaners below for some tips on maintaining your grill pan.
Cast Iron Wok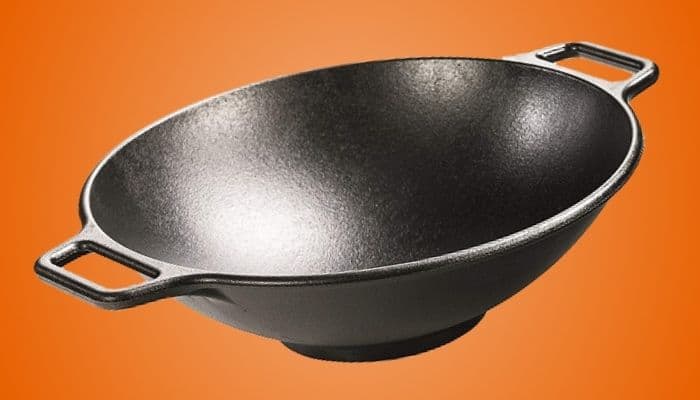 Maybe you're surprised to see a cast iron wok on this list but it actually makes a lot of sense when you think about it.
Traditionally, a cook used their woks directly over a pit fire to sauté, stir-fry and deep-fry foods. Using your wok to cook outdoors fits right in with this tradition.
The Lodge Cast Iron Wok is perfectly designed for use on your grill or over a campfire. The wok has a flattened bottom that allows it to stand on its own without additional support. The inside of the pan is still rounded for easy tossing and flipping of your foods.
This pre-seasoned wok is 14-inches across and has deep, flaring sides. The wok is 4-inches deep and has a generous capacity. You can easily prepare a stir-fry meal for four in it.
The wok has two wide cast iron handles that make it easy to move about. It is made from heavy-duty cast iron and weighs 11.86 pounds.
The great thing about this wok is that it is ideal for al fresco cooking, but the design also makes it perfect for use on your stove-top. This single wok can tackle all of your Asian-inspired dishes whether you are cooking inside or out!
Cast Iron Baking Pan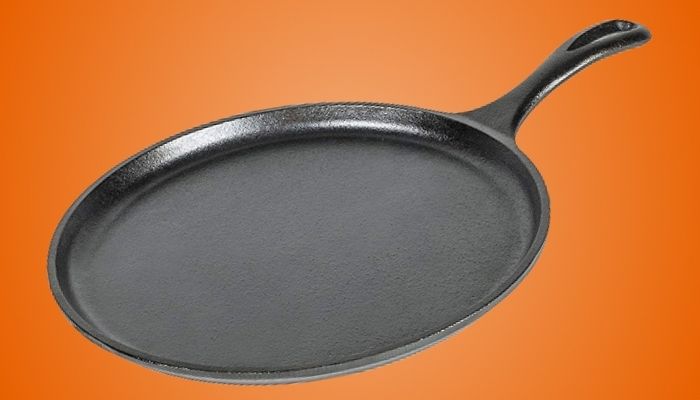 One of my favorite breakfasts to make over a campfire is pancakes and bacon. With a cast iron baking pan or griddle you can easily prepare a morning fireside-feast for your family.
The Lodge Cast Iron Griddle is the perfect baking pan for making pancakes, pizza, and quesadillas. You can use it to sear, fry and bake food on your grill or over a campfire.
The 10.5-inch wide pre-seasoned pan is made from heavy-duty cast iron. It has a low, rounded edge that keeps your food in place. You won't have any problems getting a spatula under your fried eggs or flat cakes.
The handle fits comfortably in your hand and has a hole so you can hang it on a hook. It weighs 4.17 pounds so you can easily lift it with one hand.
This pan is ideal for making breakfast foods but it also works really well for flatbreads. You could easily use this griddle to whip up a batch of Indian-style chapati, roti or naan.
Whether you griddle-up some hotcakes or grill a few rounds of flatbread, this Lodge baking pan will be a welcome addition to your BBQ.
Cast Iron Shallow Baking Pan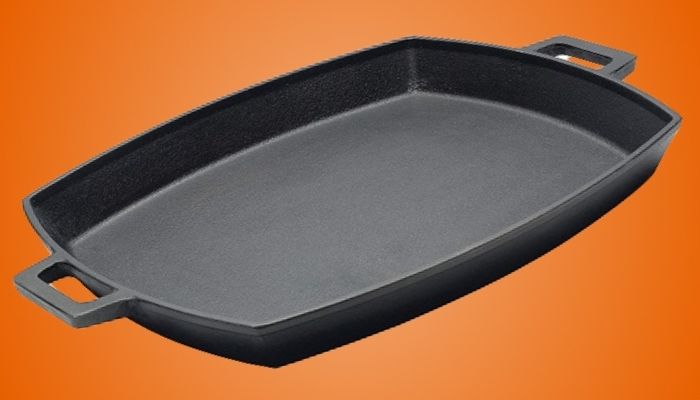 Another style of pan that is really popular for BBQ's is a shallow baking pan. These versatile pans look similar to a casserole dish but have shorter sides.
The Bayou Classic 7471 Shallow Baking Pan measures 12 x 14 inches across and has a flaring 1.5-inch deep rim. It weighs 7.12 pounds and comes pre-seasoned.
The Bayou's cast iron handles make it easy to transfer from your BBQ to the table. The handles are also a convenient way to hang this pan from a hook for storage.
The bottom of this shallow baking pan retains heat well and is ideal for searing, sautéing, baking and roasting foods on your grill. It is made from heavy-gauge cast iron and has a flat, slightly textured cooking surface.
The Bayou is an attractive pan and can go straight from the grill to your serving table. It also comes with a 1-year limited warranty.
Cast Iron Bread Pan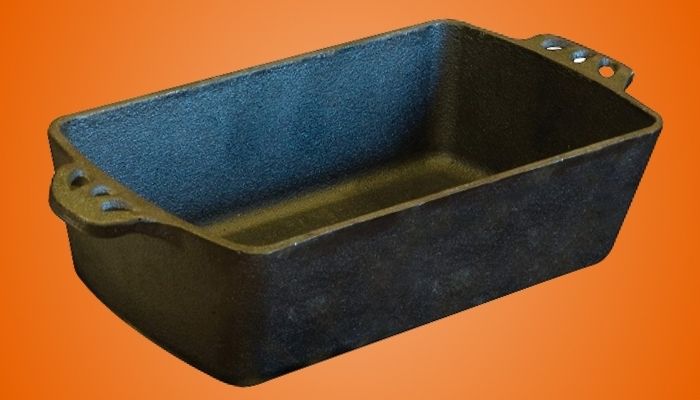 There are many ways to bake bread on a BBQ but for a traditional-shaped loaf, you'll need a bread pan.
The Camp Chef Home Cast Iron Bread Pan is an excellent choice for making loaves on a grill! It is pre-seasoned and ready-to-use right out of the packaging.
The Camp Chef measures 11 x 5.2 inches wide and is 2.5 inches deep. The thick cast iron construction retains heat evenly and produces beautifully browned loaves of bread.
The Camp Chef weighs a modest 4.1 pounds and has a slightly textured surface. The sides of this pan are gently sloped so your loaves slide right out.
This pan is ideal for making sandwich bread or turning out sweet-loaves like banana or cinnamon bread. The decorated handles really give it that old-school charm too.
Cast Iron Grill Press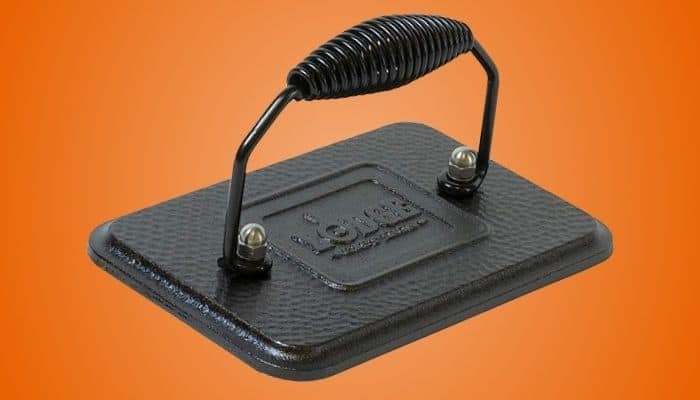 You don't need to use a spatula to keep your bacon from curling. Instead, you could use a grill press to keep your meat in the optimal cooking position.
The Lodge Rectangular Cast Iron Grill Press is the best way to prepare bacon and make evenly-cooked burgers. A preheated grill press will prevent your meats from curling and helps cook them faster too.
The Lodge grill press measures 6.8 x 4.5 x 3.5 inches and weighs 2.2 pounds. The surface of the press is flat and slightly textured. It is pre-seasoned so it won't stick to your foods.
The handle is made from a coil of cast iron and stays relatively cool while on the grill. Still, a grill press can get very hot so be careful and use a pair of grill gloves (see Cooking with Cast Iron Safely below).
This cast iron grill press is ideal for the BBQ and for use with a grill pan, skillet or griddle. You can use a press for making bacon, burgers, steaks, and chops, chicken breasts and for panini-style pressed sandwiches.
Cast Iron Pie Pan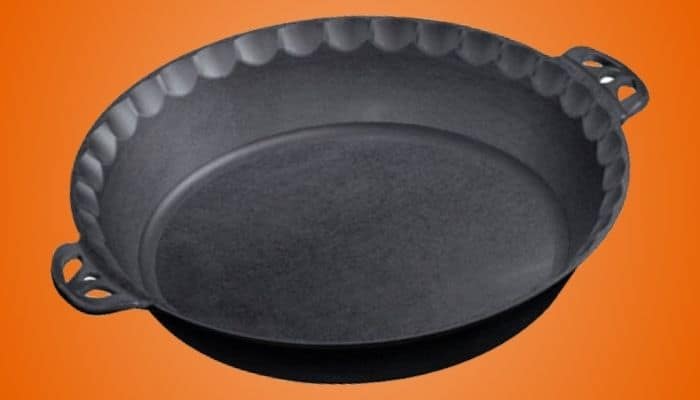 The easiest and most attractive way to bake a pie on your BBQ is to use a cast iron pie pan.
With the Camp Chef Cast Iron Pie Pan you can make a sweet or savory deep-dish pie on your grill. These pans produce evenly-browned single or double-crust pies and make attractive serving ware as well.
This pre-seasoned pie pan is 10-inches in diameter and is 3-inches deep. It has a sloped rim with decorative fluting along the edge. The handles are also decoratively molded and give this pan an antique appearance.
The Camp Chef is relatively lightweight at 4.7 pounds. It is made from a sturdy 3/16-inch thick cast iron and has a slightly textured surface.
You can use your pie pan for making pies, of course. It is also the perfect way to bake biscuits, dinner rolls and even sweet rolls on your grill.
Cast Iron Cornbread Pan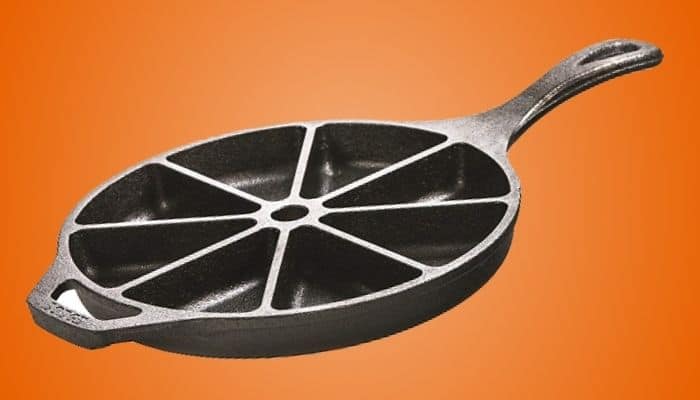 I think most of us can agree that the best thing about cornbread is the thick, crunchy crust. A cornbread pan allows you to maximize your crust-to-bread ratio and produce individual servings of cornbread for your guests.
You have a few options for making cornbread on your BBQ besides using your cast iron skillet. There are several specialty pans that easily turn out individual portions of cornbread.
The Lodge L8CB3 Cast Iron Wedge Pan is especially unique. This 9-inch pre-seasoned pan has 8 triangular-shaped wedges and a hollow center. Each wedge measures 3.5 x 1 inches and has rounded corners.
The open center allows the divided pan to heat evenly. The handle is comfortable to hold and the pan has an assist handle too. It weighs 5.75 pounds.
When preheated this pan produces perfectly browned, crispy wedges of cornbread. You can also use it to make scones, brownies and other individual baked goods.
The Lodge L27C3 Cast Iron Cornstick Pan is another alternative for making individual servings of cornbread. This one is a huge favorite with kids and is my preferred way to make cornbread for snacks!
This pan has impressions that resemble ears of corn. It measures 7.1 x 14.6 x 4.9 inches and makes 7 cornsticks at a time. Each "stick" is about 5 x 1.5 inches long. You can usually finish one in 4 bites.
The pre-seasoned, heavy-duty cast iron pan produces cornsticks with a thick and crispy crust in just a few minutes. The pan has two convenient handles and weighs 4.5 pounds.
With a cornbread pan, you can make attractive and professional-looking servings of cornbread for your next party.
Cast Iron Melting Pot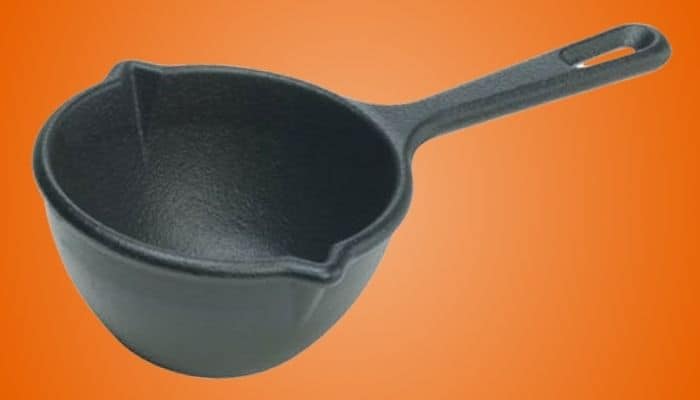 Sometimes you need a small pot to heat up a sauce or melt some butter. There are a million little tasks you can complete when you have a cast iron melting pot.
The Lodge LMP3 Cast Iron Melting Pot is ideal for use on your grill or alongside your campfire. This compact 15-ounce pot is the perfect size for heating up a BBQ sauce or warming maple syrup for pancakes.
The pre-seasoned pot is made from heavy-duty cast iron. It is 5 inches wide at the top and has angled sides. The 2.5-inch flat bottom allows it to stand on its own. The pot is 2.4 inches deep and holds about 2 cups of liquid.
The handle is made from cast iron as well and has a wide hole for easy hanging. Both sides of this pot have a pour spout so left and right-handers alike can easily use it.
The Lodge melting pot is the perfect size to use on a portable grill too. The small footprint makes it easy to tuck alongside your steak or hot dogs. Since it only weighs 1.75 pounds you won't have any problems bringing this pot along with you!
Cast Iron Cookware Set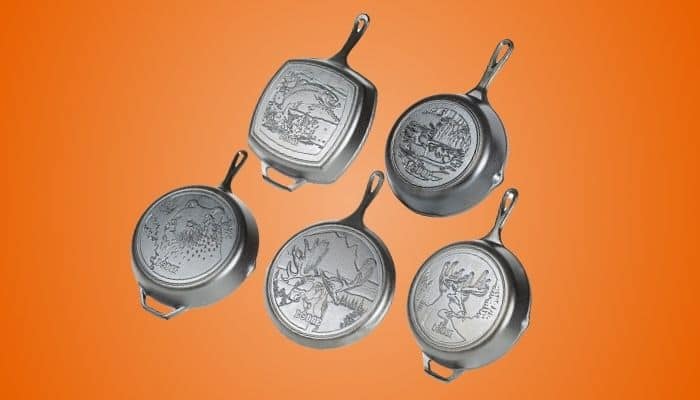 If you are looking for a set of cast iron cookware you can't go wrong with the Lodge Wildlife Series.
These stunning pans are not only a terrific deal. They also make an attractive and rustic decoration for your home or cabin.
The bottoms of the pans feature impressions of various wildlife native to the US. This set makes for a fantastic wall display and would look great hanging from pot hooks in your kitchen.
The Lodge set comes with 5 different pans including 3 skillets, a 10.5-inch grill pan, and a 10.5-inch griddle. The skillets are 8, 10.25 and 12-inches in diameter and feature a duck, a deer, and a bear. The grill pan features a fish and the griddle has a moose.
I covered these pieces individually above, so you already know what this cookware can bring to the table. The Wildlife Series performs just like their less-decorated cousins and gets bonus points for being so collectible.
With the complete Wildlife Series, you can tackle a huge variety of cooking tasks on your grill. This beautiful set would make a great gift for any outdoor enthusiast.
Cast Iron Cleaner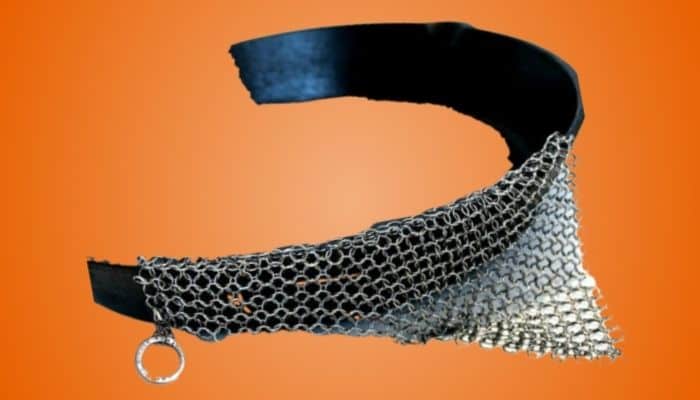 Unfortunately, once the party ends you are still faced with the clean-up. Luckily there are some easy tricks to cleaning and maintaining your cast iron cookware.
A big rule with cast iron cookware is to never use any soap or detergents to clean it. Soap can strip away the seasoning and cause food to stick to your pan.
The Ringer is a durable scrubber made from machined-soldered chain mail. The stainless steel rings form an 8 x 6-inch mesh chain mail scrubber. Since stainless steel is softer than cast iron the rings will not damage your pan.
Rinse your pan with warm water. Rub the Ringer in a circular pattern over the bottom and sides of your cast iron pan. The rings will gently remove debris and polish the surface of your pan. Once cleaned you can rinse, hand-dry and oil your pan.
The Ringer is the easiest way to scrub cast iron pans and it doesn't take a lot of effort to use. You won't have to apply a lot of pressure to get the gunk off since the mesh does the work for you. The Ringer is rust-proof and has a handy ring so you can hang it to dry.
The one type of pan that might require more than the Ringer to clean it is a grill pan. Those ridges are tough to get in-between and the gunk can quickly build up.
Instead, check out my article on the Best Grill Cleaner & BBQ Brush. The grill scraper I review in that post would work perfectly for cleaning between the ridges of a grill pan.
Cooking With Cast Iron Safely
I haven't talked much about safety and cast iron cookware. The thing is, cast iron is very safe to use as long as you pay attention and use safety gear.
However, carelessness with cast iron cookware comes with a price. Cast iron takes some time to preheat but once it does it gets HOT. And it stays hot for a long time.
Hot cast iron looks exactly like cold cast iron. You can't identify the temperature of your pan by looking at it. Even if the handle to your skillet is not directly over the flames it can get hot enough to brand you.
To be safe you should treat all cast iron cookware as hot unless you know for sure that it isn't. Never reach out to grab a cast iron handle without using protection.
Cast iron cookware is also very heavy. A typical skillet weighs a solid 4 to 5 pounds and a Dutch oven more than 10 pounds- before you add food. You can see why those assist handles are so popular on cast iron cookware!
The combination of heavy and scorching-hot means that a dropped cast iron pan can do some real damage. To stay safe, use these products when cooking with cast iron and prevent disasters from dropping in on your party.
Heat Resistant Gloves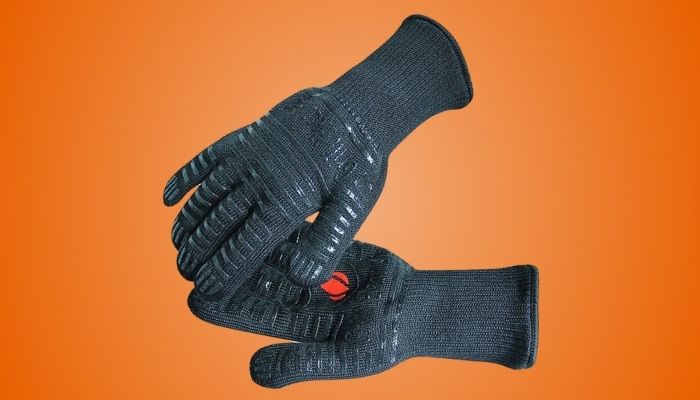 If you own a BBQ then you need a good pair of grill gloves. BBQ gloves protect your hands from the heat of the grill and help prevent burns when handling your tools. You can read all about these gloves and find my recommendations here.
Grill gloves are made from non-flammable, heat resistant materials. Unlike oven mitts, a good pair of BBQ gloves should fit your hand well and allow you some dexterity. They are typically long enough to cover your wrist and sometimes even your lower arm.
BBQ gloves will protect you from getting burned but they do have limitations. They are not proof against all burns! They just buy you a bit of time.
Depending on the temperature you may only have 5-10 seconds leeway before you feel the heat. You CAN burn yourself through a pair of grill gloves. I've done it.
Always test out the temperature of cast iron cookware using your gloved-hand before you start to lift and carry it. You don't want to discover halfway to the table that the pot is burning you through the glove!
Cast Iron Trivet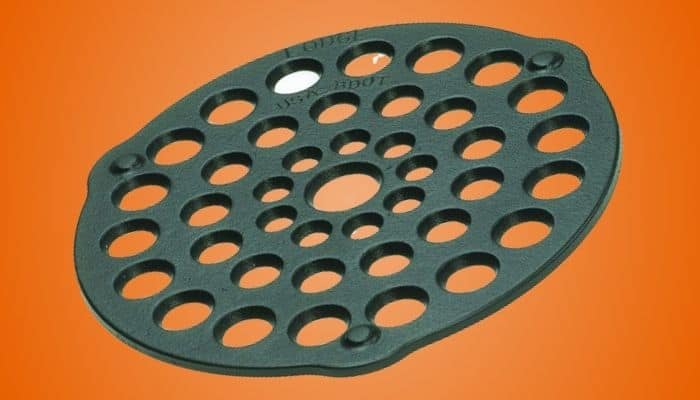 More challenges present themselves once your cast iron cookware is off the BBQ. Where are you going to put that 450°F pot now? It could melt right through the top of your card table!
Using a trivet you can safely place your cast iron cookware on your table without any danger of burning it. You can even use a trivet for cooling down your chimney starter.
The Lodge L8DOT3 Cast Iron Trivet is an ideal solution for preventing a scorched tabletop. This attractive molded trivet is 8 inches in diameter and made from pre-seasoned cast iron. It can safely hold your hot skillets and is big enough to support your Dutch oven.
The Lodge trivet can also double as a meat rack or as a grill press. You can use it inside another pot or even directly over the flames. I have even used mine to make grilled jalapeño poppers!
If you own a Weber BBQ, then another option is the Weber Trivet. I am a huge fan of Weber products and this trivet does not disappoint. It is made from enamel-coated cast iron. You won't have to do any work to maintain this trivet and the enameled coating protects it from rusting.
The Weber trivet measures 6 x 12 inches and stands 1.5 inches tall. If you own a Weber Gourmet-style grill then this trivet is perfectly designed to hold the inserts. You can even use it as a tool-rest while you are grilling.
Cast Iron Lid Lifter
If you love camping with your Dutch oven then you definitely need a pot lifter. Sure, grill gloves can help protect you from the flames. But the best way to avoid getting burns is to not touch hot cast iron at all.
The Lodge Camp Dutch Oven Lid Lifter is the ultimate accessory for safely using your oven. Made from 9mm bar stock, this T-shaped lifter is perfectly designed for lifting, rotating and moving your Dutch oven.
It is the safest way to remove the hot lid to stir or serve your food. At 14 x 4.5 inches it is the ideal length for reaching across a campfire to your pot. It also has a heat-diffusing spiral handle and handy hanging loop for added convenience.
Cast Iron Slip-on Handles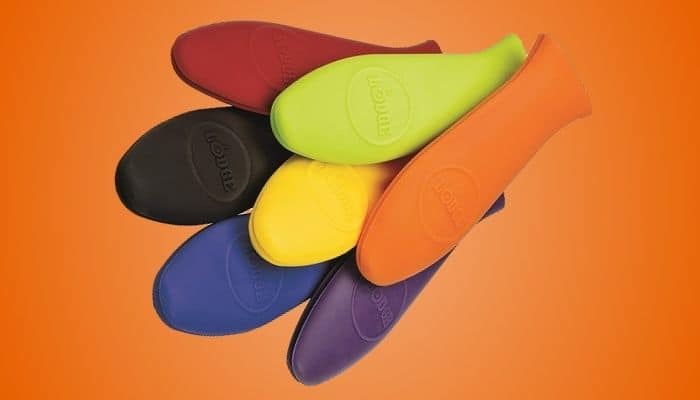 A final tool to help you stay safe while cooking with cast iron on your grill are these silicone slip-on handles.
Silicone is a great material to use with cast iron. It is able to handle temperatures up to 450°F without melting. Silicone is also bad at conducting heat. A silicone handle will shield your fingers from the heat of the pan and they only take a second to slip-on.
The Lodge Silicone Hot Handle Holder slips over the cast iron handle of your Lodge skillet. It fits the traditional-style skillets from 10.25-inches and up and also works with the keyhole-style skillets 9-inches and up.
What about the assist handles, you ask? Lodge has silicone slip-on handles for those too! The Lodge ASAHH41 Silicone Assist Handle Holder fits most traditional Lodge cast iron skillets and other dual handle pans.
You can use these slip-on handles while grilling as long as they are not directly over the flames. If you close the lid of your grill, however, you should remove them first. I usually slip them on right before transferring the skillet to the table.
Conclusion
Investing in the best cast iron cookware for the BBQ makes a lot of sense. Cast iron is the only material that is suitable for nearly all forms of cooking. Your cast iron cookware is perfect for cooking over a campfire or grill.
You have a lot of options when it comes to cast iron cookware. Lodge has been making the best skillets and Dutch ovens for over a hundred years. There is a reason they are my go-to manufacturer for all things cast iron.
Cast iron cookware gets really hot and stays hot for a long time. As long as you follow the rules and use protection while handling it you should remain injury-free. I almost think the motto for using cast iron cookware should be "Always wear your BBQ gloves!"