Inkbird is a smart IoT (Internet of Things) business with several products in the smart home arena. And one main area of focus for Inbird is food thermometers, with several different Wifi, Bluetooth, and instant-read models.
The Inkbird IBBQ-4BW is one of their high-end thermometers with four probes, Wifi, and Bluetooth. Designed for people looking to take their BBQ game to another level.
I'll run through the setup, key features, pros & cons, and give my final verdict on the product with this review. But first, let's start with what's in the box.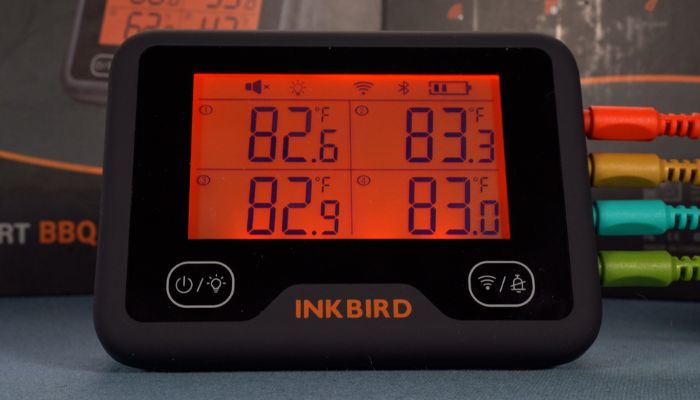 What's In The Box
You get the main body of the unit with a digital display, probe ports, and a power port. You get four color-coded probes with approximately 47 inches of cable. The thermometer also comes with two grill grate clips which are used in conjunction with the probes for measuring ambient temps. And of cause you get a power charging cable, the IBBQ-4BW comes with a USB to type C cable which might confuse people that aren't very tech-savvy and expect a standard mains plug. If this is you I'd say you'd probably be better off with a different thermometer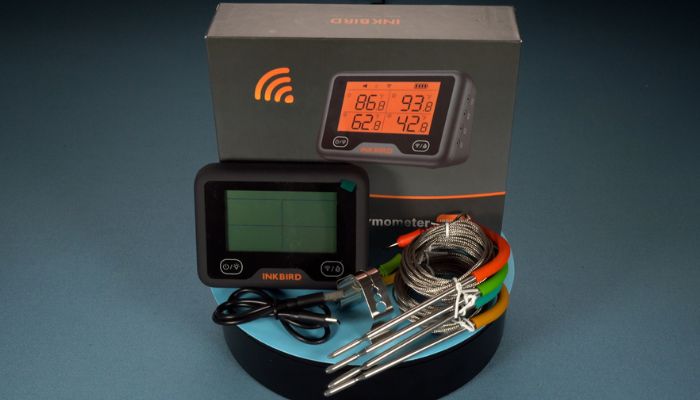 The last thing in the box is something most people ignore, the instruction manual. This is an unusually small manual with just a few simple steps to follow. My version was only written in English, which I'm sure isn't an issue for anyone reading this article. As the next step will show, the setup for this thermometer is very intuitive once you have downloaded the app – so a large manual isn't necessary.
Setup
On the box, you have a QR code you can scan to take you to an app download page. You have a QR code for both Android and iOS. If you don't have a QR scanner you can find the app directly in the app store, just search for BBQ Go Pro.
Install the app. Once installed I found the remaining steps pain-free and simple to follow. However, you will need your Wifi password which is normally located on a sticker on the underside of your router to get fully connected.
Open the app. After the welcome splash screen, your first task is to select a device. Obviously, we are connecting the Inkbird IBBQ-4BW, so that is the device we will select. This brings a popup box with the options of connecting via Wi-fi or Bluetooth. Being one of them crazy people that read user manuals I recall the recommendation to connect to your phone with Bluetooth first and then interconnect with the assisted Wifi mode.
So I selected Bluetooth. This led to another couple of popups that I think you may or may not get depending on the security settings. I choose Setting and gave permission for the app to use my location.
Now you're asked to turn on the Inkbird device before heading to the next step. My device shipped with 78 percent of a full charge, so you don't have to worry about pre-charging the device before moving forward with this setup. Once you have turned the device on, by simply pressing the power button on the device, and clicking "Next step" on the app, your phone then tries to locate the thermometer.
Once the app has found the Inkbird you're asked to complete the Bluetooth pairing by pressing the pairing button. This is just a security step so that your neighbor doesn't try and connect to your thermometer and mess with your cooks. Congratulations. If you followed all these steps you now have pairing success. And can now use Bluetooth with your thermometer.
If you found any of this difficult to follow be sure to watch our video as it is much easier to follow with visuals.
As you can see, Bluetooth is now connected but Wifi isn't, so let's now connect to your Wifi. Press the settings cog in the top right of your screen. And the very first option is to configure the device's Wifi. Click this option and then press the "Sign In IoT Cloud" button, IoT simply means Internet of Things. If you already have an account with another Inkbird product then sign in using the same details, if not click on register near the bottom.
Register an account by selecting a location, entering your email address, and adding a password. To confirm the email address is real Inkbird sends you a confirmation code which you must enter. Once completed you press the "Device's WiFi Link" button, and make sure the device is still turned on before selecting the "next step" option.
If you have followed the steps I have given, your thermometer's base should look most like option 1, with the Bluetooth symbol showing. Choose this option and then press the next step button. And now this is where you enter the Wifi password details I mentioned earlier. Press confirm and in a few seconds, you will now have pairing success with Wifi and Bluetooth.
Key Features
When you're buying a thermometer that's over 100 bucks you'll want it to have all the main features you'd expect on a high-end thermometer. So let's run through all the key features of the Inkbird IBBQ-4BW
Main Display
The nicely sized screen on the main body of the Inkbird is simple but displays all the information you'd need at a glance. You have all four probe temps displayed in a large font. How much battery life is remaining. If you have a WiFi or Bluetooth connection or if you've lost connection. There is also a small icon telling you whether you're on silent mode or ring mode. The only useless bit of info is the icon telling you if the backlight is on or not, you should be able to see this without an icon.
Wi-Fi
Having WiFi capabilities in a thermometer is a sign it is a top-of-the-range unit. The Inkbird uses 2.4GHz WiFi and as with all WiFi tech, you can connect to it anywhere in the world you have internet access. You don't have to worry about being out of range. Of course, this is a big plus but also a negative, as some places you might want to use this thermometer will have no internet. Don't worry, the Inkbird IBBQ-4BW has you covered with a backup option of having Bluetooth
Bluetooth
Connecting to the thermometer via Bluetooth is your alternative when out in the wilderness and having an internet connection isn't an option. The IBBQ-4BW comes with Bluetooth 4.2, which isn't the latest Bluetooth version but does come with a range of 50 meters, approximately 164 feet. This is plenty of distance for a thermometer, particularly as the WiFi option is also available in most cases.
High/Low Alarms
I'm not going to lie, I have a love/hate relationship with thermometer alarms in general. I love them cos they do what they are supposed to do, warn you if the temps of your meat or pit are getting too high or low. But in general, these alarms are a little too enthusiastic at doing their job. And the volume of them panics people into thinking a disaster has just happened.
Thankfully on the Inkbird, this isn't the case. The alarm is set up to ring on your phone and the transmitter but this is easy to mute to just ring on the phone, so it'll not panic any guests, and it plays a tune that isn't annoying or too loud.
And not only do you have high and low alarms you can set but you also have an alarm to say that you have lost Bluetooth connection. This is pretty important if you only have Bluetooth, as you don't want to be out of range and not realize it, as when you check the app it'll be giving you old information.
The App
You have already seen several areas of the app in the setup and alarms section, but you do have other options you can play with. In the settings cog at the top right of the main page, you have the following options that we've not already covered. You can turn WiFi on or off. You can also tell the device to connect to Bluetooth if it's in range and override the WiFi connection.
You then have a couple of basic settings, one is to have the time in a 12 or 24-hour setup, and another is if you want Fahrenheit or celsius as your temp, and then a simple on or off for your alarms.
A little further down the page, you have an advanced setting that you should leave until you have done at least a few cooks. If you think one of your probes is a little bit off in its reading you can calibrate it by adding or subtracting a degree or two. Hopefully, this isn't needed as Inkbird will have done a good job calibrating.
Backlighting is a handy feature for you to see the readings in the dark, but left on it will drain the charge faster. So you'll want it to auto turn off after a certain timeframe. In the "backlight automatically turn off" option you are able to edit the time it takes for the auto turn off.
And last but not least is an option to have the alarm ring again after a certain time period if the temp is still out of range after you turn off the first alarm. It's kind of like the snooze function on your morning alarm.
The settings in the cog are more for global settings, but you also have options for each individual probe. Firstly you have a temp graph so you can record how your whole cook performed in regards to temp management. Secondly, You can set a timer and leave some notes in the timer option button.
And lastly, the option you'll probably use the most is the temp option. Here you have a few default temp settings, for example, beef, pork, and chicken and how you want it cooked, rare, medium, etc. Your selections will give a recommended temp, but if you aren't happy with the recommendation you can customize the temp. Once you have selected all your options, press setup, and it's added to your probe.
Magnetic Holder
Thermometers are expensive bits of kit, so any extras like a hook, kickstand, or magnetic holder to help you keep the unit safe is a big plus. Inkbird seems to have got the strength of their magnets just right. They aren't so weak that any little knock will have the thermometer crashing to the ground and they aren't so strong that you need a pry bar to move it. All in all a great effort from Inkbird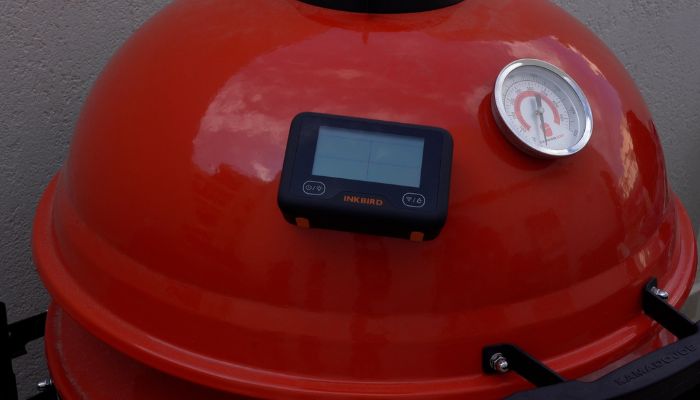 Backlighting
Just like the magnetic holder, the backlighting is one of the little touches that makes a thermometer high-end. But it's also now expected, as the competition will have all these nice little extras. There isn't much to say about backlighting, it has one job and it does it just fine on the Inkbird. The lighting can be activated both from the transmitter or via the app.
How Accurate Is The Inkbird IBBQ-4BW
You can't really test the accuracy of thermometers at a range of temps at home unless you have some expensive scientific equipment. So you'll have to trust what the companies say their error range is. That is why you should buy from an established company that you can trust. But two tests you can do is the ice water and boiling water tests.
We know that ice water should read at 32F and boiling water at approximately 212F depending on how high above sea leave you are. I have linked to a chart if you want to see what boiling water temps are at your altitude.
So what are the results of doing these two classic tests? For the ice water, the probe read at 30.9F and for boiling water, I got 212.4F, I am at approximately 144ft above sea level, so the reading should be about 211.7F. As you can see these are two very good readings and within the margin of error Inkbird states.
Manufacturer Specs
Probe Temp Accuracy
Plus or Minus 2.7F from 14F to 482F
Dimension: 108×44×80mm/4.25in*1.73in*3.15in
Net Weight: 183g/6.45oz
Screen Size: 70×40mm/2.76in*1.57in
Screen Type: Black-and-white LCD
Backlight Color: Orange
Magnetic Suction Grade: N30
Battery Type: Li-Ion Polymer Battery
Battery Capacity: 2500mah/9.25Wh
Bluetooth: Bluetooth BLE4.2
Wi-Fi: 2.4GHz IEEE 802.11b/g/n (20MHz)
System Requirements: Android 4.4 or later, iOS 11 or later
Short Time Measurement Temperature Range: -30℃ or +300℃/-22℉ or +572℉
Continuous Monitoring Temperature Range: -20℃ or +250℃/-4℉ or +482℉
Probe Temperature resolution: 0.1℉
Operating Temperature: 0℃ or 55℃/32℉ or 131℉
Temperature Unit: ℃/℉
Temperature Calibration Range: -7℃ or +7℃/-12.6℉ or +12.6℉
USB Type-C Input Voltage: DC 5V
USB Type-C Input Current: 1A Standard
Respond Time: 0.1sec (Minimum).
Temperature Refresh Rate: 4Hz
Number of Probe Channels: 4
Probe Connector: Jack 2.5mm mono plug 11mm
Ease of Use
Once you have set up the thermometer to have WiFi and Bluetooth using the Inkbird couldn't be simpler. All you need to do is turn the device on, plug in the number of thermometers you need, push the color-coded meat probes into your meat, and place the ambient probe onto your grill, and that's it. Now open the app and you can see what each probe is doing.
Pros & Cons
Not a con for me, but I am sure it will be for some, this unit isn't designed for people that aren't comfortable with modern tech, you will need to be happy installing and using apps, wifi, Bluetooth, and using a USB C-type charger.
I couldn't find anything about a waterproof rating online or in the user manual for the IBBQ-4BW so I contacted Inkbird to ask and the customer service agent told me it isn't waterproof. So if there is a chance it will rain when using this thermometer be sure to keep it covered. Not having a waterproof rating is a con, but I guess I must also say a pro was the customer service agent was pretty fast in getting back to me.
No probe spools. I have a lot of grilling and BBQ accessories and many are stored away in boxes, and one thing that is always annoying is unraveled thermometer probe cables that have all my accessories tangled together. So something as simple and cheap to make as a spool would be a big plus for me.
Competition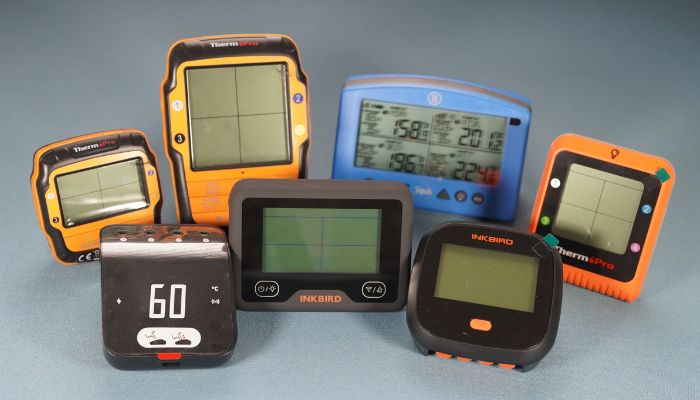 The Inkbird IBBQ-4BW is a great thermometer and one I'd gladly recommend. But it's not the only thermometer I'd be happy to recommend. So you might like to have a look at a few of the competitors before making your choice. I'll also be doing full reviews of the competing thermometers along with other great BBQ gear videos, so if this is something you'd like to see then subscribe to our Youtube channel and hit the notifications button. I'd also appreciate it if you give this video a thumbs up.
Inkbird IBBQ-4BW vs Inkbird IBBQ-4T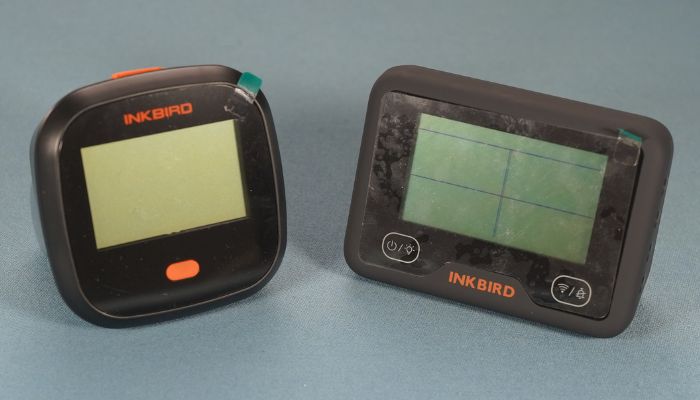 The closest competitor is another Inkbird option, the Inkbird IBBQ-4T. I'd say it's the little brother of the IBBQ-4BW because it's smaller but has pretty much everything the IBBQ-4BW has to offer. What doesn't it have is the obvious question? It doesn't have Bluetooth. So you'll have to decide if Bluetooth is important to you. If it isn't, then you can save 20 bucks by buying the little brother instead.
Inkbird IBBQ-4BW vs ThermoPro TP27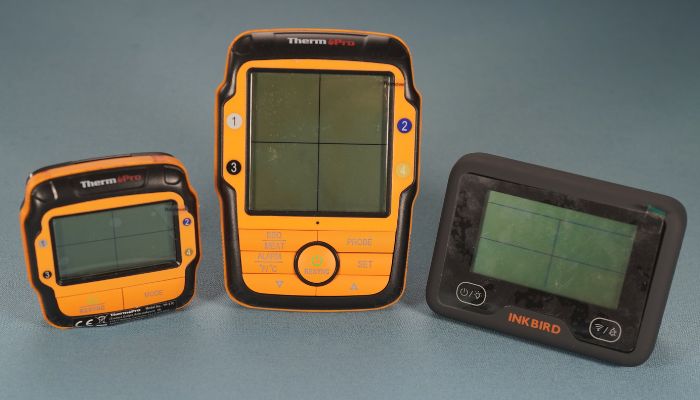 As I mentioned earlier, if you aren't tech-savvy then the Inkbird IBBQ-4BW probably isn't for you. So I'd say you should look at the ThermoPro TP27. I guess to look at the TP27 looks even more complicated than the Inkbird. But it's not. You don't need a phone or have to understand the workings of WiFi or Bluetooth.
This thermometer has a second unit, called the receiver that replaces the phone. It's a wireless receiver, but uses radiofrequency instead of WiFi or Bluetooth and comes already paired with the main unit. ThermoPro calls this "next-generation RF wireless technology" and has an amazing 500ft range.
Check our in-depth review of the ThermoPro TP27 thermometer.
Inkbird IBBQ-4BW vs ThermoPro TP930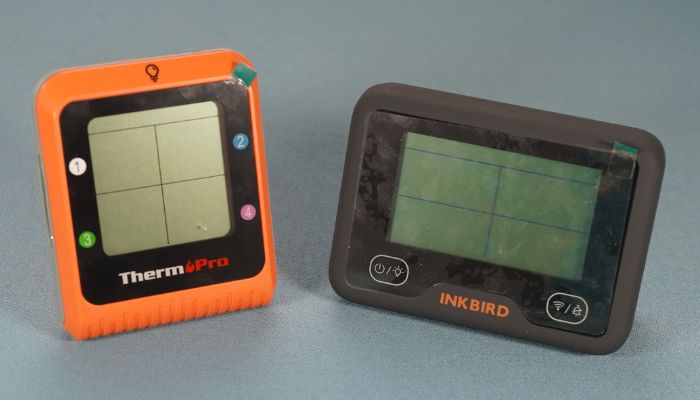 A budget-friendly competitor is the ThermoPro TP930. The money saved on this thermometer is achieved by not having WiFi, but compared to the IBBQ-4BW the ThermoPro TP930 does have a more up-to-date version of Bluetooth – Bluetooth 5.0. This gives the thermometer a range of 500ft instead of the 164ft the Inkbird has. The TP930 comes with a nice app and four probes, so if don't need WiFi then this could be the thermometer for you. And with the savings, you can buy some nice meat for the grill.
Read our in-depth review of the ThermoPro TP930 Thermometer.
Inkbird IBBQ-4BW vs Weber Connect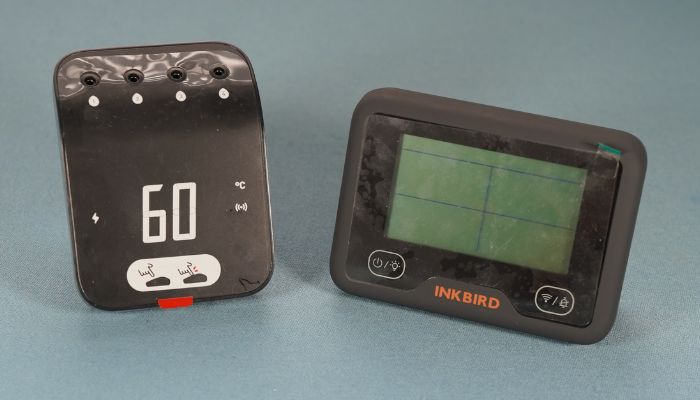 Weber, a BBQ name that is loved and trusted and as with most names that are loved and trusted you pay a little bit extra for that trusted name. The Weber Connect has many of the features the IBBQ-4BW has, such as a nice app, Wifi and Bluetooth but the main display is very basic, showing the temp of just one probe, I'd recommend having that set as the ambient probe.
The Weber thermometer also comes with only two of the four probes it is capable of handling. So you have to pay a little extra again if you want 4 probes. And this isn't the only upselling for the Weber, I like that you can also buy a specially made carry case for the Connect and a 6-piece mounting kit. I'd have thought more thermometer companies would have mounting kits. Most have magnetic backs, but nothing to stick them on, they are relying on you having an unused grill you can stick it on.
If the Weber Connect interests you then read our full review.
Inkbird IBBQ-4BW vs Signals Thermometer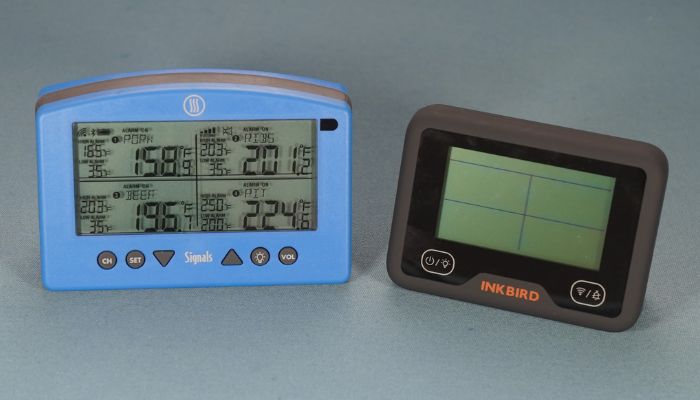 It's probably not fair to say this is a competitor of the IBBQ-4BW as it comes in at twice the price. But the Signals thermometer is deemed the best thermometer available to buy, so it's only wise to compare the Inkbird against the best.
The first thing you'll notice when looking at the Signals is the screen gives you more information than the IBBQ-4BW. For each channel you can see what you have set the high/low alarms at, and you can also give each probe its own custom label – such as Ribs or Beef, something that tells you what's at the end of the probe without having to lift the lid to check. This is a nice feature.
Having a more informative display screen defiantly doesn't justify the double the cost asking price. But does being more accurate justify you forking out the extra cash, that's the question you must ask yourself. Because the Signals claim to have Pro-Series Probes that will be correct to plus or minus 1.8ºF whereas the IBBQ-4BW is correct to plus or minus 2.7ºF. I'd say if you are a competition BBQ'er this can be the difference between winning and losing, but for most backyard pitmasters this will not be an issue.
See everything the Signals thermometer has to offer with my full review.
Final Thoughts
If you are into low and slow BBQ then a dual-probe thermometer will massively up your game. And by dual-probe I mean one that has both an ambient and food probe. Relying on the hood thermometer and an instant-read pen-style thermometer just isn't going to cut it. I know there are a million and one different BBQ gadgets out there fighting for your hard earn money, but a dual-probe thermometer has to be one of the top accessories you should buy.
Is the Inkbird IBBQ-4BW the thermometer you should buy? I'd not talk anyone out of buying this thermometer, it's a great bit of kit and one I'd recommend to friends and family. But as the competition section shows, you do have other options. If price is an issue there are cheaper units, if you plan to enter BBQ competitions then you have a more professional option and if you are brand conscious then there is a great Weber thermometer.