After indulging in too much food over Christmas and drinking enough alcohol on New Year's Eve to drown an elephant, my better half convinced me to partake in what was being called "veganuary" for health reasons. Being vegan for the month of January. This was a tall order for a burger lover but it did allow me to experiment with flavors I'd not normally try. And to my surprise, it even upped my burger game, with this amazing falafel burger now becoming one of my favorites.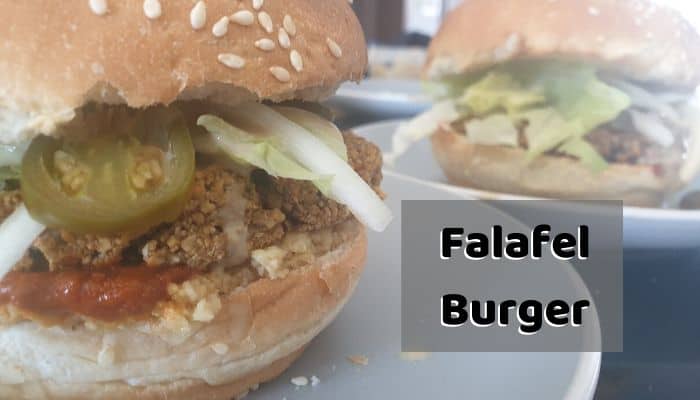 Join our Grilled Burger Group on Facebook
Falafel Burger Recipe
This falafel burger recipe will be an easy falafel burger, which means I'll be using store-bought products. But I'll be linking out to recipe articles for individual elements if you want to make everything (including the sauces) from scratch yourself.
The main thing you need for a falafel burger is a falafel patty. We will be using a store-bought falafel mix where you just add water and wait a couple of hours. but if you want to be more hands-on for your falafel burger you can make your own falafel mix.
We'll be using a jar of harissa paste to add a nice spicy kick to our burger. Again as we try to keep this burger simple we will be using store-bought harissa paste. You can make this yourself, but if you plan to make the falafel and sauces yourself, this falafel burger will become very time-consuming.
Tahini is a sauce made from toasted hulled sesame seeds. And you can make this sauce yourself but I don't recommend it. You wouldn't make ketchup yourself if it was in a burger recipe as you'd like only make on par with store-bought ketchup at best. It's the same with tahini sauce, it's a lot of effort for zero gain.
In the spirit of keeping things simple, I'll be using store-bought hummus. But homemade hummus will be much better than anything I have ever bought. So if you're able to make your own then you should. I'd say making your own hummus and falafel mix are the two parts of this falafel burger that will massively improve this burger. You'll be just as happy with store-bought harissa, tahini, and pickled jalapenos as you would be if you made your own.
Now for the burger toppings. We will not go crazy here, as we already have so many flavors fighting for attention. We will be adding pickled jalapenos, lettuce, and onion.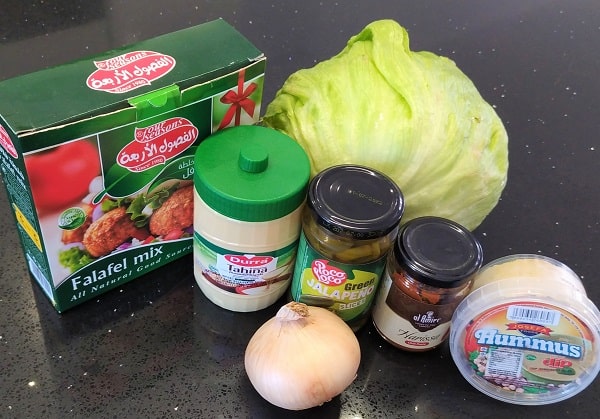 Falafel
Tahini sauce
Hummus
Harissa
Lettuce
Onion
Pickled jalapenos
Sesame Seed Burger Bun
Falafel Burger Instructions
As with all the burger recipes we cover on Go Shindig we try to do as much as we can on our kettle grill. This is because we are an outdoor entertaining blog, and kettle grills are the most popular backyard grill in homes around America.
You don't need any special equipment for this burger. You would need a food processor if you plan to do everything from scratch but with store-bought sauces and falafel mix, I'd only recommend having a burger press and a grill mat.
It all depends on the falafel mix you buy, but most say you need to soak in water for a couple of hours. So this is where you need to start. Follow the instructions on the pack and then sit back and put your feet up until about 20 minutes before the mix is ready.
Set your grill up for indirect cooking and get the temp to hold at around 350°F. You can add the burgers directly on the grill grate but I recommend using a grill mat for these burgers.
Once your mix is ready, transfer some to your burger press. Don't make the patties too thick and don't press the mixture too tightly. I'd recommend using some parchment paper on both sides of the burger before pressing so that the mixture doesn't stick.
Put your burgers on the grill and cook until the outsides start to go brown and crispy – this should be 15-20 minutes. Just before you're ready to take the burgers off the grill, put your buns over the coals for 30 seconds to get them toasted.
For stacking the burger I normally spread hummus on the bottom bun first and then add a teaspoon of harissa and spread it out using the bottom of the spoon. Next comes the all-important falafel burger followed by shredded lettuce, onion and a few slices of pickled jalapenos. And just before closing the hamburger, I squirt a nice amount of tahini sauce all over the salad.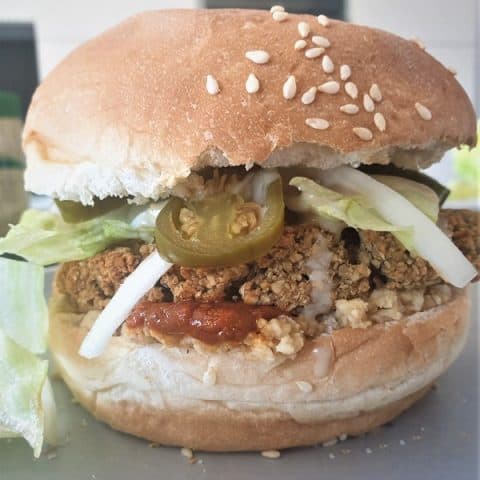 Falafel Burger
Total Time:
2 hours
25 minutes
A healthy burger that packs a powerful punch in flavor. Vegan friendly.
Ingredients
3oz Falafel
Sesame Seed Bun
1oz Hummus
A handful of shredded Iceberg Lettuce
Several Slices of Onion
Several Slices of Pickled Jalapenos
Teaspoon of Harissa
A squirt of Tahini Sauce
Instructions
Soak the Falafel mix for 2 hours
Fire up the grill for indirect cooking
Form burger patties and place on the grill for 20 minutes
Toast sesame seed bun
Spread hummus on the bottom bun
Spread some harissa on top of the hummus
Place your burger on top
Add the salad
Squirt a good amount of tahini sauce
Nutrition Information:
Yield:

1
Serving Size:

1
Amount Per Serving:
Calories:

740
Total Fat:

30g
Saturated Fat:

4g
Trans Fat:

0g
Unsaturated Fat:

23g
Cholesterol:

0mg
Sodium:

1166mg
Carbohydrates:

105g
Fiber:

6g
Sugar:

41g
Protein:

22g
Falafel Burger Alternatives
This is a falafel burger, so the falafel obviously has to stay, but everything else is up to you. The first question is does this burger have to be vegan? If you are making it for vegetarians then you can add some cheese, I find cream cheese or grated cheddar goes nicely with falafel. I've not had a vegan cheese I am happy to recommend so if you know of one let us know in the comments section.
If you're making a falafel burger for people with no dietary requirements, this opens up a whole range of options. This is particularly good for sauce options. Falafel with burger buns can become a bit dry so having a range of different sauces available gives a better chance of people really enjoying your hard work involved when making them a burger.
For the hardcore carnivores that won't eat anything unless it has some meat in it, you can add a couple of pieces of bacon. I have tried a falafel burger with a smash beef patty but found the beef detracted from the falafel, and even though it was a tasty burger, the falafel is meant to be the star of the show in a falafel burger.
For the burger bun, you can swap it out for another bun like brioche if it's not for vegans. But other great options are to break the falafel burger up into smaller pieces and have it in a wrap or in pita bread.
Doing falafel on the grill in the way I have done is the equivalent of doing falafel in the oven. This isn't the traditional way to make falafel. Falafel is generally deep-fried. So an alternative if you have a good skillet is to shallow fry on the grill (or deep fry if you have a deeper cast iron pot. But I'll not recommend this unless you are a very experienced backyard pitmaster as cooking with an open fire and oil is dangerous.
Even if you are making the falafel burger from a store-bought falafel mix you can still personalize it by adding a few extra herbs and spices. Most mixes will already have some added but I find they are normally conservative with flavors, so if you want it a little more punchy adding more of your favorite herbs and spices is the way to go.
We have added shredded iceberg lettuce to our burger, but you can use any good burger lettuce, you also have several other options for adding onion to this burger. And if you're not a fan of either lettuce of onion we have a guide on the most popular burger toppings.