Welcome to GoShindig.com, today I'll be reviewing the ThermoPro TP27 wireless thermometer.
ThermoPro is one of the major players in the grilling thermometer marketplace. They specialize in thermometers that are not only high quality but also great value for money. This combination is normally achieved by staying away from the latest tech of WiFi connections and no wire thermometers and sticking to the tried and tested, and cheaper, techs. Like using radio frequency as used in the ThermoPro TP27.
Let's have a look and see if ThermoPro has succeeded in making another great thermometer that is also value for money with the TP27 wireless thermometer.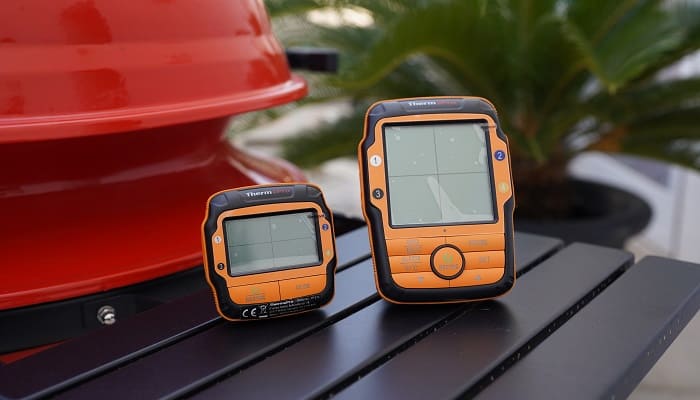 What's In The Box
The ThermoPro TP27 comes with two separate devices. One is the transmitting device, which has a large display screen and several buttons for setting up the thermometer alarms. You also get a backlight button on the top of the unit, four probe sockets – two on either side of the device, and on the back, you have a flip-out tabletop stand, a hook holder, a magnetic holder, and a battery compartment.
The second device is the receiver unit, which is a smaller device designed to be carried with you. It has a smaller display screen, and a couple of buttons at the bottom for syncing and setting the alarm type. At the top, you have a backlight button, and on the sides, you have a soft rubber sleeve. Round the back, you have a tabletop stand that doubles as a belt clip, this clip also has a magnetic holder option. Behind the clip, you'll find the battery compartment.
In the box, you also get four probes with cable spools for easy storage, two ambient probe clips, and four batteries. And something I like that no other company seems to do, ThermoPro adds a business card with all its customer service details. Not hiding these details means ThermoPro is confident in its product.
Setup
Unlike many wireless thermometers, you don't have to do any initial setup with the ThermoPro TP27. You don't have to pair the thermometer with your phone or connect to the internet to use WiFi. This is a radio frequency wireless thermometer so you'll only need to have the main transmitter synchronized to the receiver, but this has already been done at the factory.
So the setup consists of inserting the batteries and plugging in the probes. Simple. Well, that is what I thought. Working out how to open the compartments that house the batteries was more difficult than it should have been. I'm sure the designers thought they were being clever in the intricacies of how the battery compartment worked in conjunction with other parts of the thermometer, but I just found it difficult to use and didn't appreciate the work that went into it.
Key Features
Does the ThermoPro TP27 thermometer read temps? Yes. That is all you need from a thermometer. But to compete in the top range of thermometers you now need much more than the basics. So let's run through the extras that are offered in the TP27 thermometer.
Main Display
The main display is up there with one of the largest screens you'll get on a thermometer. It displays the four probe temps in a large, easy-to-read font. And the ambient hi/low and internal meat temp alarms and displayed in a smaller font just above the current temps. Lastly, you get a battery indicator. Something you always want to check if you plan on having a mid-cook nap or to potter around the house on other tasks.
Wireless
The latest and must-have tech for new thermometers is wireless. This comes in a few different forms, each with its own benefits. The option selected for the ThermoPro TP27 is radio frequency. And the benefit of choosing this wireless tech over the others is that you don't have to be tech-savvy or own an expensive smartphone to take advantage of it.
The ThermoPro comes out of the box with its transmitter and receiver already set up with wireless. So, you don't have to worry about having to work out this great bit of tech. Just turn your device on and start using this feature.
Receiver
Most wireless thermometers assume you have a phone you can use as a receiver, and that you have the skills to install an app and connect it to WiFi or Bluetooth. The ThermoPro TP27 has gone down another route and gives you a receiver specifically for the thermometer that has already been paired wirelessly.
This receiver is much smaller than the main unit, yet the display screen still shows you all the main info – the current temps of the probes. The receiver has been made to be carried around with you if you leave the grilling area, so is small enough to fit into your pocket or be clipped onto your belt.
High/Low Alarms
Generally, I turn the alarms off, I've used my grill often enough to know how it runs and I'm always hovering around checking on its temps not to need an alarm. But I understand many people have saved their cooks because an alarm was triggered, so I'm sure it's a feature many people look for.
As with all thermometers I've ever tested, the alarms do exactly what you'd expect them to do. They are triggered once the probe reads a certain temp. The ThermoPro TP27 alerts you with either a beeping sound or you can set it to just vibrate. Vibrate would be my preferred option after silent mode.
Holders
ThermoPro has gone all out on the holders for the TP27. I haven't seen any other thermometer offer more options. First, on the main transmitter, you have a magnetic holder. These are slowly becoming standard in high-end thermometers. And it's something I didn't know I wanted until I had it. I have many metal objects around my grill area, and being able to stick the thermometer to them is a big plus.
Another holder option, that I think is more for indoor cooks than outdoor cooks, is the hanging holder. I do have a few hold holder hooks I could hang the thermometer on, but these aren't really at good heights for a thermometer. Still a nice extra option though. And Lastly, you also get a flip-out countertop stand on the main unit. This is good to use if you have a BBQ table next to your grill.
So you have three different holders on the transmitter, and in order not to disappoint, the receiver also gives you three different holders. You get a magnetic and flip-out stand as you do on the transmitter but you also get a belt-clip holder. This is a nice touch as the receiver is meant to be carried around with you when not close to the grill area.
Backlighting
Most of your grilling will be gone in the daylight hours, but we know that low and slow cooking can always run later than we expected. And it's times like this you'll be glad your thermometer has backlighting.
The ThermoPro TP27 comes with backlighting on both the transmitter and the receiver. You have touch buttons on the top of both units and the backlighting will only light up for a few seconds after being pressed as it will drain the batteries real quick if left on.
How Accurate Is The ThermoPro TP27
All the bells and whistles modern thermometers come with are great, but they mean nothing if the accuracy of the readings isn't correct. So, how accurate is the ThermoPro TP27?
I have done the ice water and boiling water tests to find out. The readings for these two tests should be 32 degrees and 212 degrees respectively. ThermoPro claims the accuracy of their probe has an error range of plus or minus 1.8 degrees Fahrenheit, which is very good for a grilling thermometer.
For my tests, I got 32.7 degrees for the ice water test and 211.2 degrees for the boiling water test. But very good readings and within the margin of error ThermoPro states.
Manufacturer Specs
| | |
| --- | --- |
| Temperature Range | 14˚F to 572˚F (-10˚C to 300˚C) |
| Tolerance | ±1.8˚F (±1.0˚C) from 14 to 212°F (-10 to 100°C),otherwise ±2% |
| Sensor Type | NTC |
| Wire Probe | Total length: 49 inches (1250mm) Probe length: 8 inches (205mm) |
| Refresh rate | 4 seconds |
| Transmission Range | 500ft(150M) |
| Wireless Technology | FSK 915Mhz for USA/Canada and 868Mhz for Europe |
| Receiver | LCD, 2 1⁄16Length x 1 1⁄8 Width inches(52.0L x 29.5W mm) |
| Transmitter | LCD, 2 1⁄2 Length x 2 7⁄16 Width inches(63.0L x 62.0W mm) |
| Backlight | Yes |
| Receiver Power | 3.0V (2xAAA Batteries) |
| Transmitter Power | 3.0V (2xAAA Batteries) |
Ease of Use
Radiofrequency thermometers are seen as easy-to-use wireless thermometers, as they are ready to use right out of the box. No need to connect to Bluetooth or WiFi. And this is true, the initial first use is easier than other wireless thermometers, but I find using them thereafter is a little more effort. As using the buttons to set up alarms or timers is trickier than using an app. But having said this, it's still not difficult.
Once you have set any alarms for either ambient temps or meat temps all you need to do is place a probe on the grill grate and push in any meat probes and you are ready to go. To be honest, I don't think any dual probe thermometer is particularly hard to use, and I doubt you will either. You'll differently have no issues with the ThermoPro TP27.
Pros & Cons
Uses disposable batteries. Most modern thermometers now use a rechargeable battery. It's not a massive inconvenience, as my local store sells batteries and the thermometer ships with your first set of batteries, but it is an inconvenience nonetheless. I can only guess this is one way in which ThermoPro keeps costs down.
Opening the battery compartment is harder than it should be. I had to search on Youtube to see someone else opening the compartment as I was worried the force I was using would break the compartment opening.
Competition
The great thing about grilling thermometers is you have so many different options from several great brands. So if the ThermoPro TP27 isn't precisely what you are looking for you can easily shop around for the perfect thermometer to suit your needs. I'll run through a few of the other great options available, but if none of these hit the nail on the head, then look at our other great thermometer articles (videos when doing youtube) until you find the right one for you.
ThermoPro TP27 Vs ThermoPro TP930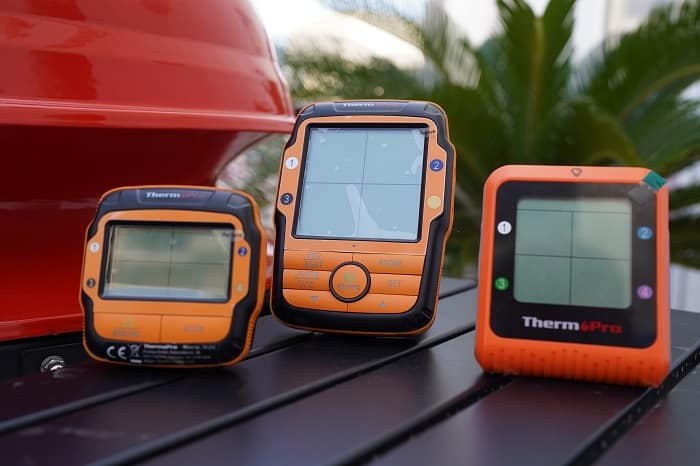 If you like ThermoPro as a company but prefer a Bluetooth thermometer then the ThermoPro TP930 could be for you. It has four probes like the TP27 but instead of providing you with a receiver unit, you'll use your phone as the receiver via an App. Yes, this means you'll have to own a decent phone and be a little more tech-savvy, but it isn't that complicated. And this is the direction all thermometer companies, and many other devices, are slowly moving, so you'll have to bite the bullet at some point.
Read our full review of the ThermoPro TP930
ThermoPro TP27 Vs Inkbird IBBQ-4T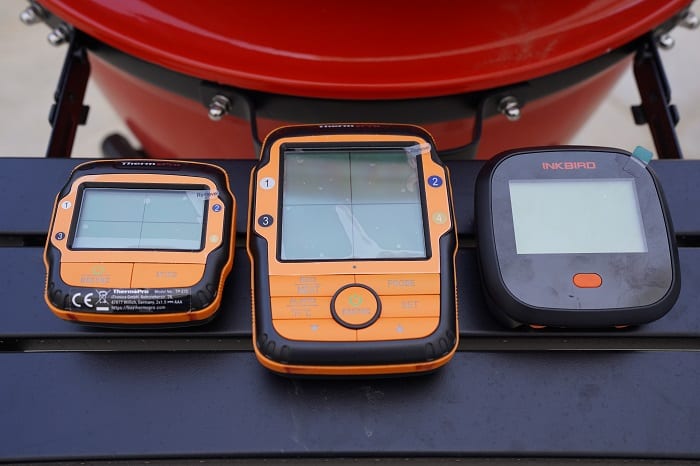 Inkbird is another great company that makes high-end grilling thermometers, and one of their latest four probe thermometers is the Inkbird IBBQ-4T. Again, the main difference between this thermometer and the TP27 is the wireless tech used. Different from both the ThermoPro TP27 and TP930 this Inkbird thermometer uses WiFi to transmit data to your phone. This means you will need internet access to use this thermometer, but it's becoming extremely rare not to have access to the internet when grilling in your backyard.
ThermoPro TP27 Vs Inkbird IBBQ-4BW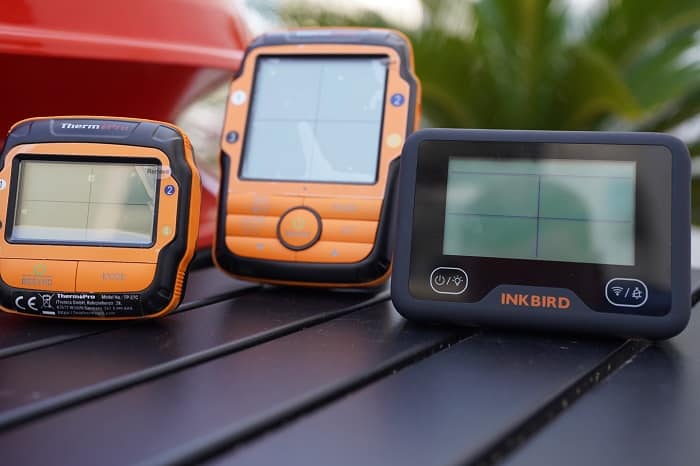 Stepping it up a gear in the wireless tech game is the Inkbird IBBQ-4BW. This thermometer comes with both Bluetooth and WiFi, meaning you'll always be able to connect to their app. Adding a backup wireless option does literally come at a cost, the price of thermometers with these two options is far more expensive than just having one of them, or having radio frequency connection like the TP27.
You'll notice that most thermometers I have compared to the TP27 have different wireless tech, this is deliberate, as radio frequency thermometers are slowly becoming extinct. So I'd advise, if you want a wireless thermometer, to get with the times and try out a Bluetooth or WiFi model. They aren't that difficult to use. A radio frequency thermometer is mainly for people that are really scared of modern tech, don't own a smartphone, or don't want apps, and their ability to track you, on their phone.
Check our in-depth review of the Inkbird IBBQ-4BW.
ThermoPro TP27 Vs Weber Connect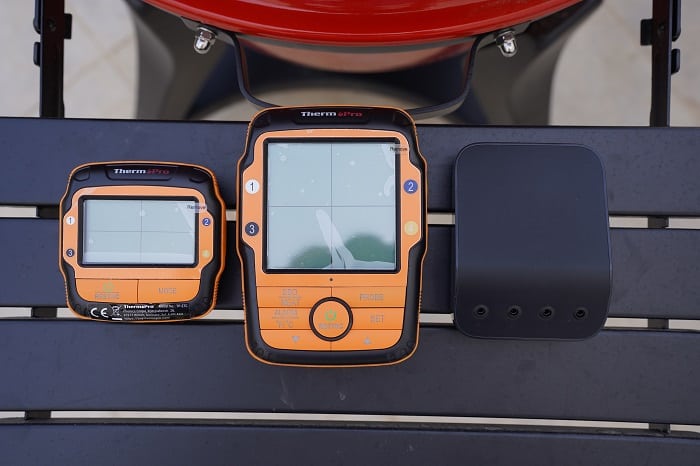 It'd just feel rude not to add a Weber product to a list of competitors for a BBQ product. So I'd recommend you also check out the Weber Connect Smart Grilling Hub. Like the TP27 the Weber Connect has the ability to monitor four probes at the same time (although you only get two probes to start with and need to buy extra probes). This is probably the only main feature in common. Its wireless tech is WiFi and Bluetooth, not radio frequency. And the main display screen is very basic, displaying just one probe temp at a time.
Would I recommend the Weber Connect over the TP27? It's a close call, the Weber is much more expensive than the TP27, so in general, If you are buying your first thermometer I'd probably go with the TP27. But if you are a big fan of Weber, and many people are, then go for the Weber Connect.
Have a read of our Weber Connect Smart Grilling Hub review.
ThermoPro TP27 Vs Thermoworks Signals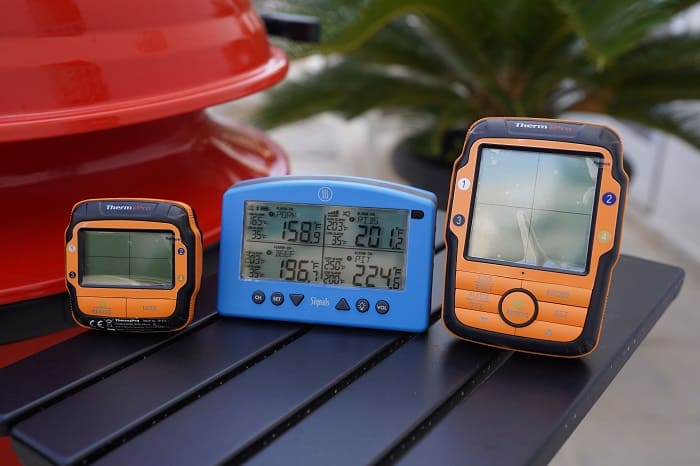 I like to compare all thermometers to the Thermoworks Signals, even if it's not really a fair comparison. The Signals is way over double the price of the TP27 which is out of most people's budgets, but it's still good to look at how the thermometer compares to what is generally deemed the current best grilling thermometer.
Again, the wireless tech is different, using WiFi and Bluetooth. But both units do have four probes and information-rich display screens. For me, having lots of editable info on the main display is a big plus as the main unit can be used as a stand-alone thermometer. Not needing an app or a receiver to be used. Sometimes I think we get carried away with the wireless capabilities of thermometers. Most of the time I sit around the grill and can simply look over at the thermometer to check temperatures.
In general, the parts of the TP27 that can be compared to the Thermoworks Signals stack up pretty well. But we're not comparing apples with apples. A WiFi thermometer is a lot different from a radio frequency thermometer with its own receiver unit. I'd never talk anyone out of getting the Signals unless money was tight. So would recommend it over the TP27. But there are also many great reasons to buy the TP27. It's more what suits your own personal needs.
Check our Thermoworks Signals thermometer review.
Final Thoughts
Is the ThermoPro TP27 a great thermometer? Yes. But it does things differently. It doesn't sure modern features like WiFi, rechargeable batteries, or apps. Doing this means this thermometer appeals to a certain type of person more than others. If you aren't up to date with modern tech then this is the style of thermometer for you.
And a byproduct of not using modern tech is that the thermometer is also cheaper than other thermometers it is competing against. And this is an excellent extra benefit to the average grill master. So I'd highly recommend this thermometer to anyone that isn't tech-savvy or someone looking for a great value grilling thermometer.