Welcome to GoShindig, today I'll be reviewing the ThermoPro TP930 Bluetooth thermometer.
ThermoPro is a company that has been around for several years now and they pride themselves on not only offering great thermometers but also having the most competitive pricing. Their low price point is defiantly one thing that stands out on their whole range of thermometers and is the reason many budget-conscious grillers love their thermometers.
Let's have a look to see if ThermoPro has sacrificed any quality in being so cheap with our review of the ThermoPro TP930 Bluetooth thermometer.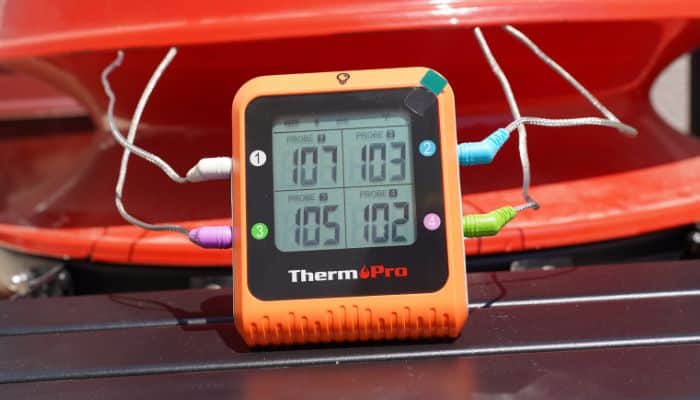 What's In The Box
ThermoPro has managed to keep the price of this thermometer down to such a low price by giving you the minimum in a tiny device and letting the app do a lot of the work. So, you get a small base unit with a nice digital screen, a backlight button, two probe ports on each side, a type C charging port on the back next to an alarm button, and a power button that doubles as a toggle between Fahrenheit and Celcius. You also get a kickstand and a hook holder to help position the thermometer around the grill area.
To go alongside the main body of the device you also get four color-coded probes that have nice spools to make packing this thermometer away really easy, two grill grate clips, and a USB to type C charging cable. One extra little touch that I've not seen from other companies is a business card from ThermoPro with all the customer support details. Doing this tells me they have confidence in their product and you'll most likely not need customer support. As many companies make it hard to find their contact details.
Setup
As with most modern wireless thermometers, the first step is to download an app. You can either find the app in your phone's app store by searching ThermoPro BBQ or use the handy QR codes ThermoPro has provided in the tiny three-page instruction manual.
Once the app is downloaded you will need to make sure Bluetooth is enabled on your phone via settings. Then you turn the ThermoPro on by pressing the power button on the back. Then you open the app, the first request from ThermoPro is to have access to the location of your phone, I allowed this when using the app.
Now you are given the option to skip pairing or to start pairing. You obviously want to pair this app to the thermometer so select start pairing. Now your phone looks for the ThermoPro device, and in a few quick seconds, you'll be paired to the thermometer. This really was super simpler and one of the easiest setups I've done.
Key Features
With so many thermometer companies vying for your money you now have the option of shopping around for the right thermometer – the one that has all the key features you need. So let's look at what this ThermoPro thermometer has to offer and see if it's what you want.
Main Display
ThermoPro has given you a nice small screen with all the basic information you need. The screen is divided into four corner quarters with each quarter showing you the temp of the probe that has its port closest to it. And then running across the top of the screen you have a battery indicator, and then some icons showing whether you are connected to Bluetooth, if the alarms are turned on or off, and if the backlighting is one. And finally, a symbol depicting if you've set the temp to Fahrenheit or Celcius.
Bluetooth
The ThermoPro TP930 is a wireless thermometer that is fitted with Bluetooth version 5. ThermoPro claims this gives you a range of 500ft, which I think is them giving a conservative estimate as the specifications of Bluetooth 5 is a range of 800ft.
I've tested in a couple of weather conditions with real-life examples of objects such as walls, trees, and fences interfering and have always got more than 500ft. Which, unless you live on a ranch, is much more than you'll likely need.
If you do need more range then I suggest you look at our reviews of thermometers with WiFi, as this gives you limitless range. But of course at an extra cost.
Alarms
ThermoPro has gone all out on the alarms for this model. They have given you the classic Hi/Low alarms that have become standard on quality thermometers, but they've taken things further by adding a pre-target temp alarm. Meaning if you have your chicken target temp set to 165 you can have a warning at 155 so you can start to set everything up in preparation for your chicken.
Another great alarm is the Bluetooth disconnect alarm. I have heard many people rage at their Bluetooth thermometer because they thought they had hit a stall when they actually had just lost connection. Leading to overcooked meat.
And an alarm feature the TP930 has that I don't use but you might like is the ability to set each probe to have a different alarm sound. Meaning you should know which probe's alarm is ringing just by the tune it plays.
App
The first thing I look for on any thermometer app is the main display screen. I want it to display all the probe temps clearly, as all you really need is the temps, everything else is a bonus. The ThermoPro TP930 does this, so I am happy. But let's look at the extras.
The settings options. Here you can unpair your app from the TP930, I am unsure as to why you'd want to do this. Then you can change the temp setting from Fahrenheit or Celsius. And the rest of the settings are to do with alarms.
You can turn on or off the alarm that tells you if you have been disconnected. You can turn off all the probe alarms together, or go into each probe individually and either set it to silent or choose a ring tone for the alarm. Then you have the temp pre-alarm that you can set from 5 degrees to 15 degrees before the ideal temp has been reached. and lastly you can turn alarm vibrate on or off. This is one of the best array of settings I've seen for customizing your alarms.
Options from the main temp screen. These are the features you're more likely to use. If you click the arrow labeled meat, this takes you to a screen with lots of custom presets. Here you can select the meat you are cooking, beef, chicken, fish, etc, and then choose how you want it cooked, rare, medium, etc. These choices will then give you the recommended internal temp to cook your meat.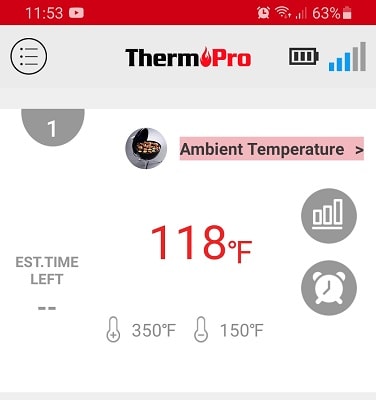 The option of ambient probe temp is also available, and this is where you can choose your hi or low alarms. This can be done really fast by sliding the arrows up or down.
The remaining options on the main screen are to view the temp graph of the cook, to see if there were any spikes or stalls. You also have a timer for each probe where you can also leave some notes. All in all a very good, easy-to-use app.
Holders
Firstly, I am happy to just put this thermometer down on its back, as it's easy enough to read like this on both my side shelves and BBQ table. But if you need it, this thermometer does come with a nice little kickstand to keep the screen upright and it also comes with a small hook holder if you want to hang the thermometer off something.
One obvious omission in this unit, as it's becoming very popular with grillers, is a magnetic holder. If you are used to having a magnetic holder be careful, as a couple of times I nearly dropped this thermometer trying to stick it to my table.
Backlighting
If you have done a lot of low and slow cooking you'll know that you often start a cook early in the morning when it's still dark or it finishes late into the evening when the sun has set. So having the ability to read the thermometer display in the dark is a big plus. The ThermoPro has nice backlighting that can easily be turned on or off from the button on the front.
Some other thermometers also let you turn the backlighting on or off via the app. This feature isn't on the ThermoPro, but it's no big deal. If I have opened the app to turn on the backlighting I might as well check the temps on the app instead.
How Accurate Is The ThermoPro TP930
ThermoPro claims the TP930 has a temperature accuracy of plus or minus 1.8 degrees Fahrenheit, which is a really good error range and up there or better than thermometers that are much more expensive.
I don't have the equipment to test this across all the temp ranges but I can do the two famous ice water and boiling water tests. For ice water, we will be looking for a temp of 32F, and for the boiling water, we will be looking for roughly 212F once adjusted for altitude. If you want to see how altitude will affect the tests at your height above sea level here is a handy chart.
The ThermoPro aced these tests with a temp reading well within the error range they state. Giving a reading of 32.3F on the ice water test and a reading of 211.2F on the boiling water test. I'm approximately 144 feet above sea level, so water boils at 211.7F where I am.
Manufacturer Specs
Bluetooth Grill Thermometer Range: Up To 500FT
4 Color-Coated Probes & Programmable Channel Names
Wireless Temperature Probe Range: 14°F To 572°F (-10°C To 300°C)
Temperature Accuracy: ±1.8°F (±1°C)
Large LCD Screen with Touchable Backlight
Uses: BBQ, Oven, Smoker, Grill, Meat, Deep-frying
Preset USDA Temperatures: Poultry, Beef, Veal, Pork, Beef, Ham, Fish, Lamb, Turkey
Various Doneness Levels: Rare, Medium Rare, Medium, Medium Well, Well Done
Ease of Use
I have to say I haven't come across a modern BBQ thermometer that isn't easy to use. But I know people watching this video want to hear it before they make their purchase. So yes, the ThermoPro TP930 is super easy to use. As long as you are comfortable with downloading an app on your phone the setup process will take less than 2 minutes.
And once set up, all you do is plug in your probes, insert a probe into the meat you plan on cooking, and place a probe on the grill grate. It really is that easy. Now all you need to do is monitor the app throughout the cook.
Pros & Cons
I get that most grilling is planned for lovely sunny weekends, but even the best-laid plains can go awry, and this is why I am surprised so many BBQ thermometers have no waterproof rating. This means you'll have to take the thermometer inside even for a small amount of rain. It doesn't rain much where I am from, but the TP930 not being waterproof is defiantly a con.
The fact I am saying this as a negative should tell you there isn't that much wrong with this thermometer, but they could have made the colored paint on the probe end a little more pronounced, as the two little stripes aren't easy to see at a glance
I'm going to add it as a negative but it's fast becoming standard for thermometers and other small devices – only having a USB charger and not a plug for the mains. I guess this saves on not having to have different versions for different countries and regions – a version with US, UK, and European mains plugs.
Until I had a thermometer with a magnetic back I didn't realize how much I'd like it. So not having one on this unit was a little disappointing. If you've never had a magnetic-backed thermometer you'll obviously not miss it.
There is no waterproof rating for this device. I'm sure it would hold up to a few seconds in the rain but if you think there is a chance it will rain I'd position this unit somewhere it'll not get wet.
For the pros, I'll just give a quick rundown, as I have covered them in the previous sections. I really like the compact size of the unit, that it has four probes, is super simple to set up, has an easy-to-use app with good settings, has backlighting, and alarms that are easy to control.
Competition
There is a lot of competition in the grilling thermometer marketplace. This is excellent news, as each company is pushing each other to improve on features, quality, and price. So what are the other thermometer you should be looking at before making a decision on whether the ThermoPro TP930 is for you?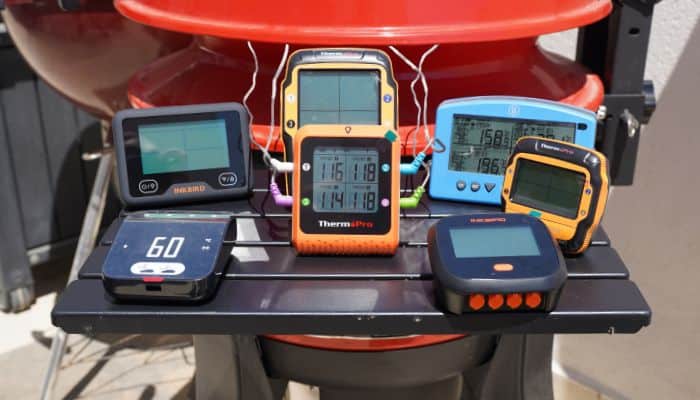 ThermoPro TP930 Vs ThermoPro TP27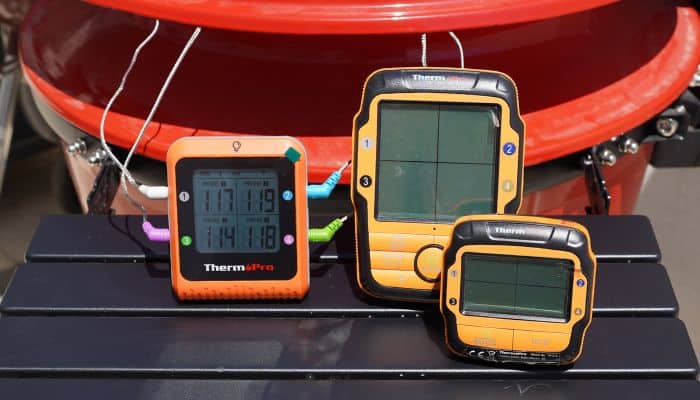 Another great thermometer from ThermoPro is their TP27 thermometer. This is one for you to consider if you don't want another app on your phone or, quite frankly, you're not tech-savvy and can't deal with Bluetooth and apps.
Instead of using a phone as a receiver, as the TP930 does, the TP27 comes with its own receiver. And you don't have to do anything other than turn it on for it to work. The receiver comes already paired to the transmitter. This basically means you skip any setup stage, as the people at the factory will have done this for you. And instead of using Bluetooth as its wireless tech, the TP27 uses radio frequency, so you get a better range than most Bluetooth devices.
Read our in-depth ThermoPro TP27 thermometer review.
ThermoPro TP930 Vs Inkbird IBBQ-4T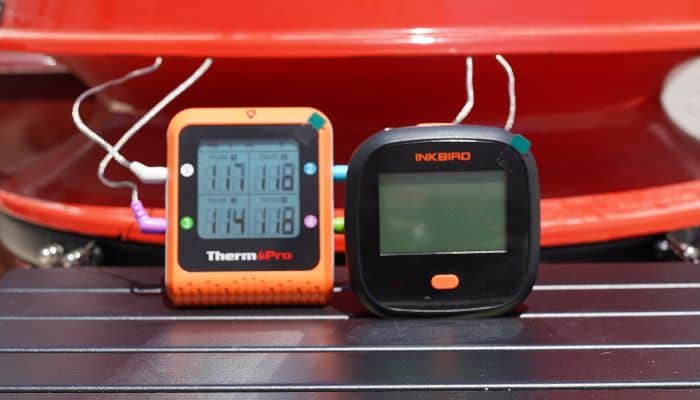 Having Bluetooth as your wireless tech is great, but having WiFi is even better. Why? Because of the unlimited range you are given. You can jump in your car and drive to the shops and still keep an eye on your cooks. If this is something that interests you then have a look at the Inkbird IBBQ-4T
ThermoPro TP930 Vs Inkbird IBBQ-4BW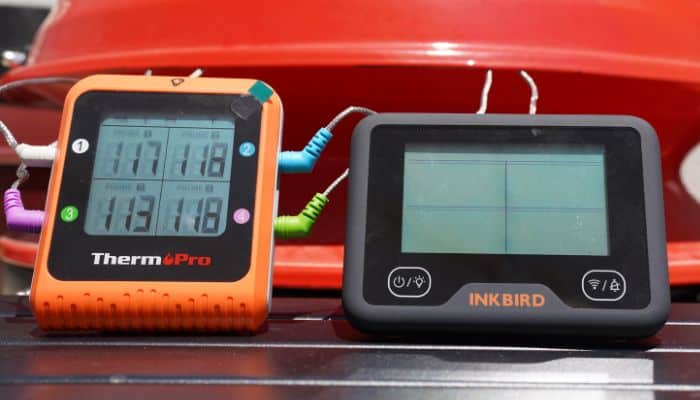 If having Bluetooth is great and having WiFi is better, then what about having both? The Inkbird IBBQ-4BW has this, as do the next two thermometers in our competition list. So if you want the freedom to go about your daily work while still being able to check on your food, while also having a backup option for when you cook in places with no internet, like when out camping, you should definitely consider the Inkbird IBBQ-4BW
Read our full Inkbird IBBQ-4BW review
ThermoPro TP930 Vs Weber Connect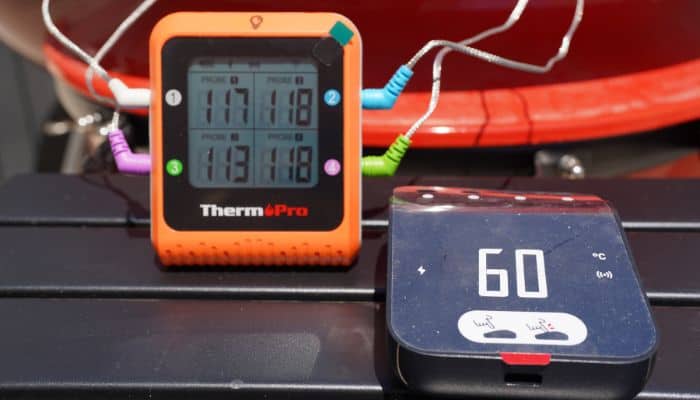 Pretty much everyone that has been BBQing for more than 10 minutes has a Weber product of some sort. It has a huge brand following, and you only get this kind of love if you are doing something right. So if you are a Weber fan then maybe this is the thermometer you'd rather own. However, the TP930 does come with 4 probes, and although the Weber has been made to handle 4 probes it only sells with 2. So you'll have to spend roughly another 30 bucks to get 4 thermometers.
Fo a more in-depth look at the Weber Connect check our review.
ThermoPro TP930 Vs Thermoworks Signals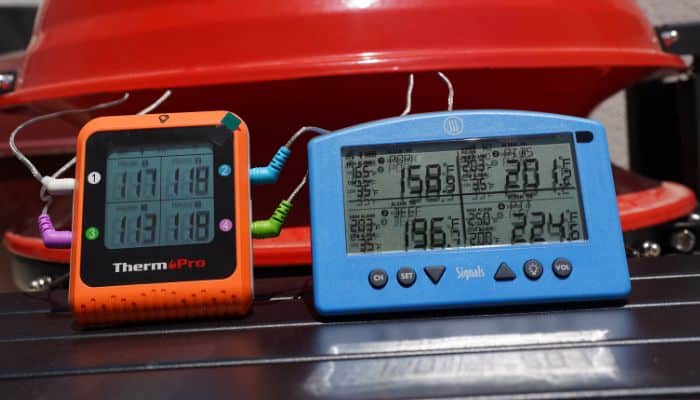 Just to show how good I think the ThermoPro TP930 is, I am comparing this 60-dollar thermometer to a roughly 200-dollar thermometer. The obvious benefit of the Signals is it has WiFi, so if this feature is a must, then it's no competition. But other than that, the comparison is pretty close. Both have four probes and have the same accuracy rating, both have good easy to install apps, and both are well built. Although you can tell the Signals is a more solid unit. The only other standout feature I'd give to the Signals over the TP930 is it has a water resistance rating of IP66, which means it's splash-proof, so will hold up in the rain.
For more info on the Signals thermometer check or review.
Final Thoughts
For the money, you are getting an amazing dual probe thermometer, giving you four very accurate probes, a nice app, and a well-built transmitter unit. I would 100% recommend this thermometer to BBQ'ers from beginners to experts. It is excellent value for money.
Of course, the thermometer isn't perfect. A feature many people want these days is WiFi, and this comes at a cost, as the WiFi models we recommend as competition to the TP930 show. And if you are buying a gift for someone that isn't up to date with smartphones and apps then you might be better off looking at the TP27. Or if you are in the Weber fan club nothing I will say will persuade you not to go with the Weber thermometer.