For what seems such an incredibly simple invention, Mason jars have an extraordinarily rich history and are amazingly popular and versatile. You can say it's just a glass jar, which it is, but when it comes to picnics and other forms of outdoor entertaining it morphs into so much more. You can use a Mason jar as a food storage container to bring tasty ready made salads and desserts. And with an assortment of different lid attachments this simple glass jar can become a drinking vessel or a condiment dispenser. Mason jars have been around for well over a hundred years for a reason, their simplicity and ability to adapt to different needs.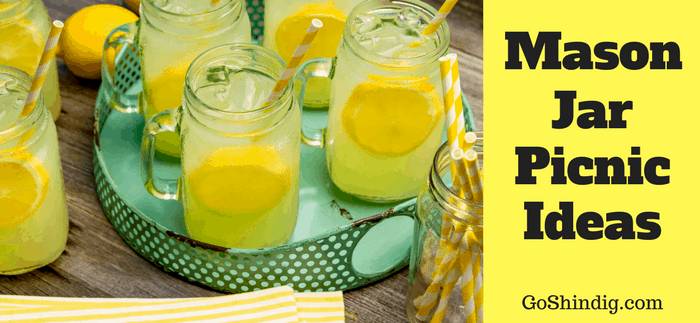 Mason Jar Sizes
I'm told size isn't everything 🙂 But when it comes to Mason jars it makes sense to buy the right sizes for the job at hand. There's no point buying a half gallon jar for a little bit of homemade jam. So what are the available sizes of Mason jar? Thankfully it's all pretty standard, you have several different companies that make Mason jars (Ball, Kerr, and Golden Harvest), but they all keep to the standardized sizes. What you do need to know before buying lid attachments is the mouth size of the jar. There are two different sizes – regular and wide.
What are Mason Jar Sizes?
Mason Jar Salads
Mason jar salads have become all the rage the last few years. People have become more conscious of what they eat and this means healthy and fresh foods have seen a surge in popularity. But eating in this manner isn't easy. The two main hurdles to overcome for eating a fresh healthy salad is transport and keeping the salad fresh. The Mason jar overcomes both these issues.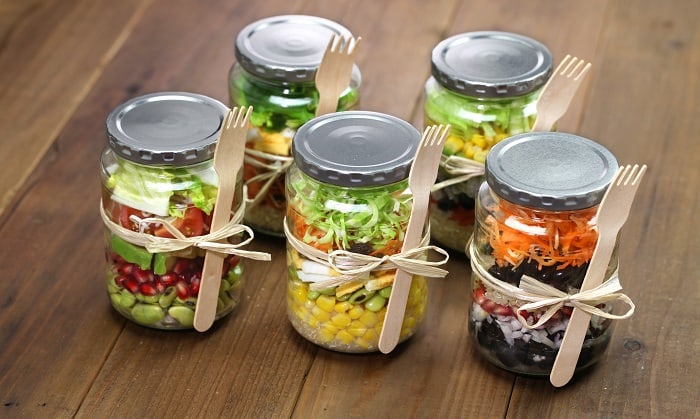 Transportation – Surely everyone that's picnicked or even regularly takes a packed lunch to work has come across issues with carrying around a salad. The obvious is the container leaking, but past a disaster like this, you also have ingredients that don't play nicely with others if left alone for too long. For example, lettuce loses it's crispness if a moist vegetable has been in contact with it for an extended period. Mason jar salads get around this issue using a technique called layering. Because Mason jars are cylindrical, with a much smaller base than the typical square Tupperware boxes most people use to carry their salad, you can layer your ingredients in a way that means certain salads or vegetables don't come into contact with each other.
Freshness – If you know a little bit about the history of Mason jars you'll know that they first became popular with home canning enthusiasts. Why? Because freshness was of the utmost importance to them and the tight seal provided by a Mason jar was far superior to anything else on the market. So the one thing you don't have to worry about with a Mason jar is will your food stay fresh.
Layering a Mason Jar Salad
Layering a salad is the reason Mason jars have become the healthy eaters' friend. At first it just looks like a person is being pretentious making a salad this way, but the layering has an important role to play in keeping the whole salad fresh. Here are the steps to follow to perfectly layer your salad.
Layer 1 – The Dressing
The main culprit in destroying a pre-packed salad is the dressing. Left to roam freely it will make all your light greens such as lettuce or spinach soggy and unappetizing. So add the salad dressing first with the goal of using the next few layers to form a seal, keeping the dressing away from vulnerable salad leaves. Make sure you add enough to cover the whole salad once you tip it out.
Tip: You can now play it extra safe by buying a special
Mason salad jar
or Mason jar
salad dressing lid
. These two items are designed to help keep salad dressing away from your salad until it's time to be eaten.
Layer 2 – Robust Vegetables
This layer is your first line of defense for your leafy salads from the dressing. What is meant by robust vegetables is ones that will be able to take the weight of the rest of the salad on top of it, and ones where the dressing will either act as a marinade or do no damage to them. This second layer could be carrots, celery, bell peppers, onion, cabbage, broccoli, etc.
Layer 3 – Less Robust Vegetables
In most cases layer 2 and 3 will not be obviously distinguishable and a bit of trial and error may be needed on your part. These vegetables are basically the ones you believe are the least hardy in your salad. This is most likely going to be sweet corn, mushrooms, green beans and peas.
Layer 4 – Carbs
I know carbs have had a bad name for several years now but if you want a healthy well-balanced diet you need to eat a combination of the three major macronutrients, fats, carbohydrates and proteins. So be sensible and add a carbs layer. Classically this will be pasta, rice, noodles or couscous.
Layer 5 – Proteins
The proteins layer has to be my favorite. This can be chicken, tuna, nuts, egg or cheese. I'm pretty sure I could fill a Mason jar with just these ingredients and be extremely happy. But then I'd struggle to call it a salad, and as previously mentioned, the goal to a healthy meal is to have a little bit of all the food groups.
Layer 6 – Salad Leaves
Finally you top up the jar with salad leaves and herbs where they can't get squashed.
What Size Mason Jar for Salad
Firstly you have to ask yourself how much do you normally eat, what meal is the salad for (lunch, dinner etc.), are you having the salad with something else like a sandwich, and are you planning on sharing the salad.
What I recommend is you make sure you get a wide mouth Mason jar, this is much better for packing in your salad and for when you pour it out. I've seen people have salads in 16 oz, 24 oz and 32 oz Mason jars. As I normally take these salads on a picnic trip I make the salads in 16 oz jars as I know there will be plenty of other food to eat. A 24 oz jar would be plenty if it's all you're going to have for lunch and the 32 oz jar would be ideal for your main meal of the day.
Mason Jar Desserts
If I'm honest, desserts are nice no matter what container they are served in, but people do love to make desserts in Mason jars. Mainly because they look cool and are much easier to transport in individual sized portions. Making Mason jar desserts ideal for picnics and other forms of outdoor dining. And thankfully, I'm saved all the hard work of writing my own Mason jar dessert recipes by the lovely people that contribute to the following blogs.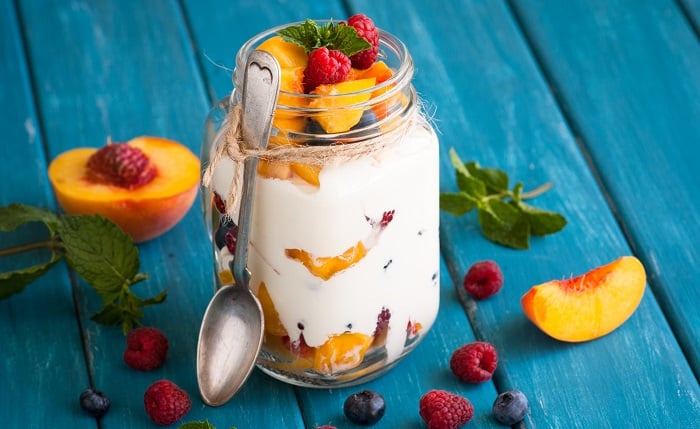 5 Great Mason Jar Desserts
Mason Jar Lids
Mason jar lids are what makes them the Swiss army knives of picnic containers. I've already mentioned in the salad section that you can get a lid that helps store salad dressing, but there are many different and more popular options available. Below I'll give a quick rundown on the best options for your outdoor shindig.
Mason Jar Straw Lid – I love the great outdoors and all the amazing creatures we share it with. What I don't love is when they think they can have a quick swim in my beverage. And that's where a Mason jar straw lid comes in extremely handy. This is simply a lid with a small straw-sized hole in the middle, meaning there is no entry point for creepy crawlies to get to your drink.
Mason Jar Pour Spout Lid – An even better option to keep your drinks safe (but a more expensive option) is the Mason jar pour spout lid. This is a resealable spill proof lid that allows you to make your smoothies or other juices at home and store it in the container it is intended to be drank from.
Mason Jar Pump Lid – The Mason jar pump lid is normally used for soap, but if your going to a picnic or throwing a BBQ party this nice attachment can be used to dispense sauces or salad dressing.
Mason Jar Salt and Pepper Shakers – Everyone likes their food seasoned to their own tastes, so give them this opportunity with Mason jar salt and pepper shaker lids.
Mason Jars with Handles
If you want your Mason jar to look more like a classic mug then get ones with handles. These jars not only look cool they also serve a purpose. If you plan to add hot or ice cold drinks to your Mason jar then a handle will keep your hands safe from these extreme temperatures. Don't worry about Mason jars and hot water, I know a lot of people that worry about glass with boiling water, but these jars are made for canning and are boiled in water all the time.
Mason Jar Candles and Lights
The vast majority of picnics and barbecues will take place during the day to enjoy the sun's rays. But there will be times when you're entertaining in the moonlight. This is when you can benefit from the special ambiance that comes with Mason jar candles or lights.
Mason Jar Candles – You have two options here, add a candle you already have to a suitably sized empty Mason jar or buy a purpose made Mason jar candle. The light given off by these isn't great so you might need a few, but you can have the added bonus of scented candles or citronella candles to scare away nighttime bugs.
Mason Jar Lights – Bring a bit of retro chic to proceedings with Mason jar lights. I've seen countless arts and crafts images of people going to a lot of trouble to make these lovely looking lights. If that's your thing then I wouldn't talk you out of giving it a go but there are much easier options. You can buy moonlight strings that are battery powered or these solar lights from Kentucky Home that are made just for Mason jars. This way you get the same beautiful effect but with none of the effort – I call that a win!
Novelty ideas for Mason Jars
Mason Jar Sleeve – These are a wonderful addition to your Mason jar if you have several you'll be carrying together. The sleeves will act as a little bit of protection so stop the jars rattling together which may cause them to chip. I'd also say having a sleeve modernized the look and feel of the Mason jar, you decide for yourself if that a good thing or not.
Mason Jar Drinks Dispenser – I must admit I love these and will not hear a bad word said about them (although no one ever has a bad word to say). Whenever I bring out the Mason jar drink dispenser it always starts a conversation, with one of the main questions being where did I buy it from followed by and how much did it cost. People love these little beauties and for anyone that entertains on a regular basis they are a worthwhile investment.
Mason Jar Cocktail Shaker – Hot summer days and cocktails just go hand in hand. Although I'd say there are several better options for cocktail shaker available, if you're a Mason jar fan or want something a bit quirky, a Mason jar cocktail shaker might just be the thing for you.
Request: Let us know any great ideas you have for using Mason jars by joining the conversation in the comments section