Barbecue. A mere mention of the word conjures up a tantalizing amount of visuals, smells and tastes for my brain to engage with. And looking beyond the food you can almost feel the warm embrace of your family and friends and even the sun as you kick back with a refreshing drink waiting for the moment it's time to tuck in. Yes the brain is amazing like that but none of this will come to fruition if you don't do some BBQ planning.
Of course there is no perfect plan to fit everyone's needs. Individual circumstances will come into play. You'll first need to ask yourself some questions. What are your financial constraints? Because even though there are options for tiny budgets a quality BBQ set-up doesn't come cheap. How much space do you have available? Will your barbecue be a one and done deal or will you be throwing a party every Sunday watching the big game with those you are closest to? And don't forget to question yourself – What is your cooking skill level? Can you fillet and grill a nice bit of fish or is it better to stick with the simple classics of burgers and hotdogs?
Answering these questions should give you an indication on which options to select through the rest of this BBQ planning guide. And although this is a beginners guide you'll also be given the option of more advanced set-ups and equipment. Because if you plan on taking outdoor cooking seriously then it's best you go down the quality route to start with or you'll find yourself buying the same sort of equipment multiple times.
The first step when planning the perfect BBQ is to invite your guests. It's not going to be much of a party if you forget. So firstly jot down all the people you'd like to attend keeping in mind any special requirements they may have (don't eat pork, vegetarian etc.). Because if they attend your BBQ you'll have to cater for these needs. When you send out your invites be sure to always ask people to RSVP and to indicate if they plan on bringing a plus one or children with them. The last thing you need is to have bought a load of expensive meat and the majority of your guests are no shows.
Planning your BBQ cooking area
Your cooking area set-up can be anything from a small disposable BBQ all the way up to a fully functioning outdoor kitchen. And the options in-between these two extremes are numerous. Below, you'll be run through the main options available but at the end of the day you'll need to decide which of these options is best for you.

Grills
The most classic piece of BBQ equipment – the BBQ grill. The first grill most people visualize for this is a beautiful brick barbecue, it's old school and likely what you remember as a child. Now, I wouldn't talk anyone out of going down this road but unless you're going to pay for a bricklayer or have some seriously advanced DIY skills you're simply not going to get the quality of buying a ready made grill. So what are your options?
Charcoal Grills
Electric Grills
Gas Grills
Inferred gas grills
Built in grills
Freestanding grills
Post mount grills
Table top Grills
Disposable Grills
Smokers
For that slow-cooked, great flavored succulent chunk of meat, you'll need a smoker. This is for the committed meat connoisseur as to give your guest a perfect slice of meat it can take over 24 hours of cooking (of course this is for massive slabs of meat). If you're willing to plan ahead with your cooking then this is defiantly a route you should take.
Electric smoker
Charcoal smoker
Horizontal Offset Smokers
Propane Smokers
Gravity Feed Smokers
Vertical Charcoal Smokers
Fryers & Cookers
These aren't strictly BBQ items, but we're using the term BBQ quite liberally for this beginners guide and including everything that will help with our outdoor cooking experience. And for me, something like a burner stove opens up so many different options.
Fish Cookers
Burner Stove
Turkey Fryers
Outdoor Pizza oven
Freshly made, piping hot pizza! What's not to like about that? Again, pushing the boundaries of what constitutes a BBQ but I assure you once your friends are stuffing their faces with a homemade pizza none of them will care. An excellent addition to any outdoor party.
Types of BBQ Fuel
To get the best out of your BBQ'ed food you're going to rely mainly on two elements – heat and smoke. And for this you're going to need the right type of BBQ fuel to match your intended flavor.
Wood Chips
Charcoal
Butane gas
Propane gas
Smoke pellets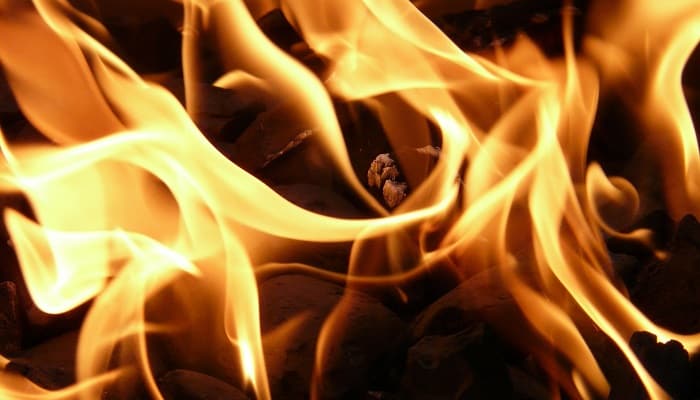 BBQ Gadgets and Tools
So you've arranged for your friends to visit and you've picked out your BBQ cooking apparatus, be it a grill, smoker, stove or oven. But you can go further. There is a host of gadgets, tools, accessories and equipment to make your life as head chef that little bit easier.
Thermometers
Some BBQ gadgets are more important to beginners than others, and a BBQ thermometer is one such tool – making sure your meats cooked enough to eat and your BBQ is hot enough to start your cooking.
You have three main styles of cooking thermometers for outdoor grilling, BBQ, and smoking. You have probe thermometers that you leave in the meat, an instant read thermometer that you poke in for a quick temperature reading, and infrared thermometers for measuring surface temperatures.
Grill & Smoker Accessories
To write an exhaustive list of BBQ grill and smoker accessories would be a never ending job. Something new seems to crop up every other day and is very often just a fad that disappears as quickly as it arrived. So below are some of the most popular accessory options that have stood the test of time.
Smoke Generators
Rotisserie Units
Charcoal Baskets
Smoker boxes
Cast Iron Griddle
Cast Iron Grate
Cast Iron Grill press
Wood chip soakers
Grill Expanders
Racks & Holders
BBQ Pizza stone
Meat Preparation Equipment
Barbecuing is a hobby and an enjoyable past time that many people take extremely seriously.  Rather than trusting their local butcher with meat preparation they'd rather keep as many elements of BBQing under their control as they can. The starting point for this is making your own burgers and sausages from scratch. All the equipment below is only intended for those that plan to take things to the next level.
Meat Grinders
Sausage Stuffers
Scales
Spice Grinder
Slicers
Dehydrators
Vacuum Sealers
Injecting & Brining
Jerky
BBQ Food
The expression 'all the gear but no idea' is pretty funny when it's someone else. Not so funny when it's you – so don't be that guy. Remember the most important part of any meal whether inside or outside is the food. No one is coming solely to see what a great set up you have. They are hungry and they want to be fed.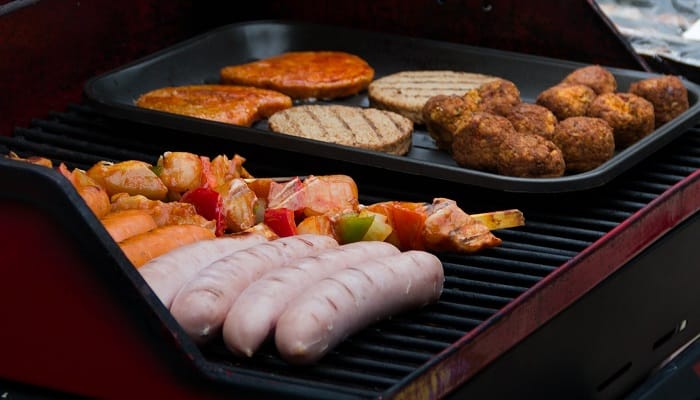 This is the area a little skill is needed. Cooking BBQ food isn't rocket science but it does require you to follow instructions carefully. The easiest way to ruining your tasty well-prepared meat is to either under cook it or to burn it. So as a beginner you'll need a meat temperature chart. The below chart gives the main BBQ food types recommended internal temperatures and their rest times.
Rest times are crucial as it results in less juice escaping from your meat when you cut into it and therefore makes it loads tastier and juicy when you come to eat it (rest times in the table are the very minimum amount of time you should let meat rest).
Beef, Venison, Lamb and Duck Breasts
Blue
110-120
43-49
3 mins
Rare
120-130
49-54
3 mins
Medium Rare
130-135
54-57
3 mins
Medium
135-145
57-63
3 mins
Medium Well
145-155
63-68
3 mins
Well Done
155+
68+
3 mins
Pork, Veal and Fresh Hams
Rare
120-130
49-54
3 mins
Medium Rare
130-135
54-57
3 mins
Medium
135-145
57-63
3 mins
Medium Well
145-155
63-68
3 mins
Well Done
155+
68+
3 mins
Poultry (breasts, whole bird, legs, thighs, and wings, ground poultry, and stuffing)
Safe Temp
165
74
–
Fish
Tuna Rare
120-125
49-52
–
Tuna Medium Rare
125-130
52-54
–
All Fish Medium
130-145
54-63
–
Burgers, Sausages, Ground meats, Meat loaf
Safe Temp
160
71
–
Pre-cooked – Hams, Sausages and Hot dogs
Safe Temp
140+
60+
–
Ribs, Pork shoulders and Briskets
Safe Temp
145
63
5 mins
Sea Food
Shrimp
Heat until fresh is opaque
Lobster
Heat until fresh is opaque
Scallops
Heat until fresh is opaque
Crawfish
Heat until fresh is opaque
Crabs
Heat until fresh is opaque
Clams
Cook until shells open
Oysters
Cook until shells open
Mussels
Cook until shells open
See USDA Guidelines
Ingredients – Adding a little bit extra
Now you know how to cook your meat to perfection it's time to decide on how to get the very best out of your BBQed food. You do this by adding a little extra flavor. The methods for doing this are
Spices
Cures
Marinades
Rubs
Sauces
Sides
BBQ Furniture
Making sure your loved ones and guests are comfortable is obviously of the utmost importance to having a successful BBQ. And if BBQ furniture isn't taken into account during your planning you're more than likely going to fail at this.
Patio Furniture
Having somewhere to sit and a table to eat your wonderfully cooked food is probably the most important part of BBQ furniture. This can be done cheaply with a load of old crates and pillows or by buying a selection of different stools, chairs, benches and tables.
Outdoor chairs
Outdoor Dining Chairs
Adirondack Chairs
Outdoor Chaise Lounges
Outdoor Benches & Gliders
Outdoor Rocking Chairs
Outdoor Picnic Benches
Outdoor Club Chairs
Outdoor Tables
Outdoor Dining Tables
Outdoor Bar Tables
Fire Pit Tables
Outdoor End Tables
Outdoor Buffet & Console Tables
Outdoor heating and cooling
The bane of everyone that loves outdoor entertaining is the unpredictability of the weather. Yes, you can make a pretty good educated guess but sometimes the weather can just turn and from the number of times I've heard air con wars at work I also know people's internal temperatures vary vastly. So depending on the season you might need to consider outdoor heating and cooling.
Outdoor Heaters
Freestanding Patio Heaters
Wall-Mount Patio Heaters
Tabletop Patio Heaters
Electric Patio Heaters
Natural Gas Patio Heaters
Propane Patio Heaters
Patio Heater Covers
Fire Pits & Fireplaces
Fire Pits
Fire Pit Sets
Fire Pit Tables
Chimineas
Outdoor Gas Fireplaces
Outdoor Gas Logs Sets
DIY Fire Pits & Parts
Outdoor Fans & Cooling
Outdoor Fans
Outdoor Misting Fans
Outdoor Air Coolers
Outdoor Shade
Outdoor lighting
Invariably most BBQ parties will carry on well into the night and although people often joke (or at least I think they're kidding) that I look better in the dark most people would rather be able to see where they are walking and what they are eating and drinking. So planning for the BBQ to go on beyond sunset is a must.
Outdoor Lamps
Outdoor Torches
Outdoor Lanterns
Pest control
The dreaded micro-invaders. It never fails to surprise me just how much insects love a good BBQ. Fortunately there is something you can do about it. If the BBQ is in your yard you can introduce some plants that repel insects – there is a whole lot of them. Or you can go down the route of sprays, candles and decoys. We have a comprehensive article covering all aspects of BBQ pest control.
So there you have it, a beginner's guide to BBQ planning. But don't be fooled into thinking this is everything. There are so many different facets to the hosting the perfect BBQ that the only way to work out what works best for you is to jump in and give it a go. Good luck and happy BBQing.