Picnics and romance are two things that just, if you pardon the expression, seem to go hand in hand. Ask most people what they consider to be the best date ideas and a romantic picnic will invariably be towards the top of most lists. Picnics warrant this reputation for a number of reasons. They are extremely intimate in certain situations. They allow you to showcase your personality through attention to detail in the food, drink and ambiance that you bring to the picnic blanket. Depending on the planning that has been executed, picnics also provide romantic overtures due to things like location and the small details that you remember that can send even the iciest of ice maiden hearts fluttering.
Think of this article not as a romantic picnic to-do list, more an offering of suggestions that you might like to take on board. Every picnic, as well as every date is different. Sometimes it's not all about being perfect and more to do with just being there. I will try my best to cover everything that might crop up on your special day out, from picking the right location, packing the necessary items and providing some of the more romantic picnic foods.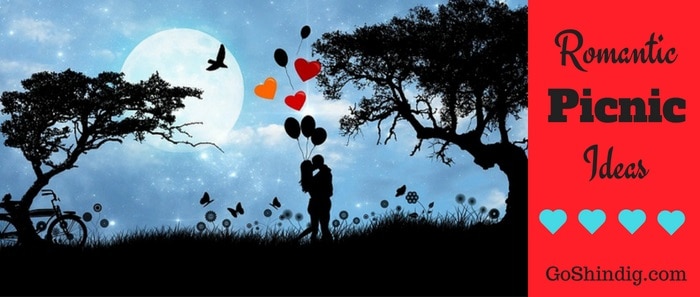 Romantic Picnic Locations
Choosing the right location for your romantic picnic will not only set the tone for what's to come, it also shows that you have taken the time and effort to think, choose and decide exactly where your romantic shindig should take place. A lazy choice could start you off on the wrong foot but getting the location absolutely perfect will win some serious romance points which you may be able to cash in at some later point.
What are the things that make a location a special one though? This, rather unhelpfully I know, varies from person to person. There is no all-encompassing, definitive answer for THE perfect location so knowing your partners likes and dislikes is essential. I'll list a few of the more popular locations below for you to look over and the benefits which can be gleaned from each one. This is obviously a subjective thought process so if you have any other romantic picnic location ideas maybe you can join the discussion in the comment section at the bottom.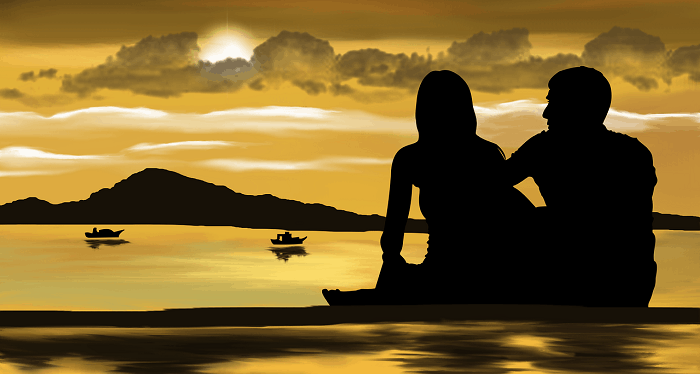 National Parks
Fresh air
Abundance of nature
Beautiful backdrops
Variable weather
Possible long journey times
Public Gardens
Abundance of nature
Lots of green space
Access to close-by amenities
Might not be as secluded
Might bring on allergies
Home Picnic
Can be set up exactly how you want
Can keep your hot food hot and your champagne cold
Can set up a rug in front of the fire
Extremely private
Possibly doesn't have the element of new, exciting surroundings
Sunset Picnic
Spectacular natural views
Can be enjoyed virtually anywhere
Good excuse for snuggling
Could be ruined by weather
Local Park
Lots of open green space
Not far to travel
Amenities are close-by if needed
Hard to find a secluded area
These are just a few suggestions. You might also like to consider places like lakes, river banks, the beach or a country meadow. Whatever you choose, just try to make sure it is a place where you are both going to be comfortable and it provides you with enough romantic inspiration to set the tone for a memorable day.
What to Pack For Your Romantic Picnic
Packing your picnic basket with the fanciest items for your romantic picnic isn't a deal breaker. After all, possessions do not define you or your relationship. Following a few rules will however show that you are making an effort and that you want your picnic to be a special day for the two of you to enjoy.
First thing's first. Ditch your plastic or disposable flatware and plates and replace them with proper, everyday items. I can think of nothing worse than having to eat off paper / plastic plates if you are trying to impress. Better still, make sure your picnic basket comes with an integrated set that matches up with its interior design.
Next thing to remember is to pack a good quality picnic blanket. I will always suggest using a high quality woolen plaid picnic blanket. Not only does it look the best where blankets are concerned, it also offers the best material for laying down on. If you have any worries about the weather then use a blanket that has waterproof features. These blankets can be laid on wet grass and provide you with the dryness that you require.
Other small things like using real napkins, real champagne flutes or wine glasses and making sure your drinks are satisfactorily cold by using a cooler all add up to enhancing the experience for your partner and then by proxy yourself. To elevate your day into something truly memorable however you have to go that extra yard. In this case I'm not talking anything super difficult here. Whether it be playing some music that you know your partner finds romantic or providing some lighting to set you up for a night under the stars, you have to find something extra that shows the thought and planning that has gone into the day.
Romantic Picnic Food Ideas
When it comes to romance I think we all agree that the less messy our food is the better it is for everyone involved. Whilst the scene from Lady and the Tramp where the two dogs are slurping on spaghetti until their lips finally meet is undeniably a classic, in real life things would have been so much different. The spaghetti would have sauce all over it for starters which would be flying around everywhere whilst being slurped on. This would lead to his best shirt getting stained and her favorite pants in need of a serious laundry bill, and that kind of takes the romance away a bit.
Instead we should be aiming to have simple food that is definitely not messy and that can be shared between the two of you. Cheese and biscuits for example are a great romantic picnic food idea. As long as the cheese is not a smelly version then it is easy to store and transport and can be nibbled on as and when you want. Check out our post about cheese boards for some inspiration and suggestions where you might even find yourself a great heart shaped cheese board for the more sappy among you.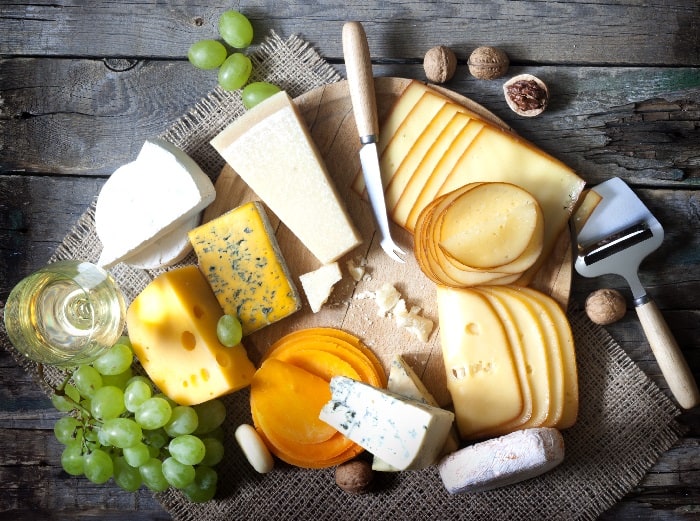 Other foods we should be looking at include things like fruits, nuts, chocolate, croissants, cured meats, sushi, fresh baked baguettes, basically anything that is light on the stomach and that can be shared between the two of you.
Last but not least we should never ever forget the bubbles. I don't know what it is about them but they always get me in the right frame of mind for some romance. If you need to drive then obviously the non-alcoholic variety will need to be purchased and if you're on a budget then I would heartily recommend using Prosecco or if needs be some sparkling wine like Cava. If none of these are a factor though I would definitely recommend a Veuve Cliquot or a Dom Perignon.