Small but mighty, 2 burner gas grills are really handy for couples and small families. Whether you need the best 2 burner gas grill to fit in your tiny outdoor space or are looking for an easy to manage model for occasional use, we've got all options covered and plenty of useful advice in our best 2 burner gas grill reviews and buyer's guide.
Here's everything you need to know before purchasing your new grill.
A Quick Comparision of the Best 2-Burner Gas Grill
Here's a quick summary of your options with more info on each grill in the best 2-burner grill section.
Best 2 Burner Gas Grills
Looking for the best 2 burner gas grill? Find your ideal model right here without top-rated gas grill reviews.
Best Easy to Use 2 Burner Gas Grill
Weber Spirit II E-210 2-Burner Liquid Propane Grill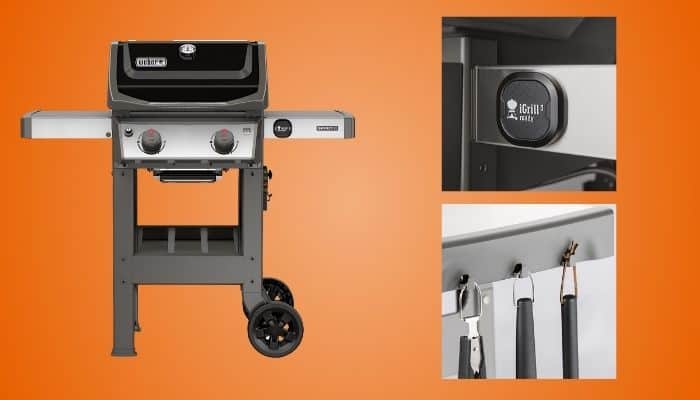 With its basic design, fuel gauge, and easy-access tank location, the Weber Spirit E-210 is one of the easiest 2 burner propane grills to use on the market. It has a generous 360 square inch cooking area, large enough to accommodate 12 burgers, with a 26,500 BTU heat output.
Thanks to its porcelain-enameled cast-iron grates, this grill is easy to clean and highly durable. As they are reversible, you can choose between the thin side for delicate items such as fish or switch over to the wider side for bold chargrill lines. Ideal for day-to-day grilling, this 2 burner gas grill comes with an open cart design for extra storage, plus two side tables complete with integrated tool hooks.
The Infinity Ignition system is highly reliable for first time lighting and this unit is iGrill 3 compatible – Weber's popular app-connected thermometer system, available as an additional purchase. On the downside, there is no handle for easy wheeling, which is compounded by the fact that the foldable side table is situated on the side opposite the wheels.
Very easy to use, while this grill is not the best for high-heat searing, it is nonetheless an excellent grill for everyday use.
Pros – Things we liked
26,500 BTU output
360 square inch primary cooking area
Reversible porcelain-enameled cast iron grates
Open cart with 2 large wheels
2 side tables with integrated tool hooks
Cons – Things we didn't like
No handle for wheeling
Not the best for searing
Best Compact 2 Burner Gas Grill
Weber Q3200 2-Burner Gas Grill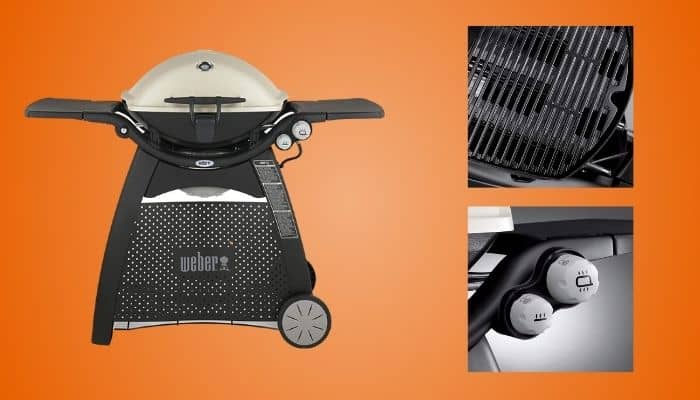 Whether you're just cooking for two or have a small outdoor space, the popular Weber Q3200 2 Burner Gas Grill is an ideal choice. It features a generous 393 square inch cooking area, which is large in proportion to its compact footprint, allowing you to even grill entire roasts.
With its 21,700 BTU output, this model features porcelain-enameled cast-iron cooking grates for easy cleaning and extra durability. The cast aluminum body and lid are also built to last, although the plastic cart is less sturdy. Thanks to the removable, folding side tables, you can use this compact 2 burner grill in small spaces such as balconies or store it in your garden shed over winter.
Complete with a removable catch pan, infinite control burner valves, electronic ignition, this 2 burner Weber gas grill has all the features that you need for hassle-free grilling. Despite the open cart design, you can conceal your propane tank behind the perforated screen to improve looks and portability.
On the downside, while the assembly is not difficult, some of the instructions could be a little clearer, so be sure to take your time.
Pros – Things we liked
21,700 BTU output
393 square inch cooking area
Removable folding side tables
Electronic ignition & handle light
Perforated screen to conceal propane tank
Cons – Things we didn't like
Plastic cart
Assembly instructions could be clearer
Best Value 2 Burner Gas Grill
Char-Broil Performance Series 2-Burner Cabinet Gas Grill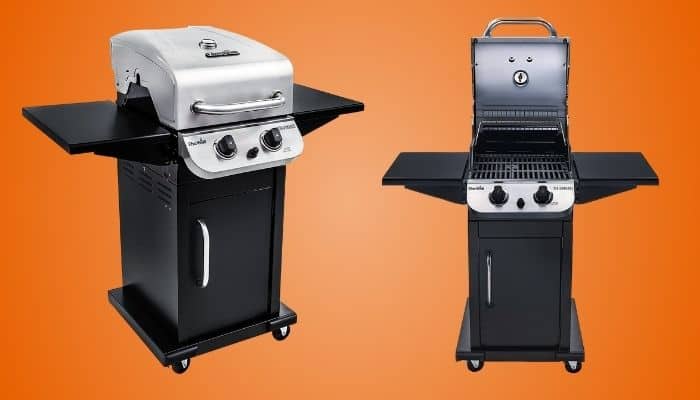 Looking for a premium style 2 burner gas grill at a good price? Look no further than our top value pick, the Char-Broil Performance Series 2 Burner Cabinet Gas Grill. With its stylish stainless steel lid and burners, despite its fairly low price, this grill has been designed to last.
With 24,000 BTUs over 300 square inches of porcelain-enameled cast-iron grates, you'll have plenty of grilling power and enough space for up to 18 burgers or 8 steaks. The sleek black cart design conceals your propane tank and comes with locking casters for easily moving your grill around your deck or patio area. Just be aware that the cart does not come with a back panel, so you'll want to use and store it against a wall.
Thanks to its folding side tables, this 2 burner gas grill takes up a minimum of space when not in use. It also features an electronic ignition system, plus a 100 square inch swing-away porcelain-enameled warming rack for extra indirect heat cooking space. If you are looking to cook a variety of items on this grill, you may find that the grates are spaced too widely, causing smaller items to frequently fall between the bars.
This minor quibble aside, on the whole, you'll struggle to find a better 2 burner gas grill for the money.
Pros – Things we liked
24,000 BTU heat output
300 square inch cooking area
Porcelain-coated cast iron grates
Folding side tables
Stainless steel lid & burners
Cons – Things we didn't like
No back panel on cart
Large spaces on grates
Best 2 Burner Gas Griddle
Blackstone Tabletop 2-Burner Gas Griddle Grill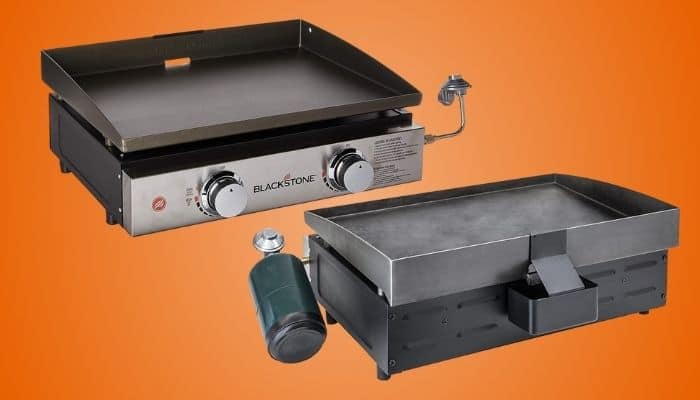 Blackstone's Tabletop 2 Burner Gas Griddle Grill is our top 2 burner griddle option – ideal if you are looking for an easier way to cook outdoors, eliminating flares and improving your burgers' taste. Thanks to its 24,000 BTU output over 339 square inches, you get good high heat levels, although this model is not the best for use in windy conditions.
Thanks to its dual individually adjustable H burners, this 22-inch griddle gives you a more even heat distribution than a lot of other similar sized griddles out there. Whether you are cooking bacon or smash burgers, the rear grease trap helps to keep your griddle clean and your food lower in fat.
The push button ignition is easy to use and the rubber feet help to keep your griddle safely in place as you flip and serve. Note that this grill is sold ready for use with one-pound propane tanks that, understandably, don't last very long.
To use it with your regular 20-pound propane tanks, you will need to purchase an additional regulator.
Check out our more in-depth Blackstone 22 griddle article
Pros – Things we liked
24,000 BTU output
339 square inch cooking area
2 individually adjustable H-shaped burners
Rear grease trap
Push-button ignition
Cons – Things we didn't like
Regulator not included for 20lb propane tanks
Not great for use in windy conditions
Best Budget 2 Burner Gas Grill
Pit Boss Grills Stainless Steel Two-Burner Portable Grill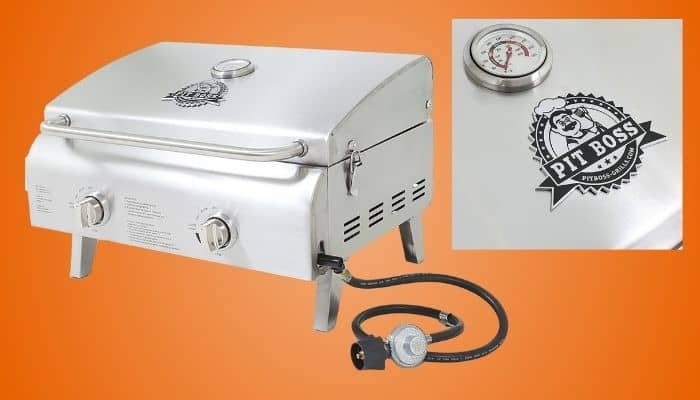 Everyone likes a good bargain and the Pit Boss Stainless Steel Two-Burner Portable Grill makes a great budget buy. Designed with durability and portability in mind, if you are looking for an easy to store tabletop grill for your backyard without paying out top dollar, this model is an unbeatable choice.
Thanks to its double 10,000 BTU burners over a 276 square inch cooking area, you get plenty of heat for grilling and searing. In fact, this model tends to run hot, so much so, you may want to turn off one burner and cook over it for items requiring lower temperatures such as chicken. The stainless steel body, lid, and cooking grid make for easy cleaning and a long grill lifespan.
Complete with a push-and-turn ignition for easy lighting and a dome thermometer, this 2 burner gas grill also features a latchable hood and folding legs making it easy to carry when putting it away or getting it out. Unfortunately, the folding legs do not lock into place, so you'll need to make sure it is stable before turning it on and loading it up with food.
All in all, a great budget buy for the money and an ideal compact gas grill for occasional use.
Pros – Things we liked
20,000 BTU output
276 square inch cooking area
Folding legs and latchable hood
Stainless steel body, lid, and grid
Lightweight – 23 lbs
Cons – Things we didn't like
Legs do not lock
Tends to run hot
Best Tabletop 2 Burner Gas Grill
Cuisinart CGG-306 Tabletop Two-Burner Gas Grill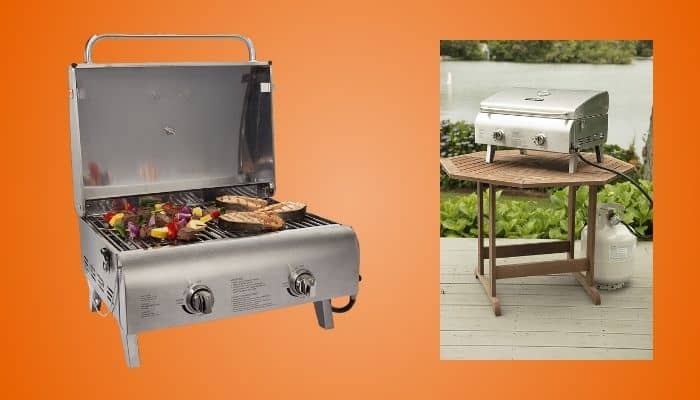 Priced slightly higher, the Cuisinart CGG-306 is another excellent tabletop model complete with a stainless steel construction and cooking grate. With a 20,000 BTU output over 275 square inches, this compact 2 burner gas grill tends to cook fairly hot, so you may need a couple of practice runs to avoid burning more fragile items.
Twist-start ignition makes it easy to get going, while the locking lid and folding legs are useful when it comes to putting your grill away. Make sure that you check your grill over fully before attempting to carry it as some models do have some very sharp edges that may need rounding off. The domed lid features a handy thermometer to give you a good approximation of the internal air temperature with your lid closed.
Designed for use with a 20-pound propane tank, this handy tabletop grill makes a great choice for small outdoor spaces and occasional grillers alike. Thanks to its durable stainless steel construction and good looks, it is a popular buy that you can also pack up and take with you for outdoor grilling at local picnic spots and beyond.
Pros – Things we liked
20,000 BTU output
275 square inch cooking area
Stainless steel grate
Twist-start ignition
Locking lid and folding legs
Cons – Things we didn't like
Cooks very high
Some sharp edges
Why Trust Us
All of our reviews are compiled with a combination of expert input, years of hands-on testing of grilling products, curating the reviews of real-life buyers in a "wisdom of the crowd" system, and of course our own expertise. All the products listed are the ones we would buy if we were looking to purchase a new 2-burner grill.
Methodology Used to Pick the Best 2-burner grill
When picking the best 2-burner grill we looked at the intended use of each grill and then rated it on the following criteria. Price, BTU (British thermal unit), Grilling area, an extra area with a warming rack, grill grates materials, high and low temp ranges and ability to control the temperature, how well the grill was made and materials used, did it have a lid, types of burners, did it have wheels for portability, how easy it was to assemble and any extra features it came with.
Buyer's Guide to Buying the Best 2 Burner Gas Grill
Wondering which is the best 2 burner gas grill to go for? It all depends on your needs, budget, and priorities.
Here's our buyer's guide to help you decide which features are essential for your new 2 burner gas grill.
Price
Unlike 4 burner or 6 burner gas grills, 2 burner models are much more affordably priced.
Even premium brands, like Weber, sell various 2 burner gas grill models for under $500. If you are looking for a budget 2 burner gas grill $150 will get you a reasonable model that will last at least a year or two, provided you follow our buyer's guide advice on choosing the best models.
While paying more is advised if you are looking for a durable model for frequent use, if you are just an occasional griller or want to dip your toe in the water before committing to a more expensive model, a cheap 2 burner gas grill may be your best option.
Consider your needs, experience, and available funds before you narrow down your shortlist.
BTU
Most 2 burner gas grills have a minimum of 10,000 BTU per burner, with models typically outputting a maximum between 20,000-26,000 BTUs. While more BTUs indicate more heating power – a BTU being a measurement of energy, gas grills with higher BTU outputs do not always necessarily equate to the best performance.
A high BTU rating means more fuel will be used, however, when considering the amount of heat produced, it is also important to consider over what area this heat will be covering.
Dividing the maximum BTU output over the cooking area will give you a better idea of how your grill will perform. For example, 25,000 BTUs over 300 square inches gives you a high heat flux of 83.
However, this measurement is only an approximation, you also need to bear in mind your grill's top temperature and its energy efficiency. A 2 burner gas grill with a highly efficient design will use less fuel, i.e. a lower BTU output, to reach the same temperature or higher than a less efficient grill.
Grilling Area & Warming Racks
Always take your grill's primary cooking area into account separately from any extra warming racks. While warming racks can be really useful for indirect, slow cooking, as well as keeping your food warm or toasting yoru burger buns, you really need to know what size primary cooking area you are going to be grilling on.
Two burner gas grills typically have a primary cooking area between 275-400 square inches. Smaller, portable models often forgo warming racks, whereas larger models with carts nearly always feature one.
If you are cooking for two a small 275-350 inch cooking area will more than suffice. For small families or a couple of guests, look for models with primary cooking areas of 350 square inches and over.
If you're a couple who enjoy entertaining small groups and outdoor space isn't an issue, you could always opt for a larger model and use one burner when just cooking for two. However, you don't want to lose out on performance by choosing a 2 burner gas grill that is too large for even, powerful heating with just two burners.
If you need more space, consider a 3 or 4 burner gas grill.
Grill Grates Material
Grill grates for 2 burner gas grills tend to be made from porcelain-coated cast iron.
Premium stainless steel grates are less common than on larger, expensive gas grills, although they may be available as an upgrade on some models. Cast iron is generally to be avoided, unless you have the time to regularly clean and oil your grate to keep it rust-free.
Porcelain-coated grates are very popular as they are fairly durable, easy to clean, retain heat well, and are generally inexpensive. However, unlike more durable stainless steel versions, they are prone to eventually cracking, then rusting. If you drop your enameled grate, you will risk losing most of its coating.
Temp Range and Heat Control
While temperature range is generally a better guide to performance than BTUs, unfortunately, manufacturers don't very often list their 2 burner gas grill's temperature range. Most gas grills have a temperature range of around 250-500 degrees F, although cooking at low temperatures can be a challenge with some models.
Heat control via the control panel valves is generally very easy. However, with just two burners, you have less options for creating various heat zones. You can still use your warming rack, if you have one, or turn off one burner and grill over it for indirect cooking.
Build Quality, Construction, and Material
Build quality tends to improve at higher prices, although there are numerous affordable 2 burner gas grills with good quality materials and construction as demonstrated in our 2 burner gas grill reviews.
Stainless steel is a premium material that is heavy-duty and extremely durable. Cast aluminum is another popular option that may be used alone or for the end parts of a stainless steel grill.
Carts are often made of coated steel or aluminum, however, you will also see some reinforced plastic ones in the two burner market.
Lid
Unless you are looking for a 2 burner gas griddle rather than a grill, you'll want to make sure that you get a lid included with your purchase. Unlike cooking with charcoal where using the lid damps the airflow for lower temperatures, a lid is essential in gas grilling for keeping temperatures high.
Cooking thin strips of meat can be done with the lid up, but for anything thicker you'll want to make sure you drop your lid to cook via convection as well as radiant heat.
Types of Burners
The main types of burner that you'll come across in a 2 burner gas grill are stainless steel or cast iron burners. Tube, U-shaped, and H-shaped burners are all popular styles, with the latter two helping to improve heat distribution by covering a larger area to avoid hot and cold spots.
Cast iron burners will need regular cleaning to ensure they do not suffer from corrosion or blocking. Stainless steel burners are more durable but only good quality ones such as heavy 304 grade ones.
Otherwise, heavy-duty traditional cast iron burners will be a better choice compared to cheap stamped steel ones.
Wheels
If you are looking for a 2 burner gas grill with a cart, then you will want to make sure that it comes with wheels. Some lightweight units have just two wheels, while others have four with two locking wheels.
Wheels also make it easier to store your grill, you can better protect your investment by wheeling it inside your garage rather than leaving it out in all weathers.
Ease of Assembly
As your average 2 burner gas grill won't come with a huge amount of extra features, they are normally not too difficult to assemble compared to larger models. However, some units still come in numerous pieces and assembly can be fairly challenging if the instructions are not sufficiently clear.
If you are worried about assembling your gas grill, make sure that you check out the assembly procedure and instructions online via the manufacturer's website. This will give you a good idea of whether or not you will be comfortable assembling your grill yourself, or if you should get a professional to do it for you.
Ease of Cleaning
Stainless steel tends to be the easiest option to clean, along with porcelain-coated surfaces and grates. Cast iron takes quite a bit more work to keep it clean, oiled, and protected from corrosion.
A good grease management system will make cleaning your 2 burner gas grill much easier. Pay particular attention to your grill's grease system and note the location of the grease pan and whether or not it is removable for easy cleaning.
Extras & Features
As 2 burner gas grills tend to prioritize a small footprint and basic functions, they have less in the way of features and extras when compared to 6 burner gas grills. However, there are still some useful extras that you may want to consider looking out for when choosing your small gas grill.
Infrared Burners
Not very common on most 2 burner models, infrared burners heat up your food directly rather than heating up the air first which can cause your food to dry out. Infrared burners are popular as rotisserie burners on larger gas grills, helping to keep the whole bird tender and moist.
Side Burners
Generally reserved for three burner models and over, if you are looking for a side burner to use with your two burner gas grill, you could consider picking up a compact single burner stove so you can prepare your sides outdoors as you grill.
Otherwise, opt for a larger gas grill with three or four burners.
Thermometers
Traditionally, gas grills come with a thermometer in their lid that gives you a reading for the air temperature up inside the lid.
While this is generally a pretty good indication, you'll want to invest in a digital temperature roe that can tell you how hot you are cooking at the grate level where your food actually is cooking, rather than higher up.
Although these old-style, often inaccurate thermometers are not so useful in the digital era they do tend to look good and bring an element of class to your gas grill.
Rotisserie
If you only need a two burner model but still want to enjoy roast chicken, make sure that you look out for a model with a compatible rotisserie kit as an extra accessory. If you really want great rotisserie chicken at home, we recommend upping your gas grill size to a 4 burner with a dedicated rear-mounted rotisserie burner.
Propane storage
Even if your 2 burner grill has a cart, don't expect it to automatically have internal propane storage.
A lot of models store their propane tank on display, so if you prefer a concealed, tidier look, make sure that you choose an enclosed cabinet style with full panels and a front door.
Smaller units without carts won't have any propane storage. If you are considering a tabletop model make sure that the propane line will be long enough to connect to where you will be keeping your tank.
Tool hooks
Non-essential but nice to have, tool hooks make it easier to keep your essential BBQ accessories to hand. If you need to get your food off your grill in a hurry, you'll be glad to simply reach for your tongs rather than searching for them around your patio area.
Lights
Pretty rare on standard two burner models, you may find grilling lights on premium small versions. Having a light is useful for evening grilling and can also add extra ambiance.
However, you can always pick up a standalone grill light for your small gas grill if your outdoor lighting doesn't sufficiently illuminate your grill.
Ignition
Almost all gas grills have an ignition system. Electronic ignition requires batteries to light, whereas push-button or twist ignition systems do not. Crossover ignition systems light additional burners off an already lit one.
This can also be useful in windy conditions, relighting your grill automatically, provided all of your burners haven't gone out.
Warranty
Warranties on small two burner gas grills can vary from one year up to 10. Paying more for a premium brand often means better customer service and a longer warranty period.
Always make sure that you double-check your gas grill's warranty small print. Often certain parts are excluded, while others may have shorter warranty periods.
Propane vs Natural Gas
A lot of 2 burner gas grills run off 20 pound propane tanks. However, if you have a natural supply in your home, you may wish to purchase a natural gas 2 burner grill.
On the upside, you won't have to worry about refilling or running out of gas. On the downside, as most compact grills are designed for maximum portability, all of this will be lost when you permanently attach your grill to your natural gas line.
Unless you are looking to permanently install a small two burner grill in your outdoor kitchen, we recommend using propane for smaller models and reserving natural gas lines for larger gas grills that use more BTUs and require extra fuel.
Intended Use – Do you Need a 2 Burner Gas Grill?
Two burner gas grills are best reserved for couples and small families on a regular basis. Occasionally, you can get away with cooking for small groups of family or friends with your two burner grill.
However, if you regularly cook for five people and over, you may want to consider investing in a three or four burner gas grill and just using one or two burners when you don't have company.
Top 2-Burner Gas Grills Video
Final Thoughts
There are plenty of excellent two burner gas grills to choose from and provided you stick to your needs and priorities as discussed in our buyer's guide, you're sure to choose the very best model.
If you are looking for the best compact two burner gas grill for your balcony or small patio, you should definitely take a second look at the Weber Q3200.
This highly popular, durable grill has all the features you need to make fantastic meals in the smallest of outdoor spaces. Complete with a 21,700 BTU output, removable, folding side tables, and a wheeled cart, the Q3200 has a relatively large 393 square inch grilling area and a small footprint.
Alternatively, if you are looking for an inexpensive two burner gas grill for occasional use, you can't go wrong with the stainless steel Pit Boss Two-Burner Portable Grill. Complete with folding legs and a locking lid, this small but mighty grill has a good 20,000 BTU output, stainless steel grates, and a total cooking area of 276 square inches.