Grill tongs are essential to grilling. Whether you need to flip, rotate, serve, separate, or simply check on your food, your grill tongs are essentially an extension of your hand saving you from serious burns and discomfort. Hence the need to invest in the best grill tongs to ensure that your grilling experience is pleasant and controlled, without any singed forearms or burnt food.
Here's our guide to finding your perfect grill tongs.
A Quick Comparision of the Best Grill Tongs
Here's a quick summary of your options with more info on each pair in the best grill tongs section.
Best Grill Tongs
Looking for the best grill tongs for your next BBQ session? Look no further. You're sure to find your ideal pair right here in our top-rated grill tong reviews.
Best Premium Grill Tongs
Weber Original Stainless Steel Tongs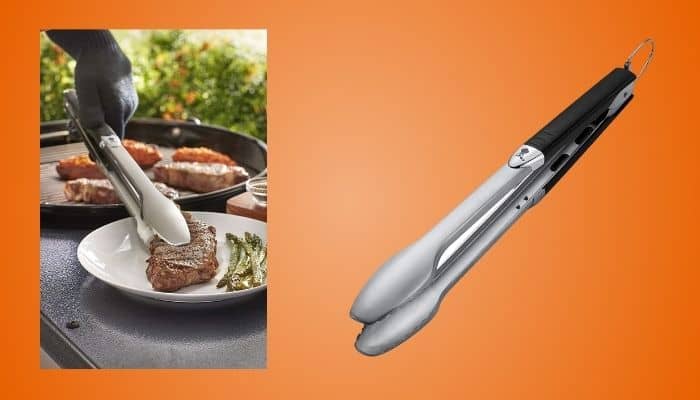 As you would expect from BBQ experts Weber, the Original Stainless Steel Tongs are a top premium choice.
Thanks to their 17-inch length your hands stay at a safe distance from your grill's flames, while the no-slip grips keep them secure whether you're turning charcoal or a whole rack of ribs.
The scalloped front end design and sturdy stainless steel construction make these tongs ideal for gripping any grilling task, big or small. The handles lock for compact storage and the ring at the end makes them easy to hang up with the rest of your grilling tools. As this ring needs to be pulled up to lock the togs, they do not feature one-handed locking, although by tapping the end you can easily unlock them with just one hand.
Dishwasher-safe, making them very easy to clean, these tongs provide just the right amount of springiness to make them really easy to grip with, while the soft touch handles provide extra comfort.
All in all, one of the very best pairs of grill tongs on the market and our top premium choice.
Pros – Things we liked
17" length
Stainless steel with scalloped edges
Non-slip grip
Locking handles
Dishwasher-safe
Cons – Things we didn't like
Not one-handed locking
Best Grill Tongs With Stand
Amazon Basics Stainless Steel Tongs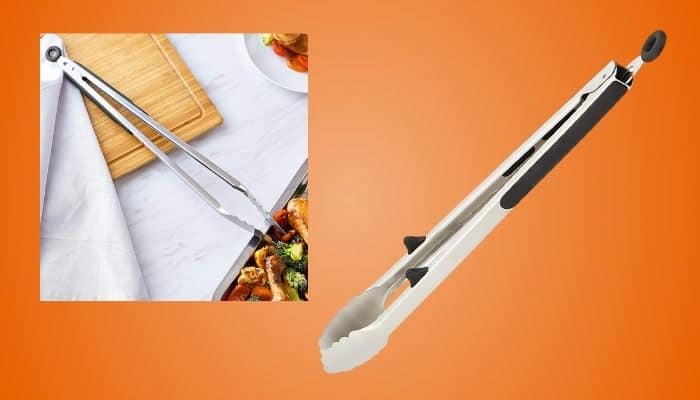 The Amazon Basics Stainless Steel Grill Tongs feature handy built-in dual stands to keep your tongs more hygienically clean when in use. Made from brushed stainless steel, they are highly durable, not to mention heat and corrosion-resistant for long lasting use.
Thanks to their generous 16-inch length, these grill tongs will keep your arms and hands away from your grill's heat, while the sturdy silicone grips make them easy to maneuver even when picking up small items. The scalloped head provides a good grip for your food or other items, even when slipping delicate food like fish.
Dishwasher-safe for a quick and easy cleanup, these grill tongs can be hung up or stored in a drawer when not in use – simply pull out the top hanging loop to lock them closed.
While these tongs are made from highly durable silicone and stainless steel, unfortunately, the built-in stands are made from brittle plastic which can cause them to snap, although this does not affect the tongs' overall usefulness for grilling purposes.
Pros – Things we liked
16" length
Stainless steel with silicone grips
Loop for hanging storage
Locking mechanism
Dishwasher-safe
Cons – Things we didn't like
Built-in stands are not very durable
Best Grill Tongs With Bottle Opener
OXO Good Grips Grilling Tongs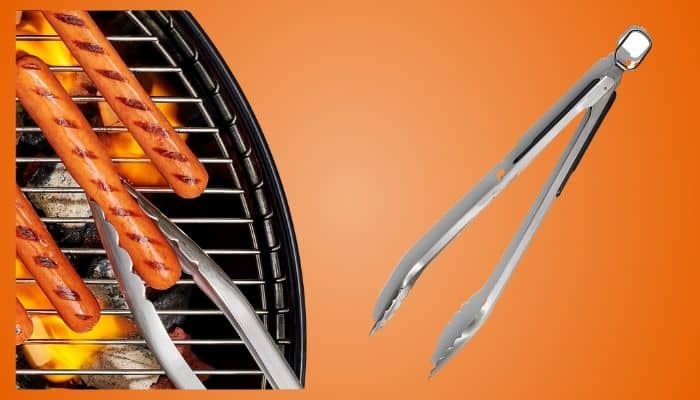 The OXO Good Grips Grilling Tongs feature an integrated bottle opener that's really handy to have grill-side for serving afternoon or evening refreshments.
With a durable stainless steel construction, these grill tongs feature non-slip soft-grip handles to make flipping and transferring even bulky items from your grill much easier.
Thanks to the angled, scalloped heads, these tongs are great for gripping thick joints of meat or large vegetables. The strong spring hinge helps to keep heavy items securely gripped, but it can cause hand fatigue if used for turning a lot of food items on your grill. Thanks to their large hanging loop, you can simply hang these tongs from your grill's tool hooks so they will be ready and waiting for use.
Well designed, these extra-long tongs are 18 inches in length – longer than most other grill tongs. This enables you to keep your hands further away from high temperatures when you are searing steaks or repositioning coals. To lock, simply pull the handle loop at the rear to lock them in a closed position.
Dishwasher-safe for quick and effortless cleaning, if you enjoy a bottle of beer around the BBQ or know someone else that does, these grill tongs make a good treat to yourself or a gift for a fellow pitmaster.
Pros – Things we liked
18" extra-long grill tongs
Non-slip soft-grip handles
Integrated bottle opener
Locking tab for storage
Angled, scalloped heads for gripping thick items
Cons – Things we didn't like
Strong spring can cause hand fatigue
Best Wooden Grip Grill Tongs
GRILLHOGS 16-Inch Barbecue Tongs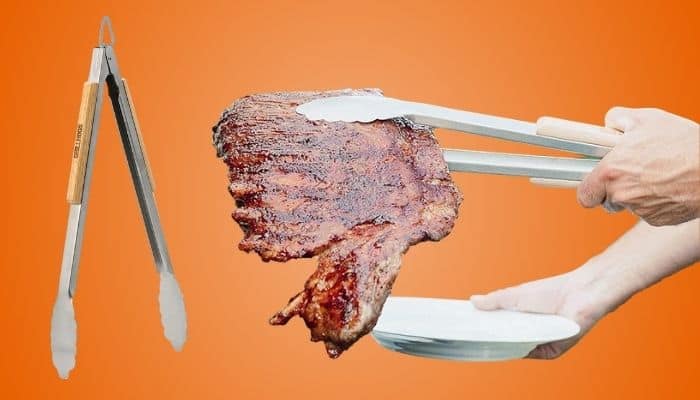 At 16 inches long, the Grillhogs Barbecue Tongs do a good job of keeping your hands and forearms at a safe distance from your grill's heat.
The stainless steel construction is highly durable and features scalloped edged clamp heads to ensure a good grip, even when you're maneuvering heavy joints of meat onto your BBQ.
With their stylish oak wood handles, these tongs don't only look good, the handles also stay cool when you're busy flipping and turning items on your grill. The damage-resistant oak wood also provides a good grip, ideal when your hands are damp or greasy with meat juices. While there is no warning against putting them in the dishwasher, you may want to hand wash them to ensure that the wood remains looking at its best.
Pull out the rear hanging handle to lock these tongs shut for easier storage. If you are looking to store them on your grill's tool hangers, you'll want to tie on a piece of string to make a loop as the small triangular metal piece for hanging is very small and incompatible with most sturdy tool hangers.
Pros – Things we liked
16" length
Oak wood grip handles
Scallop edged heads
Lock shut for storage
Durable stainless steel construction
Cons – Things we didn't like
Triangle hanging shape not compatible with most grill hooks
Best Easy Locking Grill Tongs
Cuisinart Locking Grill Tongs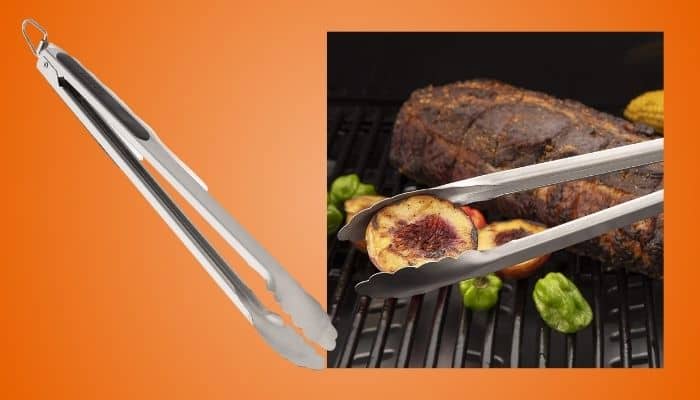 The Cuisinart Locking Grill Tongs have a simple locking mechanism, making them easy to close and hang up when you're taking a break from slaving over the hot coals. Thanks to their 16-inch length, these tongs help to keep your hand protected at a safe distance from your hot BBQ grates.
The silicone grips prevent slipping for safe handling, while the embossed Cuisinart logo adds a touch of flair and class alongside the durable brushed stainless steel construction. The grill D-shaped hanging loop makes these tongs easy to set aside on your grill's tool hooks, safely in reach for when they're next needed to turn your tri tip or flip over your veggies.
Designed to last for many years, these durable grill tongs are an excellent choice. The only drawback to this particular model is that some units come with a very difficult-to-remove sticker that ruins their appearance and can take a lot of scrubbing to make it completely vanish.
Easy to use and suitable for lifting even heavy cuts, these robust grill tongs by Cuisinart are a good all-around buy complete with elegant styling and a simple-to-operate locking mechanism.
Pros – Things we liked
16" length
Brushed stainless steel construction
Grill hanging loop
Easy locking mechanism
Silicone grips with an embossed logo
Cons – Things we didn't like
Sticker is hard to remove
Best Heavy-Duty Grill Tongs
Cave Tools Grill Tongs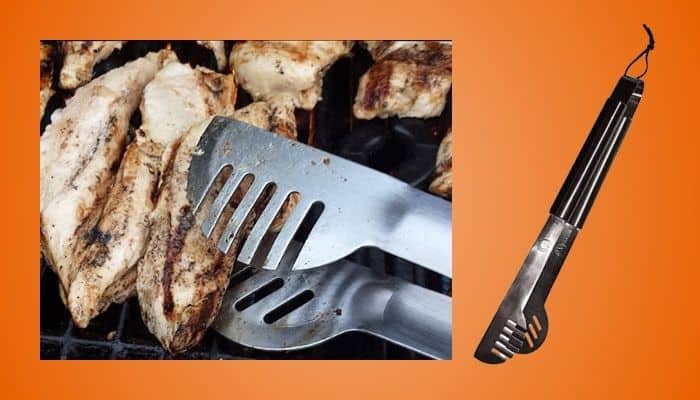 If you typically grill or smoke heavy cuts of meat, you'll want to invest in a pair of heavy-duty grill tongs by Cave Tools. Made from extra-thick stainless steel, these grill tongs are highly resistant and extra robust. Thanks to their oversized clamps, you can securely pick up even bulky items with ease.
Dishwasher-safe for a hygienic and easy clean-up after use, these grill tongs also come with a handy leather strap so that you can hang them from your grill handle or tool hooks, no matter what brand of grill you own. Cave Tools provide access to 25 BBQ recipes upon purchasing this set of tongs, which is a nice gesture, albeit a little gimmicky.
The main drawback to these heavy-duty grill tongs is that they use a locking bracket rather than an integrated mechanism. This small, separate locking piece is easily lost, which is a shame, although you could always get yourself a thick rubber band to hold your tongs shut when not in use.
All in all, a good buy if you are in need of an extra strong pair of tongs for your grill.
Pros – Things we liked
Thick stainless steel construction
Oversized tong clamps for bulky items
Leather hanging strap
Dishwasher-safe
Includes 25 BBQ recipe videos
Cons – Things we didn't like
Separate locking piece is easily lost
Best Large Grill Tongs
Broil King Grill Tong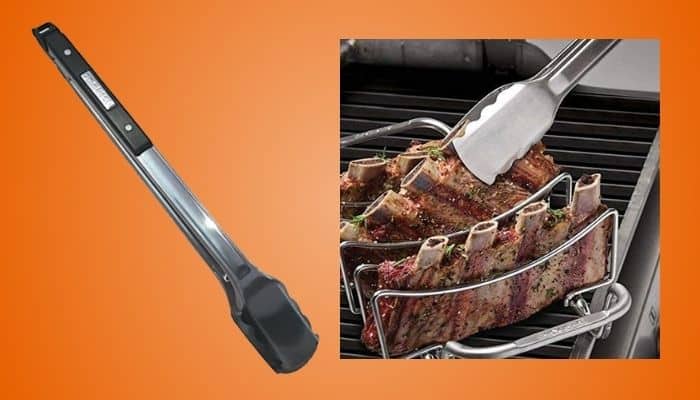 The Broil King Grill Tongs are our best large tongs pick.
WIth their heavy-duty 1.8mm high-grade stainless steel construction and extra long 18-inch design, these grill tongs certainly mean business. They may, however, be a little too large for anyone with small hands to comfortably use but that does not detract from their professional quality and robust durability.
Made with Bakelite handles for improved grip and heat protection, these Broil King grill tongs are a good choice for grilling and smoking brisket, ribs, and other large items that you may otherwise struggle to remove from your hot grill or smoker.
Thanks to their large clamp heads combining a spatula-like side with a scalloped-edge tong side, this professional-quality stainless steel grill tong can be used for gripping, flipping, and turning a wide variety of food types.
The hanging loop easily hangs from any Broil King grill, plus it also doubles as a locking mechanism to keep your tongs closed when not they're not in use. Extra long, highly robust, and extremely versatile, these high quality grill tongs by Broil King make an excellent choice for most pitmasters.
Pros – Things we liked
18" extra long tongs
Bakelite handle
Hanging hook
Integrated locking mechanism
High-grade stainless steel construction
Cons – Things we didn't like
A little large to comfortably use
Best Scissor Grill Tongs
Char-Broil Comfort Grip Scissor Tongs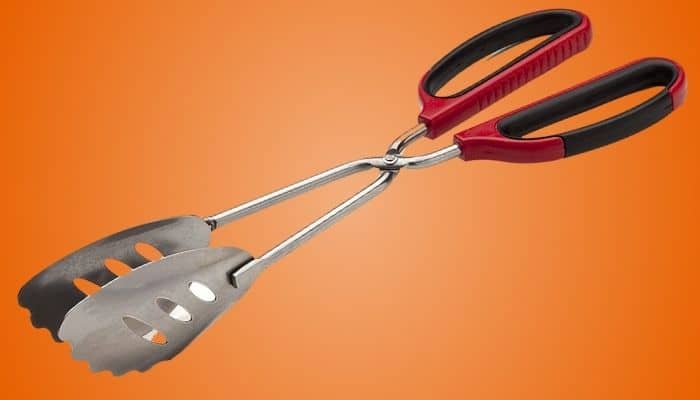 If you never really feel quite comfortable using classic grill tongs, be sure to give these Char-Broil Scissor Tongs a try.
They provide a steady pressure that makes them very easy to use to turn over your meat and vegetables on your grill, as well as serving guests, and removing aluminum pans from your hot grill.
The comfort-grip handle helps them to fit securely in your hand, while the scissor action gives you excellent control making these scissor tongs a great option for more delicate items such as fish or vegetables. The stainless steel construction ensures extra durability and strength, while the pinching motion makes it easy to grab and serve corn or eggplant, for example, without squashing.
On the downside, these scissor grill tongs are just 13 inches long, so they could do with being a little longer for when you're grilling on high. However, given their ease of use and surprising utility, they make a great extra pair of tongs to use alongside your classic-style grill tongs whenever you need a more controlled precision touch to remove or turn over more fragile food types.
Plus, they are also excellent value for money, making them a definite must-buy.
Pros – Things we liked
Stainless steel construction
Comfort-grip handles
Easy to turn food with
Good for serving veggies
Good value purchase
Cons – Things we didn't like
13-inch length
Best Luxury Grill Tongs
Traeger Pellet Grills BBQ Tongs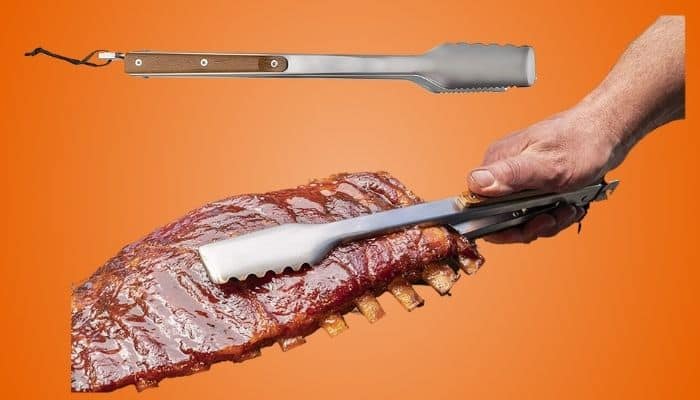 If you are looking for a pair of luxury grill tongs, either for yourself or as a gift to a fellow BBQ enthusiast, look no further than this sublime pair of grill tongs by Traeger Pellet Grills. A thing of beauty is a joy forever. Not only is this pair of grill tongs a beautiful accessory, it is also highly durable and extremely practical, designed for many years of long use.
Thanks to its strong teak wood handles and leather hanging loop, this grill tong remains grounded in nature, while its durable stainless steel construction is strong enough to give you a solid grip on whole roasts and racks of ribs. The 16.5-inch length is long enough to take on heavyweight lifting tasks without getting your hands too close to the heat.
The integrated locking mechanism ensures your tongs stay closed when not in use and you can hang them up very easily via the hanging loop. Although these tongs are not recommended as being dishwasher-safe, they make a refreshing change from the everyday plastic handled variety and are easily washed clean by hand.
If you are after a pair of superior quality grill tongs, these are the ones to go for.
Pros – Things we liked
16.5" length
Leather hanging loop
Durable stainless steel construction
Integrated locking mechanism
Strong teak wooden handles
Cons – Things we didn't like
Hand wash recommended
Best Tweezer Grill Tongs
Char-Broil Culinary Tweezer Tongs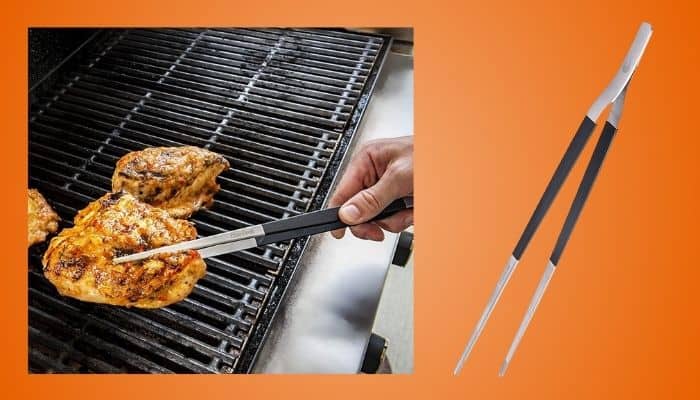 Do you often struggle when grilling shrimp, asparagus, or sliced veggies? Then you need a pair of grill tweezer tongs for a precise grip no matter how small or slippery your delicate food items are.
Another excellent pair of grill tongs from Char-Broil, this tweezer version has been especially manufactured with ridged tips for an improved grip.
Thanks to its stainless steel construction, these tweezer grill tongs are strong enough to pick up marinated meats and other heavy grill items. The soft-grip black handles help you to control picking up and serving small items without your fingers slipping for maximum control. While the tension can seem a little tight that can lead to hand fatigue, it does ensure that your food is securely gripped.
Ideal for fish, delicate vegetables, and any small items that are tricky to pick up with traditional classic grill tongs, every serious griller should have at least one pair of tweezer tongs and this model by Char-Boil is excellent value for money.
Pros – Things we liked
Stainless steel construction
Ridged tip for a precise grip
Ideal for fish, seafood, and vegetables
Good value for money
Black soft-grip handles
Cons – Things we didn't like
Tight spring tension
Why Trust Us
All of our reviews are compiled with a combination of expert input, years of hands-on testing of grilling products, curating the reviews of real-life buyers in a "wisdom of the crowd" system, and of course our own expertise. All the products listed are the ones we would buy if we were looking to purchase a new pair of grill tongs.
Methodology Used to Pick the Best Grill Tongs
When picking the best pair of tongs we looked at which style of tongs were best for BBQing and then rated each pair on the following criteria. Price, tongs length, quality of the handle and grip, the locking mechanism, materials used, do the tongs come with anything else and special features
What we Considered when Picking the Best Grill Tongs
Trying to choose the best grill tongs for your next BBQ can be a little hit and miss. Take the guesswork out of your purchase with our grill tong buyer's guide covering everything you need to know.
Price
Fortunately grill tongs are not that expensive, with your average pair costing around $15.
Premium, luxury models can cost over $25, whereas budget models are likely to be nearer the $10 mark. If you already have a couple of grill tongs that are perfectly usable, but you are looking for a better pair, you may want to spend more on a premium model made with stronger materials.
Alternatively, some pitmasters prefer to pick up a wide variety of models, both cheap and expensive ones in their quest for the best grill tongs. Ideally, you should invest in several different types, see below, to ensure that you are equipped for serving, flipping and turning all types of food on your grill.
While classic grill tongs tend to command a premium, you can pick up good tweezer and scissor models for much less making them definitely well worth trying out.
Length
Most classic grill tongs are between 12-18 inches in length.
The longer your tongs the further away your forearm and hand will be from your grill's flames. However, if your tongs feel too long and unwieldy or are made from substandard material, you may be better off with slightly shorter, more robust ones, especially for precision gripping.
Long tongs are essential for reaching over to the back of your large grill without getting burnt. However, if you have a small 2 burner grill or a kettle grill, you may find a shorter pair of grill tongs to be much more useful and easier to maneuver.
Handles & Grip
Silicone handles are generally preferable for several reasons – they are easy to grip even with damp or oily hands, they are heat resistant, and highly durable. Plus, you can also stick your silicone handled tongs in your dishwasher after use for an easy cleanup.
Wooden handles are another popular choice as they are hard wearing, easy to grip, and help your hands to stay cool. On the downside, they do not have quite as much grip as silicone and they are best hand washed to prevent them from becoming prematurely damaged.
Metal handles are generally best avoided. While they tend to look good, they will heat up really quickly and provide no grip whatsoever. If your hands are slippery with oil, you'll struggle to keep a hold on your metal handle grill tongs.
Locking Mechanism
Most classic grill tongs have an integrated locking mechanism that keeps your tongs closed when not in use, this makes for neater, easier storage, preventing your tongs from taking over your grill tool storage space.
If you opt for a pair of tongs without a locking mechanism, bear in mind that they are likely to have quite a high degree of resistance to compensate and can become tiring to use when turning a full grate of food over with them.
Materials
Stainless steel is the best material to go for as it is safe for food, corrosion-resistant, and easy to clean. While silicone tips are a popular choice in the kitchen so you don't scratch your pots and pans, when grilling, metal is the best choice for your tongs for extra durability and use in a very high temperature environment.
Are the Tongs Part of a Set?
Rather than picking up three random tongs, you may like to choose a tong set to enable you to more easily pick up, serve, and flip all food types on your grill. Matching sets also look better hanging up on your grill hooks and can be a good way to get started grilling.
Alternatively, your tongs may come in a standard grill accessory set with a spatula and scraper or other essential grilling tools.
Features
While grill tongs are essentially very simple items, there are a couple of standout features that you may want to keep an eye out for when choosing the best grill tongs for your next BBQing session.
One-Handed Locking
One-handed locking can be useful when you've got both hands full even if your grill tongs require you to pull the rear mechanism to lock, pretty much all models can be unlocked with one hand.
This is more valuable, as when you need to lock them for storage, you're more likely to have a free hand.
Storage Ring
As grill tongs are essential for grilling, it makes sense to hang yours up ready and waiting on your grill. That way you won't be stuck searching for them as your medium rare steak slowly starts to overcook.
Scalloped Pincers
Scalloped pincers are a great improvement to your grill tong's gripping capabilities, making it easier to grab and serve smaller items, as well as softer, more slippery ones.
Bottle Opener
Grill tongs with a bottle opener are a lot more handy to own than you'd think. After all, your tongs are a must-have grilling item and for many of us, a frosty beverage goes hand in hand with an afternoon's grilling.
As the day goes on and friends call round, an extra bottle opener on your grill tongs will definitely come in handy.
Light
Believe it or not, LED grilling tongs do exist. While you probably won't want to rely exclusively on their glow for evening grilling sessions, when combined with ambient patio lighting, they can help you to see clearly just how done your meal actually is.
Dishwasher safe
While the grilling, serving, and eating are all fun, cleaning up after a huge meal can be a bit of a chore to say the least. With your grill to clean down and various knives to hand wash, the more items that you can stick in the dishwasher, the better.
A dishwasher-safe set of tongs is one less item to clean by hand after a busy day grilling.
Type of Tongs
There are three main types of grill tongs, classic, scissor, and tweezer. Here's the main differences and when you should use each type.
Classic
Classic grill tongs have a standard pincer design and tend to measure between 12-18 inches long. They usually have easy grip handles and scallop edged heads to better grip your food.
Thanks to an internal spring, they provide a varying degree of resistance to enable you to better pick up items from your grill.
Scissor
Scissor tongs are a popular choice for delicate food such as fish and certain soft vegetables. As they have a pivot point, you are not applying the same degree of pressure to your food as with a traditional pair of tongs.
Scissor tongs are a good choice for serving up items too, thanks to their more copious rounded head.
Tweezer
Tweezer grill tongs are designed for precision. If you need to pick up small, often slippery items from your grill, such as shrimp or asparagus, you'll need a pair of grill tweezer tongs.
They are also really useful for sliced vegetables as well as for retrieving any food that may have slipped through your gates, before it starts burning up.
Top Grill Tongs Video
Final Thoughts
If you are in the market for a new pair of grill tongs, you'll have plenty of options to choose from. Take another read through our top-rated grill tong reviews to make sure that you find the best model for your needs.
Looking for the very best of the best? Our overall favorite and a hugely popular premium model is the Weber Original Stainless Steel Tongs. Easy to use with a good 17 inch length, these dishwasher-safe grill tongs feature a scalloped front design with no-slip grips and a hanging ring for storage and easy locking.
For serving up even delicate items, we recommend taking another look at the popular Comfort Grip Scissor Tongs by Char-Broil. Easy to use, they make an excellent alternative to regular tongs whenever you need to apply a little less pressure, without losing your grip. They are also great value for money, so make sure that you add them on to your must-have grill accessory shopping list.