Invented back in 1952, the original Weber Kettle that started it all remains Weber's most popular selling grill to this day. This iconic classic is sold in 78 countries and is a grilling favorite the world over.
In our quest for grilling perfection, we've found that there are always a few tweaks and extras that can be made to just about any grill to improve its usability and performance – the highly popular Weber Kettle being no exception.
However, the market is packed with literally hundreds of add-ons. To make it easy for you to choose, we've picked out the very best of the best Weber Kettle Accessories.
Best Weber Kettle Accessories
The following selection of Weber Kettle accessories are all designed for your standard 22-inch model unless stated otherwise – a couple are for the larger 26-inch model only and quite a few will work with both.
Looking to improve your grill's versatility and embrace new ways of cooking? We've reviewed the best kettle add-ons, plus some more conventional must-have kettle grill accessories such as lid hinges and covers.
Treat yourself and your grill with at least one of the following must-buy kettle grill accessories.
Best Weber Kettle Rotisserie
Weber 22-Inch Charcoal Kettle Rotisserie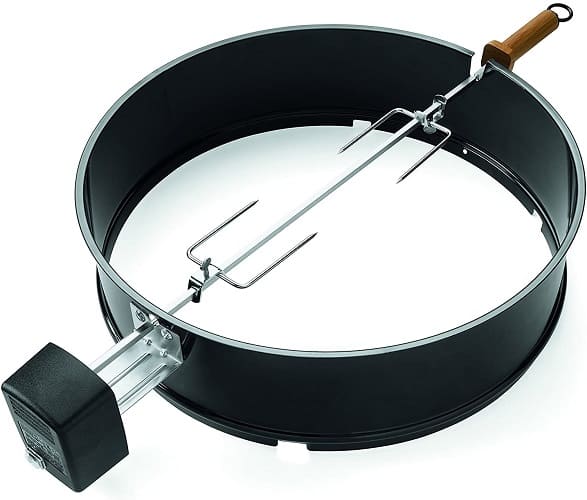 The Weber Charcoal Kettle Rotisserie #2290 is one of the most popular accessories on the market made specifically for Weber Kettle grills. Enjoy succulent whole roasted chicken in the comfort of your own backyard, thanks to this easy-to-install and use rotisserie kit.
Compatible with all 22-inch charcoal kettle grills, this rotisserie kit for Weber Kettle BBQs features an innovative space-saving design elevating the rotisserie above your grill via an easy to clean porcelain-enameled ring to save on space. The heavy-duty electric motor makes sure your bird is evenly cooked all over, while the one-piece spit gives this Weber rotisserie kit an impressive 20lb weight limit.
Complete with a shaft, motor, wooden handle, and two dishwasher-safe spit forks, it comes with everything you need to get started enjoying rotisserie-style chicken, kabobs, or delicious lamb shoulders with minimal effort.
The only slight issue with this otherwise fantastic piece of kit is that the fit isn't quite as snug as it could be, although this presumably to allow for a margin of error with older, possible misshapen grills.
Pros – Things we liked
Fits all 22-inch charcoal kettle grills
Porcelain-enameled ring for elevation
Strong one-piece spit design
Heavy-duty electric motor
Includes wooden rod handle & 2 spit forks
Cons – Things we didn't like
Could fit better
Best Weber Gourmet System Add-Ons
Weber Gourmet BBQ System Add-ons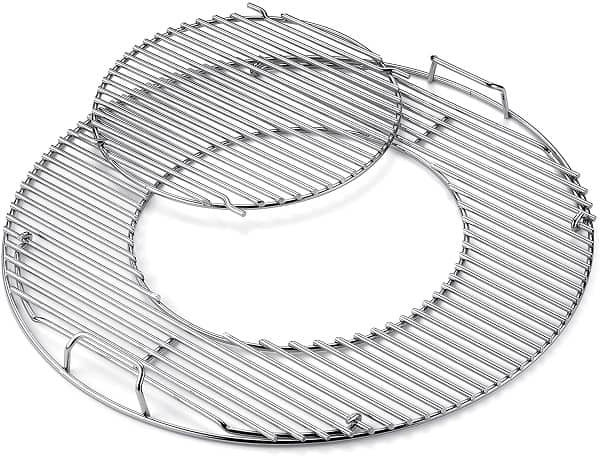 Weber created the Gourmet BBQ System to enable its bestselling Kettle grills to compete with the likes of the Kamado Joe and Big Green Egg in terms of cooking versatility.
The Gourmet BBQ System is composed of multiple add-ons that allow you to cook just about anything on your Weber grill, from pizza to stir fry. Griddle pancakes, roast a chicken, or stew up a one-pot wonder in the Gourmet System Dutch oven.
Pros – Things we liked
Specially designed for your Weber Kettle grill
High quality products
Enable you to cook different types of food
Save space – no need for other outdoor grills and appliances
Easy to use
Cons – Things we didn't like
Can work out pretty expensive
Here are some of the best Weber Gourmet System add-ons that you should definitely consider purchasing for your kettle grill.
Grate
The Gourmet BBQ System Grate is a must-buy upgrade for your 22-inch Weber Kettle. It's a sturdy, high-quality model, complete with an easily removable 12-inch insert.
Use it without the insert for various cooking methods using other Gourmet System add-ons such as the wok, griddle, or sear grate, or with the insert for traditional grilling. The sides are hinged allowing you to easily add more charcoal – ideal for long cooking sessions, grilling low 'n' slow.
Griddle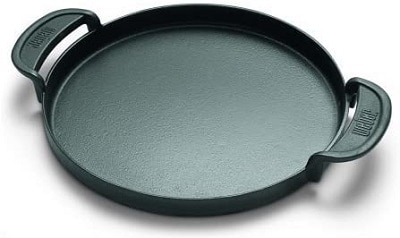 Once you've got yourself the previously mentioned grate, you can easily use this Weber Gourmet BBQ Griddle with your 22-inch kettle grill. Cooking with it is extra easy, thanks to its high levels of heat retention for professional searing results.
As it is made with porcelain enameled cast iron, it's also easy to clean and non-stick – a great all-round choice for cooking just about anything from breakfast pancakes to steak and lobster.
Sear Grate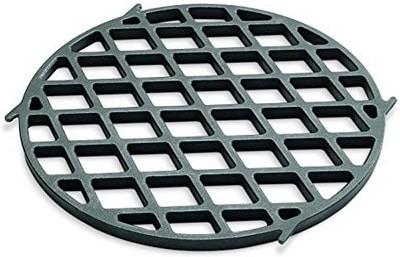 Seal moisture and flavor into your steaks with the popular Weber GBS sear grate. Made from easy-to-clean porcelain-enameled cast iron for excellent heat retention, the sear grate replaces the main Gourmet BBQ System grate's insert.
Impress your family and dinner guests with professional looking cross-hatched sear marks, while the high heat ensures you get a tasty steak that remains tender inside.
Dutch Oven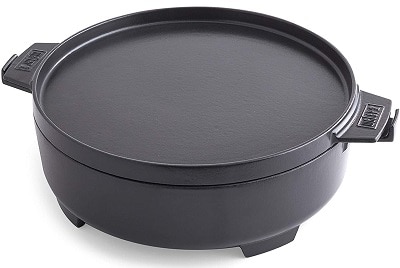 While Dutch ovens are not typically associated with grilling, this multi-purpose Weber GBS Dutch Oven makes an excellent buy. Made from cast iron with a non-stick, easy-clean porcelain-enameled finish, you can use the flat top lid as a griddle either next to or on top of the main container.
Used in place, the lid locks in moisture, while the Dutch oven's 7.25 quart capacity is plenty big enough to feed a family. Simply insert the unit inside your GBS grate and enjoy all your favorite one-pot dishes outdoors without heating up inside your home.
Wok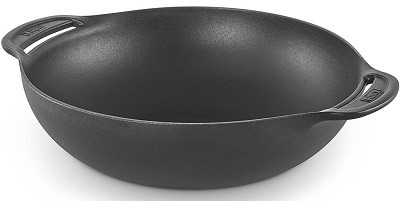 Get your grill fired up and benefit from its high heat to create some truly authentic Asian stir-frys – something that's hard to recreate on your average home stovetop. The Weber GBS wok is also a great choice for homemade paella or even soups and stews at lower temperatures. The wok neatly fits into the Gourmet BBQ System grate and stays securely in place while you cook.
Thanks to its porcelain-enameled cast iron construction, it retains heat well and won't stick for quick and easy cooking as well as cleaning up afterward.
Poultry Roaster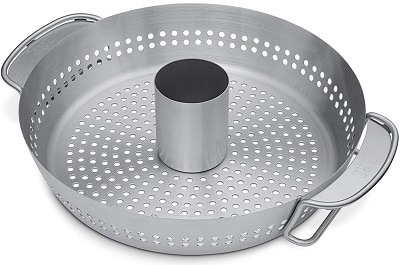 The Weber GBS Poultry Roaster is another well-designed, excellent Weber Kettle accessory. Made from a durable stainless steel construction, this 2-in-1 poultry roaster and vegetable basket features a removable liquid infusion cup. Use it with the cup to cook your bird vertically and infuse it with flavor.
There is also plenty of space to simultaneously cook your sides around your chicken. Remove the cup and use this roaster as a handy vegetable basket or for grilling small items that would otherwise slip through your grate.
Pizza Stone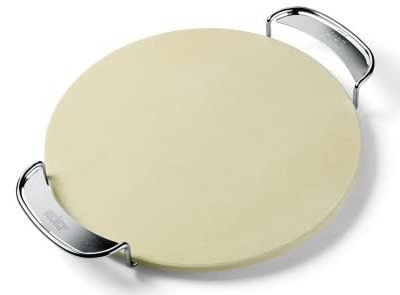 Who doesn't like pizza? Cooking professional-quality homemade pizzas with all of your favorite toppings is made easy with the Weber GBS pizza stone. Made from high-quality cordierite stone, this pizza stone absorbs moisture for an excellent crispy base.
Use the included carry rack to easily carry your pizza over for serving. It's also a good choice for baking flatbread and cookies on your grill.
Best Weber Kettle Grill Cover
Weber Charcoal Grills Cover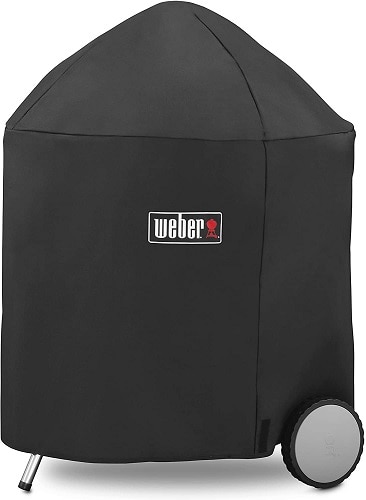 If you have a 26-inch Weber Kettle grill, the #7153 Weber Premium Grill Cover makes a good choice for keeping your grill safe from the elements. Designed to protect your grill from the rain, sun, and snow, this polyester cover benefits from UV-inhibitors so it stays looking smart year after year.
Water-resistant for a clean and protected kettle grill, this premium Weber grill cover also benefits from a fastening strap which fixes to the lower farme of your grill to ensure it cannot be blown away even in heavy winds. A good snug fit also helps to ensure that it remains in place. Thanks to its highly visible Weber logo it makes a very smart-looking grill cover.
If you are purchasing this model to replace an older version, note that it is a lot lighter, being made from a much thinner material than previous models. Unfortunately, unlike the cover for 22-inch kettle grills, this model does not feature a top handle, so it's not quite as easy to pull off when taking your grill out of storage.
Pros – Things we liked
Fits 26-inch Weber Grills
Water-resistant polyester fabric
Lower fastening security strap
UV-inhibitors to resist fading
Cons – Things we didn't like
No handle on the top
Thinner material than older versions
Best Grill Shelf for Weber Kettle Grills
BBQ Dragon Grill Shelf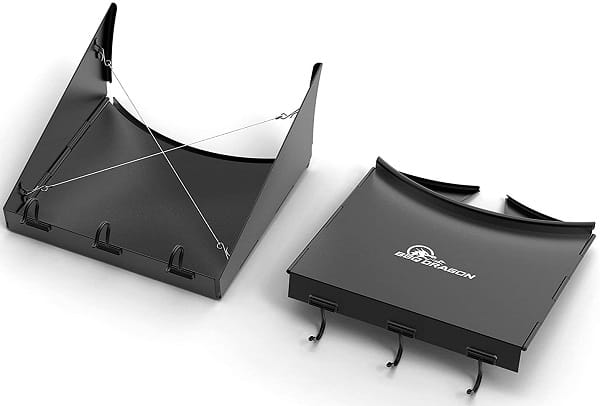 The BBQ Dragon Grill shelf is possibly the most useful Weber Kettle accessory that you can buy. This clip-on folding shelf makes grilling with your 22-inch Weber Kettle much easier, giving you a handy place to set down your tools, gloves, or other essential grilling accessories.
Thanks to its innovative crossed-wire support system and robust steel construction, this kettle grill shelf can support up to 10 pounds of food or grill tools For extra space, it comes complete with three tool hangers at the outside edge, although given their thin-gauge metal construction, they aren't up to the same quality as the rest of this item.
This Weber Kettle grill shelf folds flat when not in use for handy storage under your grill cover. You can also easily remove it and store it inside your grill when it's not in use. While the black enamel finish makes this grill shelf really look the part, as well as making it weather-resistant, unfortunately, given this unit's often inadequate shipping packaging, the outer layers of the finish may arrive cracked.
Pros – Things we liked
Steel with black enamel finish
Crossed-wire support system
10lb weight capacity
Stores inside your grill
Foldable design simply clips on
Cons – Things we didn't like
Ships in a plastic sleeve
Tool hangers are not very robust
Best Overall Weber Kettle Accessory
Slow 'N Sear Deluxe for 22″ Charcoal Grill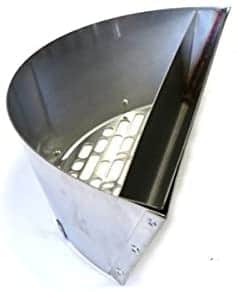 If you are going to buy just one accessory for your Weber kettle grill, make sure it's this one!
The Slow 'N' Sear Deluxe by SnS Grills allows you to easily create two distinct heat zones within your 22-inch kettle – use it to effortlessly smoke low 'n' slow, to reverse sear, sear, bake, and roast. The large charcoal basket holds approximately 80-100 briquettes that should last you for around eight hours cooking on low.
The charcoal basket has a redesigned ventilation plate in the base to ensure there is no ash build-up, while the removable, full-length water reservoir provides extra thermic protection for slow cooking. Made from over seven pounds of 430-grade stainless steel with a rivet based manufacturing technique for the coal basket, this is one heavy-duty kettle grill accessory that has been made to last.
On the downside, the removable water reservoir cannot stand upright out of the unit given its v-shaped design, however, SnS Grills regularly listen to their customers and actively upgrade this model to address any possible improvements.
This simple, yet highly effective accessory will revolutionize how you cook with your Weber Kettle grill, transforming it into a multifunctional grill suitable for smoking, searing, and baking without the expense of having to upgrade to a new grill.
Pros – Things we liked
Creates 2 different heat zones
Redesigned base plate for maximum ventilation
Made from 430-grade stainless steel
Large charcoal basket
Full-length removable water reservoir
Cons – Things we didn't like
Water reservoir does not stand upright alone
Best Weber Kettle Accessory for Convection & Slow Cooking
Aura Outdoor Products Kettle Zone Cooking System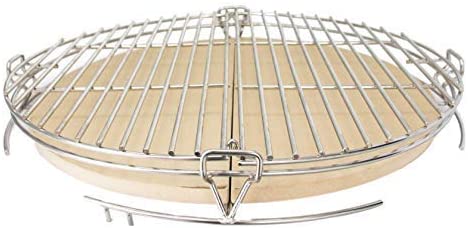 With its two ceramic half moon heat deflectors, the Kettle Zone Cooking System by Aura Outdoor Products allows you to use your 22-inch Weber Kettle grill like a smoker for low and slow cooking, as well as the possibility of setting up an indirect heat zone with a dedicated sear zone opposite.
Thanks to its raised cooking surface with two half-moon stainless-steel cooking grates, your food is protected from burning and flare ups in a convection-style cooking environment.
Suitable for a variety of cooking methods with your Weber Kettle, the ceramic plates can also be used as pizza stones for baking and cooking pizzas on your kettle grill. Easy to use and fit, this grill cooking system features a base rack complete with a locking system to prevent the unit from spinning inside of your grill.
Given their porous nature, the ceramic stones tend to stain very easily. While this does not affect their performance, it can make your grill look a little uncared for, so you may wish to cover them in foil.
Designed for longevity and versatility, unfortunately, given this item's substandard packaging, some units are easily chipped during shipping although the customer service department is responsive when contacted.
Pros – Things we liked
2 ceramic half-moon heat deflectors
2 half-moon stainless-steel cooking grates
Suitable for a variety of cooking methods
Raised cooking surface
Sear, cook low 'n' slow, or 50/50
Cons – Things we didn't like
Heat deflector plates stain easily
Packaging could be improved
Best Vortex for Weber Kettle Grills
Grisun BBQ Vortex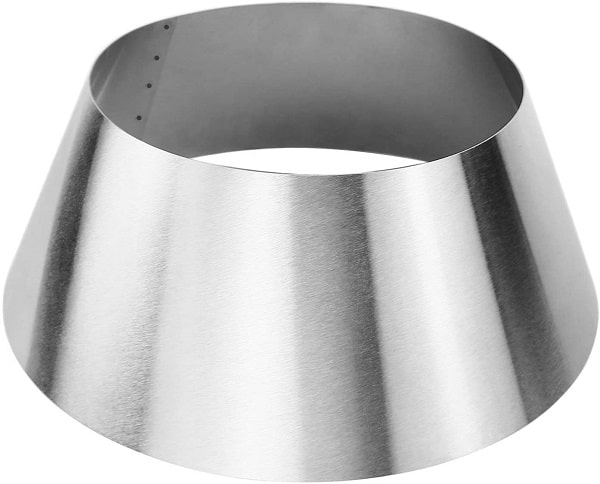 Looking for a simple and inexpensive way to easily crisp up chicken skin on your Weber Smoker, as well as being able to sear, smoke, and create indirect heat zones? The Grisun BBQ Vortex is a highly versatile item that's available at an affordable price, making it definitely worth a try for its crisped up chicken skin capabilities alone.
Thanks to its funnel shape, you don't just get greater fuel efficiency, you are also able to better direct your grill's heat to suit your recipe and cooking style. Made from a durable, food-grade 304 stainless steel, the Grisun BBQ Vortex features a sturdy weld and has been manufactured to last, resisting corrosion and warping.
Suitable for both 22 and 26-inch Weber Kettle grills, there can be some discrepancy between this product's actual size and the quoted dimensions, although this is minor and does not impact on this unit's utility.
You will, however, want to give it a thorough inspection on arrival as some of the edges can be fairly sharp, so you'll want to sand them down before accidentally catching your fingers.
Pros – Things we liked
Made from 304 food-grade stainless steel
Suitable for 22 and 26 inch kettle grills
Funnel design for greater fuel efficiency
Great for crisping up chicken skin
Highly versatile item at a budget price
Cons – Things we didn't like
Measures smaller than specified dimensions
Sharp edges
Best Lid Hinge for Weber Kettle Grills
BBQ Gaskets Kettle Lid Hinge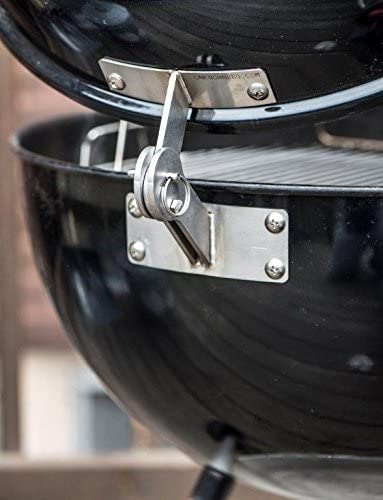 Purchasing and installing this Kettle Hinge Lid by BBQ Gaskets will make using your Weber Kettle much more enjoyable – no more searching for a convenient place to put down your lid or fiddling about with the little hook at the back of your grill. Thanks to this model's excellent quality and superb functionality, it is by far the best lid hinge for Weber Kettle grills on the market.
Made from high-quality, heavy-gauge stainless steel, this BBQ lid hinge is solid and very well-made. Ready to serve up, need to check your coloring, or sauce your meat? Simply lift the lid and it will stay up for as long as you need to tend to your grill. Using a chimney or grilling without your lid? Simply pull out the quick release pin and remove your lid with ease whenever you need to do so.
Hardware and installation instructions are included with your purchase. While this type of hinge makes a fantastic upgrade to any 22 or 26-inch Weber Kettle grill, unfortunately, as it is an after-market fitting that involves drilling holes in your grill, you will void any warranty period that may have remaining.
Also, don't forget to paint around your drill holes to ensure you don't get any rust.
Pros – Things we liked
Holds lid up while you tend to your food
Quick release pin
High-quality stainless steel construction
Includes hinge, hardware, & installation instructions
Cons – Things we didn't like
Fitting this accessory will void your warranty
Need to paint drill holes to prevent rust
Best Warming Rack for Weber Kettle Grills
Grillvana Grill Expander/Warming Rack/Upper Deck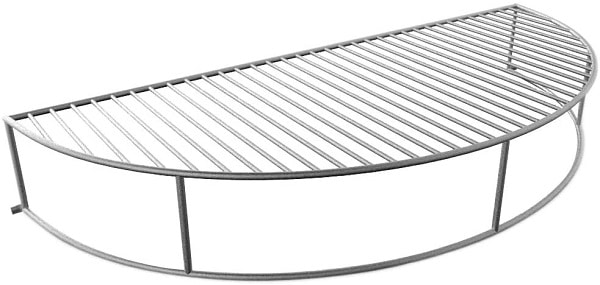 If you own a 22-inch Weber, you should definitely pick up a Grillvana Grill Expander. Whether you have a couple of extra guests or your fire's just gotten too hot and you need some distance between your food and the flames, this really handy grill rack will easily end up being one of your most used Weber Kettle accessories.
This patented extension rack adds approximately one-third extra space to your standard grill grate. As it sits three inches high, you're able to use your lower grate for most items and direct heat cooking. Especially designed to sit around the perimeter of any regular 22-inch kettle grill grate, this warming rack for kettle grills sits safe and securely.
Made from heavy-duty 201 stainless steel with good, strong welds, this item is a high-quality product that will stand up to intensive use. Although this warming rack can be used with the lid on, bear in mind that due to its height, you won't want to load it up too much as any outer items will end up being in contact with your lid's walls.
Pros – Things we liked
Durable 201-grade stainless steel
Designed to fit all 22-inch kettle grills
Does not reduce the lower cooking area
Extends lower grate by one third
For indirect cooking, warming, or for distance from direct flames
Cons – Things we didn't like
Food at outer edges may come into contact with your lid
Best Half Moon Grate & Griddle for Weber Kettle Grills
KAMaster Half Moon Cast Iron Cooking Grate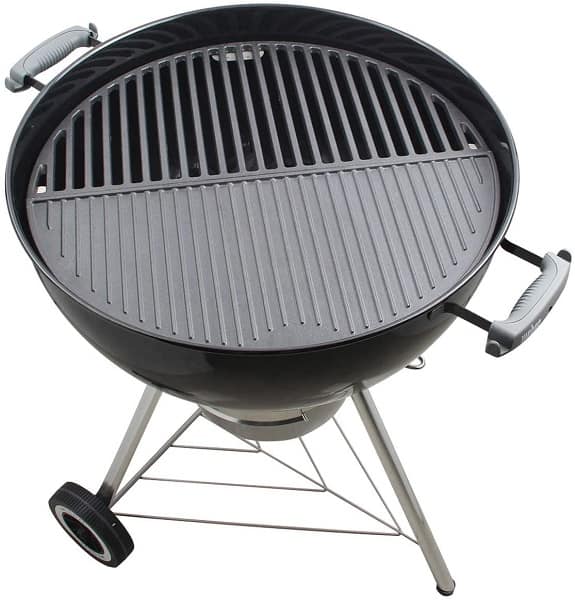 Vary what you cook on your 22-inch Weber Kettle with the Half Moon Cast Iron Cooking Grate and Griddle set by KAMaster. Thanks to its half-moon design, you can easily split your grill into two separate zones for simultaneous grilling and griddling.
Made from highly durable cast iron, use the grate to get some seriously impressive sear marks on your steaks or chargrill your veggies on the ridged side of the griddle. Flip the griddle over to the flat side and you've got the perfect surface for cooking delicate items such as fish, pancakes, or even eggs. The kit comes complete with four support extension pieces and takes just minutes to fit.
Bear in mind that this cast-iron griddle and grate set is not pre-seasoned, so you'll have to spend a little time coating and heating it up before you can use it, as well as performing regular maintenance to keep it free from rust.
While it is a good, sturdy item that will last for many years, the support clips can slide out of place so make sure that you are happy that it won't budge before lighting up your coals.
Pros – Things we liked
Half-moon cast-iron grate & griddle
Reversible griddle – 1 flat side/1 ridged side
Highly durable
Includes 4 support extension pieces
Creates impressive sear marks
Cons – Things we didn't like
Needs seasoning before use
Clips can slide out of place
Best Temperature Controller for Weber Kettle Grills
BBQ Guru's UltraQ BBQ Temperature Controller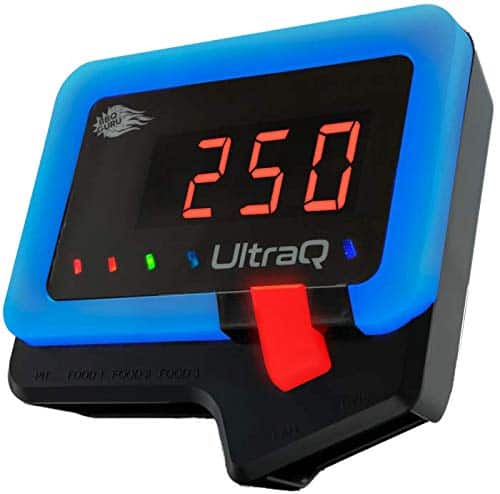 The UltraQ BBQ Temperature Controller by BBQ Guru is an all-in-one unit that allows you to monitor your cooking and pit temperatures, as well as controlling how hot you're grilling, even remotely.
Thanks to the included 10 CFM fan that you install in place of your Weber Kettle's air vent, this temperature controller is able to increase and decrease your grill's temperature according to your pre-specified levels.
With built-in WiFi and Bluetooth connectivity, you can control your grill and monitor how it's cooking from a distance. When you're nearby, you get instant, at-a-glance confirmation on how your cook is going thanks to the large status ring which changes color depending on the temperature – instantly alerting you if any action is needed.
With space for four probes, the large LED control unit cycles through each connected probe for a clear temperature read out so you can easily keep track of multiple items. Two high-temperature probes are included with the unit, one for your grill's air temperature, the other for food.
While this makes an excellent, highly convenient way to control your grill, the app does have some connectivity issues which will hopefully be resolved in due course. Also, as with any after-market installation that involves drilling or permanently altering your grill, installing this unit will automatically void any warranty on your Weber Kettle.
Pros – Things we liked
10 CFM fan to control your grill temperature
Bluetooth & WiFi enabled
4 channel system with 2 probes included
Large LED with Status Ring Light
Includes power pack and magnet mount
Cons – Things we didn't like
App could be improved
Installation will void any grill warranty
Top Weber Accessories Video
Final Thoughts
With so many fantastic Weber Kettle accessories on the market, it would be a shame not to try out at least a few and up your grilling game. For sheer ease of use and versatility, we recommend trying out Weber's Gourmet BBQ System. Start off with the GBS grate and then select whichever add-ons best suit your cooking style and preferences.
For a simple way to make grilling with your Weber Kettle much more enjoyable, consider fitting The Kettle Lid Hinge by BBQ Gaskets. This high-quality kettle grill accessory makes opening and closing your Weber Kettle grill so easy, you'll wonder why it took you so long to make the upgrade.
If you are looking for an all-in-one set capable of revolutionizing how you grill with your Weber Kettle, then the Slow 'N' Sear Deluxe by SnS Grills makes an exceptional buy. Made from durable 430-grade stainless steel, this versatile set will enable you to use your kettle grill as a smoker for cooking low 'n' slow, as well as for baking, searing, and roasting.