When it comes to BBQ and technology, I admit I was a bit old-school. When you've been grilling and meat smoking for as long as I have, it's easy to feel you've mastered all the tricks. I thought I was perfectly satisfied with my old instant-read digital meat thermometer…until I tried out a wireless dual-probe thermometer.
Using a wireless thermometer makes monitoring your temperatures much easier, especially during BBQ parties or for overnight smoking sessions. Instead of opening the lid to poke at your meat, you can glance at the base station or check the temperature through the app on your phone or tablet.
I've done the legwork and found 5 wireless options worthy of your attention. If you're looking to lighten your workload while producing world-class BBQ, then check out our recommendations for the best wireless meat thermometers!
My Reviews for the Best Wireless Meat Thermometers
Using a meat thermometer is the best way to ensure your food is always cooked to perfection. While your eyes, nose, and fingers may be tricked into pulling your meat too soon (or worse, letting it overcook!), an accurate thermometer never lies.
What is a Wireless Thermometer?
The confusing thing about wireless thermometers is that most systems are not actually entirely wireless.
A typical wireless set-up includes a temperature probe that connects directly into the base station. This station hangs out near your grill and displays information about your settings, alerts, and temperatures. You place the probe in your meat, connect the probe's wire to the base station, choose your program and shut the lid.
The "wireless" part refers to the base station and how it communicates with the receiver or your smartphone. The base sends information directly to the receiver and keeps you advised of your meat's temperature when you are away from the BBQ.
More complex wireless thermometers connect to your smartphone and use it in place of the receiver. You may be able to link several devices together over your WiFi so you can monitor your meat from both inside and outside your home. Some systems even coordinate with the smooth-talking Amazon Alexa!
Using a wireless thermometer, you can set alerts and potentially monitor your meat from anywhere on your property in range of the base station.
Some systems are more limited than others and many require access to your WiFi. You will likely need to download the manufacturer's app to use your phone with your wireless thermometer. While these systems can take a bit more effort to set up initially, the freedom they grant is well worth the cost.
I may have gone into that first meat smoking session feeling a bit skeptical, but I came out a devoted convert of wireless meat thermometers!
Best Wireless Thermometers – Top 5
I've kept my list of the best wireless thermometer down to just five of the very best. I've tried to keep the list a little bit varied with thermometers that have either Bluetooth, WiFi, or both. I always love hearing the opinions of other smokers and grillers, so if you think there is a thermometer I should test for this list let me know in the comments. Also if you want a more expanded list check out my best Wifi thermometer roundup and my best Bluetooth thermometer roundup.
Meater – The Only True Wireless Meat Thermometer
We looked at a lot of high quality wireless thermometers while making our review list, and the most impressive by far were these two sets from the Meater company. This is a great option if you are comfortable using WiFi and have a couple of smartphones or tablets handy.
The Meater thermometer is a standout product in the wireless thermometer marketplace, as this is currently the only truly wireless thermometer. If you really want to cut the cord then this is the thermometer for you!
Premium Meater Block Set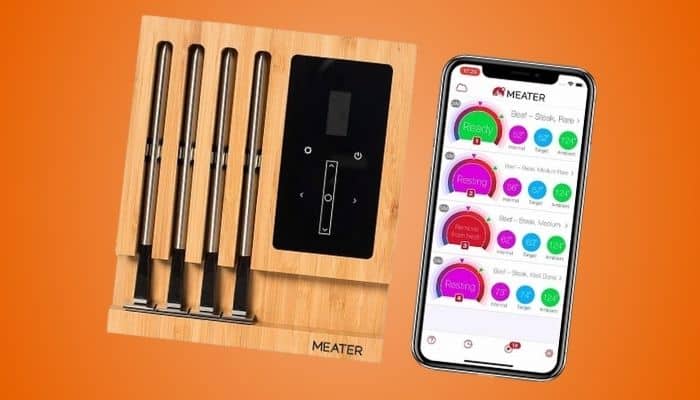 The Premium Meater Block comes with everything you need to monitor up to 4 pieces of meat on your grill or smoker. The wooden storage case doubles as the base station and also recharges your temperature probes.
Since the probes communicate with the base station using the Meater cloud, you never have to mess with wires or slip them through holes in your grill's lid. You can even use it with a rotisserie rack since there are no wires to get tangled around the spit.
The coolest thing about the probes is that a single one can measure the temperature inside your grill and your meat's temperature at the same time! No more using the inaccurate lid thermometer or tying up a probe just for watching your cooking temp. The probes work for a full 24 hours before they run out of juice, so long smoking sessions are no problem.
The base station has a range of 165 feet and uses your smartphone or tablet as a receiver. Then your wireless network can link it to another phone, computer or device such as Alexa inside your home, creating a chain of devices passing the info from your grill to you. This way, you can receive alerts while walking around your property or while sitting on the couch inside.
The Meater has a guided cooking system that walks you through every step and helps produce consistent results. You can set custom alerts and notifications based on both cooking times and temperatures. The Meater will even estimate when your food will be ready to eat.
The premium Meater is on the pricey side, but if you often grill for crowds or smoke big cuts of meat it is well worth it. Being able to watch football while waiting out the brisket stall is priceless! The Meater is also the best wireless thermometer for smoking meat or making rotisserie since it is completely cordless.
Pros – Things we liked
No wires
Monitor up to 4 pieces of meat
Case doubles as the base station
Can set custom alerts and notifications
Cons – Things we didn't like
Some people have issues with the range
Meater Plus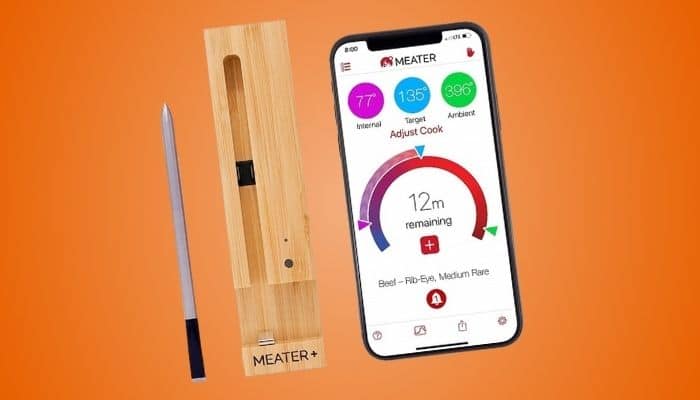 For those with a more limited budget or who don't need as many probes, you have another option. The Meater Plus has all the benefits and features of the premium set but comes with a single probe instead of four. It is typically priced at less than half the cost of the premium version too.
Whether you prefer the premium set or opt for the less-expensive single-probe model, your Meater is a great investment for your grill or smoker. It comes with a 1-year limited warranty and the company provides tech support if you run into connectivity problems.
The main difference between the Meater Plus and the Meater Block is the block acts as a WiFI bridge, so if you want to have Wifi with the Meater Plus you'll need a spare tablet or phone to act as the WiFi bridge.
Pros
✔ Truely Wireless. No wires in the way
✔ Can be used on a rotisserie
✔ Excellent app design & easy to use
Cons
✘ The probe battery cannot be replaced (although it's expected to work for 1000 cooks)
✘ Needs a Smart Phone, Could be seen as a plus
✘ More expensive than other wireless grill thermometers
Manufacturer Specifications
Stainless steel, water resistant, and easy to clean
Over 24 hours of continuous cooking per charge
Bluetooth wireless connection up to 165 ft
Max internal temp: 212°F
ThermoWorks Signals Wireless Thermometer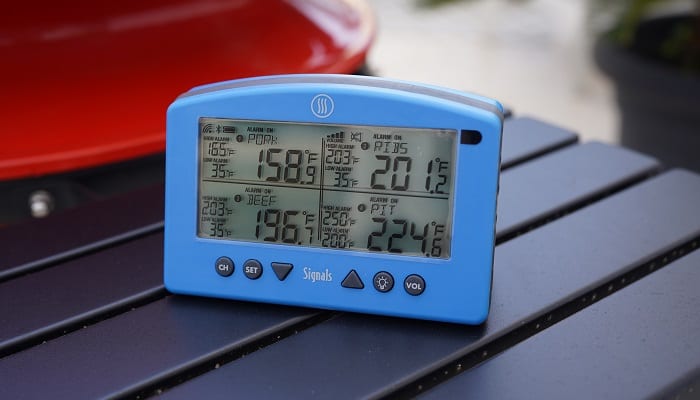 Thermoworks has set out to provide some of the greatest thermometers for a variety of uses because they believe a great thermometer may improve your life. Thermoworks has a high-quality thermometer for you whether you need one for grilling, baking, frying, or sous vide cooking. As almost all TV cooking competition shows provide their competitors with Thermoworks equipment, I'm confident you have already witnessed their thermometers in action.
The huge display screen stands out when compared to other thermometers when using the Thermoworks Signals. This is primarily due to the fact that the Signals is intended for use by professional BBQ teams and chefs, who frequently travel and cannot guarantee internet access and therefore use of the app. In those instances when you need to use the Signals as a standalone thermometer, the huge screen is helpful.
The four probes' simultaneous temperatures, high and low alarms, probe names, whether wireless connections are present, the amount of battery life left, and the levels of the warnings are all visible on the display screen. There aren't many thermometers I can recall using that had the main display screen with this much information.
The main display also has a splashproof design and an IP66 water resistance rating, both of which scream quality. This means that even while the gadget can withstand strong jets of water, it shouldn't be submerged entirely. Therefore, it won't matter if you leave the Signals outside in the rain, but don't dunk them in the kitchen sink to wash.
The Thermoworks Signals is wireless, that much is obvious. But typical of ThermoWorks they have gone above and beyond and provided you with two other types of wireless technology: WiFi and Bluetooth.
The most sophisticated of these two alternatives is WiFi, which enables you to connect to the thermometer from any location with internet connectivity. This feature won't be necessary anyplace in the globe, but it might be necessary if you run to the store or decide to go to the gym during a lengthy, low-and-slow brisket.
If you don't have internet access, Bluetooth is a backup option. It's possible that you wish to take the thermometer camping or to a BBQ competition where access to the internet isn't assured. For whatever need you may have for a backup, Bluetooth is a wonderful choice because all you need to get it operating are your phone and the thermometer.
For those of you who aren't tech-savvy, keep in mind that the Signals thermometer also functions as a standalone thermometer. The majority of the app's functionality is provided via the buttons on the primary display. Therefore, you don't have to own a smartphone or add yet another app to it. The thermometer functions flawlessly without a phone.
The alarms' maximum volume is 90 decibels. It is really loud, but it is difficult to express in the video I prepared to go along with this review because it all relies on the volume setting on your phone or laptop. It was louder than other thermometers I've used and, to be completely honest, louder than I'll ever need. Thankfully, it's simple to lower the alarm's volume. But it's good to know that I have the option of turning up the levels if I am holding a very loud BBQ party.
Before using magnetic holders, you may not have realized how useful they are. Then you find yourself attempting to attach every little device to anything made of metal.
The magnets must be more powerful than typical thermometer magnetic holders because the Thermoworks Signals is a large thermometer in comparison to the competition. To help with this weight, two magnetic strips have been added, going from the top to the bottom of the device. However, you must ensure that both magnets make good contact with the object you are attaching to them; otherwise, you run the risk of it dropping.
For instance, if I try to attach the thermometer to the kettle grill's dome, it will come off since the two magnets don't make good contact. The magnets ought to have been built large enough so a single magnet retains the entire unit, in my opinion.
Any thermometer that has backlighting is a fantastic addition, but as more people use their phone apps to monitor the temperature, its significance is waning. It's still a feature I anticipate, though. Particularly on expensive thermometers.
The backlighting on the Signals is more than adequate for viewing the display data at night. Nothing else needs to be said about this feature. Thermoworks did a fantastic job.
Weber Connect Smart Grilling Hub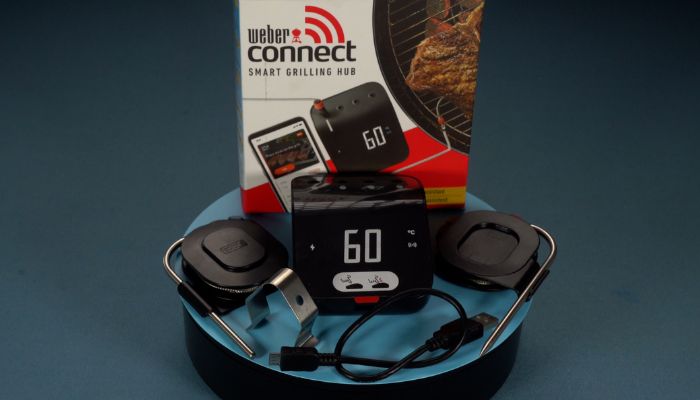 The most well-known brand in outdoor cooking and BBQ has to be Weber; they manufacture high-end gas grills, excellent Kamado grills, cutting-edge pellet smokers, affordable kettle grills, and even electric barbecues. And if you thought their selection of grills was wide, wait till you see their selection of accessories.
But one industry where Weber has had trouble is the thermometer sector. I'll thus put their Weber Connect Smart Grilling Hub to the test to determine whether it is a piece of equipment deserving of the Weber name.
Reading temperatures is essentially the only function you need of a BBQ thermometer. Thermometers with dual probes are made to measure both the internal temperature of the meat and the grill's ambient temperature. The best thermometers thus feature a number of interesting additions to differentiate themselves from the competition. Let's go over these extra features in Weber Connect.
The temperature could be read using probes that were attached to displays on vintage grilling thermometers. A pitmaster no longer needs to stand next to their grill to keep an eye on their cooks thanks to technological advancements that have transformed this display into a transmitter that sends the readings to a receiver.
The most advanced thermometers now allow you to use your phone as a receiver instead of the original receiver that came with these current styles of thermometers. And either WiFi or Bluetooth is typically used to accomplish this. You have both of these choices with the Weber Connect. The more sophisticated of these two alternatives is WiFi, which enables you to keep an eye on your smoker from any location with internet connectivity. However, Bluetooth is always available as a backup if you don't have access; all you need to do is turn on Bluetooth on your phone.
The main display must be considered an important element, not because it is data-rich like the majority of other thermometer displays, but rather because of its minimalism. I've heard a lot of people claim this is a bad feature, however everything you need is in the app, so I think it just depends on if you favor minimalist design or not.
When you rotate the unit, the display turns so that the numbers are always presented in the right direction. The temperature is displayed on the display in large font size for simple reading.
A high alarm or a temperature range alert, which is essentially a high/low alarm, can be set. When the alarm goes off, your thermometer will make a low, double-beeping sound that is neither unpleasant nor difficult to turn off. Missing the alarm would be my biggest concern.
You'll need an app that has a nice interface and presents all the information you need on a single screen because the primary display has minimal information. And you have that on the app's BBQ screen. All four probe temperatures are available here, along with any temperature alerts or timers. Additionally, there are symbols that indicate if Bluetooth or WiFi is active. The transmitter's remaining charge is the final useful bit of information on the main screen; you don't want it to run out of power in the middle of a long grilling session.
The Webber Connect has a magnetic back that makes it easier to secure the thermometer next to your barbecue. The magnet isn't particularly strong; in fact, it feels a touch weaker than other thermometers I've used, but it works as intended and I've never had a problem with it falling off once it's been in place.
To fully utilize Weber's four-probe capabilities, I had to purchase two additional probes, which was one of the things I didn't enjoy having to purchase when I purchased my Weber Connect. I think it's a cheeky request considering that this thermometer is already priced around the higher end for thermometers. Since I anticipate using this thermometer on two different barbecues, I decided to purchase both a meat probe and an additional ambient probe. You should buy two extra meat probes if you only have one grill.
If you love grilling as much as I do, you undoubtedly have a ton of grilling supplies, making it difficult to store them and locate them afterward. Therefore, I always like it when I can buy a storage container with any equipment I acquire. Weber offers lovely housing for the Weber Connect that can accommodate four probes.
The majority of high-quality thermometers have magnetic holders since the manufacturers figure everyone has something metal next to their grill to attach it to. Weber, however, doesn't make this assumption and gives you the choice to purchase a mounting kit that gives you a variety of ways to hold your thermometer.
If the Weber Connect is a wireless grill that interests you read my full review.
Inkbird IBBQ-4BW Wireless Thermometer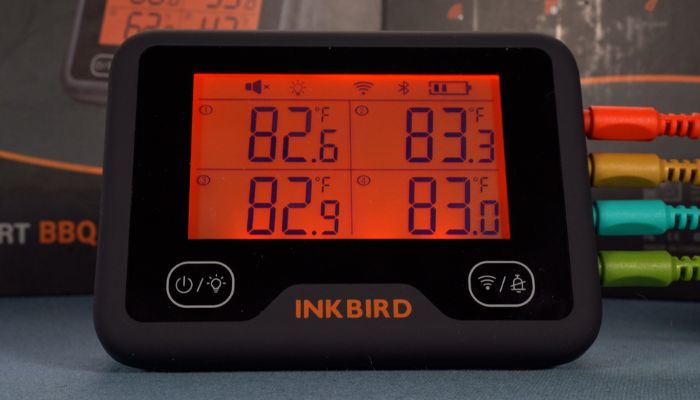 Smart IoT (Internet of Things) company Inkbird offers a number of solutions for the smart home market. Food thermometers are another key area of concentration for Inbird, with a variety of Wifi, Bluetooth, and instant-read devices available.
One of their premium thermometers, the Inkbird IBBQ-4BW, has four probes, Wifi, and Bluetooth. Developed for those who want to up their barbecue game.
You want a thermometer that costs more than $100 to include all the essential features you'd anticipate on a high-end thermometer. So let's go through each of the Inkbird IBBQ-4BW's main features.
The Inkbird's primary body features a generously sized screen that is uncomplicated but provides quick access to all the data you could ever need. You can see the temperatures from all four probes in a huge typeface. You have a small indicator telling you how much power is still in the battery and if you are connected through WiFi or Bluetooth or if the connection has been lost. Additionally, there is a tiny symbol that indicates if you are in ring mode or silent mode. The indicator that indicates whether the backlight is on or off is the sole useless piece of information; you should be able to see this without an icon.
The presence of WiFi in a thermometer is a hallmark of a high-end model. The Inkbird uses 2.4GHz WiFi, and like all WiFi technology, it can be accessed from any location with an internet connection. There's no need to be concerned about being outside of range. Naturally, this is both a huge positive and a disadvantage because some locations where you might want to utilize this thermometer won't have internet access. You won't need to worry this with this thermometer because the Inkbird IBBQ-4BW features Bluetooth as a backup alternative.
If you're in a remote area without access to an internet connection, you can connect to the thermometer using Bluetooth. Although Bluetooth 4.2 is not the most recent version, it does have a range of 50 meters, or 164 feet, in the IBBQ-4BW. This is a sufficient distance for a thermometer, especially given that WiFi is typically an option as well.
I won't lie; my feelings on thermometer alarms in general are mixed. I adore them because they do what they're designed to do, which is to alert you if the temperature of your meat or pit is rising or falling too quickly. However, these alarms generally do their jobs a little too enthusiastically and people become alarmed and believe an emergency has occurred.
Thankfully, this is not the case with the Inkbird. The alarm is set to ring on both your phone and the transmitter, but it is simple to turn this off so that it only rings on your phone, preventing any guests from becoming alarmed. It can also plays a soft melody that isn't too loud or obtrusive.
In addition to the ability to set high and low alarms, Bluetooth connection loss alarms are also available. If you only have Bluetooth, this is quite crucial since you don't want to go out of range without realizing it because the app would then give you outdated information.
Thermometers are pricey pieces of equipment, so any additional features like a hook, kickstand, or magnetic holder that can assist you to keep the device secure are a significant benefit. The magnet strength used by Inkbird appears to be just right. The thermometer won't fall to the ground with just a minor bump, nor are they so strong that a pry bar is required to move them. Overall, Inkbird made a really good attempt.
The backlighting is one of the finer details that elevates a thermometer, along with the magnetic holder. But because the competition will have all these wonderful little things, it is also now expected. There isn't much to say about backlighting because it only serves one purpose on the Inkbird, and it does it well. Using the transmitter or the app, you can turn on the lighting.
If the Inkbird IBBQ-4BW is a wireless thermometer that you'd like to buy, check my full review.
ThermoPro TP930 Wireless Thermometer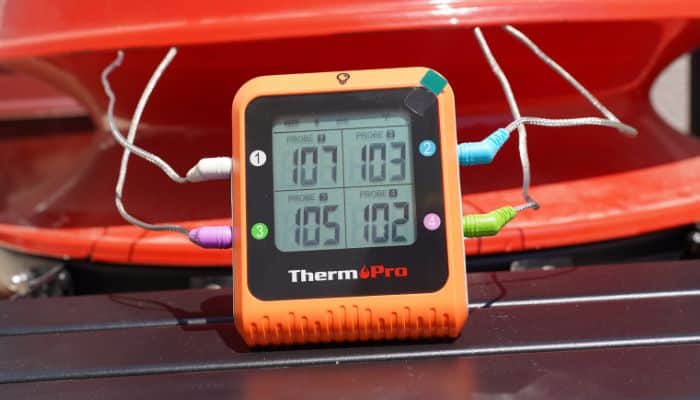 ThermoPro is a business that has been operating for a while and takes pride in not just providing excellent thermometers but also having the most affordable prices. One aspect of their entire line of thermometers that sticks out is undoubtedly their inexpensive pricing, which is also why many frugal grillers adore them.
With so many thermometer manufacturers competing for your business, you have the choice to shop around for the ideal thermometer — the one with all the essential features you require. In order to determine whether this ThermoPro thermometer is what you need, let's look at what it has to offer.
You have a lovely, compact screen from ThermoPro that contains all the essential data you require. Each of the four corner quarters on the screen displays the temperature of the probe whose port is nearest to it. A battery indicator is shown across the top of the screen, followed by some icons indicating Bluetooth connectivity, alarm setting, and backlighting status. Finally, there's a symbol showing whether you have the temperature set in Fahrenheit or Celcius.
A Bluetooth version 5 device, the ThermoPro TP930 is a wireless thermometer. ThermoPro states that this has a 500-foot range, but I believe that this is a conservative estimate given that Bluetooth 5 has an 800-foot range in general.
I have tested in various weather conditions with actual examples of obstructions like walls, trees, and fences, and I have consistently gotten farther than 500 feet. Which is significantly more than you'll likely need unless you live on a ranch.
If you do require a wider range, I advise looking at my reviews of thermometers with WiFi, as these offer a range extending as far as your internet connection. But undoubtedly at a premium price.
For this model, ThermoPro has gone all out with the alarms. The typical Hi/Low alarms that have come to be expected on high-quality thermometers are available to you, but they've gone a step further by including a pre-target temp alarm. In other words, if you have your chicken's goal temperature set to 165, you may set a warning for 155 so you can start preparing things for your chicken.
The Bluetooth disconnect alert is another excellent alarm. Numerous individuals have yelled at their Bluetooth thermometer when they believed they had struck a stall but only lost connectivity, and I have heard this from many people, causing the meat to be overdone.
Additionally, the TP930 offers an alarm function that I don't use but that you might like: the option to assign a different alarm sound to each probe. Thus, based solely on the melody it plays, you should be able to identify which probe's alarm is sounding.
I always check the main display screen of any thermometer app first. Since all you actually need is the temperatures and everything else is a bonus, I want it to clearly display all of the probe temperatures. I'm pleased that the ThermoPro TP930 accomplishes this.
First off, I'm content to simply set this thermometer on its back because it is simple enough to read in this position on both my side shelves and barbecue table. This thermometer does, however, come with a cute tiny kickstand to keep the screen upright and a small hook holder if you want to hang the thermometer off something.
This unit's clear lack of a magnetic holder is a major oversight given how well-liked it is among grillers. If you are used to having a magnetic holder, please be cautious. I almost dropped this thermometer several times when trying to attach it to my table.
If you've done a lot of low-and-slow cooking, you'll be aware that you frequently start a meal when it's still dark outside or complete it after the sun has set. The ability to read the thermometer display in the dark is therefore a huge benefit. A button on the front of the ThermoPro makes it simple to turn on or off the device's attractive illumination.
With certain other thermometers, you can also use an app to toggle on or off the backlighting. It's not a big deal that the ThermoPro lacks this capability. I might as well check the temperatures on the app since I just opened it to switch on the backlighting.
If the ThermoPro TP930 wireless thermometer sounds like the one you want then check my in-depth review.
Great Older Wireless Thermometers
The wireless thermometer marketplace is constantly changing and evolving, which means I'm always trying out new thermometers and updating my list of the top 5 wireless thermometers. But not being one of the best wireless thermometers doesn't mean the thermometer isn't still a great bit of kit. So I have decided to keep the reviews of older models or thermometers that just missed the cut in the list below.
Table Comparing Great Wireless Thermometers
ThermoPro TP20 Digital Wireless Thermometer
Buy on Amazon

ThermoPro TP20 Digital Wireless Thermometer

The ThermoPro wireless thermometer product picture

If you prefer an inexpensive and simple wireless thermometer system then you should take a look at the ThermaPro TP20. This digital thermometer is surprisingly user-friendly and is quite durable to boot.

The ThermaPro comes with a receiver, base station, and two thermometer probes with 36-inch long wires. You won't need to use a smartphone or mess with your WiFi to use it either. Setting up your wireless BBQ thermometer takes a few minutes at most and isn't difficult at all.

Once you've placed your probes and connected them to the base you can clip the receiver to your belt and wander at will. The large digital display keeps track of your current and target temperatures and alerts you when things are ready.

The probes are rated to over 700°F, so you can use one to monitor your meat and the other to watch your grill's temp. Or you can use the ThermaPro for two pieces of meat if you want. The long wires make this unit suitable for use in smokers, grills, and ovens.

The range of this remote meat thermometer is impressive as well. The ThermaPro base can communicate with the receiver from up to 300 feet away! Your range may be more limited if there's a lot of metal around your grill or if you're inside your home, however.

The ThermaPro 2 probe thermometer is covered under a 1-year warranty and the company offers an extended warranty for up to three years. The weak point with this system is the probes (and wires), as they will eventually wear out from the heat. The extended warranty covers them, so it might be a good idea to get the extra coverage.

Manufacturer Specifications

Remote Range: Up to 300 feet
Temperature Range: 32°F to 572°F (0°C to 300°C)
Fahrenheit and Celsius readings
Uses: BBQ, Oven, Smoker, Grill, Meat, Food

Inkbird Wireless Bluetooth BBQ Thermometer
Buy on Amazon

Inkbird Wireless Bluetooth BBQ Thermometer

The Inkbird wireless thermometer product picture

For bigger families or those who want a system with more temperature probes, the Inkbird barbecue thermometer has got you covered. This attractive wireless thermometer is compact and designed for use with a grill or smoker.

The Inkbird is a 6-probe thermometer with 46-inch long wires and clips to stabilize the probes inside the cooker. These probes are safe at temps up to 480°F, so you can use them to monitor food or the temperature inside your grill.

The base station comes in two pieces and is powered by a rechargeable battery.

The base unit has a rotating screen, so you can view the display from any angle. It only displays the reading for a single probe, however, and you have to scroll to see the other readings.

The base fits into a holder with a magnetized backing and numbered slots to keep track of the probes. You can attach the 2-piece base station to the metal sides of your grill or smoker. The base lasts up to 60 hours when fully juiced and works with a common USB charging cable.

You can monitor things from the base station, or you can pair the Inkbird to a smartphone or tablet and use their app to track your food through the remote sensor.

This way you can monitor the readings from multiple probes at the same time without having to scroll between them. It also has a range of up to 150 feet and can send the signal indoors if you're watching a game while your food cooks.

The Inkbird is backed by a 1-year warranty and the company is very receptive to comments and suggestions. This is a tough little wireless thermometer, too.

Manufacturer Specifications

Supports both Celsius and Farenheit
Range: 50 meters / 150ft
Stainless Probe length: About 6inch
Alarm sounds when set temperature is reached

Smartro ST55 Wireless Digital Meat Thermometer
Buy on Amazon

Smartro ST55 Wireless Digital Meat Thermometer

The Smartro wireless thermometer product picture

If you're looking for a budget-priced wireless thermometer that doesn't skimp on features, then the Smartro ST55 is a great option. This is an excellent choice for folks who want to get an idea of what a wireless system can do for their BBQ.

It comes with a backlit digital base station and three color-coded temperature probes.

The probes have a curved section coated in silicon, so they are easy to adjust on the fly without burning your hands or using a pair of grill gloves. The base is easy to see and adjust using the touchscreen controls.

The probes can simultaneously monitor three pieces of meat, or you can use one probe to keep track of your grill's temperature. The base pairs with your smartphone so you can monitor your food from up to 100 feet away. The range is a bit more limited indoors, however.

You can use the Smartro presets or set custom alerts for specific temperatures or cooking times. Their free app makes it easy to follow your meat's progress on your phone as you relax with your guests.

This system is ideal for smaller families and folks who want to use it for multiple types of cooking. It's suitable for grills, smokers and oven cooking, but you can also use it in a deep-fat fryer or to fry a whole turkey. The stainless steel probes are durable and can handle temperatures up to 572°F.

The Smartro comes with a 1-year limited warranty, and the manufacturer also sells extended warranties on their website. Requesting a replacement probe is as easy as sending an email!

Maverick ET732 Meat Thermometer
Buy on Amazon

Maverick ET732 Long Range Meat Thermometer Set

The Maverick wireless thermometer product picture

If you're looking to keep things simple, then the Maverick ET732 remote meat thermometer may be the one for you. This practical system is straightforward and easy to use but is a bit more limited than the other options on our list.

The Maverick comes with a base station, digital receiver and two temperature probes with 36-inch long wires. The wireless thermometer has a long range of up to 300 feet and works inside and out, though you might have a more limited range indoors. The signal works well going through windows but can struggle to communicate through solid walls.

You can use the probes to monitor two pieces of meat simultaneously or use one of the probes to watch your smoker's temperature. The probes are suitable for use in a smoker, grill or oven, but are not waterproof. You shouldn't use this thermometer for deep-fat frying and you'll need to be careful when washing the probes.

It's very easy to set the wireless thermometer up and select your preferred alert temperatures. The Maverick will send out an alarm to the receiver when your food is ready. Or you can use one of the 15 presets programmed into the thermometer instead of choosing your own temperature.

The Maverick is a basic wireless thermometer without a lot of extra functions, but it does a good job and is fairly accurate. The probes are not terribly durable, however, and you should plan on replacing them yearly if you use your thermometer frequently. The company sells replacements, so they are easy to find.

The only downside to this wireless set is the warranty. Unlike the other wireless thermometers in our review, the Maverick only comes with a 90-day limited warranty. Considering the price, you may feel the other options are a better deal.
Why Choose Wireless?
There are a lot of options when buying a wireless thermometer for your outdoor cooking. You can always opt for an inexpensive digital probe, but what if you want to leave the thermometer in place while your meat cooks?
Pitmasters know that you lose heat every time you open your grill or smoker.
This isn't a huge issue if you're searing a steak or grilling some asparagus. But for indirectly cooking a chicken or smoking a brisket, you can really set yourself back by checking on your meat too often. When the temperature inside drops, your meat stops cooking and won't continue until the heat comes back up.
Using a wireless thermometer, you can leave the temperature probe in your meat and wander around while your food cooks. You don't have to babysit the grill, and the base station and/or receiver can keep you updated on your food's status with a quick glance. Your food cooks faster because you won't have to constantly open the door to check it!
Wireless systems are especially useful when you're doing an extended session of meat-smoking or hosting an outdoor party. It can get boring sitting by the smoker for hours while your pork shoulder cooks. Instead, using a wireless thermometer you can get on with your other tasks and not have to worry about your meat overcooking.
Benefits of Using a Wireless Meat Thermometer
Probe stays in the food while the base station keeps you updated on your food's temperature and cooking time. You don't have to poke your food repeatedly.
No need to lift the lid or open the door to check on your meat.
Can monitor your food using the base, or remotely using the receiver or your smartphone.
Never risk overcooking your meat again!
Multiple probes allow you to monitor several items at once.
Can be used with any grill or smoker, and many also work with ovens, air fryers, and even deep-fat fryers.
Why Trust Us
All of our reviews are compiled with a combination of expert input, years of hands-on testing of grilling products, curating the reviews of real-life buyers in a "wisdom of the crowd" system, and of course our own expertise. All the products listed are the ones we would buy if we were looking to purchase a new wireless thermometer.
Methodology Used to Pick the Best Wireless Thermometer
When picking the best wireless thermometer we looked at and then rated each pair on the following criteria. Price, temp probes, monitoring station, app, receiver, alerts, and warranty
What to Look for in a Wireless Thermometer
You have a lot of options when buying a wireless thermometer, but how do you identify the best product for your family?
Obviously, you'll want to consider how you'll use your new set-up. If you plan to make a lot of rotisserie chickens, for instance, then your best bet is the entirely-wireless Meater system. If you are guided by price, you may prefer the budget Smartro digital thermometer.
Wireless thermometers are quite versatile and come in a wide range of styles. Here are the points to consider before you buy a wireless system for your grill or smoker:
Temperature Probes
There are a few things you'll want to think about when it comes to your wireless thermometer's temperature probes.
Number of Probes
How many probes can your thermometer monitor at a time, and how many do you need?
Wireless systems typically come with 2 to 6 probes, and your device can only monitor as many pieces of meat as you have probes. If you use a probe to keep an eye on your grill's temperature, that's one less you have to monitor your meat with.
I think most pitmasters would prefer having at least two probes, and for bigger cuts of meat or BBQ parties, having as many as 6 is surely helpful. Personally, I find I need to frequently watch 4 pieces of meat at a time, so that's my personal minimum.
Dual or Single-Use
Some manufacturers claim their wireless systems have dual-use thermometer probes, but the term doesn't always mean what we think it means.
The Meater probes are truly dual-use, in that each probe can measure the temperature inside the grill at the same time it measures the temperature of the food it's inserted into. A single Meater probe gives you two readings (grill and food).
For most wireless thermometers, the probes can either track the temp of a piece of meat OR the temp inside your grill. A single probe can only track one of these temps at a time. But these systems may still be advertised as having dual-use probes.
Be sure you read the fine print so you know what your system's probes can do, regardless of whether the manufacturer calls them "dual-use."
Probe Wires
Since most grilling thermometers still use wires or cords to connect the probes to the base station, you'll need to be sure those wires are long enough for your needs.
If you often smoke big cuts of meat, you may need some extra cord-length to "crutch" it with the probe inside. Thermometers with longer wires are the best choice to use with smokers and give you extra length to work with when wrapping your meat in foil, butcher paper or parchment.
The probes and wires are also the main points of failure for wireless thermometers. Over time, the heat will damage them and they'll likely need replacing every couple of years. Check and see if your manufacturer sells extras or covers them under warranty.
Monitoring Station and Receiver
All wireless thermometers come with a base station that displays the info from your temperature probes. This station sits next to your grill or smoker, and you can use it to monitor your meat remotely as long as you're able to see the display.
Some systems also come with a separate receiver you can carry around with you if you don't want to be tethered to the grill. These systems are usually very easy to set up and don't require use of your WiFi network. They may have a limited range, however.
Alternatively, many wireless thermometers can also use a smartphone or tablet as the receiver. You can download an app and monitor your meat's temperature right from your phone.
These systems can be a bit more complicated to set-up and usually require access to your WiFi network. You may also need to use several devices linked together if you're trying to cover a larger area or moving between your yard and home.
Custom Alerts
Most wireless thermometers come with built-in programs for cooking different types of meat to various levels of doneness (think rare, medium-rare, etc). These systems will alert you when your meat reaches the desired temperature or cooking time.
Fancier systems often have custom alerts. You may be able to set an alarm when your brisket hits a specific temp or drops below the desired one. Some systems are very flexible and let you set alerts for cooking times, temperatures and even the temperature of your grill or smoker.
Countdown timers can help you keep track of how much longer you have until your food's ready. Some can even factor in the resting time for your food as well.
Power Source
All wireless thermometers require a power source.
Some systems use rechargeable batteries for power. You'll need to connect your base station to your computer or use a USB cable and adapter to juice it up before a BBQ. Fully-charged, these grilling thermometers often get a good 24-60 hours of use before they run low.
The downside to these rechargeable thermometers is they lose their charge capacity over time. Your thermometer might originally hold a charge for 60 hours, but after a few years, it may only be able to handle half of that.
Other system's use disposable batteries for their power, most typically a few AA batteries. The great thing is that they will always have the maximum amount of juice when you add new batteries. But you'll also need to keep batteries on hand and be ready to swap them out mid-barbeque or in the middle of a smoking session.
Price
Wireless thermometers come in a wide range of prices but are usually more expensive than the instant-read variety.
A typical budget set-up is usually in the $30-60 range but premium thermometer sets can easily run over a hundred. You'll get more functionality from a premium set, but a budget option can still get the job done.
Many of the less-expensive sets, like the ThermaPro and Smartro, have a lot of features packed into their small packages and do a great job. They may be a bit more limited than the amazing Meater thermometers but you'll still make some great barbecue with them.
Warranty and Support
Most wireless thermometers come with at least a 1-year limited warranty that covers the base station and temperature probes/wires. You might be able to buy an extended plan, but it may not be worth it for a cheap wireless thermometer.
You'll have to check the details of your system's warranty to see what is covered and for how long. It's always a good idea to check out the company's website and see how easy it is to make a claim or get support if you have a problem.
Top Wireless Thermometers Video
Final Thoughts
It can be hard to choose the best WiFi thermometer. If this is your first time buying a quality thermometer, it might be hard to understand all the different specs, probes, and features.
After a lot of testing, I think the Thermoworks Signals is the best WiFi thermometer for most pitmasters, even though it costs a little bit more than its competitors. If you also want a fan with temperature control, you can add the Billows.
I hope that I've helped you make the right choice. Leave a comment below and tell me how it goes.