It's only a matter of time before all electrical devices become WiFi enabled, it's the future. I can talk to my Amazon Echo requesting the kitchen lights get turned on over a WiFi connection, so it's a bit surprising that big thermometer companies have been a bit slow on the uptake. However, they are moving in the right direction, and here we'll talk about the best WiFi thermometers currently available and soon to be available.
As wifi thermometers are obviously a fast-moving technology, I'll be sure to keep this page updated with any good new releases. But as my eyes and ears can't be everywhere if you know of a great new product, either released or looking for funding via crowdfunding sites, let me know about it in the comments section.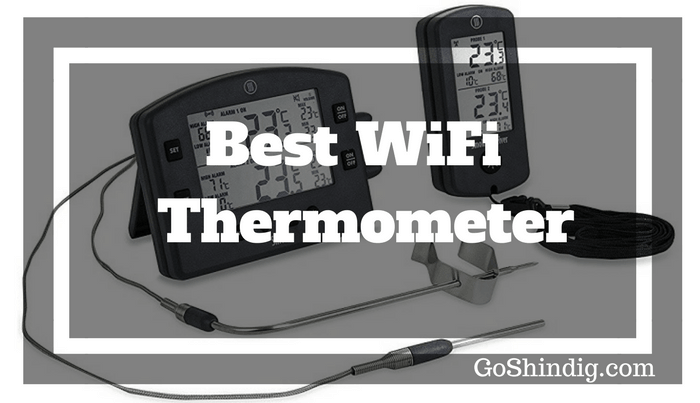 What is a WiFI Thermometer?
A WiFi thermometer is simply a thermometer that uses WiFi technology to transfer data about temperature readings.
A temperature probe that is directly connected to a base station is a standard component of WiFi setups. This station is located close to your grill and shows details about your preferences, alarms, and temperatures. The probe is inserted into the meat, the wire is connected to the base station, the program is selected, and the lid is closed.
The term "WiFi" describes the base station's method of connecting to your smartphone or receiver. When you are away from the BBQ, the base station uses the internet to communicate information to the receiver and keeps you informed of the temperature of your meat.
The latest WiFi thermometers use your smartphone as a receiver by connecting to it via WiFi. You might be able to connect a number of devices via WiFi so you can keep an eye on your meat from both inside and outside of your house. Some systems can also communicate with Google Home and the slick Amazon Alexa!
If you want to use your phone with your WiFi thermometer, you'll probably need to download the manufacturer's app. These solutions may initially need a little more work to set up, but the freedom they offer makes it all worthwhile.
Even while I may have been a little dubious going into my first smoking session with a WiFi thermometer, I came out a passionate advocate for them!
Best WiFi Thermometers
Before giving a rundown on what are the best WiFi thermometers you must be warned these don't come cheap. As they are mostly first-generation products, you'll be paying for all the research and development costs. If money is an issue it'll be best to wait until WiFi thermometers are an established product or get yourself a different type of wireless thermometer.
WiFi thermometers are great for all types of low and slow cooking and come under the category of probe thermometers, but if you are serious about smoking and grilling you should definitely invest in a probe thermometer, an instant read thermometer, and maybe an infrared thermometer. With these three different types of thermometer, there is no type of outdoor cooking you'll not be kitted out for.
Thermoworks Signals WiFi Thermometer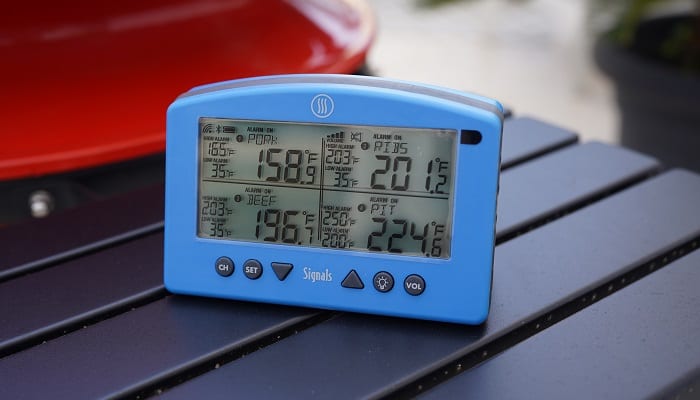 When it comes to thermometer companies with a long history of making quality, cutting-edge thermometers, then Thermoworks is the first company to come to mind. If you watch competition cooking shows then you'll most like have seen several of their products without knowing, as Thermoworks is renowned for being the best, so they are the first port of call for any serious chefs.
But before you close this article and head off to buy the Thermoworks Signals, be warned, that this level of quality and brand trust comes at a very steep price. Of course, if money is no object to you then this is the best Wifi thermometer for you. But if you are like most people reading this article you're a hobby backyard griller and you have limited funds to invest in your hobby. So check out what is good with the Signals and compare it to what the competition offers before making your final decision. As the competitors aren't that far behind.
What is so great about the Thermoworks Signals? Its biggest selling point is accuracy. It promises to be correct to within 1.8F. Which is very little room for error. But on top of this, it has four probes, three for food and one for ambient temps (which means the temp of the surrounding area in the grill). It can be used as a stand-alone thermometer or be connected to an app via either Bluetooth or WiFi. The display screen is rich with information and yet easy to read. And you also have some nice touches like a magnetic back to hold the thermometer in place.
And as if all the mentioned features aren't enough, one of the biggest selling points of the Signals is that it's compatible with Thermoworks Bellows temperature control fan. Yes, this comes at an additional price, but if you look at the price of most temperature control fans, the Signals and Billows combination is actually on the cheaper side of the marketplace. So if a temperature control fan is something you planned on buying, what was an expensive Wifi thermometer is now a reasonably priced temp control fan with a top-of-the-range WiFI thermometer.
If you think the ThermoWorks Signals is the WiFi thermometer for you then have a read of my full review.
Inkbird IBBQ-4BW WiFi Thermometer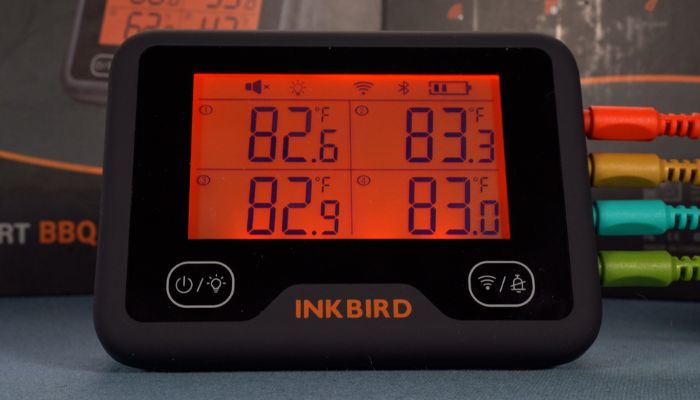 Inkbird is another company that focuses on making great thermometers. From swimming pool thermometers, infrared thermometers, sous vides thermometers, and of course BBQ WiFi thermometers. And the Inkbird IBBQ-4BW is their premium model.
The accuracy of the Inkbird probes is correct to plus or minus 2.7F, which isn't as good as the Thermoworks Signals but is still a very good error range. Even if you get it at its maximum error range of 2.7F this will not ruin any of your cooks. And the good thing about the Inkbird IBBQ-4BW is that if you think one of your probes isn't as accurate as it should be you can recalibrate it by adding or subtracting a degree or two.
Does being approximately half the price as the Signals come with any other downsides other than the small difference in accuracy? No, nothing major. It doesn't have a water resistance rating like the Signals but it does have four quality probes and an easy-to-install app that connects to the transmitter with both WiFi and Bluetooth. The app also has great features like alarms, temp graphs, and cooking presets.
As for the main unit, it has a great build quality, and an informative display screen that has backlighting if needed, and a magnetic back to make placing your thermometer near the grill easier.
I've written an in-depth Inkbird IBBQ-4BW review you should have a look at.
Weber Connect Smart Grilling Hub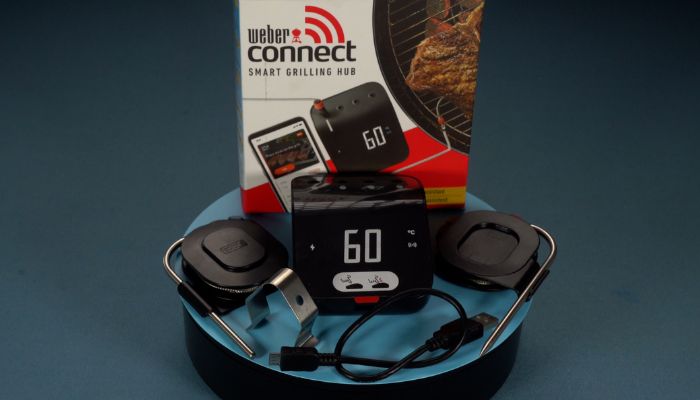 In the world of BBQing, a company that needs no introduction is Weber. Whether it's charcoal grills, gas grills, pellet smokers, or grilling accessories, Weber has it all. So I'm sure it's no surprise they are also involved in the WiFi thermometer marketplace.
Unlike most other top-tier thermometers, Weber doesn't seem to give you their error range and there is no way to test the accuracy across multiple temps at home. However, I did do the boiling water and ice water tests and the reading came to within 2 degrees of what the optimum reading should be. If this is repeated across other temp ranges then it's a very accurate thermometer.
Like the premium offerings of most thermometer companies, Weber also throws in Bluetooth as an option along with WiFi capabilities. This tech also comes wrapped in one of the best-looking units I've seen – sleek and compact. As expected from the biggest and most loved brand in BBQing, there is much to like about this thermometer. But at the price of this unit, there are some things I'd expect to be better.
The app does all the basics well but doesn't offer some advanced features like cooking graphs and its presets are too complicated. I also think the thermometer should come with four probes, as this is what it's capable of handling, instead, it comes with two, and you have to pay more money for the full set.
Have a look at my full review of the Weber Connect thermometer.
Inkbird IBBQ-4T WiFi Thermometer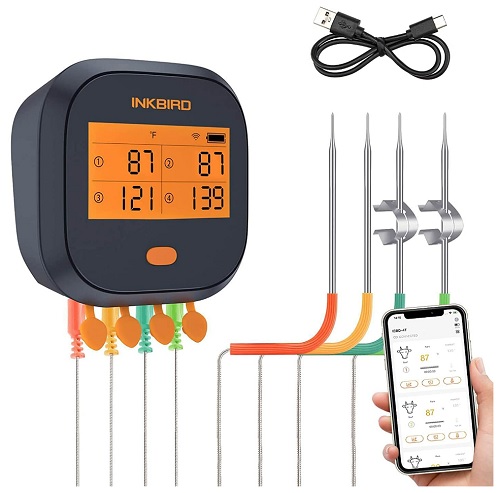 The Inkbird IBBQ-4T is the second thermometer from Inkbird on our best WiFi thermometer list. And in many ways it's very similar to the IBBQ-4BW, so much so I call this its little brother.
What are the differences between the two Inkbirds? The obvious one is the IBBQ-4T is much smaller than the IBBQ-4BW. But the main tech difference, and the reason this unit is 20 bucks cheaper than its big brother, is it doesn't have Bluetooth. This saving is why I recommend the Inkbird IBBQ-4T as the best value-for-money Wifi thermometer.
Perhaps you don't need a WiFi thermometer that is all singing and all dancing. The Inkbird advertises a straightforward four-probe thermometer for a fair price. There isn't a fan temp controller, but why spend more money if you're not going to use one?
The Inkbird has four angled probes. It's convenient that they are color-coded so you can match the probe to the plug. While there are colors in the app that correspond to the probe colors in the package, they are not assigned automatically. There is no indication whatsoever as to which color should go where, therefore you would need to insert the appropriate probe into the appropriate socket in order for them to match. The probes on the Inkbird snap in firmly to create a solid lock, which is a wonderful feature.
Each of the four probes has the ability to operate a countdown timer with a variety of noises. There is a box to set a message on each timer, which is an intriguing feature I haven't seen on many other apps. You can then advise your future self what to do with that knowledge when the timer goes off (spray the meat, start the gravy, etc). Both the base unit and the app trigger an alarm for the timer.
Temperature warnings are also possible for each probe. There are numerous presets available for various types of meat and cooking conditions. Starting with a preset and tweaking it is an option, as it means you can cook the meat to your own taste. While cook chamber settings contain maximum and minimum temperature alerts, meat presets simply offer a maximum temperature alert. The temperature alerts are audible through the app at a manageable volume and come with a message that describes the nature of the alert.
Four covered probe ports, one covered charging port, and one button makes up the base unit's minimal design. All four probes' current temperatures are displayed on the screen. To momentarily switch on a backlight for convenient reading press the button just once. There is a battery gauge, although it's not very sophisticated. It displays LOW at less than 20% battery and FULL at over 20%.
Everything is in the app, but there is no ability to set any notifications on the base station. When a timer or temperature alert rings out, an alarm does sound on the base station, however, it's not very loud. Even with the door open, I could hardly hear the unit outside over the pretty faint music. The base station alert can be muted via the app.
In general, The Inkbird is excellent. It is precise, simple to set up, and simple to operate. I don't really have too many complaints. The only issues are that the alarms are too quiet and the data display isn't great. It is constrained because a thermostatic pit controller is not an option, but if you don't require one, the Inkbird IBBQ-4T is a good buy.
FireBoard 2 Drive
The regular FireBoard 2, the FireBoard 2 Drive, and the FireBoard 2 Pro are the three FireBoard 2 models. Looking at the screen, you can't tell the difference between the three models. However, the changes are visible from the side.
Both the Drive and Pro models support the FireBoard Blower out of the box, so no additional wires are required. The Pro version is unique in that it is the only one that supports three Type K Thermocouple probes rather than six ordinary probes.
Here's an overview of everything for you:
| | | | |
| --- | --- | --- | --- |
| | FireBoard 2 | FireBoard 2 Drive | FireBoard 2 Pro |
| | | | |
| | Buy | Buy | Buy |
| Channels | 6 | 6 | 3 |
| Range | 0 to 572°F | 0 to 572°F | -148 to 1202˚F |
| Probes | 100K Thermistor | 100K Thermistor | Type K Thermocouples |
| Drive | Cable required | Built In | Built In |
I chose to buy the Drive type because I thought the option to utilize up to six probes would be more valuable than the greater temperature range of the Thermocouple probes on the Pro version. I won't require the lower and higher temperature ranges provided by the FireBoard 2 Pro because I'll just be using this temperature controller for smoking BBQ.
The FireBoard 2 Drive includes a USB-C charger, a grill grate clip, a user manual, two food probes for tracking meal temperatures, and one ambient probe for tracking pit temperature. The gadget can handle three extra temperature probes, which can be purchased separately.
It is simple to install and configure the FireBoard 2 Drive on your wireless network. Simply download the FireBoard app to your smart device and use it to sign up for a free FireBoard account. Connect your smart device to the FireBoard 2 Drive through Bluetooth to add it to your new account.
If you wish to use the FireBoard 2 as a temperature controller, you must also purchase the FireBoard Blower. The blower comes with two adaptor plates that can be used to connect the blower to various smokers' lower vents.
Compared to other blowers, this one feels heavier and more solidly built, and it appears it'll last a long time.
FireBoard Labs is constantly developing and improving an already amazing product. The FireBoard 2 Drive is unquestionably one of the best WiFi thermometers on the market. I'm confident you'll enjoy it as much as I do.
Meater Block WiFi Meat Thermometer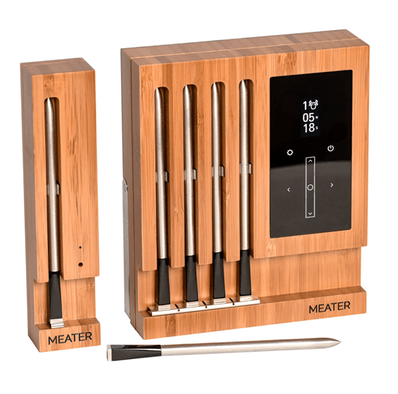 In the market of wireless thermometers, the Meater Block is unquestionably a high-end device. It is the only business, as far as I'm aware, offering a WiFi, no-wires temperature probe. Everyone else uses Bluetooth instead of WiFi or has wires attached to their temperature probes. By incorporating Bluetooth connectivity inside the probe itself, Meater is able to communicate data to the Meater Block, which then transmits it over WiFi. This explains why the probes have a bigger diameter than those of their rivals.
Their wire-free temperature sensors are especially distinctive in that they can measure both the ambient temperature and the internal temperature of the meat. The blunt end measures ambient temperature, while the sharply pointed side measures food temperature. This is a great function because it lets you know exactly what temperature is around your food. Remember that for an accurate reading of the ambient temperature, the probes must be placed in a specific manner.
Four of these dual temperature reading probes are included in the Meater Block, which also serves as a charging station and houses the electronics/controller needed to link to the probes and your phone's WiFi or Bluetooth. Additionally, the Block has a useful built-in stand that raises the Block so it can be placed on any level surface. Be advised that the Meater Plus, the Meater Block's single probe variant, only supports Bluetooth, not WiFi.
The Meater Block is distinguished by a number of important characteristics. These qualities distinguish the Meater Block from its rivals and offer backyard pitmasters some genuine value.
In line with the other leading rivals in this market, Meater offers four temperature probes. With their Signals thermometer, ThermoWorks offers four temperature probes, the Fireboard Drive offers three probes (with the potential for six), and the Weber Connect offers just two probes with the potential for four.
The fact that the Meater probes simultaneously measure two separate temperatures, as I indicated earlier, is what actually sets them apart (The interior temperature of your food and the cooker's ambient temperature). To compete with the Meater Block, you would therefore need 8 probes from the other companies as their probes measure only one temp, either the ambient or internal temp, not both.
I initially thought these wire-free probes were a bit of a gimmick when I first heard about them. Having no wires at all has many benefits though. Many grills and smokers lack a hole for your temperature probes to flow through. If you keep closing your smoker lid over the probe wiring, ultimately you'll have a continuity failure and the probes will need to be replaced. You won't have this issue with the Meater probes.
When utilizing a rotisserie on your grill, wire-free probes provide an additional benefit. On your rotisserie cooks, you'd struggle to use probes with wires. Most people even think this is impossible. I have an article showing you that it is possible, but is complicated and needs extra bits of equipment. Check out the how-to guide for wired thermometers on a rotisserie here.
You will receive a smartphone app to communicate with, much like with any high-end multi-probe WiFi-connected thermometer system. The Meater App is completely functional and covers all the bases, including internal food temperatures, ambient temperatures, estimated cooking times, expected completion times, suggested finishing temperatures for various food types, and recipes.
Even though a built-in charging station is a straightforward addition, it is a really practical and well-thought-out function. The "block" itself doubles as a probe charging station. Your probes can be kept in the indentations in the block. Your probes start charging when you click them into place, completing a circuit. You'll note that the two contact points on the block create electrical contacts with the middle and blunt ends of the probe. The circuit is complete after they are clicked in, and they start charging.
Great WiFi Thermometers
Over time, more and greater thermometers are released. This means my best WiFi thermometer list needs to be constantly updated to keep up with these changes. I've decided, rather than deleted thermometers that drop off the best wifi thermometer list, to keep these thermometers but add them to a different list. The great Wifi thermometers list. Thermometers on this list are still great bits of kit, they are just a little dated, and have just missed don't on being one of the best. If you see these thermometers in the sales or with a good special offer they are still well worth picking up.
Table Comparing Great WiFi Thermometers
Loki WiFi Cooking Thermometer
Buy on Loki

Loki WiFi Cooking Thermometer

Again, the Loki thermometer isn't one I can give an opinion on. It is still currently in development and is only available to buy on pre-order. They have a Kickstarter page with all the information you'll need. And just like with other thermometers, I'll come back to this page and give my feedback on this WiFi thermometer once it becomes available.

Tappecue 4 Probe WiFi BBQ Thermometer
Buy on Amazon

Tappecue 4 Probe WiFi BBQ Thermometer

You don't have to be a big brand name anymore to get into the BBQ and grilling accessories marketplace. In fact, it is becoming more and more common to hear about quality tools from companies I have never heard of before. And the Tappecue is one such device.

The Tappecue thermometer comes with four probes that you can either use for chunks of meat or to measure the grill temperature. Thankfully, the designers were also smart enough to realize that there will be times when the device will be used where WiFi will not be available and so they have incorporated an offline mode.

All in all, the Tappecue thermometer is neck and neck with the Smoke thermometer when it comes to what is the best WiFi thermometer. I'd say the only thing that slightly lets it down is that it feels like it was designed more for indoor use.

The version two model, the one we recommend, is splashproof. This means that it will survive a small rain shower intact, but it shouldn't be kept outside continuously. Of course, this is only a small issue, as most people grill or smoke in good weather, and you can always buy a waterproof box to put the Tappecue in (Tappecue sell their own specially made waterproof box).

Smoke Thermometer with Gateway WiFi Attachment
Buy on Thermoworks

Smoke Thermometer with Gateway WiFi Attachment

If you've read a few of the articles written in this series on the best outdoor cooking thermometers, you'll surely know how highly I think of the Smoke thermometer. The only downside (other than the price tag) was that it wasn't WiFi enabled.

Fortunately, the plan the whole time was to make it a WiFi thermometer. The people that make the Smoke thermometer understood that WiFi comes with its own set of issues, the obvious being that you need to be cooking in an area where you have internet access, which isn't always the case for people that enjoy grilling while camping. Then you have technophobes that would go nowhere near new technology like this.

So Smoke was designed to originally work off radio frequency, which covers most bases, but then have an add-on attachment that transforms the standard thermometer into a WiFi thermometer. Meaning you now have a WiFi thermometer that you can also use while camping and which you can lend to technophobe family and friends. All this simply by adding the Gateway WiFi attachment.
What is the Difference between WiFi and Bluetooth Thermometers?
Meat thermometers have been used for BBQing for a long time, but it has only been recently that wireless technology has been incorporated to make meat thermometers better and more inventive. But what distinguishes a thermometer that makes use of Bluetooth from one that makes use of WiFi technology?
There are three main differences from the user's point of view. The main one is range. Bluetooth has a much shorter range than WiFi. Typically you get 100 to 500 feet of range with Bluetooth. Whereas there is no limit to the range with WiFi thermometers, you just need to be somewhere that you can connect to the internet.
This leads to the second major difference. With a WiFi thermometer, you need access to the internet, whereas this isn't the case with Bluetooth. This means if you'll be cooking in places you'll not have access to the internet then a Bluetooth thermometer will be the better option for you.
Lastly, a difference that is important to most grillers is price. Bluetooth tech is generally a lot cheaper than WiFi, and this is defiantly the case when talking about wireless thermometers. You can get top-quality Bluetooth thermometers for half the price of comparable WiFi thermometers. So you have to ask yourself if the extra range is worth the extra money.
Why Buy a WiFi Thermometer?
When purchasing a WiFi thermometer for your outdoor cooking, you have a number of possibilities. However, what if you want to leave the thermometer in place while your meat cooks?
Every time you open your grill or smoker, heat is lost, as pitmasters are well aware of.
If you're grilling some asparagus or searing a steak, this isn't a big deal. However, if you check on your meat too frequently when indirectly cooking a chicken or smoking a brisket, you might actually hamper your cook. Your meat will stop cooking when the temperature inside lowers and won't resume until the temperature rises again.
With a WiFi thermometer, you can leave the temperature probe in the meat while your dinner cooks and go about your daily business. You don't need to watch over the grill, and the base station and/or receiver can quickly update you on the details of your meal. You won't have to constantly open the lid to check on your food, so it cooks more quickly!
When you're throwing an outdoor party or smoking meat for a lengthy period of time, WiFi devices might be extremely helpful. Sitting by the smoker for hours as your pork shoulder cooks might get monotonous. Instead, you may focus on your other duties without having to worry about your meat overcooking by using a WiFi thermometer.
Benefits of Using a Wireless Meat Thermometer
The base station updates you on the temperature and cooking time of your food while the probe remains inside the food. You don't have to keep poking your food with an instant read thermometer.
You don't need to check on your meat by lifting the lid or opening the door.
Either remotely monitor your food using the receiver or your smartphone, or locally using the base station.
Never again take the chance of overcooking meat!
You can keep an eye on various items at once using multiple probes.
Any grill or smoker may be utilized, and the thermometer may also function with ovens, air fryers, and even deep-fat fryers.
WiFi Thermometer with Temperature Control
A completely different style of WiFi thermometer is one that not only reads temperatures but also allows you to control the temps. These work by using a fan to regulate the oxygen flow to the coals, making them hotter or cooler depending on what you desire.
Given that this style of thermometer has additional functionality, it probably doesn't surprise you that they are also more expensive. They're also less versatile than a standard thermometer as they're normally designed to fit a certain make or style of grill. Read my article on the best temperature control thermometer to get a better idea of this style of WiFi thermometer.
What To Look For When Buying A WiFi Thermometer
When purchasing a WiFi thermometer, you have a lot of alternatives. How do you decide which one is ideal for your family?
Naturally, you should think about how you'll use your new setup. The WiFi Meater system is your best option if, for example, you intend to produce a lot of rotisserie chickens. If cost is your main consideration, you might select the less expensive Inkbird thermometer.
WiFi thermometers are highly adaptable and available in a variety of designs. Before purchasing a WiFi system for your barbecue or smoker, keep the following things in mind:
WiFi
The first question you need to ask before buying a WiFi thermometer is do you need WiFi? Having WiFi in a thermometer is expensive and other options are available. Bluetooth is now at a version where the range will easily cover any home use. So if you never leave your home during cooks then WiFi is overkill for you. And then you have radio frequency models that give you a receiver with your thermometer to carry around with you. Again, radio frequency thermometers have a good range if you plan to stay home during cooks.
The final option, and one that is often overlooked, is to buy a thermometer that isn't wireless at all. Most backyard pitmasters that I know love nothing better than sitting around the grill with family and friends and a few drinks. So in this case you don't need a wireless thermometer, just have a look at the display unit.
Price
So you have decided a WiFi thermometer is the type of thermometer that best suits your needs. Then you have to expect to pay in the range of 80 bucks plus as you have chosen the most expensive type of thermometer.
You have the very top-end thermometer in terms of price in the Signals and Meater, but if you plan to upgrade the Signals with the Bellows its price is more expensive but the value for money becomes greater. And if you do a lot of rotisserie cooking then you'll have to bite the bullet and fork out for the Meater thermometer. These two options will cost you well over $200
The cheapest thermometer on our list is the Inkbird IBBQ-4BW and I'd say this is clearly the winner of the best value WiFi thermometer. If you do find a WiFi thermometer for a lot less than 80 bucks and it's not on sale I'd say you are looking at a unit that has cut too many corners to be worth considering. It'll cost you more in the long run when you have to keep replacing it.
Number of Probes
Generally, you'll see thermometers with two or four probes, with the odd model with either one or six probes. When you are new to grilling you'll often gravitate towards the two probe thermometers, as all you need is one grill grate probe and one meat probe. But often, if you like a two-probe thermometer, the company will make a version very similar thermometer but with four probes, and I'd say this is where the value lies.
For the company, adding a couple of extra probes doesn't double their costs. They don't have to add more WiFi or Bluetooth tech or make big changes to their app. All that is really needed is a couple of extra probes. So often you'll get double the functionality for a 30-50% rise in price. Meaning if you see a time where you'll be cooking more than one chunk of meat on your grill or having a second grill then it's wise to go with the four-probe thermometers.
Single or Dual Reading Probes
Dual reading thermometer probes are claimed by some manufacturers to be included in their wireless systems, however, the word isn't always what we believe it means.
The Meater probes are actually dual-reading in that each one can measure both the temperature of the meal it is inserted into and the temperature inside the grill. So Meater probes provide two readings (grill and food).
The probes on the majority of WiFi thermometers can measure the temperature of a piece of meat OR the temperature within your grill. Only one of these temperatures can be tracked by a single probe at once. However, dual-reading probes may still be advertised for these systems.
Regardless of whether the manufacturer refers to your system's probes as "dual-use," make sure you read the small print to understand what they can perform.
Probe Wires
You must ensure that the wires used by the majority of grilling thermometers to link the probes to the base station are long enough for your needs.
You might need a little more cord length if you frequently smoke large chunks of meat so you can "crutch" it with the probe inside. The ideal thermometers to use with smokers are those with longer wires since they provide you more room to work with when wrapping your meat in foil, butcher paper, or parchment.
For WiFi thermometers, the probes and wires are also common failure areas. They will eventually become damaged by the heat, and they will probably need to be replaced every few years. Verify whether your manufacturer offers extras or provides warranty coverage for them.
Base Stationand & Receiver
A base station that shows the information from your temperature probes is included with every WiFi thermometer. As long as you can see the display, you may use this station, which is placed adjacent to your grill or smoker, to check on your meat from a distance.
If you don't want to be connected to the grill, some older systems also include a portable receiver that you can use. With some thermometers, you don't need to use your WiFi network to set up these systems, which are typically quite simple to operate. However, they will only have a limited range.
Many WiFi thermometers additionally support using a tablet or smartphone as the receiver. You may download an app to your phone and check the temperature of your meat right there.
The installation of these systems can be a little more challenging, as they frequently need to install and update apps. And most WiFi thermometers also come with Bluetooth which you'll normally have to set up along with WiFi.
Accuracy
Think about the precision of the probe. In the end, you want a thermometer that is accurate. No matter how fashionable and attractive it is, if it is not accurate, it won't be of any use. The target accuracy for the majority of respectable models is 2°F or less.
Smartphone App and Features
You should take a closer look and examine what the thermometer has to offer in the way of smart features in the app as they are the primary factors in your decision whether to buy a WiFi thermometer or not.
There are minimum and maximum temperature alerts on almost all models on the market. Take a peek at some of their other noteworthy characteristics.
You might take into account models that, for instance, provide temperature graphs and cooking records. This information will enable you to examine the grill's operation more closely and monitor any problems. Most modern models provide this function and have expanded it to include the option to export the data so you may dig further.
The incorporation of smart home technologies like Amazon Echo is another noteworthy aspect. To make the procedure even simpler and more fun, you can simply ask Alexa to check the temperature of your food.
Special Alerts
Most WiFi thermometers have built-in programs for various levels of doneness for cooking various types of meat (think rare, medium-rare, etc). When your meat reaches the desired temperature or cooking time, these systems will notify you.
Modern thermometers frequently offer personalized alarms. When your ribs reach a certain temperature or fall below the required one, you might be able to set an alert. Some systems allow you to set alerts for cooking periods, temps, and even the temperature of your grill or smoker.
You can use countdown clocks to keep track of how long it will be before your food is ready. Some may even take your food's resting period into account.
Power Source
A power supply is necessary for all wireless thermometers.
Power is provided by rechargeable batteries in several thermometers. To charge your base station before a BBQ, you'll need to connect it to your computer or use a USB connection and converter. These grilling thermometers may often be used for 24 to 60 hours after being fully charged.
The drawback of these rechargeable thermometers is that they gradually lose their ability to hold a charge. After a few years, your thermometer may only be able to withstand half of the initial charge. I also like to have a portable power bank available in case the thermometer needs charging mid-cook.
Other devices run on disposable batteries, most frequently a few AA batteries. The great thing is that when you add new batteries, they will always have the most juice available. However, you'll also need to have extra batteries available so you can change them out mid-barbecue or mid-smoking session.
For WiFi thermometers with temp control fans, you might also need access to mains power. This is obviously a problem for people that like to cook while camping or at the local parks picnic table. So consider where you'll use the WiFi thermometer before making a selection.
The Design and Durability
The quality of the structure and unit design should also be taken into account when choosing a meat thermometer. It is crucial to have a sturdy unit that can withstand common factors found around the grill or kitchen. Although there are several excellent plastic models available, a controller constructed of metal is always preferred.
You could think about the size and shape of the primary unit. It is generally advisable to use a smart meat thermometer with a large screen so you won't have any trouble seeing the temperature.
Look at the user-friendliness of the interface. When you need to make a modification, you will soon become frustrated if it is difficult to utilize.
You might want to think about if the thermometer can be mounted on the wall, has a kickstand, a hook holder, or has a magnetic back. This will enable you to position the thermometer near your grill in the ideal location.
Pay attention to the probes' length as well. Long probe cables will help you protect certain models better because they aren't heat-resistant. The cables on most versions are about 4-6 feet long, which is more than plenty for everyone.
Warranty and Support
The base station and temperature probes/wires should both be covered by a minimum 1-year limited warranty that is included with the majority of WiFi thermometers. Although an extended plan can be available, it might not be worthwhile for an inexpensive WiFi thermometer.
To find out what is covered and for how long, you must review the warranty information for your thermometer. Checking over the company's website to see how simple it is to file a claim or receive support in the event of an issue is always a smart idea.
Final Thoughts
Selecting the ideal WiFi thermometer can be challenging. It might be very challenging to understand all the numerous specs, probes, and features, especially if this is your first setup.
The ThermoWorks Signals is the best WiFi thermometer for the majority of pitmasters, although costing a little bit more than the competitors, in my opinion after extensive testing. Adding the ThermoWorks Billows if you also want a fan with a temperature controller.
I hope I've made it simpler for you to decide correctly. Comment below and let me know how it goes for you.