Each and every year an astonishing amount of BBQ's are sold. And yet for some reason, there's very little in the way of great outdoor BBQ tables that are designed with food preparation in mind. A BBQ prep station is a must for all people that regularly grill in their backyard.
I follow a lot of BBQ and outdoor cooking pages on Facebook and it's a common theme to ask to see other people's cooking area set-ups. Most of these will be DIY jobs or custom-made ones, which is not ideal for everyone. But one BBQ table that constantly crops up, and is the reason I gave it a try, is the Keter BBQ prep station. Here are a couple of posts from users showing off how good the table looks with their BBQ equipment. A Uuni pizza oven on the BBQ table and the table being used as a prep station next to a Kamado Joe.
The Keter BBQ table is by far the best of the ready-made options for outdoor cooking enthusiasts. I'll run through the reasons why it's a great table and give you some ideas of what to look out for when deciding on what prep station best suits your needs.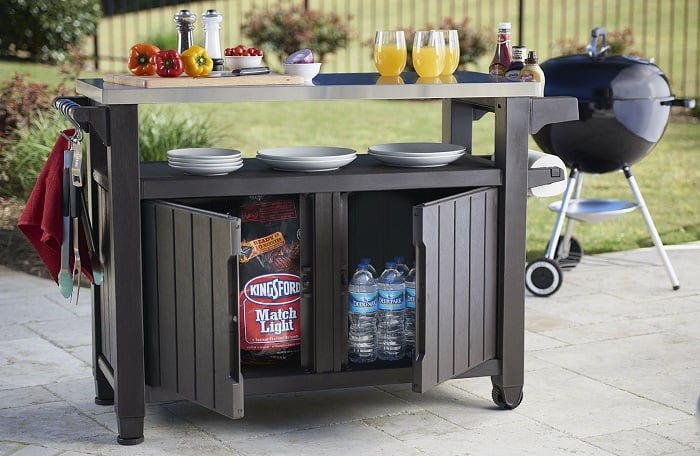 What Is A Grill Table And Why You Need One?
Any grilling or barbecuing space in your backyard would benefit from having a grill table. When cooking or serving food, a grill table offers an elevated surface that puts everything within easy reach.
Additionally, it shields the subsurfaces from spills, messes, and grime that could happen while using the grill. The greatest BBQ tables include ample space for cutting boards, mixing bowls, sauces, and other meal preparation tools, as well as propane tanks for outdoor cooking equipment.
It will be simpler for you to host several visitors at once if all of your tools are in one location. They are therefore perfect for entertaining.
They are ideal for gatherings when there will be several people grilling at once! Grill tables can be utilized in practically any place, including porches, patios, garages, and sheds. They won't harm the floor below and can be placed on any flat surface (and if the table has adjustable legs even uneven surfaces).
Who Could Utilize A BBQ Table?
For those with sizable families, hectic work schedules, and active social life, a grill table is particularly helpful.
Additionally, it's ideal for those who frequently host get-togethers like parties, barbecues, and other events when a lot of food preparation must be done at once. Cooking outside need not be less convenient than cooking indoors.
A barbecue table may greatly simplify your life if you're organizing an outside gathering this summer, especially if you're cooking for many of people! It's especially good if your kitchen is a decent distance from the grill.
The ability to prepare food in advance of an event and cook while on the fly makes grill tables excellent for picnics and tailgating parties. Having a grill table is beneficial for both family picnics and neighborhood barbecues.
Best BBQ Tables
When using your standalone or tabletop barbecue outside, a grill table is a practical accessory. It offers enough room to prepare your ingredients and store other supplies.
You've found the correct website if you've been hunting for the top barbecue tables available. In order to provide you with a wide range of ideas so you may select the product that best suits your needs, I've investigated numerous models with varying designs, sizes, tabletop features, and price points. After examining the toughest materials for outdoor cooking, the Keter Unity XL was my favorite. Its top has 201-grade stainless steel construction and is constructed of weather-resistant resin and polypropylene. Due to its strong construction, the Keter also boasts a high weight capacity of 110 pounds.
I considered the dimensions and ability to fold for simple storage and setup along with the building material. The amount of storage space, including shelves and paper towel holders, offered for grilling items is another aspect that I evaluated. In the mini-reviews below, I've ranked the BBQ grill tables and highlighted each one's standout feature. The features of each product are then thoroughly reviewed, and a thorough buying advice is provided to assist you in making the best choice.
Keter Unity XL Outdoor Table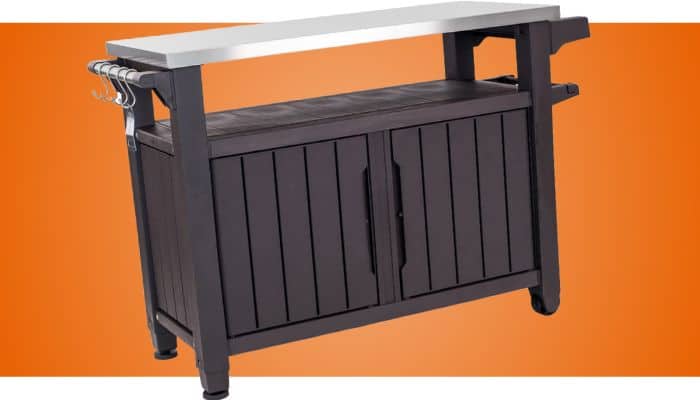 Best-selling Keter Unity XL is offered in espresso brown and dark grey. It can hold 78 gallons in total, including 24 gallons for open storage and 54 gallons for sealed storage. Additionally, there are two sidebars where you can use S-shaped hooks to hold your grilling tools or place paper towels, and a spice rack for rubs and sauces. I enjoy how much storage there is and how the extra storage elements make up for the lack of shelves.
While the rest of the table is built of weather-resistant resin and polypropylene for secure outside use, the countertop is made of 201-grade stainless steel. Additionally, it stops corrosion and peeling.
The inside storage is practical for keeping propane tanks, grilling tools, and utensils, as well as packs of charcoal or briquettes. You might need to use a padlock for added security since the door locks by a plastic piece snapping into the frame.
The 50-pound portable grill table has two wheels for easy moving and adjustable legs to level it on uneven areas. The Keter is made with BBQing in mind, but it's so versatile that it can easily be used for other tasks, like a DIY table for your garage, or a potting table.
Customers laud its durability, adaptability, spaciousness, and numerous storage options. Its maximum weight is 110 pounds.
As great as I have found this table some people have had issues. Some buyers reported receiving defective products, while others said that assembly was difficult, especially when snapping the pieces together. I didn't have any issues putting the table together, but I've assembled lots of grills and several different tables. So unless you are comfortable with assembling furniture, or know someone that is, you might want to look at a different table.
Pros – Things I liked
Many storage options
Robust construction
Flexible use
Portability and leg levelers
Lockable doors to provide interior security
Good weight capacity
Cons – Things I didn't like
A few faulty goods
A challenge to assemble
Keter Unity Portable Outdoor Table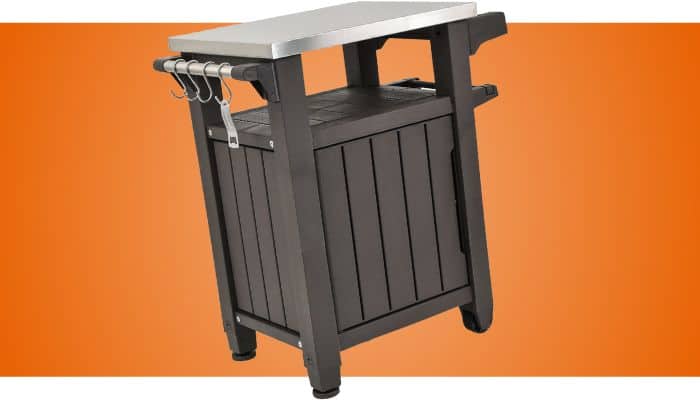 The Keter Unity Portable Outdoor Table is a portable design with wheels for easy movement and adjustable legs to keep it stable on uneven surfaces. It comes in graphite and brown tones.
While the rest of the table is constructed of plastic that looks like wood, the top is made of 201-grade stainless steel. The ideal grill table for patio parties and backyard barbecues as a result of being weather-resistant and simple to clean with a soft cloth.
The barbecue table contains a 28-gallon lockable cabinet section with a capacity for utensils, seasonings, snacks, and beverages in addition to an open storage space with a capacity of 16 gallons. It includes 2 sidebars, a bottle opener, a spice rack, 4 S-hooks, and a paper towel holder.
The sealed storage door contains a clip that you can use to attach a padlock. Owners appreciate the roomy storage, which they use to store propane tanks and other grilling supplies, the sleek design that fits in with other grilling appliances, and the robust stainless construction that allows them to use hot grills and stoves without damaging the tabletop. 66 pounds are supported by the countertop.
Customers' main gripe centers on the challenging assembly because there are many pieces to attach and the pictorial directions aren't very clear. It takes 45 to an hour to complete the operation. Due to inadequate packaging, a number of customers also received their tables with dents.
Pros – Things I liked
Robust and weather-resistant
Extendable legs
Enormous storage for portable table
Wheels for portability
Looks amazing
Cons – Things I didn't like
Difficult to put together
Shoddy packaging
Royal Gourmet Double-Shelf Movable Dining Cart Table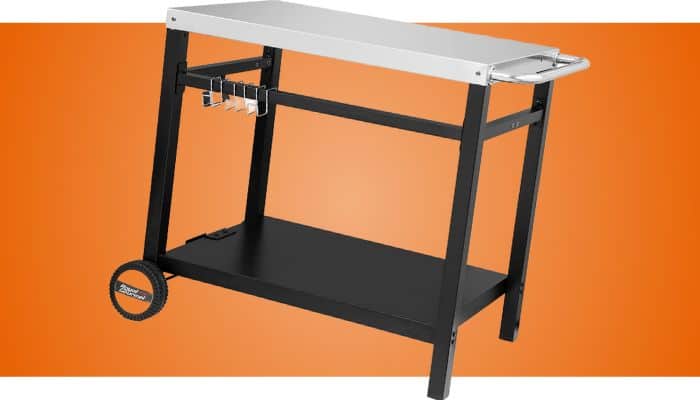 For catering, backyard picnics, BBQs, and other similar events, the Royal Gourmet Double-Shelf Movable Dining Cart Table is a terrific option. This table is designed to be easily portable and versatile enough to support a 20-pound gas cylinder on one side and provide lots of workspace on the other side when used in an outside environment.
This barbecue cart has three multipurpose tool hooks, which also offer plenty of storage for kitchen utensils like tongs and spatulas. Designed to require only a quick wipe down with soapy water after the event, saving you time from having to scrub this kitchen cart from top to bottom. It is a high-priority investment because of the sturdy frame built of high-quality steel, which will be of great use over time.
If you want to host a large family gathering outside your home or if your patio or deck is too small for a traditional dining set, the Royal Gourmet Grill Table is ideal for you. With a surface area of 659 square inches, the tabletop has enough capacity to accommodate all of your plates, bowls, glasses, and utensils without feeling crowded.
Speaking of living more comfortably at home, there are also two shelves underneath the tabletop that you may use as additional storage. A gorgeous hue makes it simple to fit any decor or theme your family desires. Rugged steel frames assure you won't miss those glassware and flatware pieces. This exquisite cantilever functional design has wheels that make scooting around yard parties very effortless.
The table is lightweight and incredibly strong, so you can easily move it as needed all year round.
Pros – Things I liked
Excellent assembly instructions
Hooks for grilling utensils
Mount for propane tank
Wheels for portability
Cons – Things I didn't like
Not as resilient as other tables in this guide
Best Portable BBQ Tables & Prep Stations
When you want something that is portable the first place to look is at camping equipment. Campers have been refining their gear year in and year out to give them lightweight equipment, allowing them to carry more stuff that can be packed into a smaller space. Camping food prep stations are no different. Take a look at these great stations you can use as a portable BBQ table.
Cuisinart CFGS-222 Take Along Grill Stand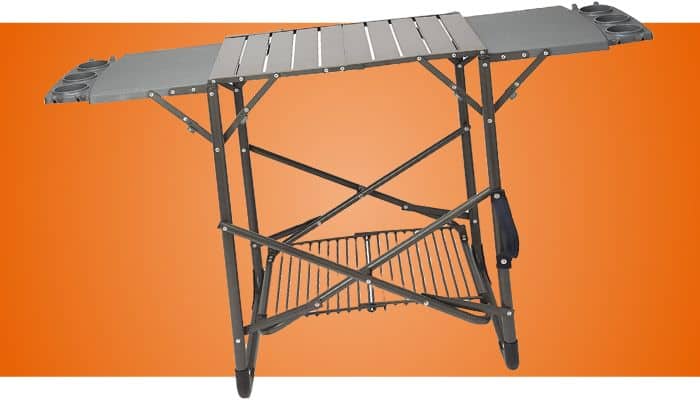 For picnics with loved ones and friends, late-night BBQs, and tailgating, the Cuisinart CFGS-222 Take Along Grill Stand is ideal. While the center table can hold up to 48 lbs and is ideal for placing a small grill, the two side tables have plenty of space for refreshments! includes a bottom shelf for storage to keep your cooler off the ground.
It unfolds quickly and easily without the need for any tools. This grill's foldable shape makes it incredibly simple to move, and it comes with a carrying handle that slots into place for easy transportation.
This sturdy barbecue stand assembles quickly and is very portable for use in locations where grills are allowed. It Features 6 drink holders and 8 handy tool hooks, so you never have to be concerned about where to hang your utensils or spilled drinks again.
For the utmost in hassle-free portability, the lightweight aluminum frame folds into its own big carrying strap. This season, grill outside without burning tables designed for inside use thanks to Cuisinart's Take Along Grill!
Cuisinart® is committed to offering cutting-edge cooking products that make every meal seem like an authentic gourmet experience, inspired by culinary talents from across the globe.
GCI Outdoor Slim-Fold Cook Station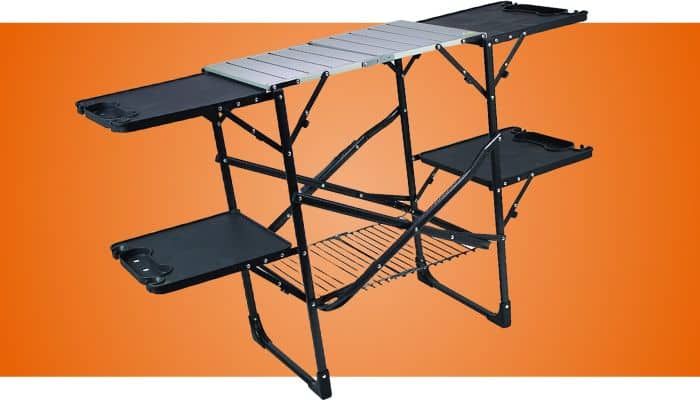 You might not even realize you're using a fold-up camping cook station until you take a closer look at the GCI Outdoor Slim-Fold Cook Station. This cook station grill table is a beast. The all-steel, powder-coated frame of the Slim-Fold makes a remarkably durable table that could last for many years. This table is large and has a ton of open shelf space. The large shelves and fold-up construction make it ideal for beach BBQs, picnics in the woods, or a tailgate party.
The steel, powder-coated X-frame of the Slim-Fold has multiple strong locking bracing. The Slim-Fold does not wobble after it is put up, unlike most camping tables. This table does not yield or sway in any direction after it has been opened and secured. I was quite pleased with this table's unmatched durability, however, I did notice one flaw in its rigid construction. Tables can adapt to uneven ground more successfully when there is some give and sway. On relatively uneven surfaces, the Slim-Fold was unsteady due to its rigid frame.
The Slim-Fold Cook Station is a one-piece design with four fold-out shelves and weighs under 20 pounds. It is one of the tallest cook stations I've looked at, standing at about 32 inches. This device is self-contained and features a straightforward, user-friendly design. It includes a number of useful accessories, such as cup holders, paper towels, and waste bag anchors. It may slide into a car upright or down flat due to its portability and stowed measurements of 35 inches by 21 inches by 4 inches.
I'd describe the Slim-Fold as well-built, durable, big, and easy to use. Despite being a little bit narrow, this table has received nothing but positive reviews for its design and functionality, and I believe it is well worth the price. This table's straightforward, one-piece design offers a number of functions, including hooks for trash bags or utensils, cup holders, stem glass holders, and an anchor for a paper towel roll. Furthermore, this table is made to last.
There are still some issues with the monster-strong steel structure of the Slim-Fold. One of them is added weight, which makes it feel larger to transport and store. The durability of this cook station is something I highly praise, but I did find it a little more challenging to transport from the car to the campsite. I believed that the table's weight alone — rather than its size when stored — was what made it more difficult to transport. Despite its weight, the table has a good handle for carrying and, when folded up, is as thin as most weaker-built tables.
One of the most popular camp tables for grill prep stations is the GCI Outdoor Slim-Fold Cook Station. The simple, fold-up design has more accessories than the eye can initially see. Any on-the-go excursion when cooking is required will be improved by this table. Although exceedingly sturdy and resilient, it is prone to instability on uneven surfaces, which is practically a given at most campgrounds. Because of this, the user must always be aware of how much weight is on each foot and where it is placed on the ground, especially when carrying heavier loads.
Camco Olympian Deluxe Portable Grill Table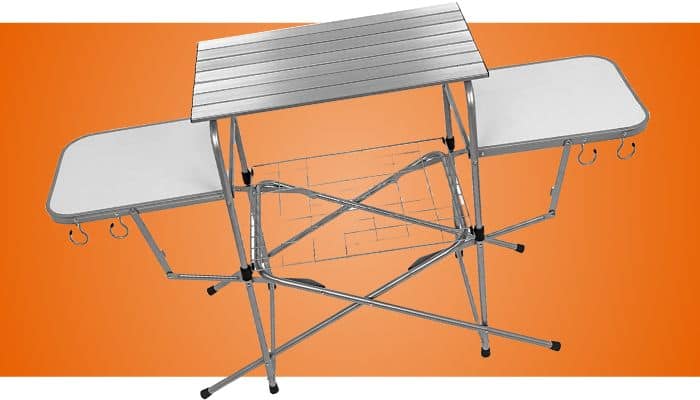 A versatile, multipurpose camping table, describes the Camco Deluxe Grilling Table. Having one of these makes outdoor events like BBQs, tailgates, and camping excursions much easier and more organized.
It is more than capable of handling your cooking and boasts a roomy, portable design. Using this table outdoors will make you feel as though you have your own small kitchen, and the best part is that it only takes a few minutes to put up.
Among other wonderful little details, it has a tabletop, side shelves, a place for your stove or grill, and storage places. As a result, all of your cooking tools, condiments, and other supplies will be kept neat and organized.
There is a good reason why these grilling tables are growing in popularity. Let's see how this table might enhance your BBQ experience in more detail.
This Deluxe Grilling Table is simple to assemble. The grilling table is simply unzipped from its package. Extend the legs and unfold the frame starting in the middle. After positioning the frame where you want it to be, add the metal rack.
The aluminum table top can then be positioned atop the frame, your stove set up, and cooking can begin. You may arrange all of your utensils, condiments, and other items on the rack and shelves. You don't need to fumble through your boxes or bags or go back and forth to the car because everything is there at your fingertips.
It shouldn't come as a surprise to learn how simple it is to pack up. Simply reverse the process you used to put it up. It's been fascinating to observe how grilling tables and other camping gear have changed throughout time.
This product clearly reflects the thought that Camco put into it. There is space for storage and enough prep space for a substantial dinner. It has a strong, durable feel to it and is well-priced.
For those who don't currently utilize any kind of table, this grilling table will transform the way you cook. And if you previously utilized a straightforward homemade table, you'll wonder how you ever got by.
The norm today is to have all of your kitchenware on hand and be able to operate your own small kitchen when camping or picnicking. I wouldn't leave the house without a grilling table or portable kitchen because they are very economical, very convenient, and very helpful.
Consider this table as more than just a camping accessory. It's equally pleasurable to use it in the backyard or to bring it to a friend's house for a picnic or tailgate party.
What to look for in a prep table
If you enjoy grilling, you will appreciate how challenging it can be to balance and arrange all the elements necessary for a good BBQ party, including the grilling accessories such as cups, glasses, plates, and drinks.
As long as your outdoor BBQ table has enough counter and storage space to keep your items arranged and out of the way, you won't have to worry about any of these frequent issues.
With an outside BBQ table, you can concentrate on what's really important: the food and having fun with your friends and family!
Another benefit? The use of barbecue tables can keep your plates and accessories spotless and dry. An outdoor BBQ table might benefit both you and your guests if you are accustomed to hosting large crowds of people for BBQ events. So, these are the qualities of an excellent BBQ table.
Price
The top concern of any buyer's guide should be price. You simply can't buy something you can't afford. The Keter table is in the lower half in terms of price. It's not super cheap, there are definitely cheaper options available, but it's 100% value for what you get and a lot cheaper than many competing BBQ tables.
Stainless Steel Worktop
Stainless steel not only looks good but it's easy to clean and the surface of choice in most commercial kitchens (because it's non-porous and bacteria, mold, and other germs can't build up on the surface). There are many reasons in favor of stainless steel worktops and only a few negatives, which makes this the surface to look for when choosing your BBQ prep table.
Hook Hangers
Most BBQ utensils come with a way of storing them on hook handers. for example, this Weber BBQ tool set has small metal hoops on the handle ends that allow for easy storage, so having hook hangers on your BBQ table is very convenient as you know exactly where they are and they are never in the way.
Adjustable Legs
Unless you have perfectly level decking you'll be happy to have a BBQ table with adjustable legs. We've all been sat at a table when dining outside where one table leg isn't flush with the floor and we're constantly trying to alter the position of the table or stick some paper under the dodgy leg. Well not if you have adjustable legs. This allows you to have a nice firm base to do your prep work from no matter how uneven your backyard floor is.
Wheels
Once I'd picked the best location for my BBQ table I needed to move it very often. But for the times I have moved it, for cleaning or because I needed the extra space, I was glad it had wheels so I could easily move it without risking a back injury.
Under Worktop Shelf
The one feature I have found extremely helpful, and something I didn't know I needed until I had it. A shelf directly under the worktop lets me store plates and cutlery that's out of the way, yet easily accessible as soon as I need them – whether it's for plating up or to help with food preparation.
Spice and Sauce Rack
Not a massive concern, but it is a nice addition to have an area that is dedicated to spices and sauce. Even if it's just so you know where they are if you're in a rush to add that little extra seasoning.
Paper Towel Holder
Little touches like a paper towel holder are why I love the Keter BBQ table. It's so simple yet so convenient, and having lots of attachments for specific items lets you run a clean well-organized BBQ table.
Lockable Storage Cupboard
This isn't a place to store valuables, the lock that can fit on this door will not stop a determined thief. As BBQ shindigs are very family-friendly, the odds are you'll have children running around and it's items you don't wish to get into their hands that can be stored away here. Or just use it as a storage cupboard for charcoal and wood as I do, no locks needed.
Height
When looking for a grill table, this is still another important element to consider because it will determine how simple it is to cook or prepare food on and how high you must stand when cooking. Keep in mind how you will use the table when buying one. Will you use a portable grill on the table, which will add extra height, or a griddle that's not as tall, or something as small as a portable butane stove that only adds a couple of extra inches? Of course, you might not plan to cook on the table at all and just want an area to prepare food. Keep in mind that taller tables require stronger legs.
Sink
If you're washing and chopping lots of vegetables then having a sink might be something that's high on your priorities. This feature normally comes with a drainage pipe you lead to an outside drain and a simple attachment for you to connect a hose for running water.
Lighting
Especially important if you're preparing and cooking in the dark. Some tables come with a pole with a hook at the top for you to attach a light, but you could buy and attach any grill light to the table.
Built in cooler
If cold drinks are a priority then looking for a table with a built-in cooler might be a great option. These will normally come as a small fridge-like unit under the worktop or a sunken countertop cooler.
Bin
A very low-priority feature, but having a bin to use does help keep things nice and tidy. Of course, this doesn't have to be built-in (you can just place any bin by the side), but you will see some tables with this built-in.
Materials
Think carefully about the material you want your barbecue table to be built of before making your purchase. For each material, there are some positive and negative aspects:
Aluminum – Aluminum is a relatively strong, lightweight material. However, they are prone to rust, and heat from the coals will not dissipate very effectively, so after some time, they could become hot to the touch.
Steel – Steel is heavy but rather resilient, and until it is repeatedly exposed to water, there is no chance of rusting. Compared to aluminum tables, they maintain their temperature far better, allowing everyone to use them without risking metal-frame burns or becoming uncomfortably chilly after prolonged contact.
Cast iron – Cast iron is very strong but also very heavy. These tables provide a very high-quality final product and will last for a very long period. However, this also implies that moving them around is rather difficult. It is vital to keep in mind that these tables can rust if not used for an extended period of time, so it is crucial to clean them thoroughly before each usage because salt and sand can damage the surface.
Ease of Moving
Every outdoor BBQ table should have the ability to be moved about easily and stored. The table should have wheels or a collapsible mechanism so that you can simply put it away when not in use because you only need to bring it out when you are having a BBQ.
Make your own BBQ table
The subject of making your own BBQ table could be a series of books, there is just so much to cover, so I'll just cover the main pointers for now. As you are in complete control you now have the freedom to be as creative as you like. You can also go down the budget route and use old pallet creates and reclaimed wood. Or you could go super expensive and use oak wood and buy stainless steel attachments (such as storage, coolers, paper towel bins and trash chutes) with a granite worktop. It's all up to you and your wallet
Modify a BBQ table
If you already own a table or have your eye on a table that you love then there is no reason you can't apply some hacks and modify it to better suit your needs for a BBQ table. I'll run through a few of the features above so you can get an idea of what I mean.
Hook Hangers – you can buy some of these polished stainless steel hooks and attach a metal bar to use them for your utensils.
Paper Towel Holder – get this stainless steel under cabinet paper towel holder and simply screw it to the bottom of your table.
Wheels – buy four cart wheels and attach one to each leg of your table
As you can see, modifying your table to become more like the BBQ station you require is very easy. And these additions require very little DIY skills, so anyone can do it.
Final Thoughts
When grilling your preferred slices of meat, there is never enough room for everything you need. At least until you read my review of the top prep stations and portable barbecue tables, that is. I hope that I've provided you with a wide range of possibilities to improve your BBQ skills. You still have time to impress your friends with a brand-new barbecue setup that will make you the talk of the town.
Even if you don't care what other people think, if you've had trouble getting your grilling and BBQ skills just right, it's possible that you're not allowing yourself enough room to practice. You require a portable grill table for this reason. You won't have as much trouble selecting the best option for you now that I've been able to condense the selections into a few excellent choices.
There is a grill table and prep station for everyone, just as we all have things we like and things we don't like at a BBQ. Some of my selections are basic foldable tables, while others are complete miniature kitchens. There is really no bad decision.