Each and every year an astonishing amount of BBQ's are sold. And yet for some reason there's very little in the way of great outdoor BBQ tables that are designed with food preparation in mind. A BBQ prep station is a must for all people that regularly grill in their backyard.
I follow a lot of BBQ and outdoor cooking pages on Facebook and it's a common theme to ask to see other people's cooking area set-ups. Most of these will be DIY jobs or custom made, which is not ideal for everyone. But one BBQ table that constantly crops up, and is the reason I gave it a try, is the Keter BBQ prep station. Here are a couple of posts from users showing off how good the table looks with their BBQ equipment. A Uuni pizza oven on the BBQ table and the table being used as a prep station next to a Kamado Joe.
The Keter BBQ table is by far the best of the ready-made options for outdoor cooking enthusiasts. I'll run through the reasons why it's a great table and give you some ideas of what to look out for when deciding on what prep station best suits your needs.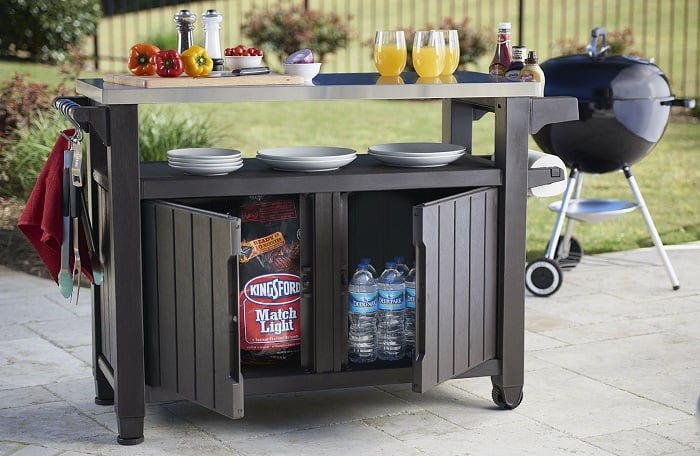 What to look for in a prep table
Price – Top of any list I write about buying a product is always the price. You simply can't buy something you can't afford. The Keter table is in the lower half in terms of price. It's not super cheap, there are definitely cheaper options available, but it's 100% value for what you get and a lot cheaper than many competing BBQ tables.
Stainless Steel Worktop – Stainless steel not only looks good but it's easy to clean and the surface of choice in most commercial kitchens (because it's non-porous and bacteria, mold and other germs can't build-up on the surface). There are many reasons in favor of stainless steel worktops and only a few negatives, which makes this the surface to look for when choosing your BBQ prep table.
Hook Hangers – Most BBQ utensils come with a way of storing them on hook handers. for example, this Weber BBQ tool set has small metal hoops on the handle ends that allow for easy storage, so having hook hangers on your BBQ table is very convenient as you know exactly where they are and they are never in the way.
Adjustable Legs – Unless you have perfectly level decking you'll be happy to have a BBQ table with adjustable legs. We've all been sat at a table when dining outside where one table leg isn't flush with the floor and we're constantly trying to alter the position of the table or stick some paper under the dodgy leg. Well not if you have adjustable legs. This allows you to have a nice firm base to do your prep work from no matter how uneven you backyard floor is.
Wheels – Once I'd picked the best location for my BBQ table I have needed to move it very often. But for the times I have moved it, for cleaning or because I needed the extra space, I was glad it had wheels so I could easily move it without risking a back injury.
Under Worktop Shelf – The one feature I have found extremely helpful, and something I didn't know I needed until I had it. A shelf directly under the worktop lets me store plates and cutlery that's out of the way, yet easily accessible as soon as I need them – whether it's for plating up or to help with food preparation.
Spice and Sauce Rack – Not a massive concern, but it is a nice addition to have an area that is dedicated to spices and sauce. Even if it's just so you know where they are if you're in a rush to add that little extra seasoning.
Paper Towel Holder – Little touches like a paper towel holder is why I love the Keter BBQ table. It's so simple yet so convenient, and having lots of attachments for specific items lets you run a clean well-organized BBQ table.
Lockable Storage Cupboard – This isn't a place to store valuables, the lock that can fit on this door will not stop a determined thief. As BBQ shindigs are very family friendly, the odds are you'll have children running around and it's items you don't wish to get into their hands that can be stored away here. Or just use it as a storage cupboard for charcoal and wood like I do, no locks needed.
All these great features that you never knew you needed, in one amazing table. And to top it off, Keter also make a small version that's very popular with people with Uuni or Rockbox pizza ovens or people with small table top grills. Although I highly recommend one of these tables, it's not to everyone's fancy, but do look for as many of these features as you can.
Buy the Small Keter from Amazon
Other features people look for in a BBQ prep station
Sink – If you're washing and chopping lots of vegetables then having a sink might be something that's high on your priorities. This feature normally comes with a drainage pipe you lead to an outside drain and a simple attachment for you to connect a hose for running water.
Lighting – Especially important if you're preparing and cooking in the dark. Some tables come with a pole with a hook at the top for you to attach a light, but you could buy and attach any grill light to the table.
Built in cooler – If cold drinks are a priority then looking for a table with a built in cooler might be a great option. These will normally come as a small fridge-like unit under the worktop or a sunken counter top cooler.
Bin – A very low priority feature, but having a bin to use does help keep things nice and tidy. Of course, this doesn't have to be built-in (you can just place any bin by the side), but you will see some tables with this built-in.
As already mentioned in my opening paragraph, tables designed especially for BBQ food preparation aren't as common as they should be. I've given you my top recommendation and features to look out for, but let's now look at some other options. Below I'll talk about making your own table, buying a standard table and then making modifications and the best portable tables (normally designed for campers). But first here is a list of other BBQ tables that are ready-made. For some of the tables you have to think outside the box. For example, a few of the tables are actually potting benches, but also have many of the features I have listed above and would therefore make good BBQ stations.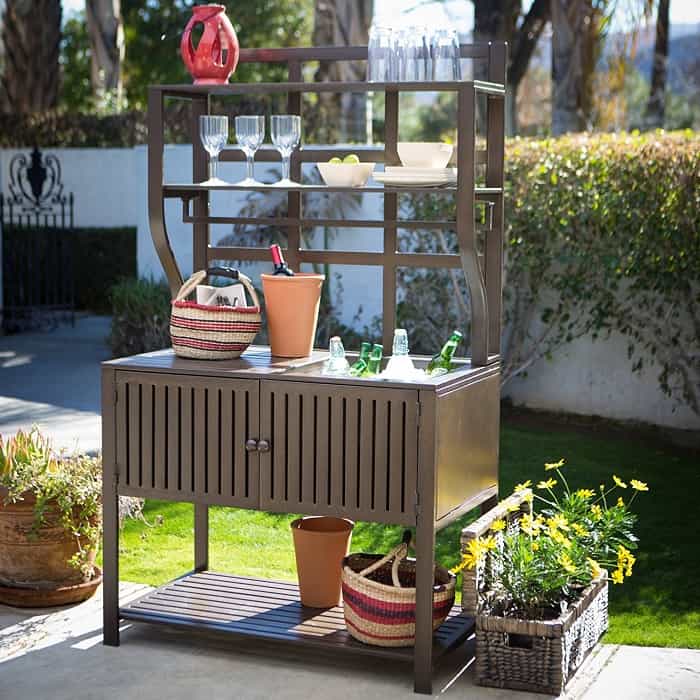 Below are 10 nice BBQ table options, the list isn't in order and I have tried to demonstrate a wide variety of styles, features and prices in order to give you an idea of what is available.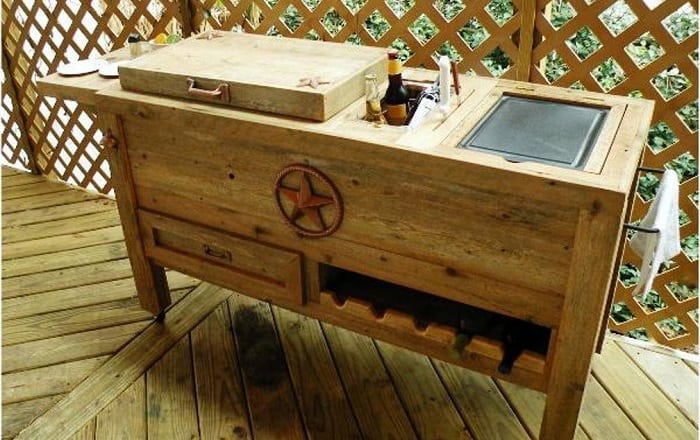 Make your own BBQ table
The subject of making your own BBQ table could be a series of books, there is just so much to cover, so I'll just cover the main pointers for now. As you are in complete control you now have the freedom to be as creative as you like. You can also go down the budget route and use old pallet creates and reclaimed wood. Or you could go super expensive and use oak wood and buy stainless steel attachments (such as storage, coolers, paper towel bins and trash chutes) with a granite worktop. It's all up to you and your wallet
Modify a BBQ table
If you already own a table or have your eye on a table that you love then there is no reason you can't apply some hacks and modify it to better suit your needs for a BBQ table. I'll run through a few of the features above so you can get an idea of what I mean.
Hook Hangers – you can buy some of these polished stainless steel hooks and attach a metal bar to use them for your utensils.
Paper Towel Holder – get this stainless steel under cabinet paper towel holder and simply screw it to the bottom of your table.
Wheels – buy four cart wheels and attach one to each leg of your table
As you can see, modifying your table to become more like the BBQ station you require is very easy. And these additions require very little DIY skills, so anyone can do it.
Portable BBQ prep stations
When you want something that is portable the first place to look is at camping equipment. Campers have been refining their gear year in year out to give them lightweight equipment, allowing them to carry more stuff which can be packed into a smaller space. Camping food prep stations are no different. Take a look at these five great stations you can use as a portable BBQ table.