If you are looking for the best smoker thermometer, look no further. We have researched the best smoker thermometers 2019 available and can tell you which are useful and reliable.
If you invest in a high-quality smoker and intend to rely on the built-in thermometer, you will soon discover that you have made a terrible mistake. Having an accurate thermometer is critical to cooking tender, juicy food that is safe to eat. Unfortunately, many manufacturers skimp on the quality of thermometer or place it in an inaccurate location.
We have compiled a comprehensive Buyer's Guide so that you will know what to look for while shopping. You are sure to find the best smoker thermometer for you and avoid a lot of bad barbeque blunders.
Why should you buy a thermometer for your smoker?
Like we said before, built in thermometers tend to be very inaccurate. You just can't trust them! Some people might also say you can tell "just by looking at it" or by poking and prodding the meat with your hands. This is inaccurate! Unless you really want overcooked/undercooked food, you are going to need an external thermometer.
The built-in thermometers will give you a reading of the air temperature around your food, but what you need is a reading of the food itself. The only way you are going to get that is with another thermometer.
A smoker thermometer can tell you an accurate reading of the temperature inside your meat, ensuring that it cooks to perfection. Digital thermometers, in particular, are much quicker and more accurate than the more familiar and common dial thermometers. Some even take as little as one second to provide an accurate reading of the meat's temperature.
Best Smoker Thermometers
There are a wide variety of smoker thermometers available on the market today. Each of them has its own perks, so we have done plenty of research to tell you which are among the best of the best.
ThermoWorks Signals Smoker Thermometer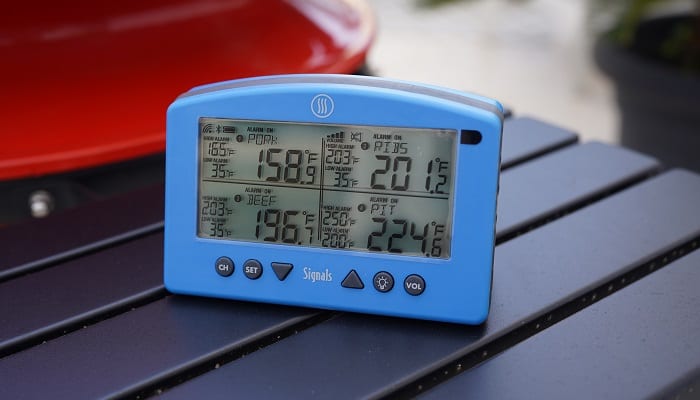 Thermoworks manufactures high-quality thermometers for a wide variety of uses because of its firm belief that a good thermometer may improve people's lives. Thermoworks has high-quality thermometers for every cooking method imaginable, including but not limited to barbecuing, grilling, baking, frying, and sous viding. You've probably seen one of their thermometers in action on one of the many cooking competition shows on television without even realizing it.
When comparing the Thermoworks Signals to other thermometers, the huge screen is a defining characteristic. The primary reason for this is that the Signals is aimed at professional BBQ teams and professional chefs, many of whom work in mobile environments where consistent connectivity to the internet is not always available. When you need to use the Signals as a standalone thermometer, with no wireless connection, the huge display will come in handy.
All four probe temperatures can be viewed at once on the screen alongside their respective high and low alarms, probe names, wireless status, remaining battery life, and alert volumes. Other than this thermometer, I haven't used a thermometer that provides as much data as this one does right on the primary screen.
The main display is splashproof, with an IP66 designation, which is another indicator of its high quality. This implies it can withstand high-velocity water jets, but not be submerged in water entirely. The Signals can therefore be safely left outside in wet weather.
No one would be surprised to learn that the Thermoworks Signals is equipped with wireless capabilities. They have provided you with not one but two forms of wireless technology in the form of WiFi and Bluetooth.
Between the two choices, WiFi is the most cutting-edge because it allows you to access the thermometer from any location with an internet connection. This isn't a feature you'll use often, but it could come in handy if you want to run errands while the meat is cooking, like going grocery shopping or working out in the middle of a low & slow slab of ribs.
If you are in an area without access to the internet, you can always fall back on Bluetooth. You can't always count on having access to the internet during events like barbecue competitions or camping trips, where you might want to bring the thermometer along. Anytime you need a backup, the Bluetooth thermometer is an excellent option because it only requires your phone and the thermometer to get up and running.
Keep in mind that the Signals thermometer can be used independently for those of you who aren't tech-literate. Most of the app's features are accessible via the primary screen's buttons. There's no requirement to use a smartphone or download yet another app if you don't want to. Even without cell service, this thermometer gives accurate readings.
Maximum alarm decibel level is 90. The accompanying video I made has a hard time conveying how loud it actually is because it depends on how loud you have your phone or laptop turned up. Extremely audible, more so than any other thermometer I've ever used and, to be perfectly honest, more so than I'll ever need. The alarm's volume may be easily adjusted, which is a huge relief. Though knowing I can crank up the level is reassuring, especially if I plan on hosting a particularly boisterous BBQ party.
You won't understand how much you need magnetic holders until you try them. Then you realize you what to secure all of your portable electronics to any available metal surfaces.
When compared to similar products, the Thermoworks Signals is on the larger side, so the magnets will need to be robust. To counteract this, two magnetic strips have been installed vertically across the unit. However, you must ensure that both magnets have good contact with whatever you are putting it to, or else it may fall.
For instance, if I try to affix the thermometer to the dome of a kettle grill, it won't stay put since the magnets on either end aren't strong enough. The magnets should have been larger so that just one could hold the whole thing.
The convenience of checking the temperature using a mobile app means that a thermometer's illumination is no longer as necessary as it once was. Nonetheless, it's something I anticipate having. particularly on more expensive models of thermometers.
The Signals has adequate illumination for reading the screen information in low light. With regard to its function, not much else can be said. The work done by Thermoworks is excellent.
Before deciding if the ThermoWorks Signals is for you have a read of my full review.
Weber Connect Smart Grilling Hub Thermometer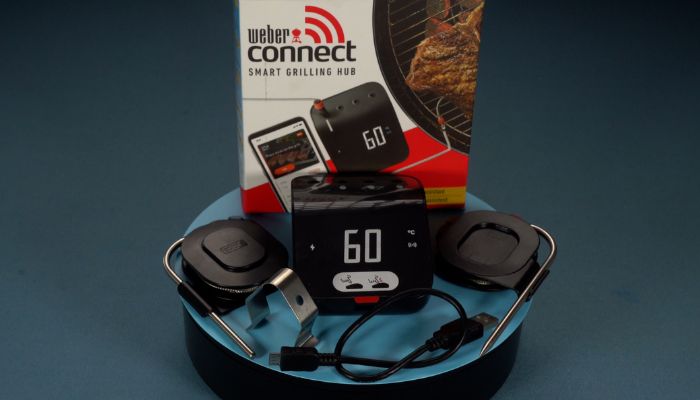 Weber has to be the most well-known brand in the world of outdoor grilling and barbecuing since they produce everything from premium gas grills to high-end Kamado-style barbecues to cutting-edge pellet smokers to affordable kettle grills and even electric grills. If you think their selection of barbecues is vast, wait till you see their selection of complementary items.
But one field in which Weber has had trouble competing is the thermometer business. As such, I've decided to put their Weber Connect Smart Grilling Hub to the test to see if it's a quality piece of equipment worthy of the Weber brand.
All a barbecue thermometer needs to do is read temperatures. The meat's interior temperature and the grill's ambient temperature can both be read with a dual-probe thermometer. The best thermometers, in order to differentiate themselves from the competition, provide numerous convenient additions. Let's go through Weber Connect's supplementary features.
Traditional grilling thermometers used probes that were wired to a screen. Thanks to technological advancements, a pitmaster no longer needs to stand next to their grill in order to keep an eye on their cooks, since this display can now act as a transmitter and send the data to a receiver.
While the earliest versions of these digital thermometers required a separate receiver, the most cutting-edge models now allow you to use your smartphone as a receiver. And Bluetooth or wireless Internet access is typically used to do this. Both of these features are included in the Weber Connect. WiFi is the superior choice because it allows you to keep tabs on your smoker from any location with an internet connection. However, turning on Bluetooth on your phone is a failsafe in case you don't have internet access.
The primary display must be mentioned as an important aspect of the Weber, but because it lacks information like other thermometer displays. Many have complained about this, but I suppose it's personal preference; the app has everything you could possibly want so the main display having information is becoming less important.
The display's large typeface makes it simple to see the temperature, and the screen itself rotates when you spin the device to ensure that the numbers are always displayed correctly.
An equivalent high/low alarm can be set in the form of a temperature range alarm. When the alarm goes off, it makes a soft double beep that may be easily muted. The alarm being missed is my primary concern as it doesn't stand out enough.
Since the primary screen is so spare, you'll need a program with a fantastic user interface that displays all the relevant data in a compact format. And you've got that on the app's grilling menu. Access the temperatures from all four probes, as well as set or adjust alarms and timers. Also, you can see at a glance if you're linked to WiFi or Bluetooth. The remaining battery life of the transmitter is also displayed on this screen, as you probably don't want the device to die in the middle of a meal being cooked.
The Webber Connect's magnetic back makes it easy to keep the thermometer within easy reach next to your barbecue without worrying about it falling over. The magnet isn't incredibly powerful; in fact, it seems a little weaker than magnets on other thermometers I've used. However, it serves its intended job, and I've never had it come loose after being inserted.
Among the things I didn't like about purchasing my Weber Connect was the requirement to purchase two additional probes in order to take use of Weber's four-probe capability. Since this thermometer is already more expensive than average, I find this to be an unreasonable request. I got an extra ambient probe in addition to the meat probe because I expect to use this thermometer with two of my barbecues at the same time. Two additional meat probes are recommended if you only have a single grill.
If you're as obsessed with grilling as I am, you undoubtedly have a ton of grilling equipment, and finding what you need has become a major hassle. As a result, I appreciate it when the equipment I buy also comes with a carrying case. In addition, the Weber Connect can be purchased with a sleek casing that offers enough for four sensors.
Manufacturers of high-quality thermometers typically include magnetic holders with their products, perhaps because most grills have nearby metal surfaces. However, Weber doesn't take this for granted and provides an optional mounting kit that has multiple options for securing the thermometer.
ThermoPro TP930 Smoker Thermometer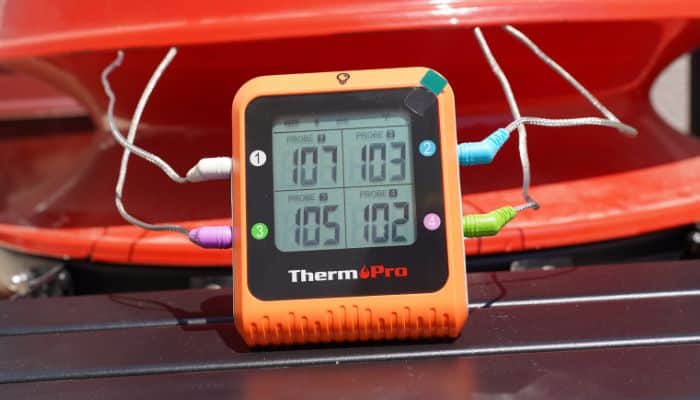 ThermoPro has been in business for a while and boasts both the best thermometers and the lowest prices in the industry. Many thrifty grillers swear by their thermometers because of their inexpensive pricing, which is a standout feature across their entire line.
Now that there are numerous manufacturers to choose from, you may take your time in finding the precise thermometer that meets your needs. Let's have a look at the features of this ThermoPro thermometer and see whether it meets your needs.
ThermoPro has provided you with a compact screen that displays all the essential data you require. The temperature of the probe whose port is nearest to each corner of the screen can be seen in that corner's individual quarter. The battery life indicator, Bluetooth status, alarm status, and backlight status are all displayed as icons at the top of the screen. Finally, a sign indicating whether the temperature is in Fahrenheit or Celsius.
Wireless thermometer ThermoPro TP930 features Bluetooth 5 connectivity. ThermoPro says you'll have a range of 500 feet, but I suspect that's an underestimate; Bluetooth 5 is rated for an even greater distance, 800 feet.
Over 500 feet has consistently been achieved in my tests, which I have conducted in a variety of environmental situations and with real-world instances of objects such as walls, trees, and fences that can cause interference. Which is way more than you'll need unless you're living on a ranch.
Check out my reviews of WiFi-enabled thermometers if you're in the market for a longer-range device. However, this comes at an additional expense.
For this model, ThermoPro spared no expense on alarms. In addition to the typical Hi/Low alerts seen on all good thermometers, they have also included a pre-target temperature alarm. It's possible to set an alert for 155 degrees Fahrenheit if your desired chicken temperature is 165 degrees Fahrenheit.
A Bluetooth disconnect alarm is another useful alert. I can't tell you how many times I've heard someone get angry at their Bluetooth thermometer, convinced that it had stalled when in reality it had simply lost connection. Causing the meat to be overdone.
The TP930 also allows you to assign a unique alarm tone to each probe, which is a feature I don't find useful but which you might. To put it another way, the distinctive tune played by each probe's alarm should make it easy to identify which one is sounding.
A thermometer app's primary screen is the first place I glance. All you need to know are the probe temperatures, thus I'd want to see that shown plainly. The ThermoPro TP930 satisfies my needs in this regard.
First of all, I don't mind laying this thermometer on its back on my side shelf or BBQ table; I can still see it just fine that way. This thermometer has a small kickstand in case you need it to stay upright, and a hook holder in case you'd rather hang it up.
Since this feature is rapidly gaining in popularity among barbecue chefs, a magnetic holder would seem like a necessary addition. A number of times I almost dropped this thermometer trying to stick it to my table, so be careful if you're used to a magnetic holder as the TP930 doesn't have one.
Those who are familiar with low and slow cooking know that the process typically begins when it is still dark outside or continues until after the sun has set. So, it's a great benefit that the thermometer's display can be read in the dark. The ThermoPro's illumination is great, and it can be toggled on and off with a button on the device's face.
The lights can be toggled on and off with an app on certain other thermometers as well. The ThermoPro doesn't have this function, but it's not a deal breaker. It would make sense to check the temperatures in the app while I am already there turning on the backlighting.
I'd recommend reading my full review of the ThermoPro TP930 thermometer if this mini-review piques your interest.
Inkbird IBBQ-4BW Smoker Thermometer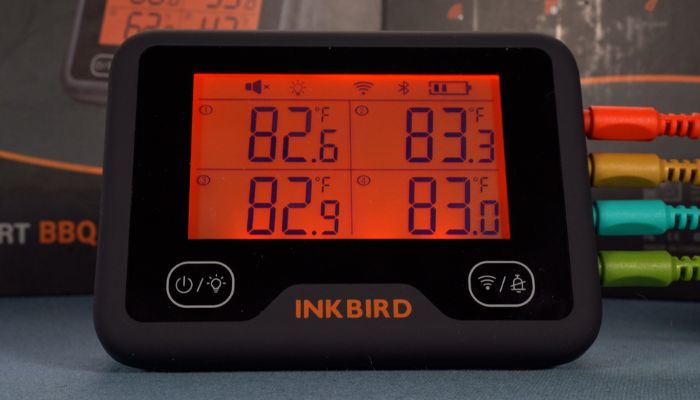 Inkbird is a high-tech Internet of Things (IoT) company that manufactures a variety of products for the connected home. As for Inbird, they have a variety of food thermometers available, including those that are wireless (through WiFi or Bluetooth) and instant-read.
One of their high-end thermometers, the Inkbird IBBQ-4BW, features four probes, WiFi, and Bluetooth. Made for those who want to take their grilling skills to the next level.
If you're going to spend more than $100 on a thermometer, you want it to include all the bells and whistles you'd get on a typical model that costs that much. So, let's have a look at the Inkbird IBBQ-4BW and see what it has to offer.
The Inkbird's primary body features a nice-looking screen that's large enough to see and contains a simple interface that provides all the information you'd need. It's easy to read the temperatures from each of the four probes. How much time is left until the battery dies. If you're connected through WiFi or Bluetooth, or if your connection has dropped. You can detect if you are in silent mode or ring mode by looking at a little icon. The backlight icon is the sole pointless piece of data, as you should be able to detect if the backlight is on or off without the aid of an icon.
If a thermometer boasts WiFi connectivity, you know you're looking at a high-end model. The Inkbird employs 2.4GHz WiFi, which, like all WiFi technologies, enables connections from any location in the world so long as you have an active data connection. You may relax knowing that you will never be too far from a signal. This is both a huge benefit and a drawback, as there may be areas you wish to use this thermometer where there is no access to the internet. The Inkbird IBBQ-4BW has you covered with a fallback choice of Bluetooth, so there's no need to worry.
When you're far from civilization and can't access the internet, you can still connect to the thermometer by using Bluetooth. However, the IBBQ-4BW's Bluetooth 4.2 technology isn't the most up-to-date version, but it does offer a range of 50 meters (or 164 feet). Because WiFi connectivity is typically also an option, this is more than enough range for a thermometer.
To tell the truth, my feelings toward alarms on thermometers are mixed. Why do I like them? Because they do their job and sound an alarm if the temperature of your meat or pit gets too high or low. However, these alerts tend to be overzealous in the pursuit of their intended purpose. And because they are so loud, people naturally assume a catastrophe has occurred.
Fortunately, this isn't the situation on the Inkbird. The alarm is programmed to sound off on both your phone and the transmitter, but this can be easily silenced so that it only rings on your phone; this will ensure that your guests are not alarmed.
In addition to the usual high/low alarm settings, you can additionally set an alarm for when your Bluetooth connection drops. This is especially crucial if your sole connection option is Bluetooth; you wouldn't want to wander too far from your network without realizing it, only to discover too late that the app you're using is showing you out-of-date data.
Thermometers may be pricey investments, so accessories like a hook, kickstand, or magnetic holder are welcome additions to ensure the device remains in pristine condition. It appears that Inkbird has found the sweet spot for the magnetic intensity of its products. They're neither so flimsy that a light tap would send the thermometer tumbling on the floor, nor so sturdy that a pry bar would be required to shift it. Inkbird has done an excellent job overall.
The backlighting is another premium feature, along with the magnetic holder, of a thermometer. The nice additions are no longer a surprise, though, as the equivalent offerings from rivals almost always have them. Backlighting on the Inkbird doesn't require much explanation; it serves a single purpose, and it does it well. Both the transmitter and the mobile app can be used to turn on the lights.
I've written a more complete review of the Inkbird IBBQ-4BW if you are interested in this thermometer.
ThermoPro TP27 Smoker Thermometer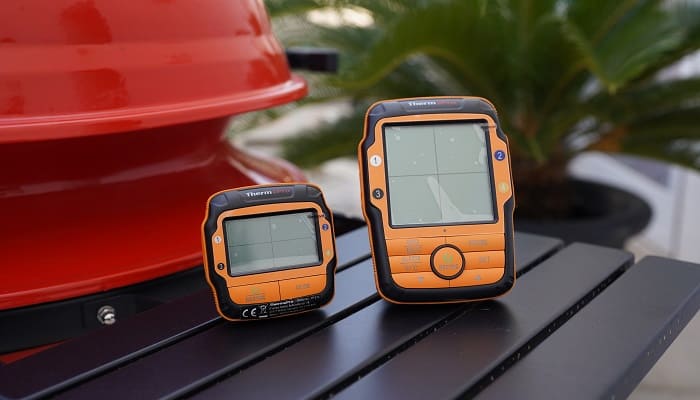 When it comes to grilling thermometers, ThermoPro is a top contender. They are known for producing affordable, high-quality thermometers. In most cases, this is achieved by forgoing cutting-edge technologies like wireless Internet and no wires thermometers in favor of more affordable, time-tested methods. Such as the ThermoPro TP27's utilization of radio frequency.
Let's see if ThermoPro's TP27 wireless thermometer lives up to the company's reputation for producing high-quality products at reasonable prices.
Can temperatures be read with a ThermoPro TP27? Yes. That's all — that's all you need to know about the thermometer. However, nowadays you need a lot more than just a good temp reading to compete at the highest levels. In this section, I'll discuss the features that the TP27 thermometer provides.
As far as thermometer screens go, the main display is among the larger ones you'll find. The temperatures from all four probes are shown in a large, legible format. Up top, the alerts for the present temperature as well as the internal meat temperature are shown in a reduced text size. Finally, there is a power indicator for when the battery needs to be recharged. It's something to double-check before dozing off in the middle of dinner preparations or wandering aimlessly around the house.
Wireless connectivity is the cutting edge of convenience for modern thermometers. There are several variants of this, each with its own set of advantages. The ThermoPro TP27 is configured for radio frequency operation. Furthermore, unlike other wireless technologies, this one does not necessitate either advanced technological knowledge or the use of a high-priced smartphone.
The ThermoPro has built-in wireless technology, and both the transmitter and receiver are configured before you ever open the package. Don't stress about figuring out how to use this cutting-edge technology. All you have to do to use this function is power on your device.
For the most part, wireless thermometers need you to have a smartphone that can act as a receiver, as well as the knowledge to download an app and set up wireless networking (either by Bluetooth or Wi-Fi). The ThermoPro TP27 takes a different approach, providing a receiver designed for use with a thermometer that has already been paired wirelessly.
Even though this receiver is a lot more compact than the main unit, it nonetheless provides you with the most important data: the current temperatures of the probes. The receiver is compact enough to slip into a pocket or be fastened onto a belt so that you can take it with you if you move away from the grilling area.
In most cases, I disable alerts because I am already so attentive to my grill's temperature and familiar with its operation that I rarely require them. However, I have heard that many people have rescued their cooks when an alarm went off, so I'm sure it's a desirable feature.
All of the alerts on the thermometers I've tried have functioned as advertised. Once the probe registers a specified temperature, they go off. You can choose to have it beep at you or merely have the ThermoPro TP27 receiver vibrate to inform you. After silent mode, I'd choose vibration as my second preference.
ThermoPro spared no expense in catering to TP27 owners in regard to holders. There isn't a more versatile thermometer than this one. To begin, there is a magnetic holder on the primary transmitter. This feature is gradually being adopted by all premium thermometer manufacturers. Additionally, it's something I didn't realize I desired until I had it. The thermometer's ability to cling to metal surfaces is a major convenience for me because there are many such surfaces in and around my grilling area that are metal.
The hanging holder is another option, although I think it's better suited for indoor cooking than outside cooking. I do have some hooks for holding things, so I could use those to suspend the thermometer, but they aren't exactly optimal viewing distances. Nonetheless, it's a wonderful alternative to have. You can use the main unit's countertop flip-out stand. If you have a BBQ table next to your grill, this is a useful accessory.
Similarly, the receiver provides you with a total of three holding options lest it be seen as a letdown given that the transmitter provides you with three. Just like the transmitter, this one comes with a magnetic and flip-out stand as well as a belt-clip holder. Being able to take the receiver with you when you're not near the grill is a fantastic added convenience.
Even though you'll finish up most of your barbecuing during the day, we all know that slow-smoked meals always take longer than intended. Now is when you'll be really grateful that your thermometer includes a backlight.
Both the transmitter and receiver of the ThermoPro TP27 are equipped with backlighting. Both devices include touch buttons on the top, with the backlighting only coming on for a brief period after being pressed (since it quickly drains the batteries if left on for longer).
If the ThermoPro TP27 sound like the thermometer you want to buy then read my TP27 thermometer review.
Best Cheap Smoker Thermometer
If you are unsure about investing in a thermometer that comes in at the higher end of the price scale, there are some thermometers that get the job done at a fraction of the price.
They might not have all the bells and whistles of the more extravagant models, but they still rank among the best smoker thermometers.
ThermoPro TP17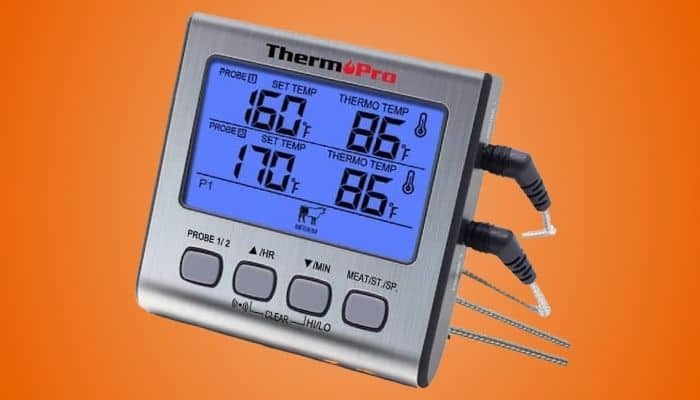 One such thermometer that provides a great value at a low cost is the ThermoPro TP17. One of the most impressive features of this thermometer is its warranty. A one year warranty transforms into a three year warranty once you register your thermometer.
So although the two included sensor probes are expertly constructed, after long periods of use they may produce incorrect temperature readings. With this warranty, ThermoPro will send you free replacement probes up to three years after your initial purchase.
For a thermometer that costs under $30, the excellent warranty isn't the only impressive feature of the ThermoPro TP17. This thermometer features a flip-out countertop stand for keeping the thermometer displayed upright or a magnetic back for attaching it to your smoker or grill. Temperature can be set manually or programmed with the preset temperatures for common types of meats.
The large LCD backlit display is easy to read, even in the dark. The display itself measures three inches and also includes a low battery indicator.
The probe cable is 40 inches long and rated for temperatures up to 716°F. Accuracy runs plus or minus 1.8°F from 32-212°F. This thermometer packs a lot of features into a small, affordable package.
ThermoPro TP08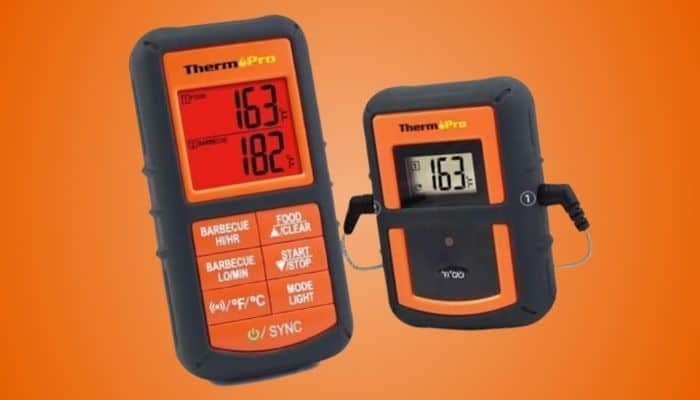 Another top-rated thermometer is the ThermoPro TP08. One of the first things worth mentioning is the level of ThermoPro customer service. If you experience any temperature reading problems, ThermoPro will send you a brand new sensor probe free of charge. That's outstanding!
The ThermoPro TP08 is easy to use directly out of the box. Insert the included batteries and you are ready to go! It comes already paired with its receiver, which functions up to 300 feet away from the transmitter. You can monitor your meat and smoker temps while you tend to other tasks. The high and low alarms will alert you if your smoker ever goes above or below your set range.
In regards to accuracy, the ThermoPro TP08 gives the Thermoworks Smoke a run for its money at a fraction of the price. Temperatures are accurate to within 1.8°F and easily readable on the large, backlit screen.
Probes included are the 8.5" food grade stainless steel food probe and 3" oven/bbq probe. The cable wire has a 40-inch length, and both the probes and wire are heavy duty, built to withstand temperatures up to 716°F.
This smoker thermometer can also double as an oven, grill, candy, or any other kind of thermometer. Its shockproof design and timer feature makes it a handy tool to have around any part of your kitchen or backyard barbeque.
The ThermoPro TP08 offers a great range of features at a budget-friendly price, cementing its spot as one of the best smoker thermometers.
Smoker Thermometer and Temperature Controller
If you really want to take your tech to the next level, what you should be looking for is a smoker thermometer that also functions as a temperature controller.
These controllers function over WiFi to allow you to adjust the temperature of your smoker from just the touch of your phone or tablet. This added convenience can come with an extra cost, but if you're looking for the best smoker thermometer and temperature controller, look no further.
Flame Boss 300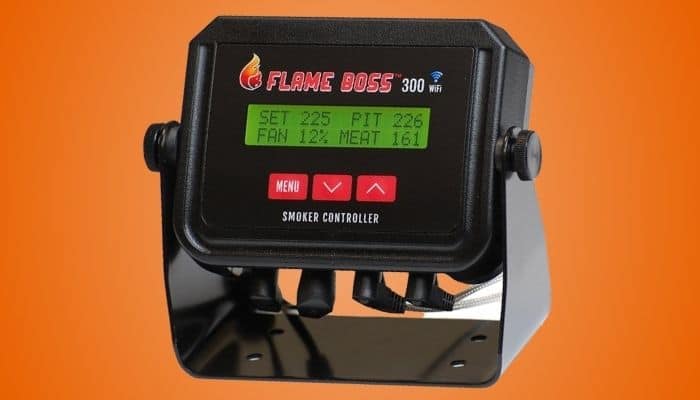 When it comes to smoker thermometers and temperature controllers, the Flame Boss 300 is the cream of the crop. It fits a wide variety of charcoal grills and smokers.
Use it to monitor and maintain your desired temperature and control the blower to manage the air flow to the fire. The variable speed blower will run at the necessary speed required to quickly and efficiently reach the temperature you set.
It is WiFi enabled, meaning you can control the entire cooking process directly from your phone or tablet and receive a text message update when your meat has finished cooking.
You will find that it is capable of monitoring up to three probes at one time. The Flame Boss 300 is also incredibly easy to use. There's not even an on/off button to worry about.
This model is fully automatic and setup is very straightforward and simple. After a time, the controller learns your smoker so well that it adapts to improve temperature control.
Great Older Smoker Thermometers
The tech in thermometers is changing year after year, and therefore my list of the best thermometers for smokers changes pretty much every year to include the latest amazing thermometers. Instead of just deleting the older thermometer reviews I've decided to create a section just for them. As these are still great thermometers, and if you see them in the sale at a great price it'd be silly not to buy one
Table Comparing Great Smoker Thermometers
Inkbird IBT-6X Smoker Thermometer
Buy on Amazon

Inkbird IBT-6X

The Inkbird thermometer product picture

Talk about a multitasker! The Inkbird IBT-6X is capable of monitoring up to six items at the same time (if you buy the unit with six probes)! This is a Bluetooth device and the monitoring app is free.

So you can check the temperature of those six items all from the convenience of your phone. It is compatible with both Android (4.4 and above), with Bluetooth 4.0 module and Apple ISO. Bluetooth smart wireless range is 150 feet.

The LED screen is clear and easy to read. You can set your own temperatures and time settings manually or use the programmed preset temperatures available in the app. Alarms are programmable and will alert you directly on your phone. If you like your tools with a side of tech, this thermometer is a great match.

It comes with a twelve-month warranty to keep your thermometer in peak performance. One thing to note though is that the cable to the probe is not waterproof and should not be submerged in water during cleaning. This may damage the sensor and cause inaccurate readings.

Maverick ET-733 Smoker Thermometer
Buy on Amazon

Maverick ET-733

The Maverick thermometer product picture

One of the top-rated and most popular smoker thermometers is the Maverick ET-733. It runs at the higher end of the price range, but with all of its incredible features, it has the most bang for your buck. The Maverick ET-733 features two multipurpose probes and a range of up to 300 feet. It is solidly constructed and provides excellent temperature accuracy.

The Maverick ET-733 is an extremely portable model. The wireless receiver can clip to your belt or fit in your pocket. That means you'll be able to multitask around the house while monitoring the temperature of your smoker and your meat.

If you move too far from the transmitter, the receiver will even beep to let you know you're outside of the range. Temperatures are updates in real time, and you can set alarms for desired temperatures and cook times.

Setting your target temperatures is even easier when you use the preset temperatures for fifteen different types of meat. You'll find the usual suspects such as beef, chicken, and fish, but also included are presets for game meats such as elk, moose, duck, and more.

One other bonus is that this thermometer comes with a special set of high-heat resistant gloves. You can wear them to protect your hands when removing the probes, which have been built to withstand temperatures up to 716°F.

Thermoworks Smoke Thermometer
Buy on ThermoWorks

Thermoworks Smoke

The Thermoworks Smoke thermometer product picture

Monitor your food and smoker temperatures from up to 300 feet away with the Thermoworks Smoke. You can track the two probes – one for meat and one for the smoker temp –independently. You can set independent high and low alarms for each probe.

One of my favorite things about this thermometer is that there is no setup required! The thermometer and receiver come pre-synchronized.

This is a very sturdy unit with molded-in seals for a splash-proof design. The probes are stainless steel, moisture resistant, and have a length of 47 inches. Temperature accuracy is plus or minus 1.8°F for temperatures up to 248°F and the read time is in the range of 4-5 seconds. This is one of the most accurate models available on the market today.

One of the best features is the large, backlit displays. They are easy to read and show both the max/min and high/low alarms.

While you can't adjust the min and max temps anywhere other than the transmitter, it is impressive how easy it is to use this thermometer right out of the box. No complex instructions or necessary manual reading. Clear and simple, this smoker thermometer is easy to use and highly recommended.

It has a higher price tag than most other smoker thermometers, but that's because a lot of research has gone into making this thermometer better than all of its competitors. The Thermoworks markets this thermometer as being for "competition BBQ teams and professional chefs". If you want the thermometer the pros rely on, the Thermoworks Smoke is the thermometer for you.

iGrill 3 Smoker Thermometer
Buy on Amazon

iGrill 3

The iGrill 3 thermometer product picture

Smarter than your average thermometer, the iGrill 3 is a standout Bluetooth smart thermometer. It has a four-probe capacity and comes with two probes included. If you have the Genesis II, Genesis II LX, or Spirit II gas grill, this thermometer is designed to be permanently mounted to the side table. Don't own any of these models? Feel free to use this thermometer with any and every unit you own.

Battery life lasts up to 250 hours. The programmable alarms and cook time can be set directly from your phone. The app is compatible with Apple iOS 9 or higher,iPhone 4S or later,iPad 3rd generation or later, iPad mini, iPod touch 6th generation or later, and most Android phones with Android 4.4 or higher and Bluetooth 4.0 or higher.

The iGrill 3 will also export all of the cooking data and full graphing so you can track the performance of your smoker with each use.

This is a very accurate smoker thermometer and we are especially impressed by its versatility. One downside is that does have to sync with each use, but this takes mere seconds, so it is a minor inconvenience.

It does have a less solid construction than some of the others on this list, but you can also say the same of most of the Bluetooth thermometers due to the extra technology.
Why Trust Us
All of our reviews are compiled with a combination of expert input, years of hands-on testing of grilling products, curating the reviews of real-life buyers in a "wisdom of the crowd" system, and of course our own expertise. All the products listed are the ones we would buy if we were looking to purchase a new smoker thermometer.
Methodology Used to Pick the Best Smoker Thermometer
When picking the best smoker thermometer we looked at and then rated each thermometer on the following criteria. Price, number of probes, connectivity, alarms, apps, waterproof, backlighting, build quality, and battery life.
How We Selected the Best Smoker Thermometer
Now that you know you can't depend on the built-in thermometer that came with your smoker, it is time to consider what you really need in a smoker thermometer.
There are a number of factors to consider, all of which add up to the best smoker thermometer for you.
Price
Your budget is an important factor in any purchase. There are great smoker thermometers available whether you are looking in the low, medium, or high price range.
Do you need all of the bells and whistles in regards to the features of higher priced models? Lower price thermometers will not have the build quality nor the number of features of higher priced thermometers.
A good quality, medium price range thermometer will typically do the trick for what most people desire, but do your research and make sure your choice fits all of your needs, not just price.
Number of Probes
If you plan on monitoring multiple types of meat at one time or monitoring both the smoker temperature as well as the meat temperature, you are going to need more than one probe.
Some of the cheapest models only come with one probe included. Many include at least two, but as you may have seen from our list of the best smoker thermometers, other units can have upwards of four or six probes.
WiFi, Bluetooth and Radio Frequency
What are your desired wireless capabilities? If you want to spend time away from your smoker completing other tasks, convenience is key.
Wireless monitoring allows you to check on your cooking temperatures from the convenience of a receiver or your phone or tablet. An important factor to check is what the range is of your transmitter and how you receive that data, whether it is via WiFi, Bluetooth, or radio frequency.
Alarms for certain ranges
Smoking is never just a "set it and forget it" cooking process. You want to maintain a constant temperature.
Certain smoker thermometers will allow you to set alarms that will notify you if your temperature moves above or below the temperature range you have programmed.
Waterproof
Cleaning your thermometer can get tricky if certain parts aren't waterproof. Exposure to water can damage some Bluetooth and WiFi enabled thermometers.
Thoroughly research how sensitive your sensors are to water prior to purchase to ensure that you know the proper care and handling techniques for your chosen model.
Backlighting for the digital display
Sometimes smoking meat can last you well into the dark hours of the night. Therefore, you will want a thermometer that is easy to use no matter the circumstances.
A backlit digital display makes for easy reading in low light conditions. Also helpful are large, easy to see numbers.
Build Quality
Pick a thermometer that is both durable and solidly built. It does not have to be indestructible, but to ensure that your thermometer lasts, it is important to look at the build quality.
Waterproofing and a shockproof design are desirable for heavy usage. You will also want to consider the warranty and whether or not replacement probes are available if your sensors become inaccurate from extended use.
Battery life
A cheaper thermometer can end up costing you more in the long run if you are constantly having to replace the battery. Be sure to note the type of batteries required, if they are included, and their expected lifespan.
Conclusion for Best Smoker Thermometer
There are several types of smoker thermometers on the market. Our suggestions include some of the best smoker thermometers available.
This list has a variety of different types and each might appeal to you differently. Carefully consider your options, as well as the advice above, and you are sure to make an educated decision. We hope you find the smoker thermometer that you can be fully satisfied with.
Interested in more research about the different types of thermometers that we've examined? You can check out our article on the Best Wireless Thermometers. Or if you are looking for an instant-read thermometer for your grilling needs, check out our article on the Best Instant Read Thermometer for Outdoor Grilling and BBQ.