Long gone are the days when you have to constantly stand over a grill in the blazing heat to continually check your meat and guess whether it's ready. We now have an assortment of different thermometer types at our disposal and the best Bluetooth thermometer is just one type of outdoor cooking thermometer we have written about. This means that you can now just kick back with a beer, without anymore guesswork or standing around the grill.
In our series on thermometers, we have broken down these gadgets into three main subsections, instant read, dual probe, and infrared. Bluetooth thermometers fall into the category of dual probe thermometers and are mainly used for low and slow grilling or smoking.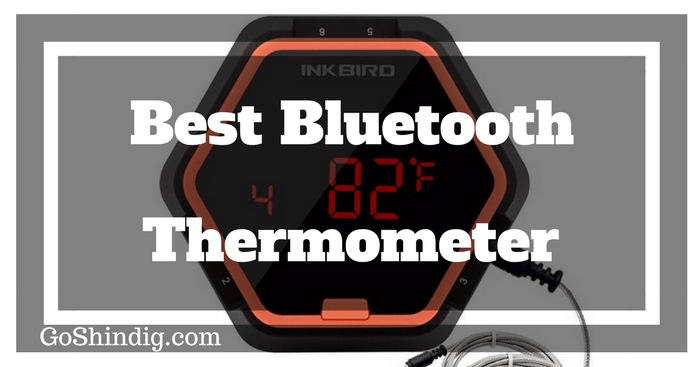 What is the Best Bluetooth Thermometer
When Bluetooth thermometers first hit the market I have to say I was one of the many critics. But Bluetooth thermometers have come a long way since the early days. In theory, Bluetooth thermometers should have always been great, but the main problem was the Bluetooth connection would always cut out when you walked just several meters from the grill. And if you went inside to watch the game while your food was cooked you had zero chance of a signal.
You had to stay so close to the grill that you might as well have checked the main display device rather than opening up the thermometers app. Thankfully this is no longer the case. With the latest Bluetooth addition, I can easily walk several doors down the road to my friend's house and still get a connection. But I understand some griller's early memories of Bluetooth thermometers still haunt them, if this is the case you'll be better off over at our best WiFi thermometer article.
Inkbird IBBQ-4BW WiFi & Bluetooth Thermometer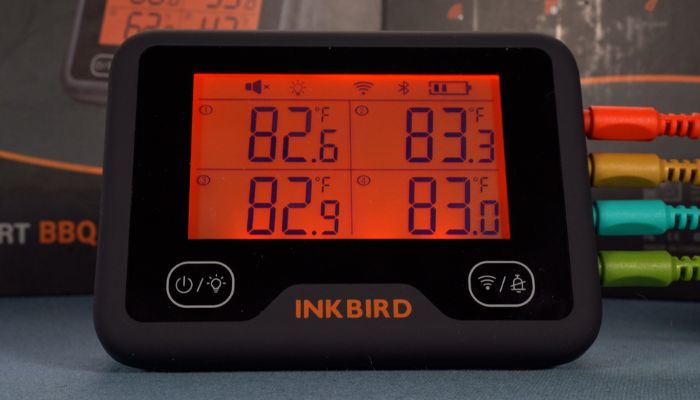 Inkbird is a smart IoT (Internet of Things) company with numerous smart home solutions. Inbird's major focus is food thermometers, with various distinct Wifi, Bluetooth, and instant-read variants.
The Inkbird IBBQ-4BW is a high-end thermometer that comes with four probes, WiFi, and Bluetooth. Designed for those wishing to step up their grilling game.
When you spend more than $100 on a thermometer, you want it to include all of the features you'd expect from a high-end thermometer. So let's go through all of the main features of the Inkbird IBBQ-4BW.
The Inkbird's adequately sized screen on the main body is simple yet displays all the information you'd need at a look. All four probe temperatures are displayed in large text. It also displays how much battery life is left, if you have a WiFi or Bluetooth connection, or if your connection has been lost. There is also a little symbol that indicates if you are in silent or ring mode. The only useless information is the symbol indicating whether or not the backlight is turned on; you should be able to see this without an icon.
The presence of WiFi capabilities in a thermometer indicates that it is a high-end model. The Inkbird uses 2.4GHz WiFi and, like all WiFi technology, can be connected to from anyplace in the world that has internet connectivity. You do not need to be concerned about being out of range. Of course, this is a significant benefit, but it's also a disadvantage because some places where you might want to use this thermometer won't have internet. Don't worry, the Inkbird IBBQ-4BW has you covered with a Bluetooth backup option.
When you're out in the wilderness and don't have access to the internet, you can connect to the thermometer using Bluetooth. The IBBQ-4BW has Bluetooth 4.2, which isn't the most recent Bluetooth version but has a range of 50 meters (164 feet). This is plenty of distance for a thermometer, especially since WiFi is usually available.
To be honest, I have a love/hate relationship with thermometer alarms in general. I like them because they do what they're supposed to do: warn you when the temperature of your meat or pit is too high or too low. However, in general, these sirens are a little too eager to do their job. And the sheer volume of them causes people to believe that a tragedy has occurred.
Fortunately, this is not the case on the Inkbird. The alarm is set to ring on both your phone and the transmitter, but this is easily changeable to just ring on your phone, so it won't startle any guests, and it plays a tune that isn't irritating or too loud.
Not only can you set high and low alarms, but you can also set an alarm to notify you that your Bluetooth connection has been lost. This is critical if you just have Bluetooth, since you don't want to be out of range and not notice it, as checking the app will give you outdated information.
Thermometers are pricey pieces of equipment, so any extras like a hook, kickstand, or magnetic holder to keep the unit safe are a significant advantage. Inkbird appears to have optimized the strength of their magnets. They aren't so weak that a minor bump sends the thermometer plummeting to the ground, nor are they so robust that a pry bar is required to move it. Overall, Inkbird made an excellent effort.
Backlighting, like the magnetic holder, is one of the small details that elevates a thermometer. However, it is now expected because the competition will have all of these wonderful little additions. Backlighting has only one function, and it performs it admirably on the Inkbird. The illumination can be controlled via the transmitter or the app.
Meater Plus Bluetooth Wireless Thermometer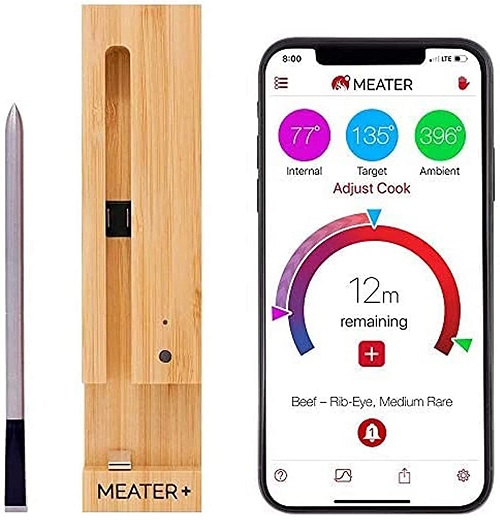 Meat probes that measure temperature have traditionally been connected via wires. For smokers and grills without wire routing or deteriorated felt gaskets around the lid, this is not the best option. The probes and wires must be cleaned, and if you don't plan their location carefully, they may obstruct other items on your grill. These temperature probes are still useful, they function well, and they provide accurate data. However, the Meater is just as useful and makes using a grill thermometer simple. You should definitely take this into account when you buy your next meat thermometer.
Like everything else, technology has facilitated innovation and ease of use. Do you recall how the long wire on your home phone used to coil up everywhere? Do you recall how happy you were to get rid of the wire when you first received a cordless phone? Similar sensation, but with BBQ thermometers instead.
I've had the Meater Plus for several years, but I didn't understand how important having a running log of your meals would be. This thermometer uses a wireless probe to transmit the foods internal temperature and the foods surrounding area temp directly to your phone. To check on the status of your meat, you may quickly set a temperature alarm or monitor the temps on your app. It helps maintain a constant cooking temperature in your grill by eliminating the need to open the lid to check with an instant-read thermometer
The first "truly wireless BBQ thermometer" and a trendsetter in the barbecue industry, is how Meater promotes itself. Meater is obviously a top-notch business because of how extensive and professionally made their online information is. Anyone new to BBQ can make excellent BBQ meals by purchasing a MEATER, watching their YouTube channel, and following their instructions.
Around 100 bucks is the pricing, which is on the high end for thermometers. The simplicity of the single probe, dual reading thermometer, and the integration of the smartphone app is mostly to blame for this. The majority of people mistakenly believe that the single Meater probe just measures the inside temperature, but in reality, it also measures the surrounding temperature.
The Meater is best utilized for lengthy cooking or rotisserie cooking, and it is kept inside the meat the entire time. The Meater employs consistent temperature measurements as opposed to instant-read thermometers, which take pride in the rapidity and precision of their readings. These measurements are compiled and collated to create a graph showing the temperature evolution.
Setting temperature warnings for your grill or the meat is another feature of the Meater Plus. When either temperature exceeds the temperature threshold that you've already specified, the Meater app will notify you.
The Meater plus' display for temperature measurements is connected to the app on your mobile device through Bluetooth (you must purchase the Meater Block for WiFi). This software offers a variety of alternatives for filing your information. The setup page, real-time graphs, and color-coded sections all make it extremely clear what the meat and ambient temperatures are. The display has a black backlight, and the sharp contrast of colors looks contemporary.
ThermoPro TP930 Bluetooth Thermometer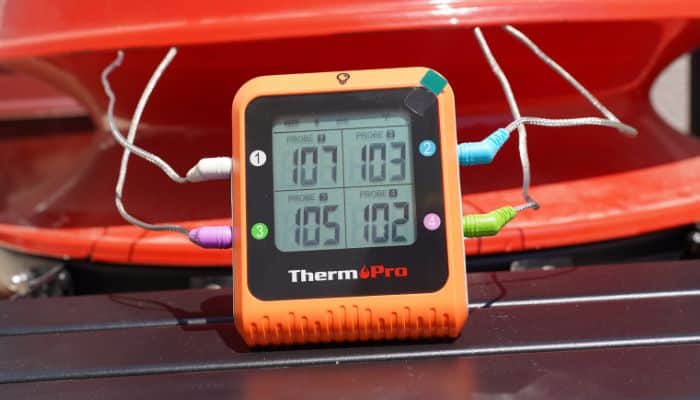 ThermoPro is a firm that has been in business for several years and takes pride in not just providing excellent thermometers but also having the cheapest prices. Their cheap price point is unmistakable across their entire range of thermometers and is the reason many budget-conscious grillers adore their thermometers.
With so many thermometer businesses competing for your money, you can now shop around for the appropriate thermometer for you – one that has all of the critical characteristics you require. Let's take a look at what this ThermoPro thermometer has to offer and see whether it's what you're looking for.
ThermoPro has provided you with a lovely compact screen that has all of the basic information you require. The screen is split into four corner quarters, with each quarter displaying the temperature of the probe whose port is closest to it. Then, across the top of the screen, there is a battery indicator, followed by icons indicating whether you are connected to Bluetooth, if the alarms are switched on or off, and whether the backlighting is enabled. Finally, a symbol indicating whether you've set the temperature to Fahrenheit or Celsius.
The ThermoPro TP930 is a Bluetooth version 5-enabled wireless thermometer. ThermoPro claims a range of 500 feet, which I believe is a conservative estimate given that Bluetooth 5 specs call for a range of 800 feet.
I've tested in a few different weather conditions with real-life instances of walls, trees, and fences interfering and have always gotten farther than 500ft. Which, unless you live in a castle, is far more than you'll probably require.
If you require additional range, I recommend looking at my reviews of thermometers with WiFi, which provide boundless range. Of course, this comes at a cost.
For this model, ThermoPro has gone all out on the alarms. They've included the typical Hi/Low alarms that have become standard on quality thermometers, but they've gone a step further by including a pre-target temp alarm. Meaning, if your chicken's target temperature is set at 165, you can set a warning at 155 to begin preparing for your chicken.
The Bluetooth disconnect alert is another excellent alarm. Many individuals have yelled at their Bluetooth thermometer because they thought they had struck a stall when they had simply lost connectivity. This results in overdone meat.
And the ThermoPro TP930 includes an alarm function that I don't use but you might like: the opportunity to set each probe to have a distinct alarm sound. That is, you should be able to tell which probe's alarm is on by the music it plays.
The main display panel is the first thing I look for in any thermometer app. I want it to clearly display all of the probe temperatures, because that's all you really need; everything else is a bonus. I'm pleased that the ThermoPro TP930 achieves this.
First and foremost, I am content to just place this thermometer on its back, as it is easy to read in this position on both my side shelves and BBQ prep table. However, if you require it, this thermometer comes with a beautiful tiny kickstand to keep the screen upright, as well as a small hook holder if you wish to hang the thermometer from something.
A magnetic holder is an obvious omission in this unit, which is quickly becoming popular among grillers. If you're used to using a magnetic holder, be careful; I nearly dropped this thermometer a couple of times when trying to glue it to my table.
If you've done a lot of low and slow cooking, you'll know that it's common to start a cook early in the morning while it's still dark, or to complete it late in the evening after the sun has set. So being able to read the thermometer display in the dark is a huge advantage. ThermoPro offers beautiful backlighting that can be easily turned on and off through the front button.
Some other thermometers also allow you to control the illumination via the app. This feature isn't available on the ThermoPro, but it's not a deal breaker. If I'm opening the app to turn on the backlighting, I might as well check the temperatures.
If the amazing ThermoPro TP930 Bluetooth thermometer looks like the thermometer for you, read my in-depth review.
Weber Connect Smart Grilling Hub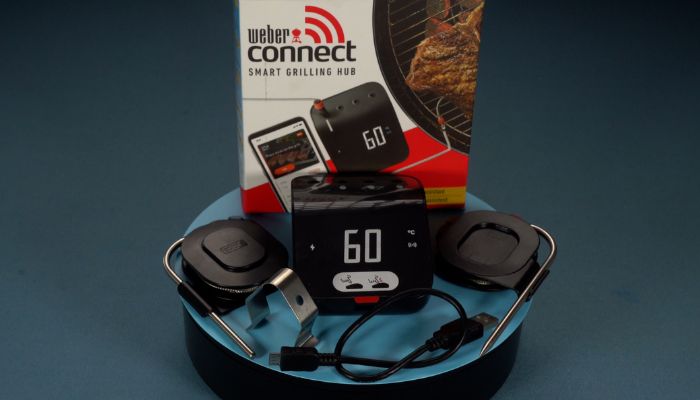 Weber has to be the most well-known brand in the outdoor cooking and BBQ industry; they provide high-end gas grills, high-quality Kamado-style barbecues, innovative pellet smokers, low-cost kettle grills, and even electric grills. And if you think their grill selection is big, wait till you see their accessory selection.
Weber, on the other hand, has struggled in the thermometer industry. So I'm going to put their Weber Connect Smart Grilling Hub to the test to see if it's a product worthy of the Weber name.
A BBQ thermometer has only one function: to read temperatures. Dual probe thermometers are intended to read the inside temperature of the meat as well as the ambient temperature of the grill. So, in order to stand out from the crowd, the greatest thermometers provide a variety of useful additions. Let's go over these extras in Weber Connect.
Grilling thermometers used to feature probes that were connected to a display where you could read the temperature. Because of technological advancements, this display has evolved into a transmitter that transmits the readings to a receiver, removing the need for a pitmaster to sit next to their grill to supervise their cooks.
These current thermometers were originally sold with their own receiver, however, the most advanced thermometers now allow you to utilize your phone as a receiver. This is usually accomplished through the use of WiFi or Bluetooth. Both of these options are available with the Weber Connect. WiFi is the more advanced of the two alternatives, allowing you to monitor your smokers and grills from anywhere in the world that has internet connectivity. If you don't have access, you may always use Bluetooth as a backup by simply turning on Bluetooth on your phone.
The main display has to be considered a crucial element, but for its simplicity rather for its data-richness, as most other thermometer displays are. I've heard numerous people say this is a negative feature, but I believe it depends on whether you appreciate minimalist design or not; after all, everything you need is in the app.
The temperature on the display is printed in large letter size for easier viewing, and when you spin the unit, the display rotates so that the figures are always displayed correctly.
You can set a high temp alert or a temperature range alarm, which is essentially a high/low alarm. When the alarm goes off, your thermometer will make a low double beeping sound that isn't unpleasant and is simple to turn off. My main concern would be missing the alarm.
Because the main display is so simple, you'll need an app with a terrific UI that provides you with all the information you need on a single screen. And I believe you have it on the app's barbeque screen. You have all four probe temperatures as well as any temperature alerts or timers. There are additional symbols that indicate if you are connected to Bluetooth or WiFi. The last bit of essential information on this primary screen is how much energy is left in the transmitter; you don't want this to die on you in the middle of a cooking session.
The Webber Connect has a magnetic back to let you safely set the thermometer next to your barbecue. Obviously, anything additional like this is beneficial. The magnet isn't incredibly strong, and it feels a touch weaker than other thermometers I've used, but it does the job and has never fallen off once set.
When I purchased my Weber Connect, one of the extras I was unhappy with was the requirement to purchase two additional probes in order to fully utilize Weber's four-probe capabilities. Given that this thermometer is already on the expensive side, I think it's a cheeky request. I'm going to use this thermometer on two different grills at the same time, so I bought an extra ambient probe and a meat probe. If you just have one grill, two extra meat probes are a must.
If you're a grilling enthusiast like me, you undoubtedly have a lot of grilling equipment, and storing and finding it again afterward has become a challenge. So I always appreciate it when I can get a storage container for any of the equipment I buy. Weber also sells a lovely case for the Weber Connect that can hold four probes.
The makers of most good thermometers simply assume that everyone has something metal next to their grill to put it on. Weber, on the other hand, does not make this assumption and instead provides you with the option of purchasing a mounting kit that includes various different ways to hold your thermometer.
If the Weber Connect Bluetooth thermometer is the thermometer you like then read my full review.
Thermoworks Signals WiFi and Bluetooth Thermometer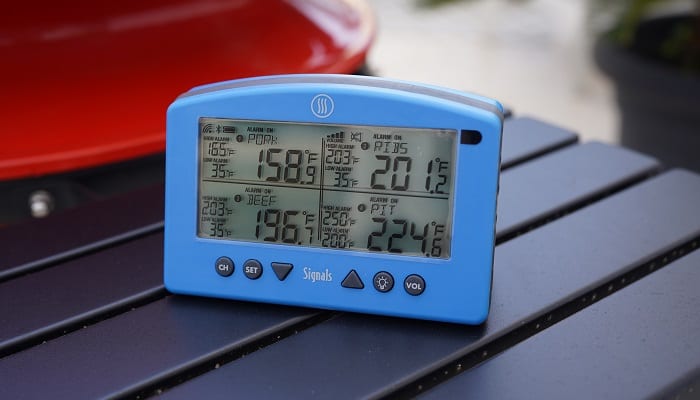 Thermoworks thinks that a good thermometer may improve your life, and with that in mind, they have created some of the greatest thermometers for a variety of applications. Whether you need a thermometer for grilling, baking, frying, or sous vide, Thermoworks has a high-quality thermometer for you. And, without knowing it, I'm sure you've seen their thermometer in action, as practically all TV cooking competition shows provide their entrants with Thermoworks equipment.
When comparing Thermoworks Signals to other thermometers, one of the most noticeable aspects is the huge display screen. The main reason for this is because Signals is intended for usage by professional BBQ teams and chefs, and these experts move about a lot and cannot always rely on internet access. So the huge screen comes in handy when you need to use the Signals as a standalone thermometer.
On the display screen, you can view the temperatures of all four probes at the same time, as well as their high and low alarms, probe names, wireless connections, battery life, and alert loudness. I can't think of another thermometer that provides more information on the primary display screen than this one.
One final element of the main display that screams quality is that it is splashproof, with an IP66 water resistance designation. This signifies that the device is water-resistant against intense jets but should not be submerged fully. So if you leave the Signals out in the rain, they will be OK.
Thermoworks Signals is, of course, wireless; you wouldn't expect anything else. They haven't simply given you one form of wireless technology, but two – WiFi and Bluetooth.
WiFi is the more advanced option, allowing you to connect to the thermometer from anywhere in the world that has internet connectivity. You won't need this feature anyplace in the world, but you might need it if you need to run to the store or go to the gym during a long low and slow pork butt.
If you don't have internet access, Bluetooth is a backup option. Perhaps you want to take the thermometer camping or to BBQ competitions where internet availability is not guaranteed. If you need a backup for whatever reason, Bluetooth is a fantastic option because all you need is your phone and the thermometer to get it to operate.
Remember that the Signals thermometer may also be used as a standalone thermometer for those of you who aren't tech-savvy. The buttons on the main screen provide the majority of the app's functionality. So if you don't have a smartphone or don't want another app on your phone it's not required. This thermometer works quite fine without a phone.
The alarms have a maximum volume of 90 decibels. This loudness is difficult to explain in the video I created to accompany this review because it is dependent on the volume of your phone or laptop, but it is really loud. Louder than other thermometers I've used, and frankly, louder than I'll ever need, to the point of annoyance. Fortunately, the volume of the warning may be easily reduced. But it's nice to know that if I'm holding a really loud BBQ party, I can crank up the volume.
You don't realize how much you need magnetic holders until you try them. Then you find yourself attempting to attach all small electronic devices to metal items.
Because the Thermoworks Signals is a larger thermometer than the competitors, the magnets must be stronger than typical. To help with the weight, they have installed two magnetic strips that go from top to bottom of the unit. However, you must ensure that both magnets make good contact with whatever you are putting it to, otherwise it will fall.
If I try to stick the thermometer to the dome of a kettle grill, it will fall off since the magnets do not make good contact. I believe they should have made the magnets large enough to grip the entire unit.
Backlighting is a nice feature to have on any thermometer, but it's becoming less relevant as more people use their phone apps to monitor the temperature. However, it is still a feature I anticipate. Particularly on high-end thermometers.
The Signals includes backlighting, which is adequate for viewing the display data in the dark. There's not much else to say about this feature. Thermoworks did an excellent job.
Check my full review if the Signals is the Bluetooth thermometer for you.
Great Bluetooth Thermometers
As the marketplace for quality Bluetooth thermometers is changing so fast I'll use this section to keep a list of the great older models that use to be on the list of best Bluetooth thermometers. These are thermometers that would be good to pick up if you see a good deal on them, as they are still great thermometers – they are just not the best Bluetooth thermometers. I've not updated the reviews when dumping older thermometers in this list so some information might seem out of place.
Table Comparing Great Bluetooth Thermometers
Weber iGrill 3
Buy on Amazon

Weber iGrill

As is always the case when you buy anything BBQ related with the Weber name, you know you are buying something of quality and with good customer service (but this buyer's confidence normally comes with a higher-than-average price tag). Weber is currently on their third iteration of the iGrill and has simply called it the iGrill 3.

If money is an issue you can get the iGrill 2 as this is also a great product that can now be bought cheaper as it's not the latest model. But as I'm writing about the best Bluetooth thermometers the iGrill 3 is second on this list.

Inkbird IBT-6X Bluetooth Thermometer
Buy on Amazon

Inkbird IBT-6X

The Inkbird Bluetooth thermometer comes with two or six probes. Which one is best for you obviously depends on how you normally grill but I'm rating the six probes as the best Bluetooth thermometer as this gives much more flexibility.

Yes, the two-probe is cheaper, and if you plan to only cook outdoors for a couple of people once a year then this is the better option. But I know that BBQing, grilling, and smoking is addictive. So I'd recommend getting the better model from the start, as I'm sure it's only a matter of time before all you new outdoor chefs move on to more elaborate cooks.
Pros and Cons of Bluetooth Thermometers
The most obvious pro for a Bluetooth thermometer is that it connects to your phone. Giving you a nice app to display and store data on a device you are comfortable using. So it might surprise you that I'm also going to list connecting to a smartphone as one of the cons.
Many people in the 40+ age group aren't as comfortable on phones, which is clearly a problem when recommending a thermometer. But even for tech-savvy people being connected to your phone still has issues. You can't ask a friend to look after your grill while you pop down the store unless you also leave them your phone. Also, if you lend someone the thermometer, it's not as easy as just handing it over. You also have to explain the app that they need to download.
Another con is that I find it tricky to pair thermometers with my phone. It is only something that needs to be done once, but it just isn't as easy as buying a wireless thermometer using different technology.
And last, but one hundred percent not least are connection issues. Bluetooth does not seem very good unless you connect over a short distance and have no obstacles in the way. This kind of defeats the point of being wireless, as you'd like to walk around the house and still be able to keep an eye on temps.
Extra note – Bluetooth has come a long way since I wrote about issues with loss of connection and pairing problems. The latest thermometers don't have these issues, so only consider these problems if you are buying an older thermometer
What to Look for When Buying a Great Bluetooth Thermometer
When purchasing a Bluetooth thermometer, there are a few factors to take into account. Some factors will have higher importance to use than me, so understanding these features is paramount if you want to select the best Bluetooth thermometer for your own personal circumstances.
Let's now discuss the features that a Bluetooth meat thermometer should have.
Price
The majority of grill thermometers cost between $10 to $80, with a few higher-end, feature-heavy ones costing $100 or more. The most economical instant-read digital thermometers are typically the most basic; however, for an additional $10 to $20, you may upgrade to a respectable wired or wireless thermometer.
With a few notable exceptions, the price typically has little to do with quality and is more influenced by features. A grilling thermometer will cost more the more probes it has, the larger its range, backlighting, etc. To that end, make sure to check the reviews before making a purchase if you find a model with a ton of features but a fairly low price because other qualities may have been sacrificed in exchange.
Wireless vs. Wired
The terminology in thermometers has become a little bit messed up in recent years. Some people have started to believe a wireless thermometer, like a Bluetooth thermometer, means a thermometer without wires. This isn't the case. Wireless simply means that some data is transferred from a transmitting unit to a receiving unit without wires. Very often wires will be used from the transmitter to the probes.
Despite the fact that wires are frequently linked to the probes that connect them to a receiver, Bluetooth thermometers are not truly wireless. The Meater Plus, the only option on this list without any wires, is the only wire-free alternative. If you've been itching to cook on a rotating spit, this might be helpful. A wired thermometer would undoubtedly make that difficult. Have a look at my "how to use a wired thermometer on a rotisserie" article if you plan to do a lot of rotisserie cooking.
So the question you should ask yourself isn't, do you want a wireless or wired thermometer? It should be, do you want a thermometer without wires or one with wires? Knowing that both options are still wireless.
Quantity of Probes
How many thermometer probes are included with the device should be taken into account while looking for a Bluetooth thermometer. Most of the thermometers I examined here had four probes, however, some other models I've tested and aren't on the list have 1, 2, or 6 probes.
With only one probe, you will always need to withdraw it and insert it into a different cut of meat, which can be laborious. You'll need to reset the alarms every time you use it on a different sort of meat in addition to constantly returning to your smoker. But having said that, many BBQ teams love the ThermoWork Dot that only has one probe. But these teams will have several of them running at the same time.
I advise purchasing a machine with four probes if you intend to cook big chunks of meat or different kinds of meat at once. Additionally, you'll want one of these probes to be an ambient probe. Instead of gauging the temperature of the meat, this is used to gauge the interior of your smoker.
Most thermometer companies make a 2 and 4-probe versions of their thermometers. The 4-probe thermometers are obviously going to be slightly more expensive, so if you can't afford it buy the 2-probe version. But I will say the 4-probe is the better value even if it's more expensive.
Probe Style
The majority of grilling thermometer probes resemble each other somewhat. They are essentially a pointy metal stick with a diameter of approximately 2.5 millimeters.
If you're cooking large chunks of meat, the probe length matters whether you're using an instant-read, wired, or wireless thermometer. This is due to the fact that the probe needs to really reach the center of the thickest part of whatever it is you're cooking in order to determine the interior temperature. Therefore, seek a probe length of at least 5 inches if you frequently cook huge pork butts, briskets, or whole birds.
The shape of the probe might also vary. While straight probes are common, curved probes might help you set up a more compact arrangement if you're cooking numerous items, using a small smoker, or using a second rack because the whole thing stays closer to the meat, especially on smaller slices.
Accuracy
It should go without saying that your thermometer's accuracy will be a primary concern. Even though most thermometers will never be completely precise, their readings should only vary by a few degrees.
If your thermometer deviates by more than that, it is not only a subpar and inconvenient product, but it may also be harmful if the undercooked meat you produce is consumed.
Display Screen
Regarding the grill thermometer display, there are a few factors to consider. Of course, preference comes first. Which would you choose, opening the grill to check the meat's internal temperature in person or reading the temperature remotely? A tethered or wireless thermometer is the best option if you'd prefer to keep the grill closed. However, a typical instant-read thermometer will work if you'd want to get a good look at the meat and possibly even feel it to determine its doneness.
It will be crucial to have a back-lit display if you grill the majority of the time at night. Additionally, if you're buying a multi-probe unit, you can choose between a transmitter display that alternates between the temperatures of the different channels or displays them all simultaneously.
I also like to have high and low alarms displayed on my screen and the remaining battery life – running out of battery has happened to me several times and it does cause panic.
Wireless Range
A wireless thermometer's wireless range may be its most crucial component. After all, if you're investing in a wireless thermometer, it's likely because you don't want to spend the entire cook glued to the grill. Additionally, the range between devices might differ significantly, from about 100 feet to more than 500 feet. Remember that a device's range varies depending on whether it is used indoors or outside because walls and other structures will make a signal weaker. Though it's not always as powerful as a direct signal, certain cutting-edge wireless thermometers (like the Meater) allow the charging box to be used as a signal repeater, substantially increasing the wireless range.
Apps
The software for your smartphone that comes with Bluetooth grill thermometers allows you to receive alerts and notifications. This will be the command center for adjusting the temperature alarms and timer. Within it, you'll also control your connectivity and probe settings.
Before making a purchase, check out what the app has to offer. Your app should ideally be able to graph and save the temperature of your probes. Naturally, you'll need the ability to configure temperature and timer alerts for each probe separately.
Basically, the more the app can be tailored to your needs, the better. Additionally, remember that software might improve with each update that is released for it.
Temperature Monitoring
When grilling, how much info do you really need? Any grilling thermometer will do if you only need to know the interior temperature of your meat. However, some grillmasters find it crucial to monitor the surrounding temperature. Some grilling thermometers, particularly those with app connections, even maintain a thorough history of each cook, including the internal and external temperatures.
Even while this extra information can seem redundant, it might be useful to refer to it if a meal doesn't exactly go as planned or if you created the best brisket of your life and want to replicate it cautiously and methodically. Planning your upcoming meal will benefit from the thorough recording. For instance, if you want to serve pulled pork for dinner at 6 o'clock, check your previous cook to see that it took 10 hours (even though the recipe said it would only take eight), and you'll know that the meat needs to be put on the smoker by 8 a.m. so it can be turned off at 5 o'clock and cooled and pulled by 6 o'clock.
Range of temperatures
Check to see if the thermometer you purchase covers the entire range of temperatures you typically use when grilling (or, for example, cold smoking). You will undoubtedly need a thermometer that goes as low as it does high if you want to check a meat's interior temperature while thawing or brining.
Alarms
You will definitely want to be informed when your meat reaches the desired internal temperature if you're using a wireless grill thermometer. But consider any additional warnings you might require, such as temperature dips or even sharp changes in the surrounding temperature, or an alarm if you lose Bluetooth connection. If you're smoking meat overnight and truly want to sleep, these are extremely useful. Last but not least, after you accept an alert, it should be simple to turn it off (is there anything more frustrating than an alarm that won't stop?). Look for a straightforward method to stop the blaring.
Receiver
There are two primary types of receivers for wireless thermometers. The earlier design of thermometers will include a portable standalone receiver that you can use to view part of the information on the main transmitter device. The second method, which is also getting more and more popular, uses your smartphone as the receiver and shows more information via a customized app than the transmitter's display does.
Charge Type
Each Bluetooth grill thermometer is a question of personal preference, but they all require some kind of battery power. While the majority use AAA or AA batteries, some use lithium batteries that can be recharged. Both have advantages and disadvantages. With a rechargeable battery, you never have to worry about having extra throwaway batteries on hand, but you're out of luck if it isn't charged when you need it. If your device needs disposable batteries, all it takes to get a functioning thermometer is a battery swap (or a short trip to the store).
If you go for a rechargeable battery it would be wise to check how long the battery life lasts and if you can charge the battery while the thermometer is in use. I have a portable power bank I use for my thermometers, and would advise you to buy one if you'll use your rechargeable thermometer a lot.
Length of Wire
The majority of Bluetooth thermometers have probes that have cables that connect to the base of the main thermometer. It will be simpler to position the meat on your grill the longer the cable is. Not only that, but certain base units aren't as heat-resistant as they should be, so it's best to keep them as far away from the grill or smoker as you can. You can accomplish it thanks to long wires. In fact, the MEATER+, one of our top recommendations, is entirely wireless, so you don't need to worry about wires at all.
Warranty
There are a few warranties that offer rather good coverage, however they differ from product to product. The most important thing to keep in mind regarding any warranty is that it will only be valid if the product was used properly. Therefore, it's unlikely that the guarantee will be very helpful if you leave your thermometer outside in the rain and it isn't water-resistant. Regardless of the product you choose, carefully read the warranty information.
Additional Features
Is it water-resistant? – Even though this isn't a deal-breaker, a nonwaterproof thermometer can have its limitations.
Backlit Screen – Even though it's not necessary, a backlit screen can be very useful if you anticipate grilling at night.
Holders – Magnetic holders are essential for me because I'm used to sticking thermometers to my metal BBQ table and would continually drop them to the ground otherwise. A hook holder and kickstand holder might also be of interest to you.
Storage Case – I have so much BBQ gear I need a storage case for my thermometers, otherwise, the wires wrap around everything and it's a day-long task getting to any of my gear. Most thermometer companies sell cases, but they are nearly always an optional extra, and therefore cost extra money.
Comparison of Bluetooth and WiFi thermometers
With modern Bluetooth and Wifi thermometers, there really isn't much difference between them at all. They'll both have similar-looking displays, the same company app, similar features like backlighting and magnetic holders, and the same probes. The only two noticeable differences are the price and the range.
On the price front, Wifi thermometers are always more expensive. This is simply due to the parts needed to implement WiFi being more expensive for the companies to buy. And, as WiFi thermometers are seen as high-end thermometers, generally most will have all the extra bells and whistles, which means they will also have Bluetooth.
The range of the two thermometer types is also vastly different. Bluetooth thermometers are designed for localized connections – generally within the same household. The better Bluetooth thermometers give you up to 500ft in range. This is plenty for almost all backyard grillers. WiFi is a family of wireless network protocols that give you access to the internet. And obviously, being connected to the internet now means you have access to the thermometer data anywhere you can access the internet.
So the main question of Bluetooth thermometers vs WiFi thermometers is, "is the extra range worth the extra money?". For me, 99% of the time I have no need for WiFi and Bluetooth would easily be enough. And I think this will be the case with most people reading this guide. But having said this, I'd still never talk anyone out of getting a WiFi thermometer. If you have the money, it's great to have that 1% of the time you actually need it.
Brands/Manufacturers
Choosing a Bluetooth thermometer from a reputable brand is unquestionably the finest move you can make. Even though Bluetooth isn't the most sophisticated wireless technology, you still want to buy it from a business that has some experience creating Bluetooth devices. Particularly when it comes to the app's functionality and usability.
ThermoWorks
ThermoWorks provides a wide selection of grill thermometers and even makes its own folding instant-read device under the Thermapen brand. This brand, which is renowned for its extremely quick temperature readings, precision, features, and dependability, has a much higher price point. ThermoWorks also provides a variety of industrial-strength, commercial instruments with amazing wireless and temperature ranges.
Inkbird
Instant read, Bluetooth, WiFi, radio frequency, and infrared thermometers – Inkbird makes them all. So when it comes to quality thermometers you know Inkbird has the expertise and products to demonstrate they should be a contender for your money.
ThermoPro
There are an apparently limitless number of grill thermometer companies, but ThermoPro provides a wonderful selection of dependable, long-lasting gadgets at a reasonable price. The brand's folding instant-read thermometer, which typically costs between $10 and $15, is probably its most iconic item. A Bluetooth device with a 300-foot range is also available for less than $50.
Meater
With a truly intelligent wireless meat thermometer that is excellent for grilling and smoking, Meater — a relatively new player on the market — improved the wireless thermometer category with its first thermometer. The three products from this firm revolve around a chic, understated probe that connects to a free app. In addition to reading the internal temperature of the meat and notifying you when it is reached, the app estimates cook times, monitors the grill or smoker's ambient temperature, keeps a remarkably detailed log of each cook, and even instructs you on how long to let the meat rest before slicing into it. The probe is kept in a stylish wooden case that also functions as a Bluetooth signal repeater to almost double the wireless range, as well as the charger (powered by disposable batteries).
Setup Instructions for a Bluetooth Thermometer
Each thermometer has a somewhat different setup, but the concept is the same in most cases. Before the thermometer can function properly, it must sync/pair with the phone. Next, choose the appropriate temperature settings. Depending on what you're cooking, the majority of apps allow you to select your own temperature or pick from a menu of presets. The thickest part of the meat should have the probe's tip inserted into the center of it. Because it takes the most time to cook, you can be sure the remainder of the dish will be done when it is.
Maintenance
The transmitter and display of thermometers should never be submerged in water, even if some grill thermometers claim that their thermometers are dishwasher-safe. It's okay if you gently wash the probe alone in hot, soapy water without getting the digital parts wet. Otherwise, clean the entire thermometer with a damp, clean cloth to remove any debris before wiping the entire thermometer off with an alcohol or bleach wipe to disinfect it. As an alternative, you might use a paper towel soaked in rubbing alcohol or a bleach-based sanitizer (1 tablespoon of bleach to one gallon of water). After cleaning, make sure to quickly and completely dry the thermometer throughout before storing it.
It's crucial to always put a thermometer back on the charger after each use if it has a rechargeable battery (like the ThermoWorks Signals). When you need your meat thermometer the most, the last thing you want to do is reach for it only to discover that the battery is dead. Make sure you always have additional disposable batteries on hand for thermometers so you won't run out in the middle of cooking. Additionally, just like with any appliance (especially one used for cooking), store all of the parts together.
FAQ's
A list of frequently asked questions about Bluetooth thermometers is provided below. Please feel free to post your own question in the comments area if it is not addressed below.
Are Bluetooth Thermometers Worth it?
Make grilling, searing, and other cooking methods less ambiguous. Even if you're a grillmaster, it might be difficult to get a steak perfectly medium rare just by looking at it. So, in general, I'd say thermometers are worthwhile. As for the few different kinds of wireless thermometers, I'd say Bluetooth is the most cost-effective form because it doesn't require pricey WiFi technology or a separate receiver like radio frequency thermometers. I, therefore, have no doubt that Bluetooth thermometers are worth it.
What is the best Bluetooth thermometer for smoking?
The short answer is the ThermoWorks Signals thermometer is the best Bluetooth thermometer. The longer answer is it depends on your personal circumstances. The main one being are you willing or able to pay the sky-high prices buying a ThermoWorks thermometer entails. If not, have a look at look the thermometers in my list of best Bluetooth thermometers as each and every one is a very good thermometer.
What is the best brand of Bluetooth meat thermometers?
You have to be careful with brands when it comes to buying thermometers. I've been buying thermometers to review for years, and have seen countless brands pop up promising all sorts of amazing things in relation to accuracy, features, and durability. I'm sure these companies also buy fake reviews, as they are all 5-star at first, and then after a month or so real user reviews come in and they are 1-star reviews. But the company doesn't care, they have sold thousands of units, and will close and do the same again with a different brand name.
So you want a brand with a few products and a couple of years of history behind them. The current number-one brand, in my opinion, is ThermoWorks. But hot on their heels are brands link Inkbird, ThermoPro, Meater, and even Weber.
How deep should you insert a Bluetooth meat thermometer probe?
The majority of meat thermometers require insertion into the meat of at least 1/2 inch for a valid reading but double-check with your owner's handbook for more detailed instructions. When cooking steak or other red meat, you should place the thermometer in the middle of the thickest part, away from the bone or any fat or gristle. When grilling thin foods like hamburgers place the thermometer probe in sideways.
Can you leave a Bluetooth thermometer in the meat while it's cooking?
The fact that you may leave the probes in while your meal is grilling is one of the key benefits of wireless meat thermometers. This eliminates the need to open the grill and insert the thermometer so you can continuously check the interior temperature. However, the majority of wireless thermometers do have a maximum operating temperature, so you'll need to be careful not to go above that. I wouldn't use my thermometers if doing a charcoal chimney sear for example.
Can I add or replace the probes on my Bluetooth thermometer?
Simple jacks on the side of the thermometer base unit are used to plug in probes. Even though most thermometers give you enough probes too begin with, some come with just 2 of the 4 probes needed to fill every jack. It's important to keep in mind that the probes will lose accuracy over time. As a result, you almost certainly need to purchase more probes.
How do I clean a Bluetooth thermometer?
With a paper towel, wipe the probes. If necessary, you can use wet wipes. In terms of cleaning the thermometer itself, use a damp cloth if it's too messy or a dry cloth as needed. Even if the device is water-resistant, don't submerge it.
Final Thoughts
A meat thermometer is practically a must if you enjoy grilling. By alerting you if your food is still undercooked, this handy tool will ensure that your food always turns out precisely cooked and contribute to the reduction of foodborne illness.
Since it's a must, why not treat yourself to a wireless Bluetooth meat thermometer, the Cadillac of value grilling thermometers?
These appliances, in a sense, convert your cooking from analog to digital. They do away with the cumbersome technology that conventional grill thermometers frequently have. Additionally, they frequently provide you much more customization options within the software that runs on your phone.
Consider purchasing or giving a Bluetooth meat thermometer today. Nothing will increase your enjoyment of cooking more than being able to manage time and temperature alerts from the comfort of your couch or outside by the pool.