Here are some barbecue, smoker, and grilling tools dads might like this Father's Day, whether they are seasoned grillers or new to the hobby.
A new barbeque or related grilling accessory might make excellent Father's Day presents if your dad is enthusiastic about cooking over an open flame this summer. After reading a barbeque cookbook, they can utilize tools like spatulas and tongs to improve their grilling skills or try out new dishes.
I've put together a list of dad's grilling gifts, from high-tech thermometers to personalized aprons, to help you shop for your loved ones before Father's Day on June 19.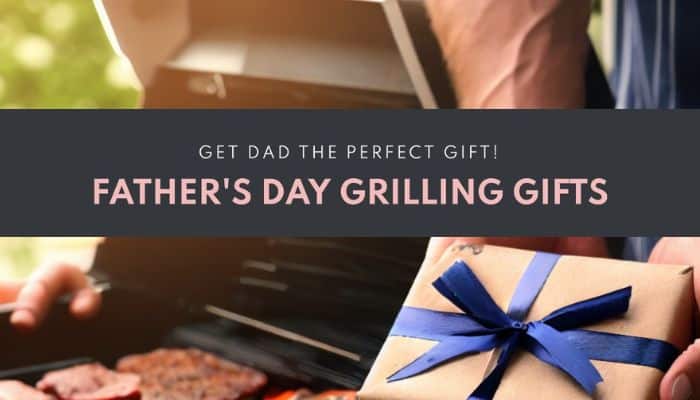 Father's Day Grilling Gift Ideas
What do you give a man whose favorite thing to do is cook juicy foods over an open fire? Well, that depends on what kind of grill dad you have, because there are a million different kinds. There's the family cookout grill dad who wears a polo shirt, carries a tool belt, and wears sports shades. There's the dad who likes to study and has a high-tech smoker-grill combo. He puts his lawn chair in front of the appliance and watches the meat carefully as it cooks for hours. There's the grill dad who wants to cook steaks, pizza, pies, and even kebabs on the grill.
We have a gift on this list that is perfect for every kind of grill dad. For a parent who is just starting out, I've listed good, basic gear like a strong grill brush and gloves to keep your dad safe. For skilled barbecuers, there are some new tools to try, like the latest thermometer. I've also added a lot of extras, like utensils, a BBQ table, and a beer can chicken holder, to make grilling more fun.
Need more help with Father's Day grilling gifts? Here is my ultimate list of grilling gift ideas, griddle gifts, and smoker gift recommendations your dad will love.
Heat Resistant Grilling Gloves
Grill Heat Aid BBQ Gloves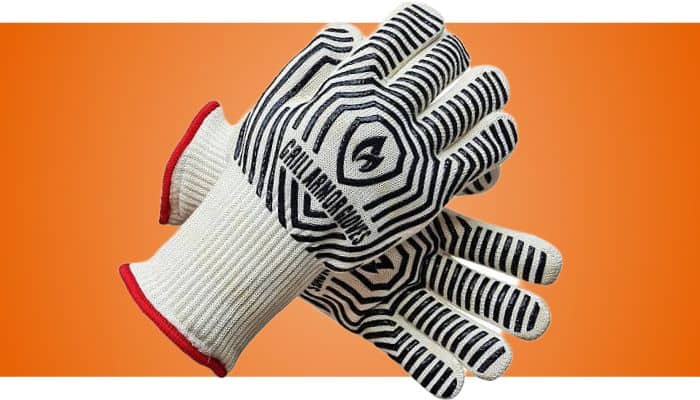 Since you're buying a Father's Day grilling gift for someone you care about, I can guess that their safety is very important to you. And that's why a pair of barbecue gloves that can handle the heat is a great gift idea. It's a nice gift, and it keeps the person you care about from getting burned.
The grilling gloves from Grill Heat Aid are made of woven aramid and have a silicone lining. They are made of a hybrid material with three layers: a soft cotton liner on the inside, silicone touchpoints on the outside, and woven aramid to keep them insulated.
Because they can handle temperatures up to 932°F, they can easily grab big pieces of hot meat, hot metal, coals, and even burning bits of wood. Even better, their form makes them flexible without making them less durable or comfortable.
The sleeve goes a few inches past your wrist to help protect your forearm. They also come with a guarantee that covers any flaws for life.
I had no trouble flipping metal skewers or taking baked potatoes off a hot grill. Inside, my hands started to sweat, but that was more because there wasn't enough airflow than because heat was getting in.
I suggest the Grill Heat Aid heat-resistant barbecue gloves if you want a good pair of heat-resistant gloves that won't make it hard to move your fingers. These gloves are a great Father's Day gift for dads who likes to grill.
Grill Aprons
Weber Style Barbecue Apron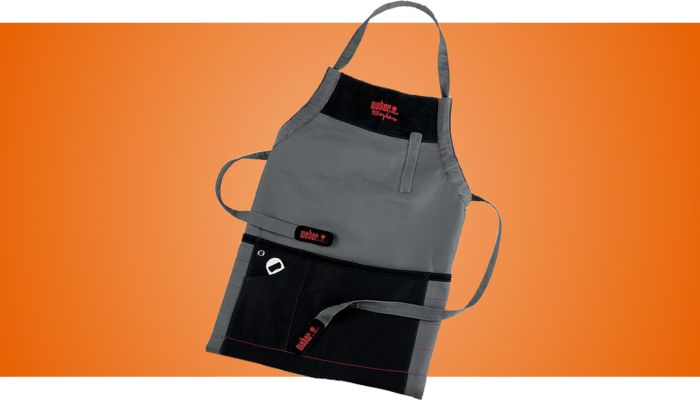 Okay, I'll admit that an apron isn't the coolest Father's Day gift, but it's a gift that will be appreciated. Grilling is a messy hobby, and people usually do it with friends or family nearby. So, it's likely that the cook will wear some of his best clothes to look good. The last thing they want is for their nice clothes to get BBQ sauce stains or black ash marks.
I've written about some of the best BBQ aprons for men in a previous piece if you want to see the different styles. But if you're looking for a Father's Day grilling gift, the Weber BBQ apron is a great choice.
I have to say that I am a big Weber fan. Everything they make will be of great quality. It's the same with the BBQ apron they make. Compared to other aprons I've mentioned, this one has fewer uses, but it does have pockets, a Weber bottle opener, and an adjustable neck strap. The sturdy cotton it is made of gives it a heavier, more manly feel. And to make it even more manly, the black and gray colors make it look like an apron a mechanic would wear. This is a great gift for Father's Day.
Grill Mats
Kona Best BBQ Grill Mat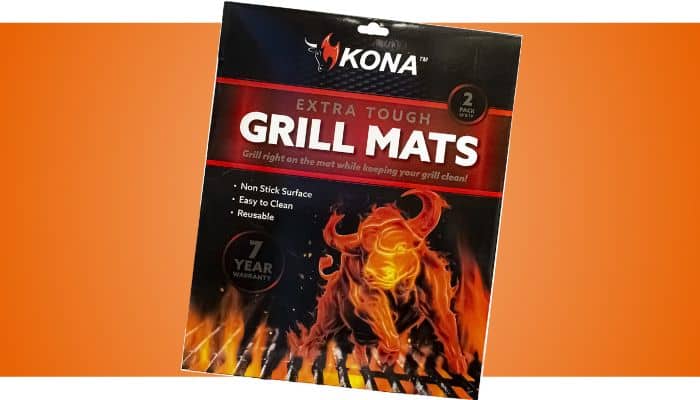 If you don't know what a grill mat is, it's a mat made of fiberglass cloth and PTFE that you put on the grill grate to make cooking easier and less messy. No one likes cleaning, which is why a grill mat is such a great Father's Day grilling gift.
Before you buy a grill mat as a gift, make sure you know if you need to get a square or a round one. You can still use the wrong shape on a grill, but it looks better if you use the right shape.
The Kona grill mat, which is 0.39mm thick, is the thickest mat you'll find. This doesn't mean that thicker is better, but it does make the goods last longer. This non-stick grill mat comes with a 7-year promise, which, on paper, seems to cover almost any bad thing that could happen, which backs up the idea that it will last.
When you buy this, you get two 16″ x 13″ BBQ grill mats. The maker says that each side can be used 1000 times. I haven't been able to check this claim on my own though. I'm sure that I'll be able to back up these claims in the near future, but 1000 uses is a lot of barbecue.
At 600 degrees Fahrenheit, these grill mats also limit the highest temperature that can be used for cooking. I can say for sure that this is true. A very close friend of mine has seared his steak at these temperatures, but I haven't.
Grill Lights
Zeust Sirius 2.0 Barbecue Grill Light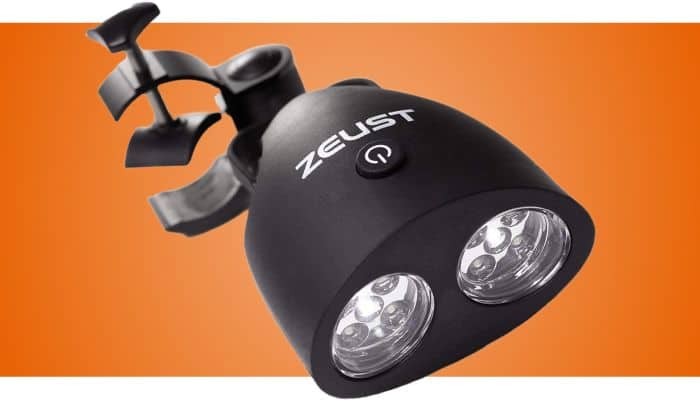 A BBQ light is a nice, easy Father's Day BBQ gift that you can't go wrong with, and it's not too expensive. Even if BBQing is seen as a fun thing to do during the day, you will cook in the dark at some point. So having a light on hand will be helpful. One with a clamp is best for grillers because it lets them use both hands to handle the food. I think the Zeust grill light is great.
The Zeust Sirius 2.0 Barbecue Grill Light is a small but very bright light that can be used for cooking and smoking. It is made to fit on the handle of the grill and shine a bright white light down on the cooking area.
This is done with the help of three AAA batteries and 10 LED lights. You can use them for up to 18 hours at a time on a single set of batteries, which is enough for many nighttime grilling sessions.
Just put the C-mount over the handle of the grill and tighten it to keep it in place. When it's done, it's easy to take off and doesn't need any tools.
The quality of the plastic was one thing that really stood out to me. Many cheap grill lights that look a lot like the Zeust are made of plastics that haven't been heated.
During tests, the Zeust even touched the bottom of my grill, which was very hot, and nothing bad happened. The company that made it says it can stand up to heat of up to 550°F.
The Zeust Sirius 2.0 Barbecue Grill Light is a good choice if you want to give Dad a grill light that they can "fix it and forget it."
Meat Injector Kit
Premiala Awesome Meat Injector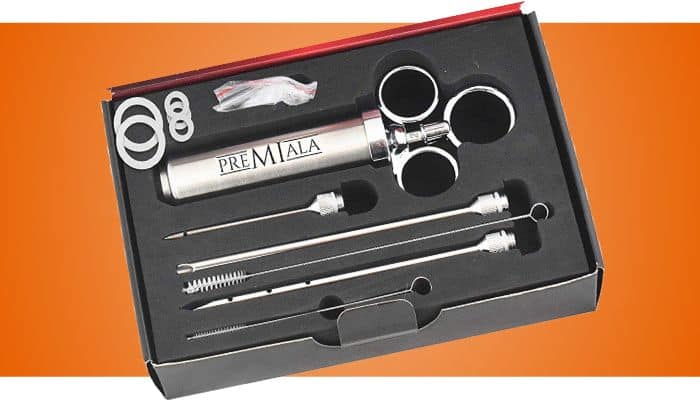 Every meat expert knows that the best way to make each bite taste better is to use a meat injector kit. If you're going to give one of these things as a Father's Day BBQ gift, why not choose one of the best ones?
This one from Premiala is the best meat injector you can buy. Three needles come with each injection kit. These three needles can be used for any kind of internal marinating a pitmaster might want to do.
The injector comes in a nice box and is easy to clean with the brushes that come with it. This grill accessory is a great grill gift for dads who wants to add a little more taste to their food.
Instant Read Thermometer
ThermoWorks Thermapen One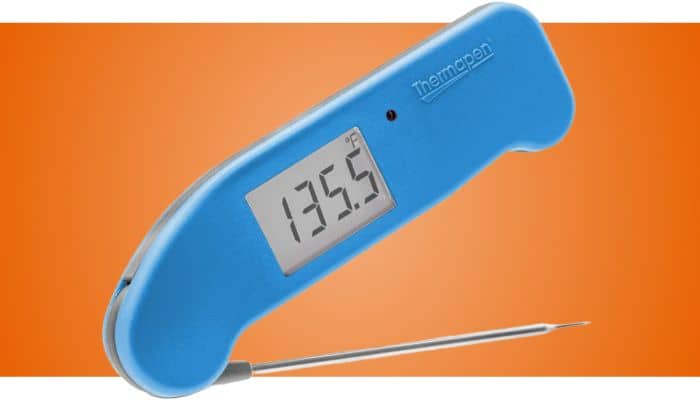 One of the best instant-read thermometers on the market is Thermapen, which is made by ThermoWorks. Chefs in restaurants and people who cook at home both like it. The Thermapen One is the brand's newest and most advanced thermometer to date. So, if you want to give Dad a Father's Day grilling gift that is both useful and new, the Thermapen One could be perfect.
The Thermapen One has a built-in accelerometer that can tell how the thermometer is being held and turn the LCD display to make it easy to read the temperature without having to tilt your head. The screen is also backlit, so you can see it even when it's dark outside. This is great for cooking low and slow all night.
When not in use, the stainless steel food probe folds back 180 degrees into the side of the device, making it as small as older versions of the Thermapen. But it is different from earlier Thermapen models because it only takes one second to get a temperature reading, while earlier models took two or three seconds.
The Thermapen One is an expensive food thermometer, but if you want to know how long to cook food to make it safe to eat but still tasty, it's well worth the price. It's also a great way to cook a steak to perfection. Thermapen One can help bakers make sweet treats like candy, home cooks check the temperature of their sausages, and BBQers check the temperature of big chunks of meat on their grills.
The ThermoWorks Thermapen One is a very small food thermometer that you can store in a kitchen drawer or even carry in your pocket if you want to grill while camping or at a family picnic. When you're not using the temperature, you can fold the stainless steel probe back 180 degrees into its plastic body.
The LCD screen rotates automatically based on how the thermometer is held, so no matter how you look at it, the number will always be right side up. A sensor on the front of the thermometer turns on the light when there isn't enough light to make it easy to read. The back of the screen is also lit up. The thermometer has an IP67 rating, which means it can be put in water for a short time. You shouldn't do this, though. But that doesn't mean the thermometer will not break if you accidentally leave it outside in the rain.
The Thermapen One from ThermoWorks is expensive and comes in 10 different colors. In the US, you can buy it on the ThermoWorks website, in the UK on the Thermapen website, and on Amazon.
I would also suggest keeping an eye out for deals on older types of ThermoWorks instant-read thermometers, which are still great thermometers and better than most of the competition. The thermometer also has a new battery section that is easy to open and only has one screw holding it in place. It also comes with a guarantee for five years.
The Thermapen One from ThermoWorks is easy to use. After you pull the food probe out of the side of the thermometer body and put it in the meat, the LCD screen will show the temperature of the meat in about a second. This is the one to get if you want to give the gift of a fast thermometer.
Grilling Book
Meathead: The Science of Great Barbecue and Grilling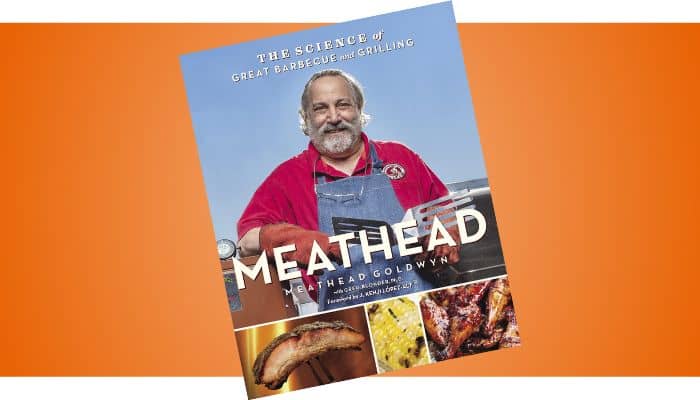 Meathead is the web's leading expert on all things BBQ. In this great science cookbook, he tackles some of the most common smoking and BBQ myths.
This very interesting and thought-provoking book will change the way you BBQ for the better. It uses scientific evidence to help you understand how food, heat, fire, and smoke work together to make the perfect meal.
Find out how smoking meat works, try out different techniques, and learn about the tools and extras that can actually help you do a better job. Meathead also gives you some great tips that will help you get better. Unlike many other best-selling BBQ books, this smoker cookbook explains a lot rather than just telling you what to do. That's why it makes the perfect Father's Day grilling gift.
With more than 100 tried recipes and hundreds of full-color pictures, this BBQ book is a great way to add to your smoking options and a great source of ideas.
The problem is that you can already find a lot of this information online. But this book is highly suggested because of how well it is written and how well it is put together.
Charcoal Chimney
Weber Rapidfire Chimney Starter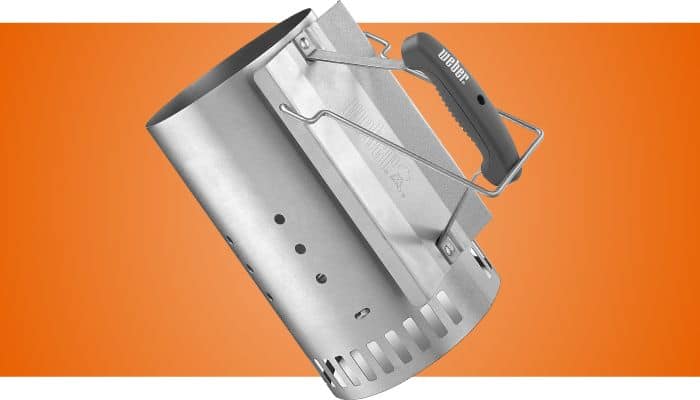 The Weber Rapidfire is an old favorite for a reason. It always comes out on top as one of the best charcoal chimney starters. The Weber Rapidfire is made of high-quality materials and is built to last, so you can cook over hot coals for years to come. What more could you want in a great Father's Day gift for grilling?
This Weber chimney has a lot of airflow to feed the charcoal, and the inner grate is shaped like a cone to help you light your coals. The body is made of aluminized steel, which keeps it from rusting and makes it last for a long time. There is also a big heat shield and a comfortable, heat-resistant plastic grip. The metal "help handle" makes it easy to pour the hot charcoal into your grill or smoking box.
The Weber RapidFire is the right size for any kettle grill. One of the best ways to start a grill is with a charcoal chimney, which can hold 60 to 100 briquettes at once.
Grill Brush
Kona 360 Clean Grill Brush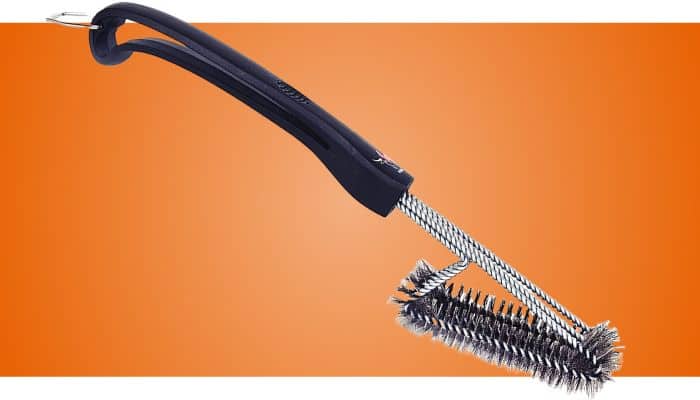 If you want a BBQ brush that can clean any kind of grill grate, the 360° Clean Grill Brush from Kona might be the one for you. This grill brush is the best one I've seen. The wire brush cleans both the inside and outside of your grill.
The Kona's special design features get rid of three times as much debris with each stroke as other grill brushes. As you clean each grate, the head of the brush splits into three different pieces.
The brush head is made of bent steel rods that hold the heavy-duty wire bristles in place. With this BBQ scrubber, no brushes will get into your food. The curved head of this brush makes it easy to use with square grill grates or kettle-style grills.
The 18-inch handle is plenty long to reach the back of any grill. The head is 4 inches wide. This brush can cover a huge area with each pass. It only weighs 12 ounces and comes with a loop to hang it up.
The weather-resistant handle of this cleaning tool is easy to hold and makes it easy to use. The strong stainless steel wire won't hurt infrared grates, porcelain-enameled grates, or ceramic grates. The Kona can be used to clean any kind of grill grate.
This grill brush comes with a 5-year promise and I guarantee that you'll be happy with it.
Grill Utensils
Weber 3-Piece Tool Set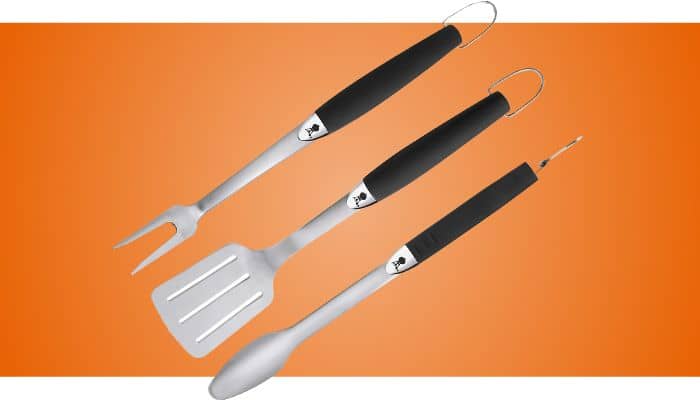 No grill master would be complete without his favorite tools. Every cook who works at the grill needs a fork, a spatula, and a pair of tongs.
This makes the Weber three-piece set a great Father's Day gift for any cook who knows how to use a grill. These stainless steel cooking tools are great for traveling because they are the right size for packing.
They also have soft grips made of thick material. Also, you can put them in the dishwasher, which makes them easy to clean. What more could you want from a set of cooking tools? Weber also has a good name in the grilling business for being an expert. So you can be sure that these tools are good.
They're also the perfect size to take camping. These 18-inch-long small grilling tools are easy to put away and store when not in use.
The three cooking tools I use most often are all in the BBQ tool set. There is a fork, a spatula, and a set of tongs that lock together.
Beer Can Chicken Holder
Sittin' Chicken Ceramic Beer Can Chicken Roaster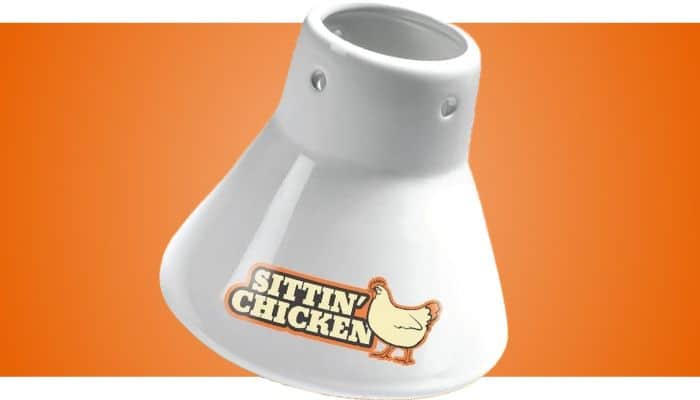 This clay roaster is the perfect Father's Day gift for dads who want to cook beer can chicken but don't want to use a can of beer as a vertical holder. Think of it like a clay beer can with a wide bottom.
Because it is made of glazed pottery, you won't have to worry about pollutants or chemicals getting into your meat. This simple oven can hold a chicken of average size and can be filled with any drink you want. You can even buy a roaster the size of a turkey for bigger birds.
The base is strong and very stable, and there are built-in steam vents in the wide opening. So if your chicken falls over it won't be a problem.
You can use this roaster on the grill or in the oven as long as you have a tray to catch the grease. You can put it in the dishwasher without any problems. But sometimes you may need to hands wash to get rid of the crusts.
Burger Press
Grillaholics Stuffed Burger Press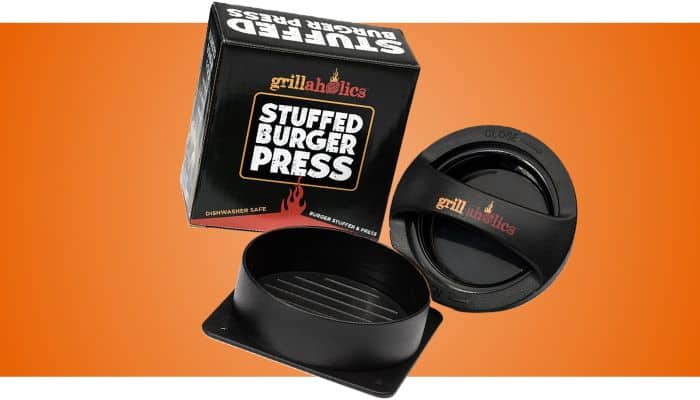 Nothing brings people together like a lot of well-made hamburgers on the grill.
But making those patties by hand can be hard, and the burgers soon start to lose their shape. A burger press is a great thing to have around, especially for people who like to cook a lot of burgers.
The Grillaholics Stuffed Burger Press is a cheap and easy-to-use burger press that can be used to make burgers. With each press, you can make the perfect packed burger by using a smaller notched press and a larger flat press.
It is made of light plastic and comes apart so that it is easy to clean. After making a few burgers with the press, I'm sure it would be impossible to use it too much.
Even though making stuffed burgers takes a little longer than making regular burgers, I was still able to make them fast. This burger press is great if you like a fully packed burger but don't want to pay restaurant prices.
Overall, I thought the Grillaholics Stuffed Burger Press was a good deal and worked well for what it was made for. It would make a great inexpensive gift for a dad who likes to cook.
Rib Rack
Weber Original Rib And Roast Holder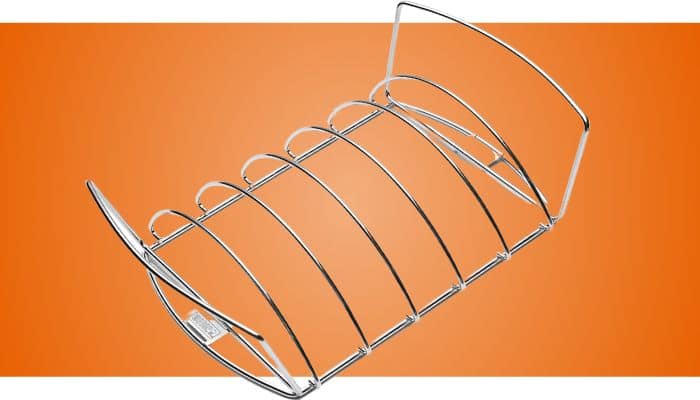 Ribs are always a hit with the family. But if you have to make a lot of them at once, they might take up a lot of space in your smoker or on your grill.
With this Weber rib rack, you can grill or smoke your ribs in a vertical position, which solves the problem.
The Weber Premium Rib and Roast Holder is a rib rack made of stainless steel and shaped like a hoop. It has room for five racks of ribs, big handles on both ends and is easy to put in and take out of your smoker.
It is made of shiny stainless steel, can go in the dishwasher, and can also be used to roast food. By turning it over, you can set up a number of tasty roasts, whole chickens, and other foods like Boston butts.
It makes it much easier to see if the ribs are done, and it keeps them from getting burned by the hot metal grill grate.
Overall, it's a cheap, reliable, and long-lasting rib rack that lets you smoke enough mouthwatering, juicy, fall-off-the-bone ribs for the whole family, making it a Father's Day grilling gift for more than one person.
Grilling Table
Keter Unity XL Portable Outdoor Table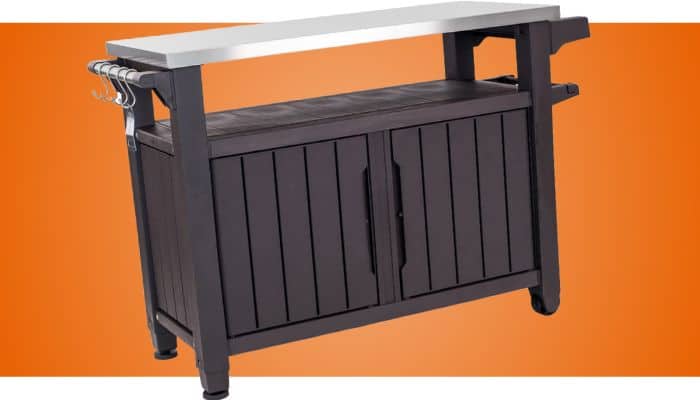 So far, all of the Father's Day gift ideas for grilling have been fairly inexpensive or in the middle of the price range. If you want to get something a little bit more special, you could get a BBQ prep station.
When cooking in the backyard, there isn't always a lot of room to prepare food. This means that plates or food must be put on the floor or stacked on top of each other in a dangerous way. If your BBQ table is well-made, this doesn't have to be the case. And the Keter table is the clear choice among BBQ fans.
The most popular Keter Unity XL comes in two colors: chocolate brown and dark grey. It can hold a total of 78 gallons, of which 24 gallons can be left open and 54 gallons can be kept closed. Also, there are two side shelves with S-shaped hooks where you can hang your cooking tools or put paper towels. There is also a spice rack for rubs and sauces. I like how much space there is for storage and how the extra space makes up for the lack of shelves.
The table is mostly made of weather-resistant resin and polyester, but the top is made of 201-grade stainless steel. It also prevents rusting and peeling.
Inside storage is a good place to keep gas tanks, grilling tools and utensils, and packs of charcoal or briquettes. The door locks with a plastic piece that snaps into the door frame, but you might want to use a padlock for extra protection.
The 50-pound portable grill table has two wheels that make it easy to move, and its legs can be moved to make it level on uneven areas. The Keter is made for barbecuing, but it is so flexible that you can also use it as a do-it-yourself table for your garage or as a potting table.
Customers love how durable, versatile, roomy, and full of storage choices it is. Up to 110 pounds can fit on it.
Great Father's Day Grilling Gifts Video
What to Look for When Buying a Father's Day Grilling Gift
There are many different kinds of grillers around the world. Some people have Webers in their backyards, while others bring meat in backpack coolers to a picnic in the park. No matter how they do it, the pitmaster in your life will appreciate a gift that helps them do what they love. The only thing? There are many tools to choose from. So, what should you look out for when looking for Father's Day grilling gifts for Dad?
Quality and Durability
If you're giving grilling tools, toys, or anything else that isn't meant to be eaten, you want something that can stand up to use and time. It won't be a great Father's Day gift if it falls apart after only a few times on the grill. Look for tools that are waterproof, dishwasher-safe, and scratch-resistant.
Compatible With Dads Grills
There are many kinds of grills, and not all items will work with all of them. The most important thing to think about is whether or not the person you're buying for has a charcoal or gas grill. The higher temperatures and smoke output of a charcoal grill may be too much for a gas grill tool to handle. Also, charcoal grills have many ways to start and control fires that gas grills don't need. Size is another thing to think about. For example, a small or round kettle-style grill won't be able to fit big grill plates or things like pizza oven inserts.
Personalization
Don't miss the chance to make your Father's Day present unique! Many of the goods listed above are made to last for a long time, so it would be well worth it to spend a few extra dollars to add a name or monogram.
Shipping
When buying perishable items like frozen steaks or burgers, you may need to choose overnight or express shipping, which can add a lot to the cost. Shipping grill tools and equipment costs more because they are usually made of heavy materials so they can handle high heat, and shipping heavy items costs more. When comparing prices, keep in mind that some stores include shipping costs, while others don't include them until the last step of the checkout process.
Frequently Asked Questions
Father's Day is just around the corner, and what better way to celebrate than by giving your dad the perfect grilling gift? If you're in search of inspiration or have some burning questions about choosing the ideal Father's Day grilling gift, you've come to the right place. In this FAQ section, we'll address some commonly asked questions to help you find a gift that will make your dad's grilling experience even more enjoyable. From popular grilling gifts to budget-friendly options and personalized ideas, we've got you covered. So, let's dive in and make this Father's Day one to remember with the perfect gift for the grillmaster in your life!
What are some popular grilling gifts for Father's Day?
Father's Day is a great opportunity to surprise your dad with a grilling gift he'll love. Some popular choices include high-quality grilling tools, BBQ rubs and sauces, grilling cookbooks, personalized aprons, smoker boxes, and grilling accessories like meat thermometers and grill mats.
How do I choose the right grilling gift for my dad?
Choosing the right grilling gift for your dad depends on his preferences and needs. Consider his grilling style, whether he enjoys BBQ, smoking, or grilling on a gas or charcoal grill. Also, think about any specific accessories or tools he may need to enhance his grilling experience. Personalized gifts or unique, innovative gadgets can also make for memorable presents.
Are there any budget-friendly grilling gift options available?
Absolutely! Grilling gifts come in a wide range of prices, and you can certainly find budget-friendly options. Some affordable gift ideas include grilling spices or rubs, grilling cookbooks or recipe cards, grilling tool sets, BBQ sauces, or even a grilling apron. You don't have to break the bank to find a thoughtful and practical gift for your dad.
What are some must-have grilling tools for a barbecue enthusiast?
For a barbecue enthusiast, there are several essential grilling tools that can elevate their cooking experience. These include a high-quality set of grilling tongs, a spatula, a basting brush, a meat thermometer, grill gloves for safety, a grill brush for cleaning, and a sturdy apron. Additionally, consider unique tools like skewers, grilling baskets, or a chimney starter for charcoal grills.
Are there any grilling gift ideas for dads who love smoking meat?
Absolutely! If your dad is into smoking meat, there are some fantastic gift options to enhance his smoking experience. Consider getting him a smoker box for his grill, a meat injector for adding flavor to the meat, wood chips or chunks for smoking, a wireless meat thermometer with multiple probes, or a smoking cookbook filled with delicious recipes.
Can I find grilling gift sets that include multiple items?
Yes, you can find grilling gift sets that include multiple items. These sets often come with a combination of grilling tools like tongs, spatulas, and forks, along with marinades, rubs, or sauces. Some gift sets even include grilling planks, grilling mats, or grill brushes. These sets can make for convenient and comprehensive gifts for your dad.
Are there any grilling gift options for dads who prefer vegetarian or plant-based grilling?
Absolutely! Grilling isn't just limited to meat. If your dad prefers vegetarian or plant-based grilling, there are great gift options available. Consider getting him a grilling basket for vegetables, a cedar plank for grilling tofu or plant-based burgers, a vegetable grilling cookbook, or a set of specialty grilling spices or sauces designed for vegetarian dishes.
Can I personalize grilling gifts for my dad?
Yes, many grilling gifts can be personalized to add a special touch for your dad. Look for options like personalized grilling aprons, engraved grilling tools, or custom-made BBQ rubs or sauces with labels featuring your dad's name or a special message. Personalized gifts can make Father's Day even more memorable and meaningful.
Remember, when selecting a grilling gift for your dad, think about his specific preferences, grilling style, and any additional needs he may have. With some thoughtfulness and creativity, you can find the perfect gift that will make him feel appreciated and elevate his grilling game.
Final Thoughts on Father's Day Grilling Gifts
Dads that like to grill are great people to buy gifts for because there are so many different tools, pieces of equipment, and consumables available, like rubs, tongs, and fire starters. But if you don't know much about cooking, it can be easy to get lost in the deals on meat, BBQ sauces, charcoal, and portable grills.
I looked on the Internet for unique grilling gifts for all the barbecue fans in your life and had each one reviewed. So you can be sure that if you buy one of the Father's Day grilling gift ideas on this list, you'll get a great product. I think I have come up with some great ideas. But I know this article can be better, so if you have any ideas for unique barbecue presents for Dads you think I missed, let me know in the comments section and I'll add them to this guide.